21.10.2019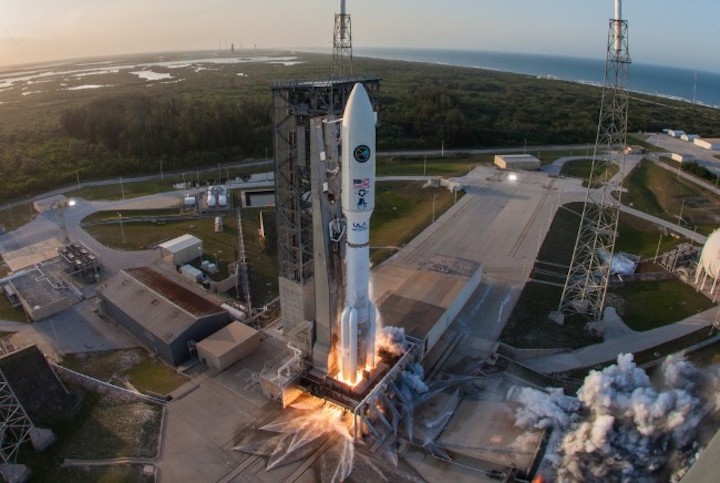 ​A United Launch Alliance Atlas V rocket carrying the AFSPC-11 mission for the Air Force lifts off from Space Launch Complex-41 at Cape Canaveral AFS, Fla., on April 14, 2018. The launch carried the experimental small satellite Mycroft into orbit. Courtesy photo via ULA.​
​One experimental Air Force satellite on Oct. 20 will begin inspecting another that stopped talking to the ground in March, the Air Force Research Laboratory said in an Oct. 17 release.
The rendezvous marks the first time AFRL has launched a mission to check on and resolve a spacecraft's problems on orbit in real time.
AFRL's Small Satellite Space Surveillance System (S5), built by Colorado-based Blue Canyon Technologies, launched Feb. 22 to test out new space situational awareness approaches. But researchers have not been able to communicate with the mute S5 since March.
"Operators confirm that the spacecraft is alive and maintaining solar power by tracking the sun, but without communications, S5 cannot perform its experiments," according to the release.
Without humans in the neighborhood to check on S5, AFRL must rely on Mycroft. The smallsat launched in April 2018 to conduct SSA and satellite inspection experiments. Its missions also include learning about and improving autonomous navigation as well as how satellites can meet up with and work on other spacecraft.
"Mycroft satellite operators will initiate a series of maneuvers to rendezvous with S5" in geosynchronous orbit, AFRL said. "Mycroft will inspect the S5 satellite and provide operators with verification of the fully-deployed solar array and of the sun-pointing orientation. Mycroft will then examine the exterior of the S5 spacecraft to search for damaged components such as the solar array and antennas."
S5's checkup will last several weeks. AFRL said it will transition operations to Air Force Space Command later this year.
Quelle: USAF
1951 Views