26.08.2018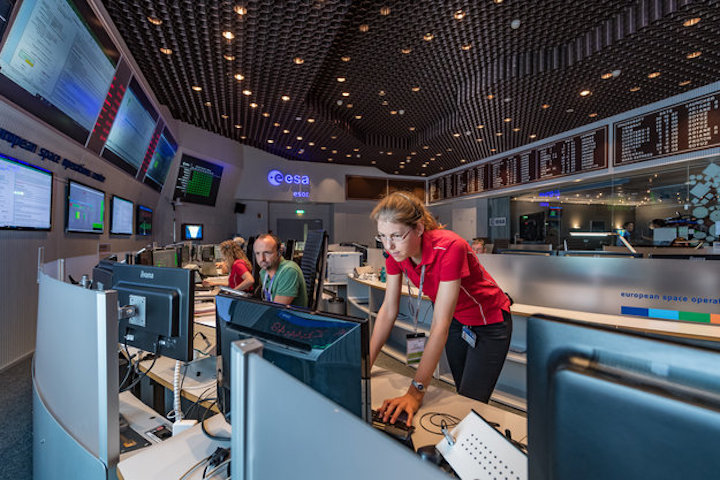 -
Having worked around the clock since the launch of Aeolus on Wednesday, teams at ESA's control centre in Germany have declared today that the critical first phase for Europe's wind mission is complete.
The Aeolus satellite was launched on a Vega rocket in the evening of 22 August from Europe's Spaceport in Kourou, French Guiana. With a launch mass of 1360 kg, including 266 kg of fuel, Aeolus will be the first-ever satellite to directly measure Earth's winds from space.
Carrying one of the most sensitive instruments ever put into orbit — Aladin, a Doppler wind lidar — Aeolus will provide vital information on wind speeds around the globe. This information is expected to improve weather forecasting as wind plays a complex and pivotal role in global weather systems.
Gone with the wind
Originally planned to be launched on 21 August, liftoff was delayed by 24 hours, as, ironically, high winds meant it was unsafe to launch the satellite.
Scarce wind observations around the launch site near the Southern Caribbean Ocean mean forecasts in the region are less accurate than in more populated regions, highlighting the need for more advanced wind models.
Despite the delay, Aeolus was delivered into orbit at the desired altitude of 320 km by a Vega rocket, just 54 minutes and 57 seconds after liftoff.
Once in orbit, Aeolus separated from the Vega launcher and began its free-flying journey, unfolding its solar arrays, turning its radio antenna toward Earth and sending signals to ground stations in Australia and Antarctica to signify that all is well.
from Aeolus was picked up at 00:15 CEST on 23 August by a special launcher tracking dish, dubbed
NNO-2
, at ESA's New Norcia station in Australia — the newest in the Agency's network of communication antennas.
This first, simple, 'hello' was followed just 15 minutes later by the official data link that was established at the Norwegian Troll Satellite Stationin Antarctica. With this full data link, mission teams at ESOC became able to send commands to the satellite and receive the data it will go on to collect.
Decisive days
Following separation, the critical 'Launch and Early Orbit Phase' (LEOP) ensued, in which flight controllers, satellite engineers and experts in flight dynamics worked 24-hours a day as they gradually switched on the satellite's various control systems and verified its health.
"The satellite is uniquely vulnerable during LEOP; it is on its way to becoming fully functional but still needs to be responsive to the hazards of space," says flight director Pier Paolo Emanuelli.
"Any marauding space debris in Aeolus' orbit would have the potential to trigger a sudden collision avoidance manoeuvre – a complex operation at the best of times but even more so in these very early days in space."
Paolo Ferri, Head of Mission Operations at ESA, describing this important stage, says: "The end of the risky Launch and Early Orbit Phase and the transition into in-orbit commissioning marks a vital chapter in Aeolus' life."
"These crucial steps mean that the spacecraft will soon be ready to measure wind on Earth from space, transmitting this precious and much-needed data back to scientists on Earth."
Flight control teams guided the satellite through this tense period, working to ensure Aeolus was safely configured and ready for its next milestone: in-orbit commissioning.
Commissioning the wind mission
During the commissioning phase of a satellite, controllers nudge it slightly to optimise its position in orbit, and perform tests to ensure the health of its instruments. This step is unique for every satellite, and for Aeolus it is expected to last for several months.
The main commissioning objective of Aeolus is to fully check out, calibrate and understand the behaviour of all systems onboard the spacecraft, now that has taken up its new residence in space. The absolute centrepiece of this, ESA's newest satellite, will be the switch-on and first light of the hypermodern Aladin lidar instrument.
Once this is done, the real challenge will be to fully calibrate, characterise and tune the instrument, finally making it able to get to work measuring Earth's winds.
Rune Floberghagen, Aeolus Mission Manager, adds: "Aeolus, a true Earth Explorer, is now entering a new phase. We have a wonderful mission to accomplish, and all of the teams involved are excited and ready to receive the first-ever Doppler lidar measurements from space."
Quelle: ESA
1940 Views