22.06.2018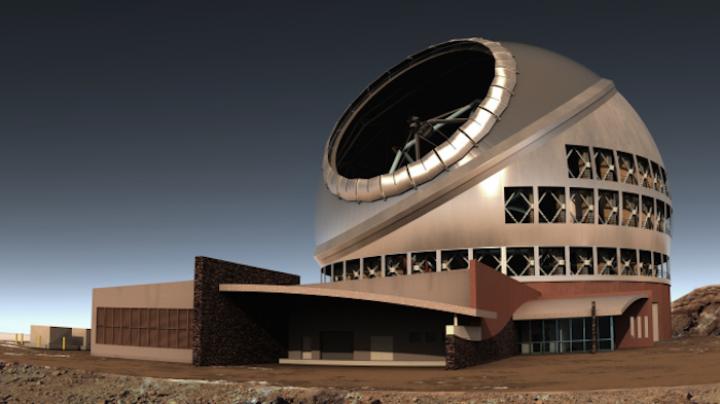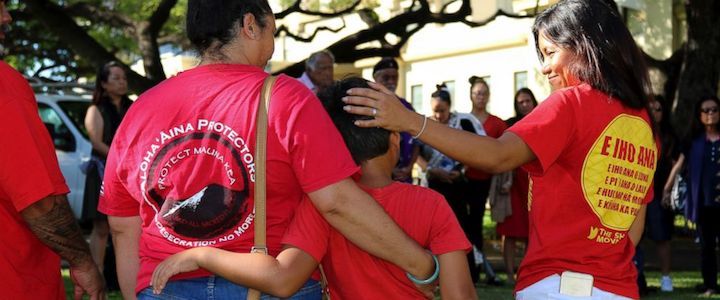 Joanna Pokipala, left, her son Kala Pokipala, center, and Vivian Wong, right, gather with telescope protesters outside the Hawaii Supreme Court building in Honolulu on Thursday, June 22, 2018. Justices are considering an appeal to a decision granting a construction permit for the Thirty Meter Telescope planned for Hawaii's tallest mountain. Protesters say the project will desecrate land that's sacred to Native Hawaiians. (AP Photo/Jennifer Sinco Kelleher)
-
The Hawaii Supreme Court heard arguments Thursday in an appeal that could determine whether an embattled multi-nation telescope project can be built on a mountain Native Hawaiians consider sacred or have to move to a backup site in Spain's Canary Islands that's less desirable to scientists hoping to use the instrument for groundbreaking discoveries.
Much of the arguments centered around whether it was a conflict of interest for a hearings officer who made a key recommendation in favor of the project to be a member of a Hawaii astronomy center.
The state allowed retired judge Riki May Amano to preside over contested-case hearings for the contentious project despite complaints from telescope opponents who decried her paid membership to the Imiloa Astronomy Center.
The Big Island center is connected to the University of Hawaii, which is the permit applicant.
Opponents appealed to the Supreme Court after Amano recommended granting the permit and the state land board approved it.
"She should have never presided over the case," Richard Wurdeman, an attorney representing telescope opponents, told the justices. He noted the center included exhibits about the project planned for the Big Island's Mauna Kea, Hawaii's tallest mountain.
Amano was just a casual member of the center, a "remote and tenuous relationship" that doesn't create an appearance of impropriety, state Solicitor General Clyde Wadsworth told the justices.
Associate Justice Richard Pollack asked why Amano later cancelled her membership in response to the concerns. Wadsworth said the cancellation was not a concession of bias.
This is the second appeal before the high court involving the Thirty Meter Telescope. Justices are already considering another appeal challenging the state land board's decision to allow the University of Hawaii to sublease mountaintop land to telescope builders.
If the project can't proceed in Hawaii, telescope officials have identified an alternate site on the island of La Palma in the Canary Islands. But scientists prefer Mauna Kea. Scientists revere the mountain for its summit above the clouds that provides a clear view of the sky with very little air and light pollution.
Supporters say it will also bring economic and educational opportunities to Hawaii.
Justices also had questions about funding the multi-nation project, which had been previously estimated to cost $1.4 billion.
It's impossible for projects of this magnitude to have full funding, especially when a site hasn't been secured, said Ross Shinyama, a lawyer representing TMT International Observatory. Certain nations won't commit funds until a site is selected, he said.
A group of universities in California and Canada make up the telescope company, along with partners from China, India and Japan.
Plans for the 30-meter (98 feet) diameter telescope date to 2009, when scientists selected Mauna Kea after a five-year, worldwide campaign to find the ideal site for what telescope officials said will likely revolutionize understanding of the universe.
The project won a series of approvals from Hawaii, including a permit to build on conservation land in 2011. Protesters blocked attempts to start construction. In 2015, the state Supreme Court invalidated the permit, saying the board's approval process was flawed, and ordered the project to go through the steps again.
Protests disrupted a groundbreaking in 2014 and intensified after that. Construction stopped in 2015 after 31 demonstrators were arrested for blocking the work.
A second attempt to restart construction a few months later ended with more arrests and crews retreating.
Shinyama asked justices to allow this "global and noble effort" to proceed in Hawaii. It's not clear when justices will decide on either appeal.
Hawaii Gov. David Ige, who supports the telescope, said in a statement hours after Thursday's hearing he recognizes "our community has honest disagreements about this telescope and its place on Mauna Kea, and my administration has carefully followed the procedures required to ensure a fair consideration of dissenting voices."
Quelle: abcNews
---
Update: 1.11.2018
.
Embattled Thirty Meter Telescope scores big win in Hawaii's highest court
8658 Views