1.06.2019
EUTELSAT 7C Arrives in Kourou ahead of 20 June Launch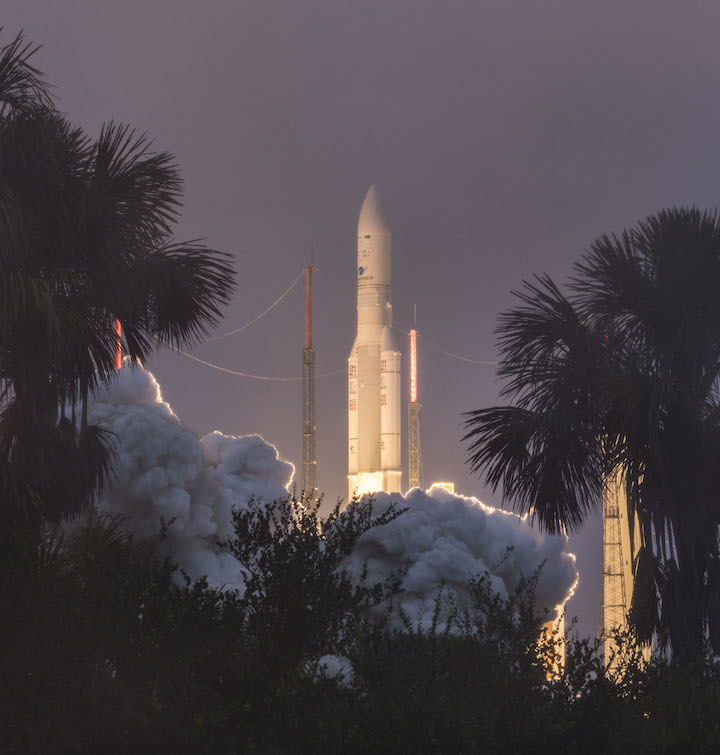 EUTELSAT 7C, Eutelsat Communications' (Paris:ETL) newest high-power broadcast satellite, has arrived at the European Spaceport in Kourou, French Guiana where it will be launched as a co-passenger on an Ariane 5 rocket on 20 June.
Built by Maxar Technologies, the 3.4 tonne satellite will serve markets across Africa, Europe, the Middle East and Turkey through 49 36-Mhz equivalent Ku-band transponders. It will be co-located with EUTELSAT 7B at 7° East, increasing capacity for this dynamic neighbourhood by 19 transponders. EUTELSAT 7A will be relocated as part of Eutelsat's fleet optimisation strategy.
The launch is scheduled for 20 June during a launch window opening at 21:43 UTC and closing at 23:30 UTC.
The satellite will go into full commercial service at the end of 2019 following all electric orbit raising and in orbit tests.
About Eutelsat Communications
Founded in 1977, Eutelsat Communications is one of the world's leading satellite operators. With a global fleet of satellites and associated ground infrastructure, Eutelsat enables clients across Video, Data, Government, Fixed and Mobile Broadband markets to communicate effectively to their customers, irrespective of their location. Over 7,000 television channels operated by leading media groups are broadcast by Eutelsat to one billion viewers equipped for DTH reception or connected to terrestrial networks. Headquartered in Paris, with offices and teleports around the globe, Eutelsat assembles 1,000 men and women from 46 countries who are dedicated to delivering the highest quality of service.
Quelle: Business Wire
----
Update: 12.06.2019
.
The AT&T T-16 and EUTELSAT 7C satellites are readied for Arianespace's next Ariane 5 launch
The two satellite passengers for Arianespace's upcoming Ariane 5 flight – AT&T T-16 and EUTELSAT 7C – are advancing through their payload preparation phases during parallel activity at the Spaceport in French Guiana.
Both are telecommunications relay platforms for operation by long-time Arianespace customers: AT&T, which provides mobile, broadband, video and other communications services to U.S.-based consumers; and Eutelsat, the Paris-based company providing satellite capacity to clients that include broadcasters and broadcasting associations, pay-TV operators, video, data and internet service providers, enterprises and government agencies.
Scheduled for liftoff on June 20, this mission is to mark the fifth flight in 2019 by a member of Arianespace's launch vehicle family – which consists of the heavy-lift Ariane 5, medium-size Soyuz and lightweight Vega. It will be the second this year using the workhorse Ariane 5.
Another dual-payload mission for Ariane 5
AT&T T-16 – produced in France by Airbus Defence and Space based on the Eurostar 3000 LX Hybrid platform – will occupy the upper passenger position in Ariane 5's dual-payload configuration, to be released first during the launch sequence.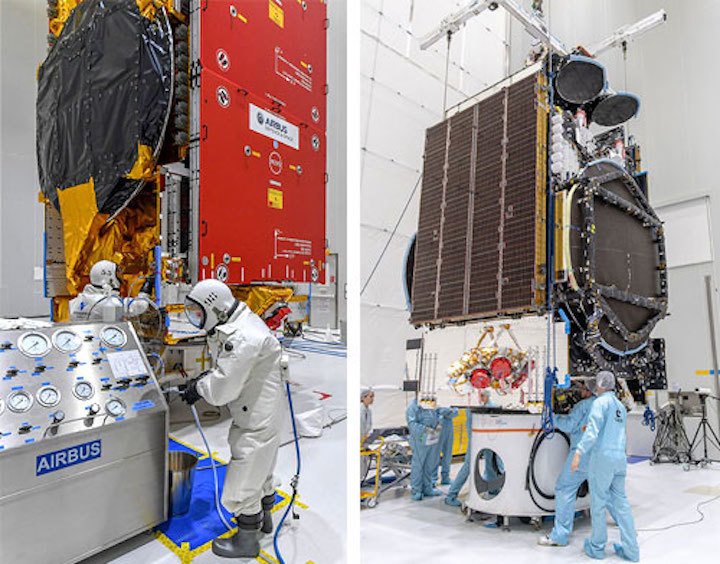 Flight VA248's two satellite passengers are readied for launch during parallel activity inside the Spaceport's S5 building. The photo at left shows AT&T T-16 during its fueling process, while at right EUTELSAT 7C undergoes its fit-check with the payload adapter that will provide the interface with Ariane 5 when integrated on the launcher.
This hybrid-propulsion-powered broadcast satellite can be operated from five different orbital slots (from 99 deg. West to 119 deg. West) following its deployment by Ariane 5, with a coverage area that will include the continental United States, Alaska, Hawaii and Puerto Rico. Its liftoff mass is estimated at 6,350 kg.
EUTELSAT 7C, a telecommunications satellite with all-electric propulsion, is to be released from the Ariane 5 launcher's lower payload position. It was built by Maxar Technologies in the U.S. state of California using the company's 1300-140" All-Electric platform and will weigh approximately 3,400 kg. at liftoff.
Once operational from its orbital position at 7 deg. East, EUTELSAT 7C will significantly increase capacity over Sub-Saharan Africa – making room for several hundred additional digital channels as this region's television market continues to grow at a rapid pace.
Launch window for VA248: June 20
Between 2:43 p.m. and 4:30 p.m. El Segundo, California, USA time
Between 5:43 p.m. and 7:30 p.m. Washington, D.C., USA time
Between 6:43 p.m. and 8:30 p.m. Kourou, French Guiana time
Between 21:43 and 23:30 Universal Time (UTC)
Between 11:43 p.m. and 1:30 a.m. Paris, France time during the night of June 20 to 21
Quelle: arianespace
----
Update: 18.06.2019
.

LAUNCH DATE

June 20, 2019
PAYLOAD(S)

T-16, EUTELSAT 7C
LAUNCH VEHICLE

Ariane 5 ECA
LAUNCH SITE

Spaceport, French Guiana (Guiana Space Center)
CUSTOMER(S)

AT&T, Eutelsat
PRIME CONTRACTOR(S)

Airbus Defence and Space, Maxar Technologies
ORBIT

Geostationary transfer orbit (GTO)
STATUS

Upcoming
With its fifth launch of 2019, and the second this year using an Ariane 5 vehicle, Arianespace will serve two world-class satellite operators by orbiting T-16 for AT&T (DirecTV) and EUTELSAT 7C for Eutelsat. Both spacecraft will be deployed to Geostationary Transfer Orbit (GTO).
In performing this 104th Ariane 5 mission – the 71st with an Ariane 5 ECA version – Arianespace confirms its full capability in the geostationary launch services market segment.
BETWEEN 21:43 AND 23:30 (JUN. 20)

UNIVERSAL TIME (UTC)
BETWEEN 6:43 P.M. AND 8:30 P.M. (JUN. 20)

KOUROU, FRENCH GUIANA
BETWEEN 2:43 P.M. AND 4:30 P.M. (JUN. 20)

EL SEGUNDO, CALIFORNIA, USA
BETWEEN 5:43 P.M. AND 7:30 P.M. (JUN. 20)

WASHINGTON, D.C., USA
BETWEEN 11:43 P.M. AND 1:30 A.M. (JUN. 20/21)

PARIS, FRANCE
T-16

T-16 is the 11th satellite to be orbited by Arianespace for AT&T (DirecTV), following SKY Mexico-1 and DIRECTV 15, launched together on an Ariane 5 in May 2015; and SKY Brasil-1, launched in February 2017.

T-16 was manufactured by Airbus Defence and Space and will provide high-power broadcast services in Ku- and Ka-bands. Being flexible, the spacecraft can be operated from five orbital slots (from 99° West to 119° West) and will cover the continental United States, Alaska, Hawaii and Puerto Rico. T-16 is designed for a lifetime of 15 years.

Airbus Defence and Space France is prime contractor for T-16, which will be the 130th spacecraft from this constructor to be launched by Arianespace.

There currently are 21 Airbus satellites in Arianespace's backlog.

EUTELSAT 7C

EUTELSAT 7C will be Eutelsat's 33rd satellite to be launched by Arianespace since the first mission at its service, which deployed EUTELSAT-1 F1 in 1983.

Eutelsat Communications is established in Paris, with offices and teleports around the globe. Eutelsat provides capacity on nearly 40 satellites to clients that include broadcasters and broadcasting associations, pay-TV operators, video, data and internet service providers, enterprises and government agencies.

EUTELSAT 7C is a high-power broadcast satellite for markets in Africa, Europe, the Middle East and Turkey. It is equipped with 49 36-Mhz equivalent Ku-band transponders and will be located at Eutelsat's 7° East position, one of the operator's fastest-growing video neighbourhoods, which already broadcasts over 500 TV channels, and serves anchor clients across the region.

By significantly increasing capacity over Sub-Saharan Africa, EUTELSAT 7C will make room for several hundred additional digital channels to support the region's rapidly-expanding TV market.

More than half of Eutelsat's satellites have been orbited by Arianespace.

Arianespace has seven other Eutelsat satellites in its order book for future launches.

EUTELSAT 7C was built by Maxar Technologies in Palo Alto, California. Maxar is a leading provider of innovative spacecraft systems with deep experience in building and integrating some of the world's most powerful and comprehensive spacecraft.

EUTELSAT 7C will be the 66th satellite based on a Maxar's platform to be launched by Arianespace. It will also be the 56th based on Maxar's 1300 class platform to be launched by Arianespace.

Quelle: arianespace

----

Update: 20.06.2019

.

Ariane 5 rocket arrives at launch pad with two TV broadcast satellites

The Ariane 5 rocket arrives at the ELA-3 launch zone Wednesday. Credit: ESA/CNES/Arianespace – Photo Optique Video du CSG – JM Guillon

A European-built Ariane 5 rocket rolled out to a launch pad in the South American jungle Wednesday with a pair of commercial television broadcast satellites for AT&T and Eutelsat, setting the stage for liftoff Thursday evening.

The launcher rode to the pad on a mobile platform towed behind a diesel-powered tug Wednesday morning. By midday, the Ariane 5 was positioned atop the launch pad to complete the 1.7-mile (2.9-kilometer) journey from the final assembly building at the European-run spaceport in French Guiana.

Workers planned to make final connections between the Ariane 5 and the launch pad's propellant, electrical and pneumatic supplies later Wednesday. Teams also planned to fill the rocket's helium pressurant tank Wednesday in preparation for the start of Thursday's countdown.

The 179-foot-tall Ariane 5 rocket is scheduled for liftoff from the Guiana Space Center on Thursday at 2143 GMT (5:43 p.m. EDT; 6:43 p.m. French Guiana time). The launch window extends for an hour and 47 minutes.

Thursday's launch will be the 104th flight of an Ariane 5 rocket, and the second Ariane 5 flight this year. It will be the fifth mission of the year for Arianespace, the French launch services provider that oversees Ariane 5, Soyuz and Vega launch operations at the Guiana Space center.

The two payloads bolted to the top of the Ariane 5 are the T-16 satellite, a broadcasting spacecraft originally ordered by DirecTV before its acquisition by AT&T, and the Eutelsat 7C video relay station, both heading for positions in geostationary orbit more than 22,000 miles (nearly 36,000 kilometers) over the equator.

AT&T's T-16 satellite, built by Airbus Defense and Space, is the larger of the two payloads on the Ariane 5 rocket. It will ride into orbit in the upper position inside the Ariane 5's Swiss-built payload fairing, on top of a composite Sylda adapter structure that covers the Eutelsat 7C spacecraft launching in the Ariane 5's lower berth.

The T-16 spacecraft will join AT&T's fleet of direct-to-home television broadcasting satellites, which were deployed by DirecTV before its acquisition by AT&T in 2015.

AT&T has released little information about the T-16 satellite or the future of the DirecTV service. In the months after AT&T acquired the satellite broadcast company in 2015, officials said they planned to begin phasing out the DirecTV brand.

Subscribers are also leaving AT&T's pay-TV services as Internet-based video streaming options become more prevalent in the industry. In the first quarter of 2019, AT&T said it lost 544,000 customers from its DirecTV and AT&T U-verse product lines.

Bloomberg reported earlier this month that AT&T and DISH Network were open to a merger of the longtime competitors in the pay-TV market, which have both suffered subscriber losses in the last year. Citing unnamed sources, Bloomberg said representatives from both companies believe a merger would be approved by U.S. government regulators, although they added there were no active negotiations.

But there are still plenty of customers subscribing to AT&T's pay-TV offerings. As of the end of March, AT&T's DirecTV and U-verse services had 22.4 million subscribers.

AT&T's T-16 satellite is based on the Eurostar 3000 LX spacecraft platform produced by Airbus Defense and Space, which assembled the satellite at its facility in Toulouse, France. According to Arianespace's press kit for Thursday's launch, the T-16 spacecraft weighs 13,955 pounds (6,330 kilograms) fully fueled with propellants for in-orbit maneuvers.

Designed for a 15-year lifetime, AT&T's T-16 satellite carries Ku-band and Ka-band broadcast payloads to reach consumers in the continental United States, Alaska, Hawaii and Puerto Rico.

In a regulatory filing submitted to the Federal Communications Commission last month, AT&T asked regulators for authorization to park the T-16 satellite in geostationary orbit over the equator at 100.85 degrees west longitude, where the spacecraft will orbit the Earth at the same rate as the planet's rotation.

AT&T said the T-16 satellite will be co-located with the T-4S, T-8 and T-9S broadcasting satellites at the 101 degrees west position. The new spacecraft will take over from the T-15 satellite, which launched in 2015.

Documents submitted to the FCC by AT&T indicate the T-15 satellite was moved last year from a location at 103 degrees west to 101 degrees. The T-15 satellite will leave the 101 degrees west location for another posting in geostationary orbit about a month after T-16 arrives at its operating post, according to the FCC filing.

AT&T did not respond to questions from Spaceflight Now on the T-16 satellite or the future of the company's satellite broadcast service.

The other satellite launching Thursday is Eutelsat 7C, a spacecraft manufactured by Maxar Technologies — formerly known as SSL — in Palo Alto, California.

The 7,500-pound (3,400-kilogram) satellite is destined for an operating post in geostationary orbit at 7 degrees east longitude. Eutelsat 7C's coverage zone will include Africa, Europe, the Middle East and Turkey.

Paris-based Eutelsat says the new satellite hosts 49 Ku-band transponders to serve video and data markets. Eutelsat 7C will be co-located with Eutelsat 7B at the 7 degrees east position, and the aging Eutelsat 7A satellite — launched in 2004 — will fly to another location in geostationary orbit, according to Eutelsat.

"By significantly increasing capacity over Sub-Saharan Africa, Eutelsat 7C will have room for several hundred additional digital channels to support the region's fast expanding TV market," Eutelsat wrote on its website. "It will also be equipped with a beam providing enhanced capacity for government services over Europe, the Middle East and Central Asia, as well as a steerable beam that can cover any region visible from 7 degrees east."

Eutelsat 7C is Maxar's first satellite with an all-electric propulsion system. The low-thrust, high-efficiency plasma thrusters consume less propellant than conventional chemical rocket engines, allowing Eutelsat 7C to carry a lighter fuel load and giving Eutelsat access to a cheaper launch opportunity.

"All-electric satellites provide efficient solutions for satellite operators by reducing launch mass while increasing spacecraft flexility and performance," said Arlen Kasighian, the satellite mission manager at Eutelsat. "Eutelsat has been a pioneer in all-electric platforms since 2015, collaborating with many major satellite providers."

A Eutelsat communications satellite launched in 2015 was one of the first two commercial all-electric spacecraft built by Boeing.

The drawback of all-electric propulsion is the longer transit time to geostationary orbit. Instead of taking a few weeks to boost itself into its final operating orbit, Eutelsat 7C's journey to geostationary orbit will last around four months.

After Thursday's launch, the Ariane 5 rocket will turn toward the east from French Guiana powered by nearly 3 million pounds of thrust. The launcher will release its two solid rocket boosters less than two-and-a-half minutes after liftoff, followed by the jettison of the Ariane 5's payload fairing at Plus+3 minutes, 22 seconds.

The Ariane 5's hydrogen-fueled Vulcain 2 main engine will shut down at Plus+8 minutes, 39 seconds, followed moments later by first stage separation and ignition of the upper stage's HM7B engine.

The cryogenic upper stage will fire more than 16 minutes to place AT&T's T-16 satellite and the Eutelsat 7C payload into an elliptical geostationary transfer orbit with a perigee, or low altitude, of 155 miles (250 kilometers), an apogee, or high point, of 22,217 miles (35,756 kilometers), and an inclination of 6 degrees to the equator.

Separation of the T-16 satellite from the Ariane 5 rocket is scheduled for Plus+27 minutes, 43 seconds. The Eutelsat 7C satellite will deploy from the Ariane 5 at Plus+33 minutes, 59 seconds.

Quelle: SN

----

Update: 21.06.2019

.

Arinae 5 successfully orbited two telecommunications satellites on its second flight of 2019, performed from the Spaceport in French Guiana. Flight VA248. T-16 and EUTELSAT 7C

+++

Quelle: arianespace
5320 Views