The Dragon supply ship set for liftoff from Florida next month was the last of SpaceX's first-generation cargo capsules off the production line, meaning future logistics deliveries to the International Space Station will fly on recycled spacecraft until a new Dragon variant is ready.
SpaceX launched a reused Dragon cargo craft on its last commercial supply shipment to the space station in June, and officials said then that the next Dragon mission — now scheduled for launch next month — will use a newly-manufactured capsule. Plans for subsequent resupply missions were still under review, NASA and SpaceX officials said at the time.
But a presentation to the NASA Advisory Council's human exploration and operations committee Monday by Sam Scimemi, director of the space station program at NASA Headquarters, suggested SpaceX's next Dragon spacecraft would be the last one to be built.
SpaceX clarified Friday that the company expects the upcoming automated logistics mission will be the last to fly with a newly-manufactured "Dragon 1" spacecraft. SpaceX has a contract with NASA for 20 commercial resupply launches through 2019, followed by at least six more Dragon cargo missions through 2024 under a separate follow-on agreement.
NASA has also contracted with Orbital ATK and Sierra Nevada Corp. for the station's cargo needs.
Another iteration of the Dragon spaceship, with a different shape and other significant changes, is under development at SpaceX. NASA confirmed last week that the first unpiloted orbital demonstration flight of the Dragon 2, also known as the Crew Dragon in its human-rated configuration, would slip from late 2017 until at least February 2018.
A second test flight scheduled for June 2018 will carry two astronauts to the space station and back to Earth. NASA and SpaceX intend to have the Crew Dragon ready and certified for regular crew rotations to and from the orbiting research complex by the end of next year.
Meanwhile, a simpler version of the Dragon 2 capsule will also take over SpaceX's cargo delivery duties. Officials have not identified when the resupply runs will switch to the new spacecraft type, but the changeover could happen when SpaceX begins flying missions under its second cargo contract in late 2019 or early 2020, or sooner.
SpaceX chief executive Elon Musk said July 19 that there was little difference between the cost of a new Dragon capsule and the cost to refurbish the Dragon that launched to the space station June 3 and returned to Earth a month later.
"The SpaceX internal accounting said that it cost us almost as much as building a Dragon 1 from scratch, but I expect our internal accounting wasn't counting certain things," Musk said at the International Space Station Research and Development Conference in Washington.
The Dragon that flew the last mission to the space station spent 34 days in orbit in 2014. Engineers replaced the ship's heat shield and batteries, which were vulnerable to salt water damage when it splashed down in the Pacific Ocean. But the hull, thrusters, harnessing, propellant tanks, and some avionics boxes were original, officials said.
"This had a lot of rework," Musk said. "The next one, we think there's a decent shot of maybe being 50 percent of the cost of a new one."
SpaceX hopes to launch the its next supply ship on a Falcon 9 rocket from NASA's Kennedy Space Center in Florida as soon as Aug. 13 or 14, ahead of an Aug. 17 spacewalk by Russian cosmonauts that will release several small satellites from the space station. The deployments will prevent the Dragon cargo craft from approaching the space station for several days as a safety precaution until station managers have good tracking of the Russian satellites.
Technicians at Cape Canaveral will load more than 7,000 pounds (about 3,300 kilograms) of hardware, crew provisions and experiments into the Dragon spacecraft in the coming weeks, including a NASA-funded instrument to investigate the origins of cosmic rays.
If the SpaceX launch is not off the ground by the middle of August, it could be grounded several days until officials ensure the Russian satellites are well away from the station. Two other launches from Cape Canaveral in the second half of August — an Atlas 5 flight set for around Aug. 20 and a Minotaur 4 rocket mission Aug. 25 — could complicate SpaceX's scheduling in the event of a delay.
The mid-August launch will be the 12th time SpaceX has sent equipment and experiments to the space station since regular Dragon resupply flights began in October 2012. Counting two Dragon test flights in December 2010 and May 2012, the reused capsule that launched twice, and next month's mission, SpaceX built 13 capsules based on the first-generation Dragon design.
After the upcoming cargo flight, SpaceX's next Dragon mission is scheduled for launch in November with a previously-flown capsule.
SpaceX will continue building unpressurized trunk modules for space station deliveries. Those sections, which hold solar panels and carry large external experiment payloads, are disposed at the end of each Dragon mission to burn up in the atmosphere.
Musk confirmed SpaceX will eventually use the Dragon 2 spacecraft for all crew and cargo missions to the space station.
"The only thing cargo Dragon won't have is the launch escape system," Musk said, noting that the capsule will still be able to separate from a failing rocket. "I think, most likely, even cargo Dragon 2 will be able to survive a booster anomaly. It will have everything the crew Dragon 2 has, except the (abort) thrusters, but I think, in most cases actually, it will be able to survive re-entry and keep the cargo safe.
"Dragon 2 being used for both cargo and crew allows us to iterate with just a little more risk on the cargo version and prove it out before there's crew on-board," Musk said.
The SpaceX founder said the next-generation Dragon will not have the capability for propulsive returns to land as originally intended, instead returning to splashdowns at sea.
Quelle: SN
---
Update: 6.08.2017
.
Next SpaceX Flight to Resupply Space Station Targeted for Aug. 13
The next flight of a SpaceX Falcon 9 rocket to deliver cargo to the International Space Station now is targeted for Aug. 13 at approximately 12:56 p.m. EDT from Launch Pad 39A at NASA's Kennedy Space Center in Florida.
This will be the company's 12th commercial resupply mission to the orbiting laboratory. The Falcon 9 will send a SpaceX Dragon spacecraft filled with nearly 6,000 pounds of equipment, crew supplies and more than 250 science and research investigations.
+++
NASA Highlights Science on Next Space Station Resupply Mission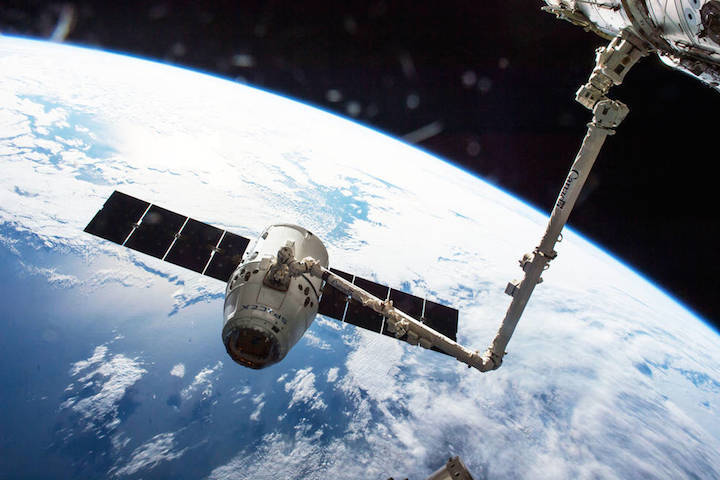 NASA will host a media teleconference at noon EDT Tuesday, Aug. 8, to discuss select science investigations launching on the next SpaceX commercial resupply flight to the International Space Station.
SpaceX is targeting no earlier than Sunday, Aug. 13 for the launch of its Dragon spacecraft on a Falcon 9 rocket from Launch Complex 39A at NASA's Kennedy Space Center in Florida.
Participants in the teleconference will be:
Quelle: NASA
---
Update: 9.08.2017
.
East Coast Launches to Resume Sunday, With Science-Heavy Dragon Mission to Space Station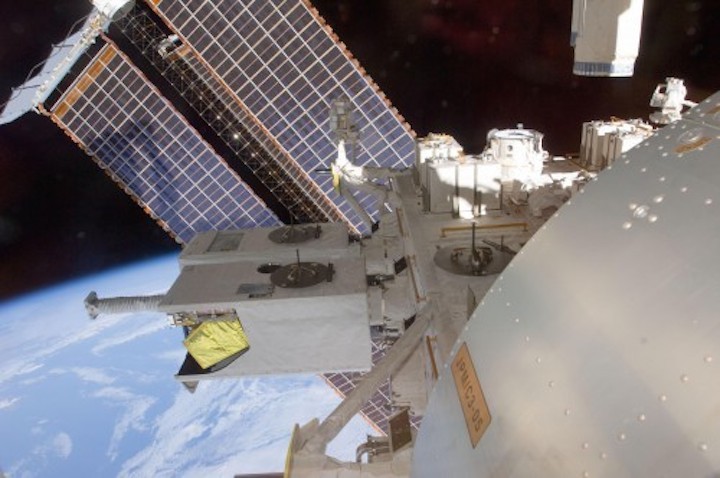 CREAM will be attached to the Exposed Facility (EF) of Japan's Kibo module. Photo Credit: NASA
-
For the first time, SpaceX will launch a third Dragon cargo mission to the International Space Station (ISS) in a single calendar year, when the science-laden CRS-12 rockets away from Pad 39A at the Kennedy Space Center (KSC) on Sunday, 13 August. Current plans call for the Dragon—mounted atop an Upgraded Falcon 9 booster—to launch no earlier than 12:56 p.m. EDT, kicking off a three-day chasedown of the orbiting laboratory. Assuming an on-time launch, Dragon will be robotically captured by the station's 57.7-foot-long (17.6-meter) Canadarm2 robotic arm on Wednesday, 16 August. This will set the stage for a month-long stay at the ISS.
Earlier today (Tuesday), a group of researchers, scientists, principal investigators and program managers assembled for a teleconference to outline the payloads aboard CRS-12. All told, some 6,415 pounds (2,910 kg) of equipment, experiments and supplies will ride uphill aboard Dragon's pressurized cargo module and its unpressurized "trunk". This includes 485 pounds (220 kg) of crew supplies, 747 pounds (339 kg) of vehicle-related hardware, 66 pounds (33 kg) of Extravehicular Activity (EVA) gear and 117 pounds (53 kg) of computer resources. Topping the list will be 2,019 pounds (916 kg) of science investigations to support more than 250 research payloads across the ongoing Expedition 52 and upcoming Expedition 53 increments and beyond.
Notably, CRS-12 will carry a major payload aboard its unpressurized trunk. In pride of place is the 2,773-pound (1,258 kg) Cosmic Ray Energetics and Mass (CREAM) investigation, which will be robotically removed a few days after Dragon reaches the space station. It will be maneuvred into position, via ground commanding, and attached to an Earth-facing (or "zenith") perch on the Exposed Facility (EF) of Japan's Kibo module. For three years, CREAM will measure the charges of cosmic ray nuclei, ranging from hydrogen through iron, across a broad energy range. The experiment features co-operation between research institutions in the United States, Mexico, South Korea and France.
In terms of heritage, the ISS variant of the experiment (colloquially dubbed "Ice-CREAM") will build on measurements made by six balloon-borne CREAM missions, conducted over Antarctica between 2004 and 2010. These flights achieved altitudes of up to 130,000 feet (40,000 meters) and collected up to 161 days' worth of data. Aboard the space station, however, CREAM will be positioned high above the "sensible" atmosphere, allowing a resolution several orders of magnitude above its predecessor. Specifically, it will investigate the history of cosmic rays in our Milky Way Galaxy, as well as evaluating whether supernovae really supply the bulk of cosmic rays and whether their energy spectra results from a single mechanism.
Also aboard CRS-12 is the Rodent Research-9 investigation, designed to explore physiological changes in 20 mice as a means of better understanding the effects of vision loss and joint changes in astronauts over long-duration missions. Earlier this week, Expedition 52 astronauts Peggy Whitson and Jack Fischer began preparing station hardware for the arrival of the experiment. The mice will remain aboard the ISS for about a month, before returning to Earth aboard Dragon on about 10 September, for analysis of their various tissues, including their brains, muscles, hearts, joints, eyes and immune systems.
Elsewhere aboard CRS-12 will be the Crystallization of LRRK2 Under Microgravity Conditions experiment to grow larger versions of the LRRK2 protein, which is implicated in the pathology of Parkinson's disease. Crystals of this protein will be observed after landing, using X-ray and neutron diffraction analysis, to better understand its structure and guide the development of inhibitor therapies to slow, prevent or stop the disease's progress. Other payloads include the Effect of Microgravity on Stem Cell Mediated Recellularization (Lung Tissue) to explore the possibility of growing new lung tissue to repair damaged organs and reduce organ rejection and NanoRacks' Kestrel Eye microsatellite.
Assuming an on-time launch on Sunday afternoon, it is expected that CRS-12 will be grappled by the space station's Canadarm2 on Wednesday. At the controls of the arm will be Jack Fischer, backed up by recently-arrived Paolo Nespoli. Dragon will be berthed at the Earth-facing (or "nadir") port of the Harmony node, where it will remain until at least 10 September. It will then be unberthed and released into space, where the pressurized module will perform a parachute-guided return to Earth and splashdown in the Pacific Ocean.
Quelle: AS
---
Update: 10.08.2017
.
NASA Television to Air Launch of Next Space Station Resupply Mission
NASA commercial cargo provider SpaceX is targeting its 12th commercial resupply services mission to the International Space Station for 12:31 p.m. EDT Monday, Aug. 14. Coverage will begin on NASA Television and the agency's website Sunday, Aug. 13, with two briefings.
Loaded with more than 6,400 pounds of research, crew supplies and hardware, the SpaceX Dragon spacecraft will launch on a Falcon 9 rocket. The payloads include crucial materials to directly support several of the more than 250 science and research investigations to be conducted on the orbiting laboratory during Expeditions 52 and 53.
Complete coverage of CRS-12 activities is as follows:
Sunday, Aug. 13
2 p.m. – Prelaunch news conference
3:30 p.m. – "What's on Board" science briefing
Monday, Aug. 14
Noon – Launch coverage
2 p.m. – Post-launch news conference
Wednesday, Aug. 16
5:30 a.m. – Spacecraft rendezvous at the space station and capture
8:30 a.m. – Installation to the space station
About 10 minutes after launch, Dragon will reach its preliminary orbit and deploy its solar arrays. A carefully choreographed series of thruster firings are scheduled to bring the spacecraft to rendezvous with the space station. NASA astronaut Jack Fischer and ESA (European Space Agency) astronaut Paolo Nespoli will grapple Dragon using the space station's robotic arm. It then will be installed on the station's Harmony module.
The Dragon spacecraft will spend approximately one month attached to the space station, returning to Earth in mid-September with results of earlier experiments.
Quelle: NASA
---
Update: 12.08.2017
.

Meteorologists with the U.S. Air Force 45th Space Wing are predicting a 70 percent chance of favorable weather for liftoff of the SpaceX Falcon 9 rocket carrying a Dragon spacecraft. Launch of the company's twelfth commercial resupply mission to the International Space Station is scheduled for Monday, Aug. 14 at 12:31 p.m. EDT from Launch Pad 39A at NASA's Kennedy Space Center in Florida. Rain and thunderstorms are expected today and through the weekend, especially in the afternoon – a familiar summer weather pattern for Florida's Space Coast. Heading into Monday, cumulus clouds and flight through precipitation are forecasters' primary launch weather concerns, but the early afternoon launch time is helpful.
Quelle: NASA
---
Update: 14.08.2017
.
CRS-12 Dragon Resupply Mission
Mission Overview
SpaceX's Falcon 9 rocket will launch a Dragon spacecraft to low-Earth orbit to deliver critical cargo to and from the International Space Station for NASA.
SpaceX is targeting launch of its twelfth Commercial Resupply Services mission (CRS-12) from Launch Complex 39A (LC-39A) at NASA's Kennedy Space Center, Florida. The instantaneous launch window is on Monday, August 14 at 12:31 p.m. EDT, or 16:31 UTC. Dragon will separate from Falcon 9's second stage about 10 minutes after liftoff and attach to the space station on August 16.
Following stage separation, Falcon 9's first stage will attempt to land at SpaceX's Landing Zone 1 (LZ-1) at Cape Canaveral Air Force Station, Florida.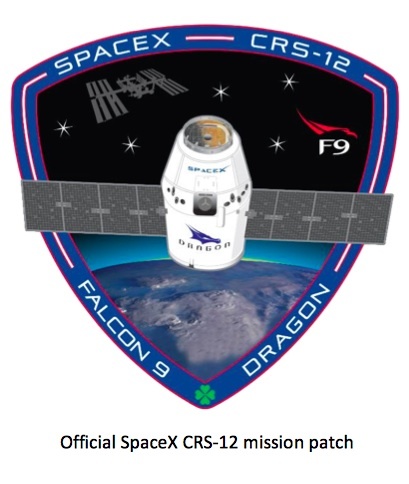 Official SpaceX CRS-12 mission patch
Dragon will be filled with over 6,400 pounds of supplies and payloads, including critical materials to directly support dozens of the more than 250 science and research investigations that will occur during Expeditions 52 and 53.
SpaceX CRS-12 is the twelfth of up to 20 missions to the International Space Station that SpaceX will fly for NASA under the first CRS contract. In January 2016, NASA announced that SpaceX's Falcon 9 launch vehicle and Dragon spacecraft were selected to resupply the space station through 2024 as part of a second Commercial Resupply Services contract award. Under the CRS contracts, SpaceX has restored an American capability to deliver and return significant amounts of cargo, including live plants and animals, to and from the orbiting laboratory. A variant of the Dragon spacecraft, called Dragon 2, is being developed for U.S.-based crew transport to and from the space station.
ISS Capture
On August 16, International Space Station crew members will use the station's 57.7-foot (17.6-meter) robotic arm to reach out and capture the Dragon spacecraft and attach it to the station.
Return Flight
Dragon will return to Earth with more than 3,000 pounds of cargo after an approximately one-month stay at the orbiting laboratory. About five hours after Dragon leaves the space station, it will conduct its deorbit burn, which lasts up to 10 minutes. It takes about 30 minutes for Dragon to reenter the Earth's atmosphere and splash down in the Pacific Ocean off the coast of Baja California.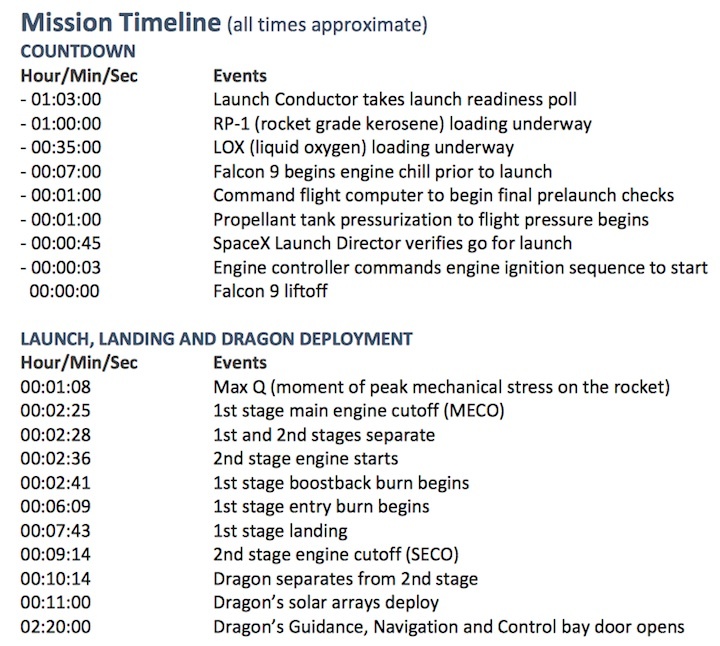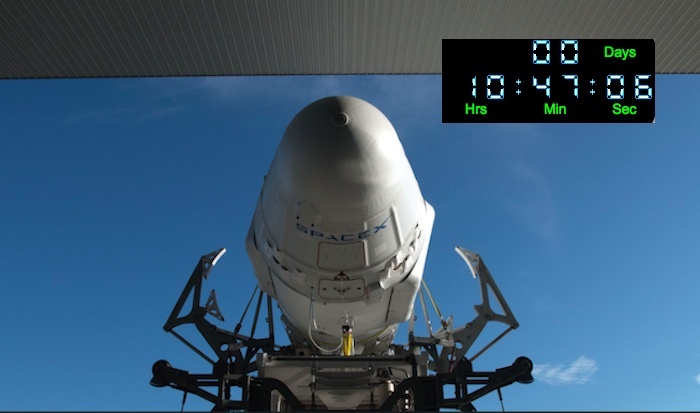 Launch Complex 39A at Kennedy Space Center, Florida
Launch Complex 39A (LC-39A) at Kennedy Space Center has a history dating back to the early 1960s. Originally built to support the Apollo program, LC-39A supported the first Saturn V launch (Apollo 4), and many subsequent Apollo missions, including Apollo 11 in July 1969. Beginning in the late 1970s, LC- 39A was modified to support space shuttle launches, hosting the first and last shuttle missions to orbit in 1981 and 2011, respectively.
In 2014, SpaceX signed a 20-year lease with NASA for the use of Launch Complex 39A. Since then, the company has made significant upgrades to modernize the pad's structures and ground systems, while also preserving its important heritage. Extensive modifications to LC-39A have been made to support launches of both the Falcon 9 and Falcon Heavy launch vehicles. These upgrades will also enable LC-39A to serve as the complex from which SpaceX will launch crew rotation missions to and from the International Space Station for NASA's Commercial Crew Program.
Quelle: SpaceX
+++
Erfolgreicher Start von Falcon-9 mit Dragon-CRS-12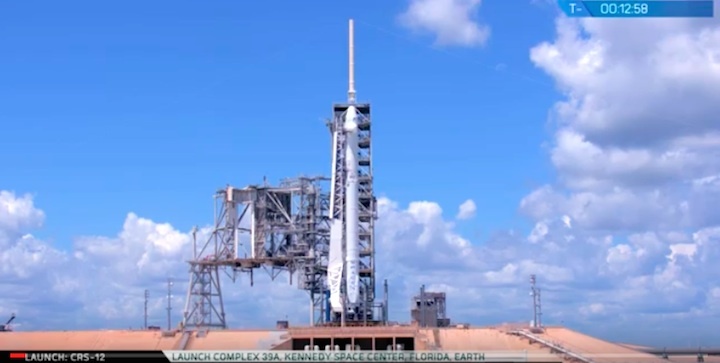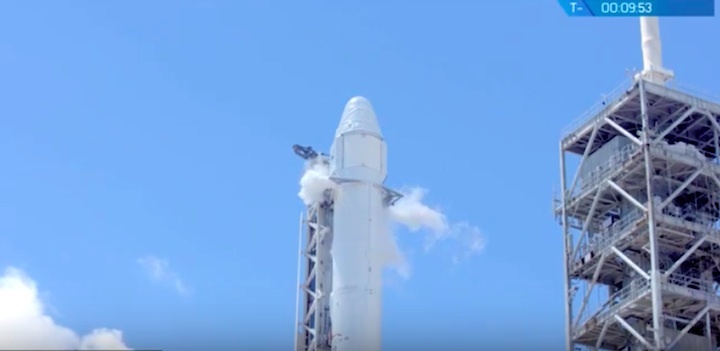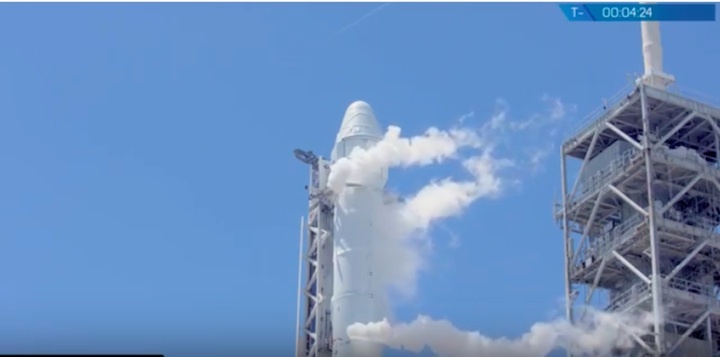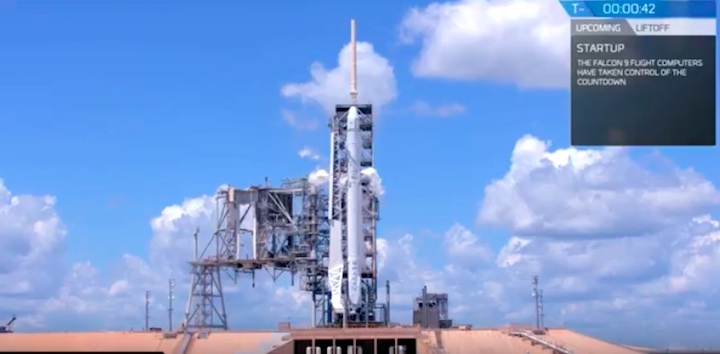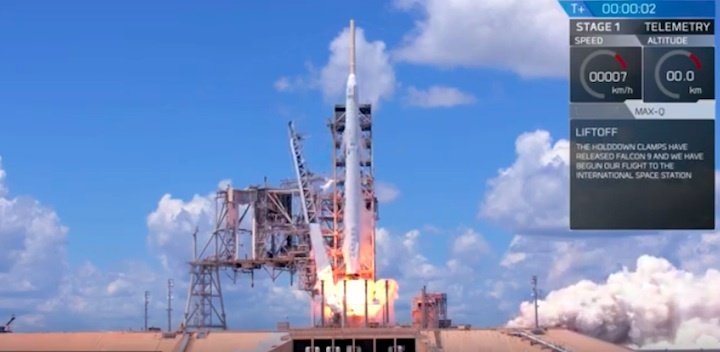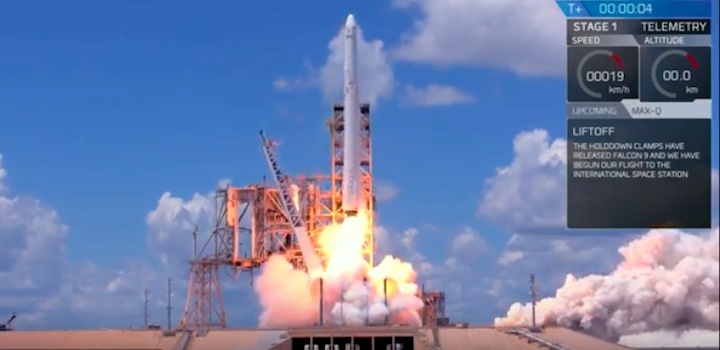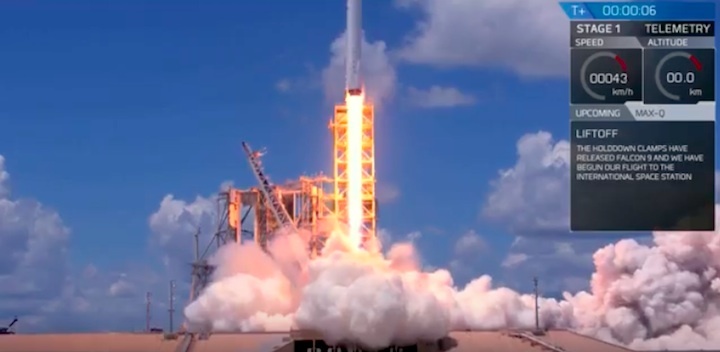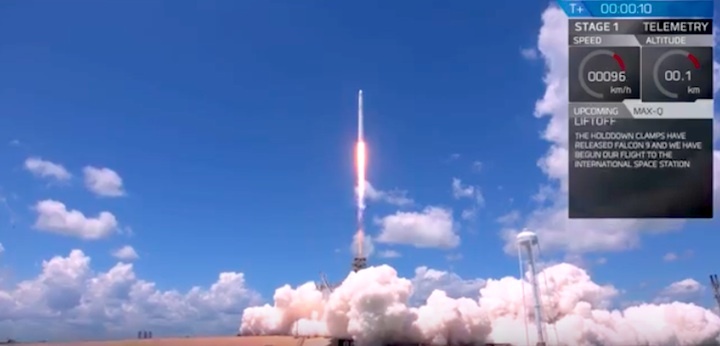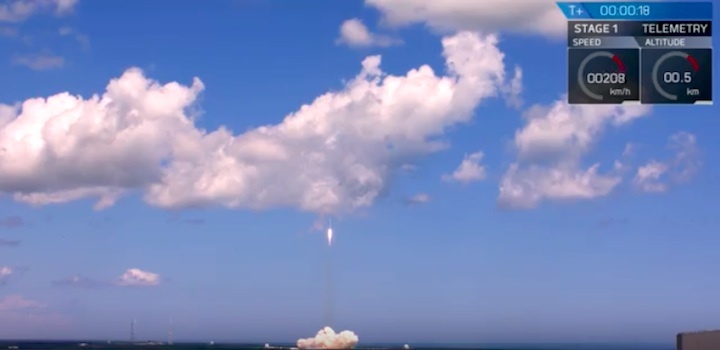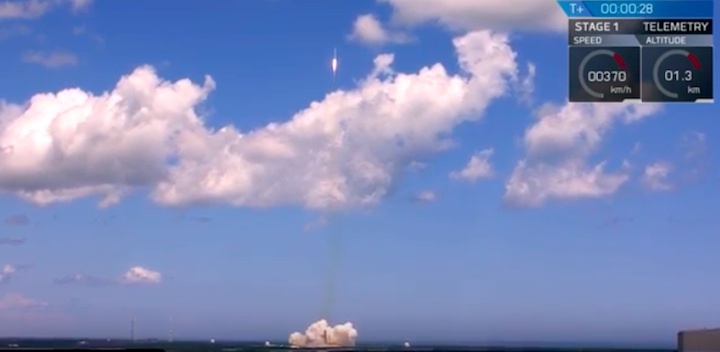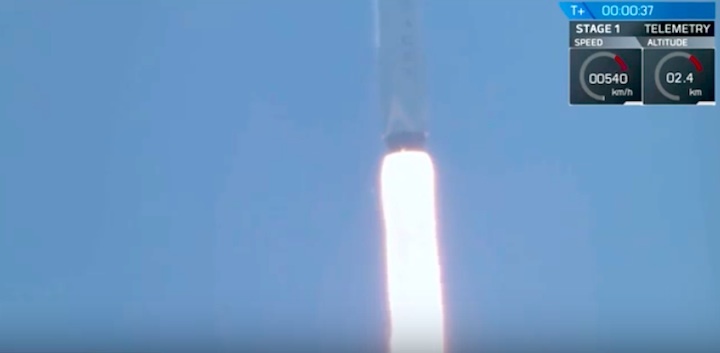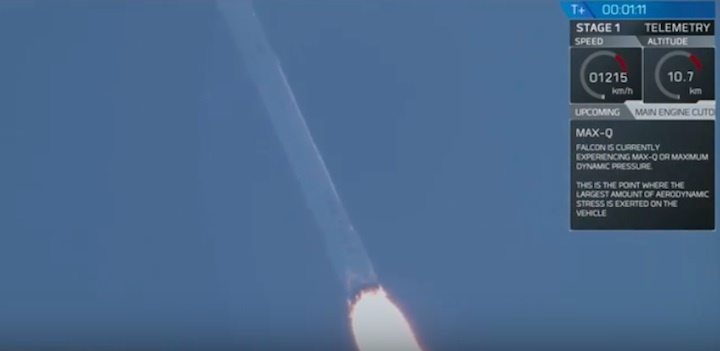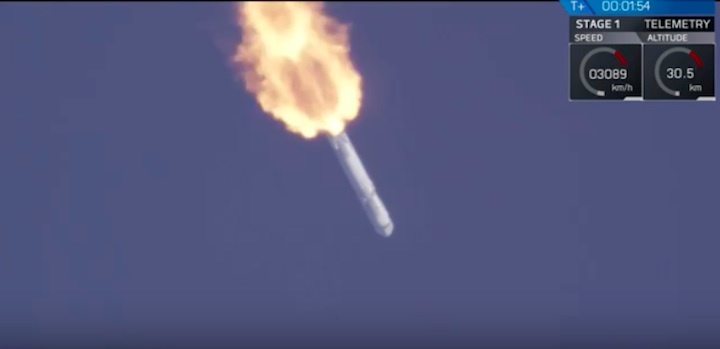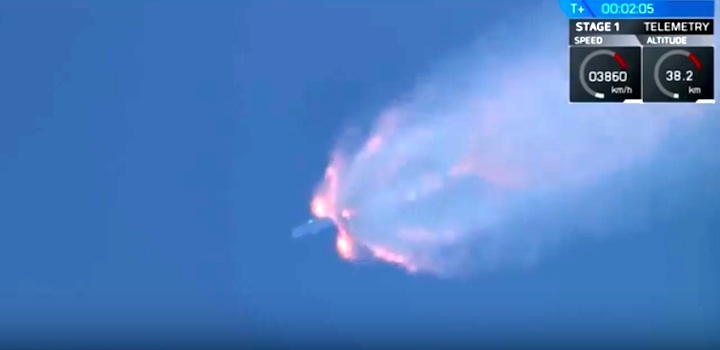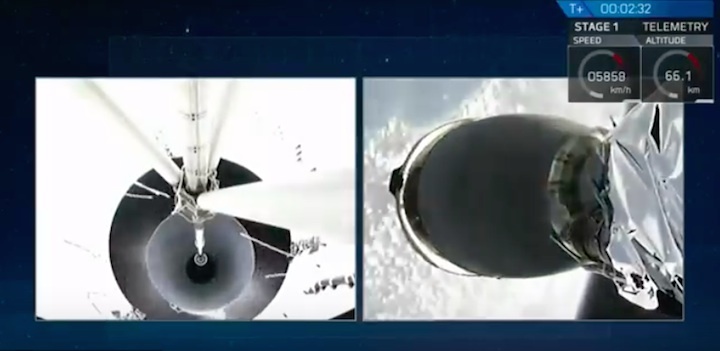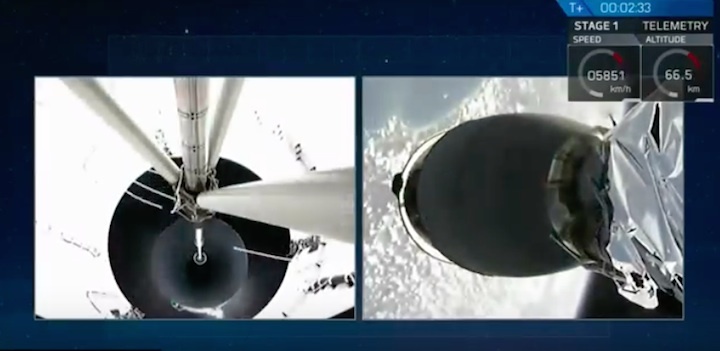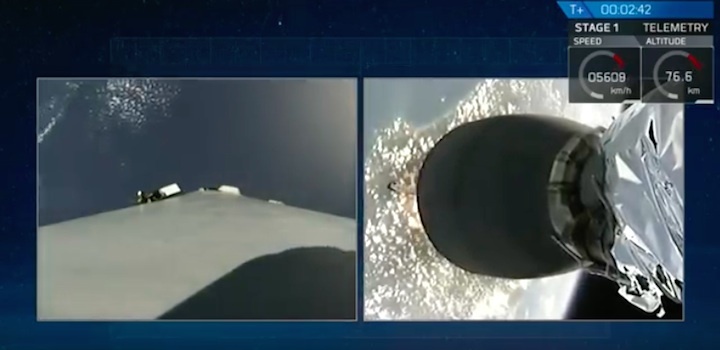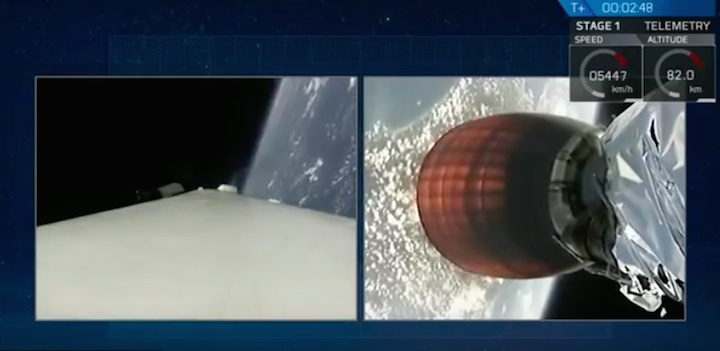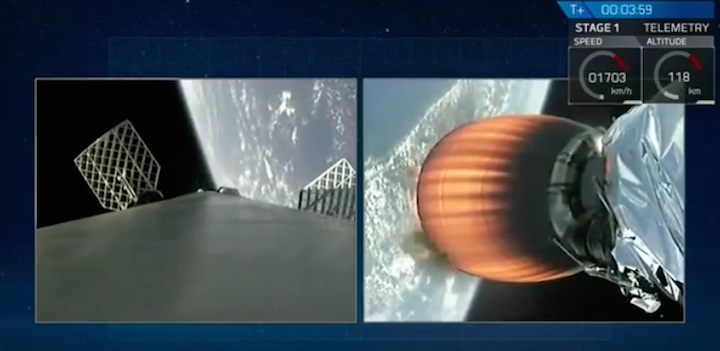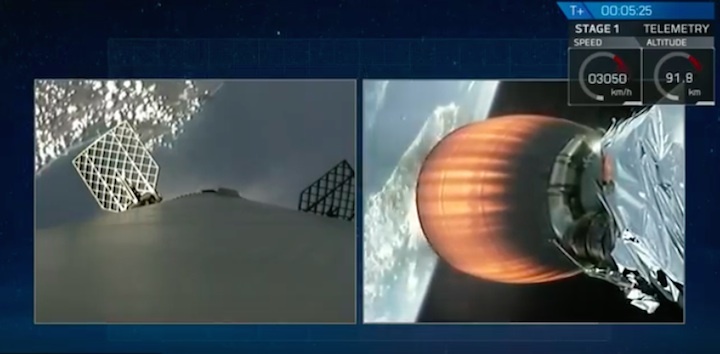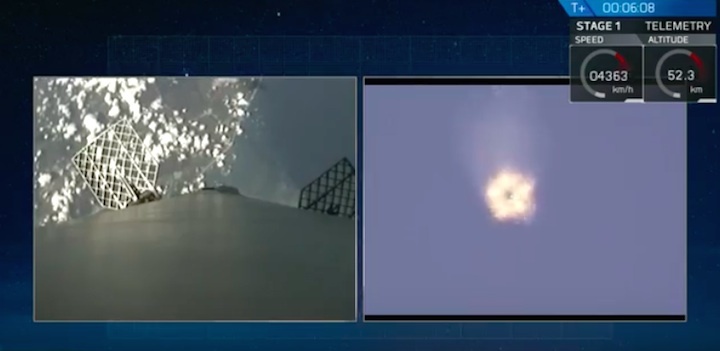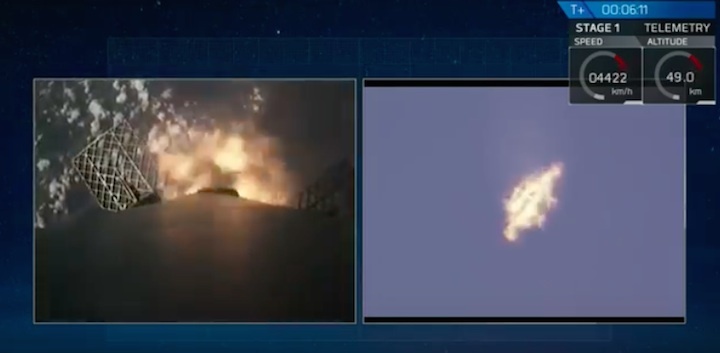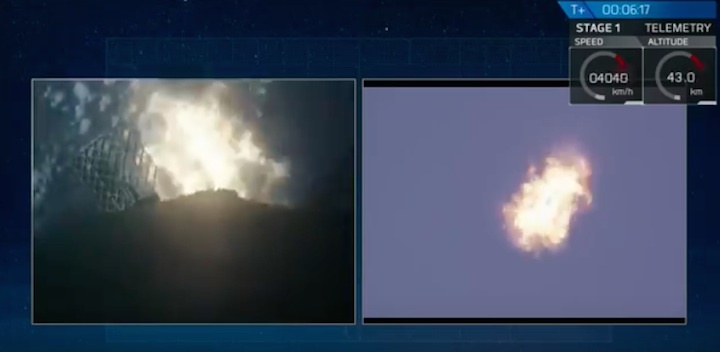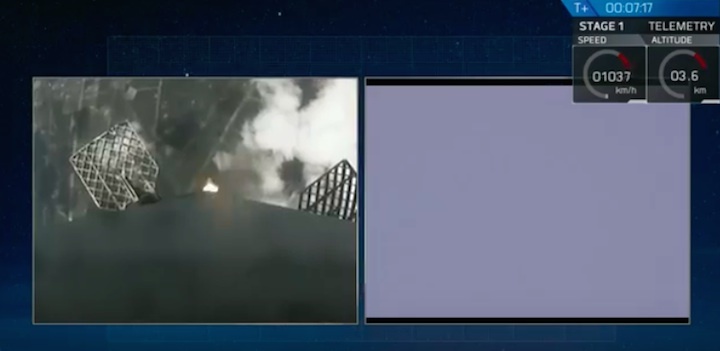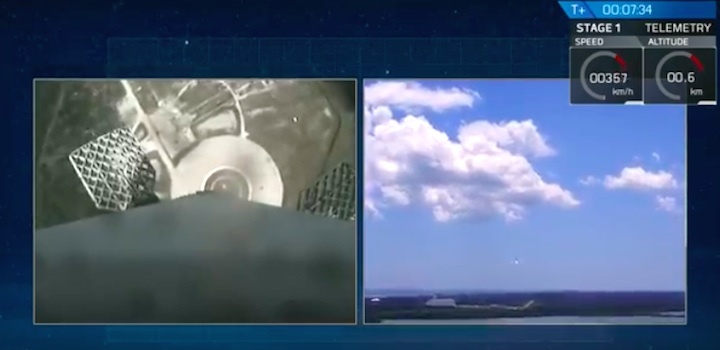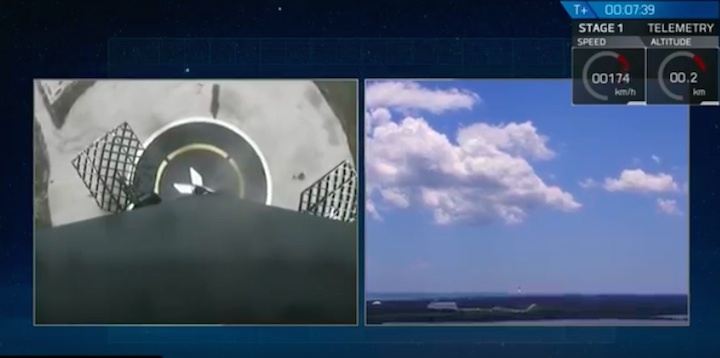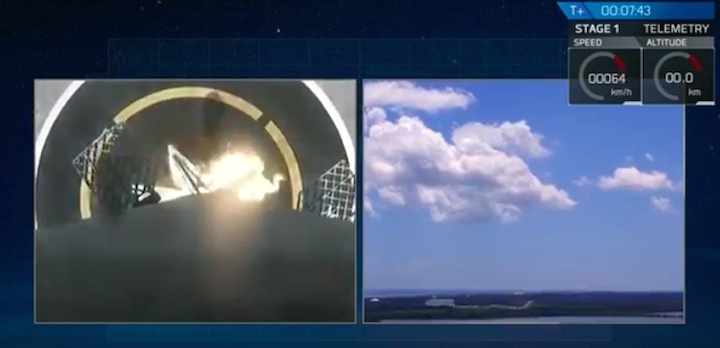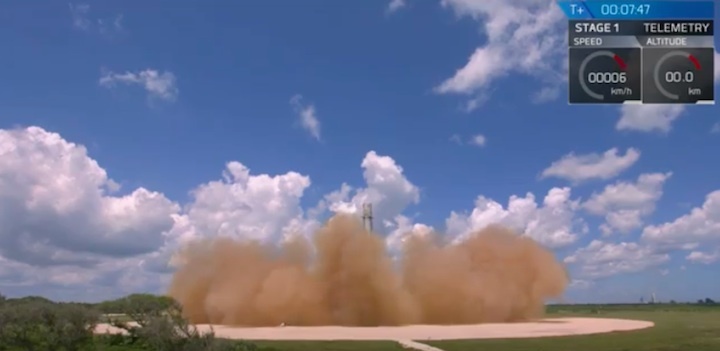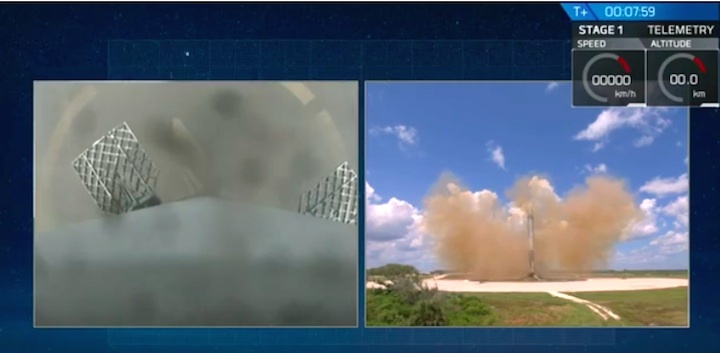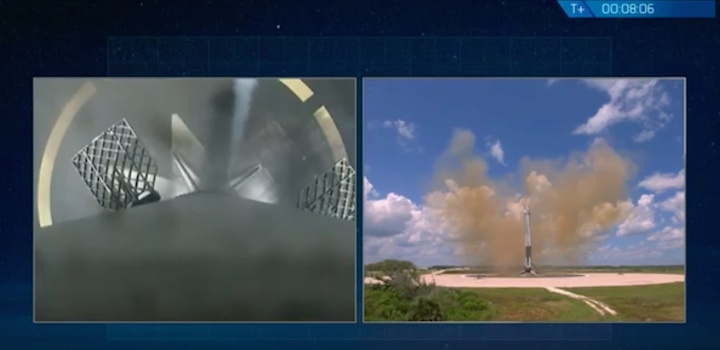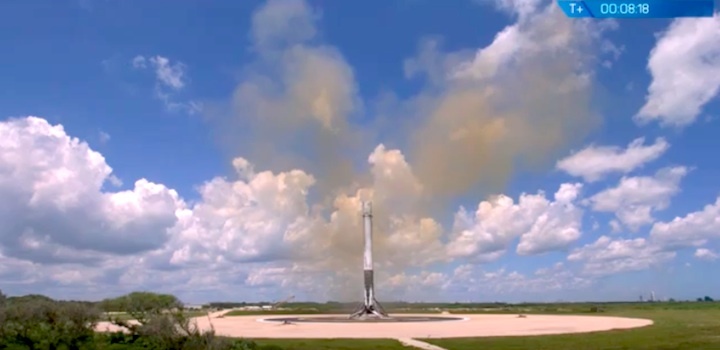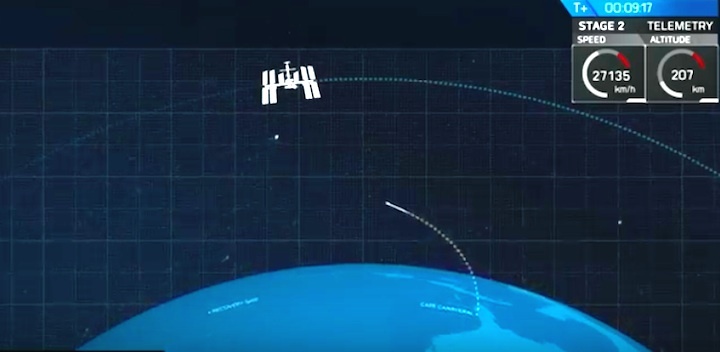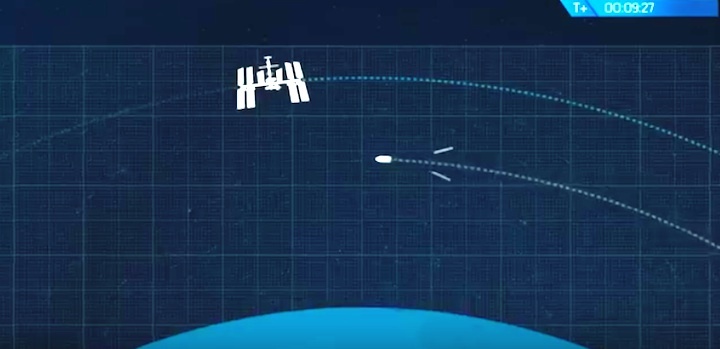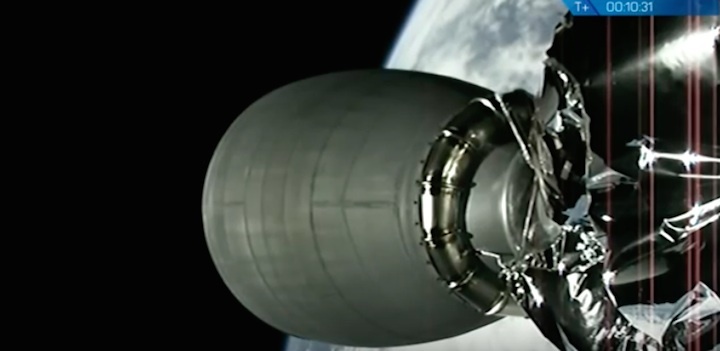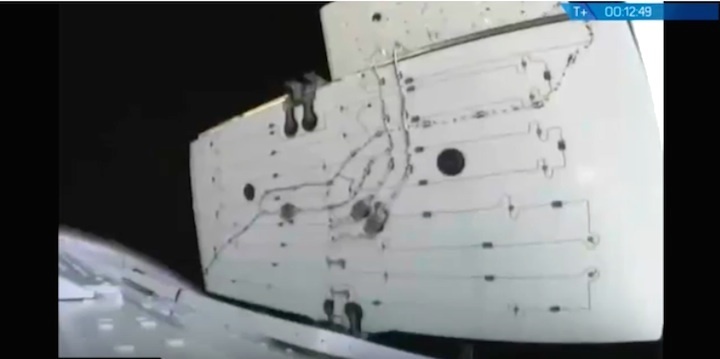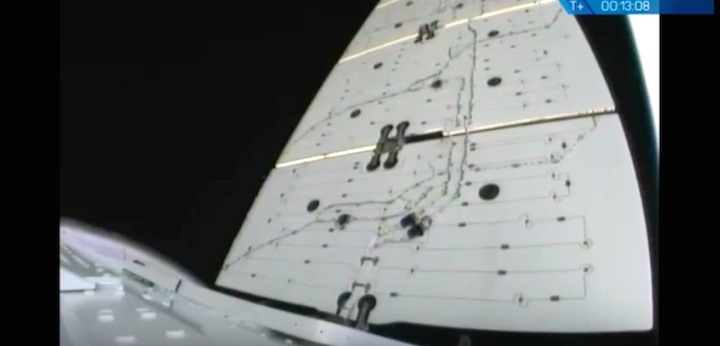 Quelle: SpaceX
---
Update: 15.08.2017
.
NASA Cargo Launches to Space Station Aboard SpaceX Resupply Mission
Experiments seeking a better understanding of Parkinson's disease and the origin of cosmic rays are on their way to the International Space Station aboard a SpaceX Dragon spacecraft following today's 12:31 p.m. EDT launch.
Carrying more than 6,400 pounds of research equipment, cargo and supplies, the spacecraft lifted off on a Falcon 9 rocket from Launch Complex 39A at NASA's Kennedy Space Center in Florida on the company's 12th commercial resupply mission. It will arrive at the space station Wednesday, Aug. 16, at which time astronauts Jack Fischer of NASA and Paolo Nespoli of ESA (European Space Agency) will use the space station's robotic arm to capture it.
NASA Television and the agency's website will provide live coverage of spacecraft rendezvous and capture beginning at 5:30 a.m., followed by installation coverage at 8:30 a.m.
Research materials flying inside the Dragon's pressurized area include an experiment to grow large crystals of leucine-rich repeat kinase 2 (LRRK2), a protein believed to be the greatest genetic contributor to Parkinson's disease. Gravity keeps Earth-grown versions of this protein too small and too compact to study. This experiment, developed by the Michael J. Fox Foundation, Anatrace and Com-Pac International, will exploit the benefits of microgravity to grow larger, more perfectly-shaped LRRK2 crystals for analysis on Earth. Results from this study could help scientists better understand Parkinson's and aid in the development of therapies.
The Kestrel Eye (NanoRacks-KE IIM) investigation is a microsatellite carrying an optical imaging payload, including a commercially available telescope. This investigation, sponsored by the U.S. National Laboratory, tests the concept of using microsatellites in low-Earth orbit to support critical operations, such as lowering the cost of Earth imagery in time-sensitive situations such as tracking severe weather and detecting natural disasters.
The Cosmic Ray Energetics and Mass instrument will be attached to the Japanese Experiment Module Exposed Facility on the space station, and measure the charges of cosmic rays. The data collected from its three-year mission will address fundamental questions about the origins and histories of cosmic rays, building a stronger understanding of the basic structure of the universe.
Dragon is scheduled to depart the space station in mid-September, returning more than 3,300 pounds of science, hardware and crew supplies to Earth.
For more than 16 years, humans have lived and worked continuously aboard the International Space Station, advancing scientific knowledge and demonstrating new technologies, making research breakthroughs not possible on Earth to enable long-duration human and robotic exploration into deep space. A global endeavor, more than 200 people from 18 countries have visited the unique microgravity laboratory that has hosted more than 1,900 research investigations from researchers in more than 95 countries.
Quelle: NASA