The Japan Aerospace Exploration Agency plans to fire a small three-stage rocket Wednesday that will place a microsatellite in orbit in a test project aimed at promoting Japan's space business with inexpensive satellite-launching technology.
The 9.5-meter SS-520-4 rocket, only one-fifth the length of an H-IIA rocket, is based on the two-stage solid-fueled SS-520 model designed to lift observatory equipment to an altitude of about 1,000 km.
With one stage added, the SS-520-4 became one of the smallest rockets in the world capable of putting a satellite into Earth's orbit.
The tiny satellite to be carried by the small rocket is the University of Tokyo's TRICOM-1, which weighs some 3 kg.
The cost of remodeling the SS-520 rocket and developing the satellite to take pictures of Earth and conduct communications experiments was cut by using off-the-shelf commercial electronic parts.
The project chiefly used ¥400 million provided by the Ministry of Economy, Trade and Industry.
Unveiling the SS-520-4 rocket to the media Monday, Hiroto Habu, an associate professor at JAXA, said, "I really want to make the difficult project successful, because it should help expand the use of the space."
The rocket is scheduled to launch at 8:48 a.m. Wednesday from the Uchinoura Space Center in Kagoshima Prefecture.
Quelle: The Japan Times
-
Update: 11.01.2017
.
Launch of experimental Japanese rocket scrubbed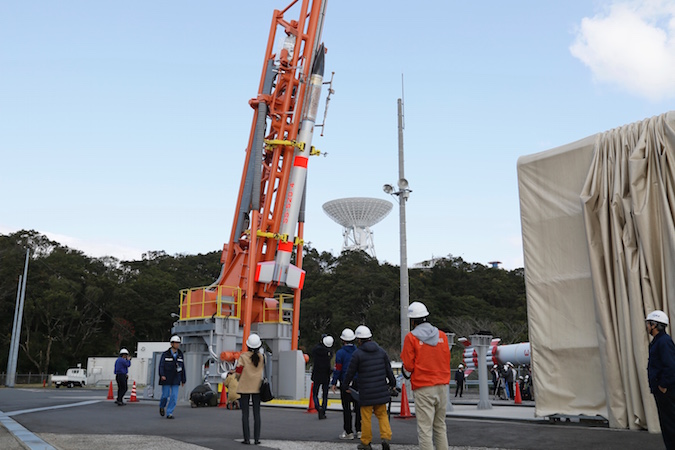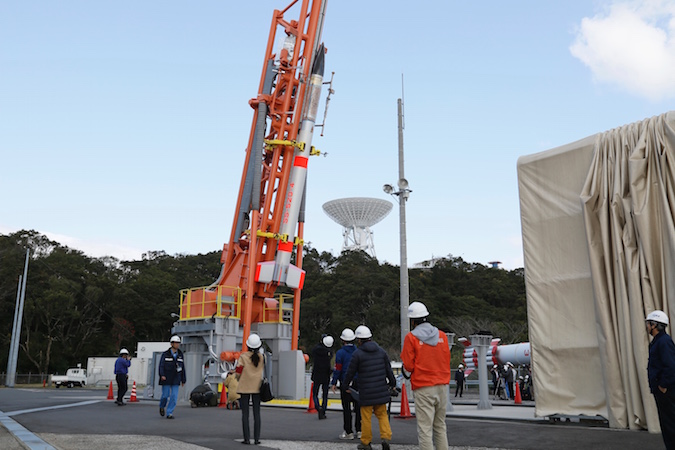 The launch of an experimental fin-stabilized Japanese rocket with a shoebox-sized CubeSat was scrubbed Tuesday, pushing back a test flight to demonstrate how companies and institutions can inexpensively put small satellites in space.
The modified sounding rocket, designated the SS-520-4, was scheduled to fire into the sky from the Uchinoura Space Center in southern Japan's Kagoshima prefecture at 2348 GMT (6:48 p.m. EST) Tuesday, or 8:48 a.m. Japan Standard Time Wednesday.
Japanese officials announced a few minutes before the launch that the flight would be postponed due to bad weather at the space base. Authorities did not immediately set a new launch date.
The SS-520-4 will try to become the smallest rocket to ever put an object in orbit. Its sole payload is the six-pound (three-kilogram) TRICOM 1 spacecraft, a CubeSat from the University of Tokyo designed for communications and Earth observation experiments.
Standing 31 feet (9.5 meters) tall and spanning around 20 inches (52 centimeters) in diameter, the SS-520-4 will blast off from a rail launch system and head east over the Pacific Ocean, dropping its lower two stages and payload enclosure into the sea in the first few minutes of the flight.
Primarily funded by a $3.5 million budget provided by the the Japanese government's Ministry of Economy, Trade and Industry, the SS-520-4 program is a one-off demonstration by Japan's space agency, which aims to validate low-cost technology and launch operations procedures for a future "nano-launcher" to deploy tiny satellites in orbit on dedicated rides.
The Japan Aerospace Exploration Agency said the research and development project aims to demonstrate a relatively inexpensive launch concept using commercially-available technology.
The launch is purely an experiment, and the student-developed TRICOM 1 CubeSat stowed in the nose of the SS-520-4 booster is as much an educational tool as a space research probe.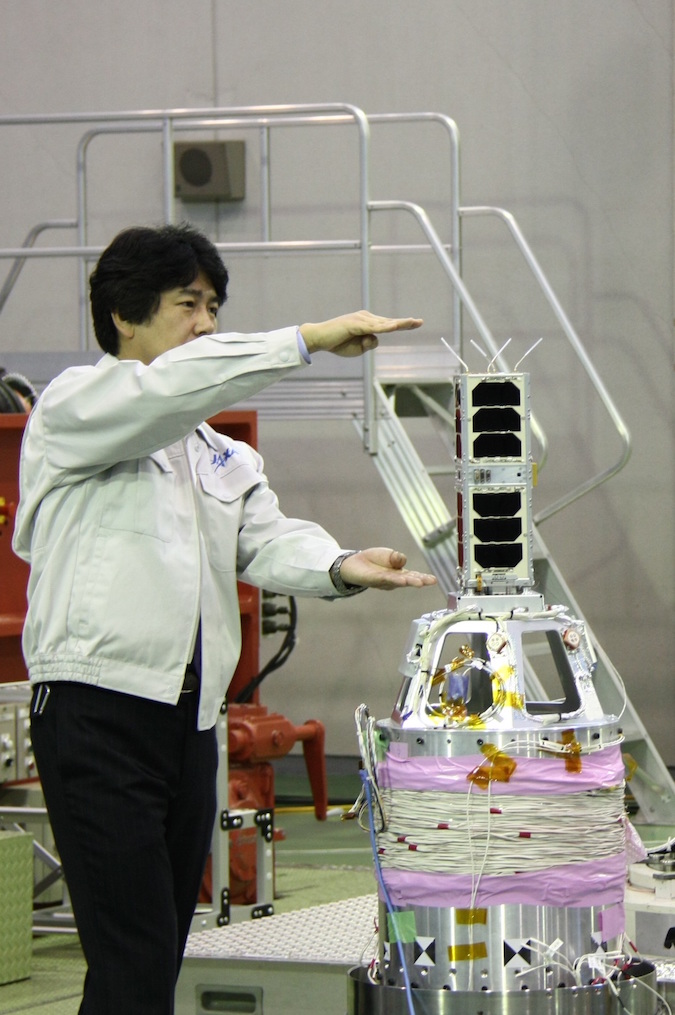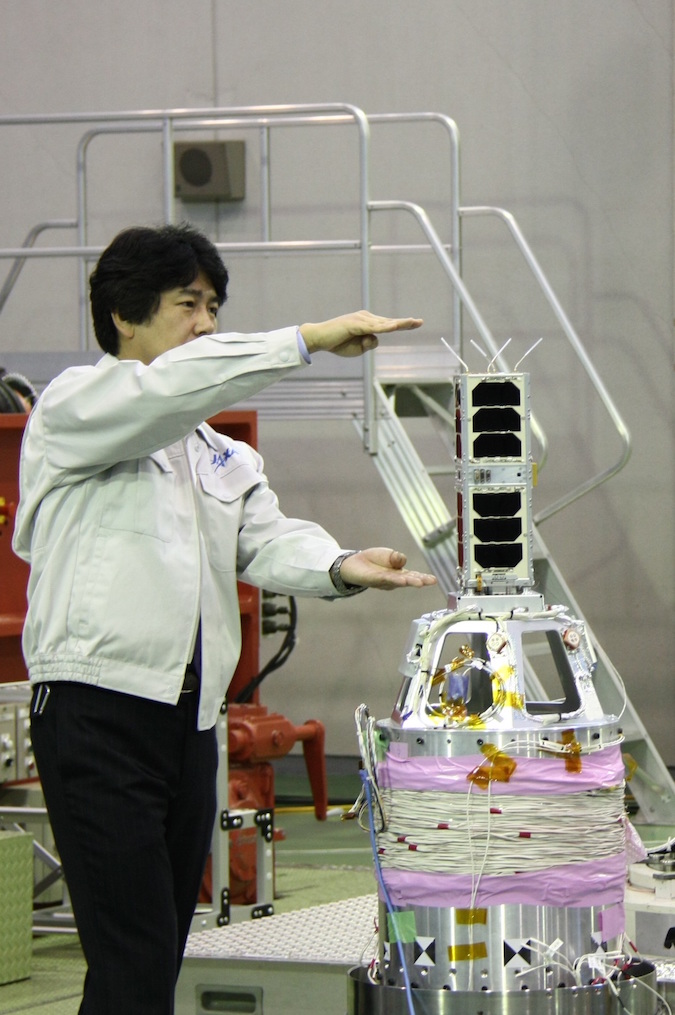 If the SS-520-4 rocket's flight goes as planned, it will become the smallest and lightest vehicle to ever put an object in orbit.
The small-scale satellite launcher is based on Japan's SS-520 sounding rocket, a two-stage vehicle developed by IHI Aerospace and JAXA's Institute of Space and Astronautical Science, which has flown twice on suborbital research missions from Uchinoura and Svalbard, Norway, in 1998 and 2000.
The SS-520 is designed to propel more than 300 pounds (140 kilograms) of science research instrumentation to an altitude of nearly 500 miles (800 kilometers) for a few minutes of exposure to space before falling back to Earth.
Engineers added a third stage on top of the basic SS-520 booster to give it the capability to reach orbital speeds of more than 17,000 mph (27,000 kilometers per hour).
According to JAXA documents, the SS-520-4 will weigh nearly 2.9 tons (2.6 metric tons) at launch, with nearly 2.2 tons (2 metric tons) of that weight made up of pre-packed solid propellants. The SS-520-4's first stage is loaded with nearly 3,500 pounds (1,587 kilograms) of HTPB solid fuel, while the second and third stages will burn 716 pounds (325 kilograms) and 172 pounds (78 kilograms) of propellant, respectively.
The rocket will target an orbit ranging between 111 miles (180 kilometers) and 932 miles (1,500 kilometers) in altitude, with an inclination of 31 degrees.
A timeline of the launch from JAXA is published below.
T-00:00: Liftoff
T+00:31.7: First stage burnout at an altitude of 85,000 feet (26 kilometers)
T+01:05: Nose cone separation at an altitude of 48 miles (78 kilometers)
T+01:06: First stage separation at a downrange distance of 18 miles (29 kilometers)
T+02:37: Second stage ignition time calculation
T+02:50: Second stage ignition at an altitude of 108 miles (174 kilometers)
T+03:14.4: Second stage burnout at a velocity of 8,050 mph (3.6 kilometers/hour)
T+03:45: Second stage separation at a downrange distance of 142 miles (229 kilometers)
T+03:48: Third stage ignition at an altitude of 115 miles (186 kilometers)
T+04:13.6: Third stage burnout at a downrange distance of 222 miles (358 kilometers)
T+07:30: TRICOM 1 separation
Quelle: SN
-
Update: 15.01.2017
.
Japan's SS-520 fails during TRICOM-1 launch to demo small rocket capability
Japan conducted an experimental launch, using a modified SS-520 sounding rocket to place a CubeSat, TRICOM-1, into low Earth orbit. The mission lifted off from the Uchinoura Space Centre at 08:33 local time (23:33 UTC on Saturday), aiming to mark a new record for small rocket launch capability. However, the launch has been declared as a failure.

Japanese Launch:
A one-off demonstration mission, the launch aimed to prove the concept of using a minimally-modified sounding rocket to place small satellites into orbit.
Both IHI Aerospace and Canon have investigated partnerships with the Japan Aerospace Exploration Agency (JAXA) on the development of rockets to launch small satellites, and the launch will gather data which could aid these programs. The TRICOM-1 satellite is a CubeSat, carrying a communications experiment and cameras for Earth imaging.
The SS-520 is a two-stage solid-fuelled sounding rocket, designed to carry research payloads on suborbital missions to altitudes of around 800 to 1,000 kilometers (620 miles, 540 nautical miles).
For the mission, which has the flight designation SS-520-4, the vehicle has been modified with the addition of a small third stage to inject its payload into a low Earth orbit.
SS-520-4 will make the third flight of the SS-520, which first flew on 5 February 1998 from Uchinoura and made a second launch in December 2000 from Svalbard, Norway, carrying out geomagnetic research missions.
The first stage of the SS-520 is based on the S-520 rocket, with a smaller second stage mounted atop it to increase the maximum altitude the rocket can reach on suborbital missions. Fins at the base of the rocket provide spin stabilization.
A rhumb line control system using gaseous nitrogen thrusters mounted in the interstage between the first and second stages is used to reorient the vehicle during a coast phase between first stage separation and second stage ignition, firing as the vehicle spins to change its attitude by precessing its rotation. For Wednesday's mission the third stage and payload are mounted within the rocket's standard nose cone.
First introduced in 1980, the S-520 is used by JAXA, and its predecessor the Institute of Space and Aeronautical Science (ISAS), for research launches which typically reach an altitude between 200 and 400 kilometers (124-249 miles, 108-216 nautical miles). Thirty have been launched, with one failure which occurred in 1995.
In its three-stage configuration, the SS-520 is expected to be able to place a four-kilogram (8.8 lb) payload into low Earth orbit. The vehicle measures 9.54 meters (31.3 feet) in length with a diameter of 0.520 meters (1.71 feet), and has a mass at launch of 2,600 kilograms (5,700 lb).
Had the launch been classed as successful, SS-520-4 would have become the smallest rocket ever to deliver a payload into orbit. The only smaller vehicle – both in mass and length – to attempt an orbital launch was the US Navy's NOTS-EV-1 vehicle, also known as Pilot. Air-launched from an F4D-1 Skyray, Pilot made six orbital launches and four ground-launched suborbital test flights between July and August 1958; all ten launches failed.
The smallest rocket to reach orbit prior to the launch was Japan's Lambda-4S rocket, which made five launches between 1966 and 1970, scoring its only success with the February 1970 deployment of Osumi, Japan's first successful orbital launch.
The TRICOM-1 CubeSat was the only payload aboard SS-520-4. Developed by the University of Tokyo, the satellite carries a store-and-forward communications payload and five cameras for Earth observation. It has a mass of approximately three kilograms (6.6 lb).
TRICOM-1 was built to the three-unit CubeSat standard. CubeSats have become a popular standard within the space industry for small scientific, educational, technology research and even commercial payloads. A variety of form factors have been launched, specified in terms of units – a single unit being a cube with sides of ten centimeters (3.9 inches).
The smallest CubeSat to have been launched was a 0.25-unit spacecraft, measuring 0.25 cm along one axis, and ten centimeters along the other two, while the largest is a twelve-unit satellite measuring 20 by 20 by 30 cm (7.9 x 7.9 x 11.8 inches).
A three-unit spacecraft like TRICOM-1 measures 10 by 10 by 30 centimeters, or 3.9 by 3.9 by 11.8 inches; although with its unique separation system and antennae deployed, TRICOM-1 is slightly larger, measuring 11.1 by 11.1 by 34.6 cm (4.6 by 4.6 by 13.6 inches).
Since the first CubeSats were deployed from a Rokot rocket in 2003, over 300 such spacecraft have been launched with the three-unit the most common configuration. CubeSats are typically carried as secondary payloads on the launches of larger satellites, and the launch is the first time a single CubeSat has been given a dedicated launch. Also unusually for a CubeSat, TRICOM-1 is designed to separate directly from the upper stage of the SS-520 rocket, rather than using a deployment pod.
The launch took place from the Uchinoura Space Centre, using the facility's KS Centre launch complex. Uchinoura, which was known as the Kagoshima Space Centre prior to 2003, is one of two orbital launch sites in Japan, along with the Tanegashima Space Centre.
Uchinoura has two launch complexes; the KS Centre which is primarily used for sounding rocket missions, and the Mu Centre, about 350 meters (1150 feet) to the East, which is used for orbital launches with Epsilon, and formerly Mu, rockets.
The KS Centre is used by the S-310, S-520 and SS-520 rockets, Japan's fleet of suborbital research vehicles. Historically the pad has also been used by Kappa, Lambda and MT-135 vehicles. Japan's earliest orbital launch attempts, using the Lambda-4S rocket, were made from the complex, with the fifth and final launch on 11 February 1970 Japan's first successful orbital launch, placing the Osumi satellite into orbit. The launch of Osumi is the most recent orbital launch from the KS Centre.
The KS Centre has a large integration building and launch dome, with rockets able to launch from within the building or from a concrete area outside, via mobile launchers. The S-310 and S-520 have separate launchers, with the SS-520 using the S-520's launcher for its previous flight from Uchinoura.
Between 2012 and 2014, a permanent rail launcher was installed adjacent to the launch dome, which was first used for the August 2014 launch of an S-520 rocket, flight designation S-520-29. It is from this rail launcher that SS-520-4 will take flight.
The launch was to last seven and a half minutes from liftoff to spacecraft separation. At the zero-second mark in the countdown the first stage ignited, beginning a 31.7-second burn which accelerated SS-520-4 to a speed of 2 kilometers per second (4,500 mph), boosting it towards space.
Once its first stage had ignited, the rocket left the launch rail and began its ascent towards space. Following first stage burnout, the rocket coasted towards its apogee.
Sixty-five seconds after launch, with the rocket at an altitude of 78 kilometers (48 miles, 42 nautical miles), the vehicle's nose cone separated. A second later, the spent first stage was jettisoned. Shortly afterward, at about 77 seconds elapsed time, the rhumb line thrusters began firing pulsed as the vehicle rotated, adjusting its spin to provide the correct orientation for second stage flight – a process which lasted twenty-nine seconds.
Two minutes and 27 seconds into the flight, the interstage, which houses the rhumb line thrusters, separated from the second stage. Ten seconds later a vehicle status check was conducted to determine whether the rocket was still capable of achieving orbit.
This verified that the vehicle's spin rate, its position, speed and altitude, and its attitude were within expected parameters, that the vehicle was healthy and that any necessary adjustment to the second stage ignition time could be made. Had these checks passed the flight would have continued to second stage ignition, otherwise the mission would have been aborted and the rocket allowed to fall into the Pacific Ocean.
It took over an hour until news was provided that the vehicle suffered a problem before second stage ignition, resulting in the failure of the mission.
Had second stage ignition been authorized, it would have occurred 170 seconds after liftoff, at an altitude of 174 kilometers (108 miles, 94 nautical miles). The second stage would make a 24.4-second burn to raise the vehicle's velocity to 3.6 kilometers per second. Then, a little under thirty seconds after its burn completed, the second stage would have separated, with third stage ignition taking place three seconds after staging.
The third stage would have burned for 25.6 seconds, completing orbital insertion and placing TRICOM-1 into a planned target orbit of 180 by 1,500 kilometers (112 by 932 miles, 97.2 by 810 nautical miles) at an inclination of 31 degrees. Spacecraft separation occurred at seven minutes, thirty seconds mission elapsed time. None of these events were tested with the flight telementry only noting first stage performance before the failure.
Despite the failure, the three-stage SS-520 was the first of several new small, low-cost, rockets to debut in 2017. US-New Zealand company Rocket Lab plans to introduce its Electron rocket later in the year, with the first flight of Virgin Galactic's LauncherOne is currently targeting the end of the year.
InterOrbital Systems are also claiming to be planning launches of their Neptune rocket this year, including a Google Lunar X-Prize competitor – however, in the past, they have claimed to be close to conducting their first launch but that launch has never materialized.
The launch of SS-520-4 was Japan's first of 2017 – although it will be classed as a failed mission – and the fourth worldwide following China's successful launches of Chang Zheng 3B and Kuaizhou-1A rockets – and SpaceX's Falcon 9 launch earlier on Saturday. Japan's next launch is scheduled for 24 January, when an H-IIA will deploy the DSN-2 communications satellite in a mission to be flown from Tanegashima.
The next SS-520 launch is currently scheduled for December, flying a suborbital mission from Svalbard in its standard two-stage configuration. This will be pending the investigation into the failure.
(Images via JAXA and Rocket Labs).
Quelle: NS
-
Update: 16.01.2017
.
Japan's low-cost rocket fails at first launch
Data communications lost minutes into flight
TOKYO -- In a blow to Japan's efforts to develop low-cost satellite launch vehicles, the country's space agency was forced to abandon one such vehicle in midflight Sunday due to a communications problem.
The Japan Aerospace Exploration Agency said it was unable to receive data from the rocket. It was Japan's first failure to launch a rocket carrying a satellite into space since 2003.
The mini-rocket, some 10 meters long and 50cm in diameter, was launched from the Uchinoura Space Center in southern Japan at 8:33 a.m. as scheduled. The three-stage rocket blasted off successfully, but transmission of data, such as the rocket's temperature and position, stopped during the first stage of the launch sequence.
The space agency, known as JAXA, decided to abort the second stage, due to the possibility of the rocket heading in an unexpected direction. The rocket is believed to have fallen into the ocean with the satellite on board.
"I am really disappointed," Hiroto Habu, an associate professor at JAXA who led the development of the mini-rocket, said in a news conference. "We will promptly look into what happened during the flight to identify the cause of the problem. Because the mini-rocket was built using different components and technologies, its launch failure won't have any impact on Japan's main rocket project."
Less than a fifth the size of JAXA's main rocket, the mini-rocket launched Sunday was touted as the world's smallest satellite launch vehicle. It was developed by modifying the existing SS-520 rocket, with the primary goal of testing the viability of low-cost rockets fitted with general-purpose electronic components, such as mobile phone parts.
Traditionally, use of specially built components is a major reason why rockets are expensive. With demand for ultracompact satellites weighing 100kg or less surging around the world, low-cost launch vehicles hold great commercial promise. Efforts are underway in the U.S., Europe and elsewhere to drive down costs by building rockets using mass-produced electronic components.
For JAXA's mini-rocket, Canon Electronics developed the computer, sensors and other flight control mechanisms. In addition to utilizing its know-how gained through development of cameras and multifunction printers, the Canon group unit tapped outside talent for help.
Some aerospace experts view the mere fact that a rocket based on consumer electronic parts passed a series of tests and blasted off as a sign of progress.
"We have been able to obtain a certain amount of knowledge through the steps leading to the launch," Habu said.
Quelle: Asian Review
-
Update: 17.01.2017
.
SS-520 No. 4 Launch Results
National Research and Development Agency
Japan Aerospace Exploration Agency (JAXA)
At 8:33 a.m., (Japan Standard Time) January 15, 2017, SS-520 No. 4, JAXA's sounding rocket launched from the Uchinoura Space Center. Through SS-520 No. 4 launch, JAXA sought for research and development of launch vehicles and satellites and the launch demonstration of TRICOM-1, its onboard nanosat that weighs about 3 kilograms. The launch was part of Japanese government's program for development of launch vehicles and satellites in public-private partnerships.
The first stage flight of SS-520 No. 4 proceeded according to schedule. Thereafter, however, ground teams could not receive telemetry from the launch vehicle and the call was made to abort the second stage ignition.
JAXA tracked the launch vehicle and confirmed that it fell into the south eastern ocean off the Uchinoura Space Center, within the projected drop area.
Quelle: JAXA
-
Update: 14.02.2017
.
Japan small-rocket launch failed due to electrical circuit problem
TOKYO (Kyodo) -- An electrical circuit problem may have led to the recent failure of the launch of the world's smallest rocket capable of placing a satellite into orbit, Japan's space agency said Monday.
The No. 4 vehicle of the SS-520 series lifted off from the Japan Aerospace Exploration Agency's space center in Kagoshima Prefecture on Jan. 15. But the agency aborted ignition of the second stage after it lost communication with the rocket 20 seconds after liftoff.
The agency said it believes the cladding of electric cables was damaged by the vibration and heat of nearby metal parts, leading the cables to directly touch the metal parts. As a result, a short circuit occurred and a data transmission device lost power, it said.
JAXA used commercially available components found in home electronics and smartphones for the rocket to demonstrate how the cost of placing satellites in orbit could be reduced.
Agency associate professor Hiroto Habu, however, indicated that there were no problems in the use of the commercial components.
"Civilian items were introduced based on the assessment criteria and test methods we have used before," he said.
Launches of SS-520 rockets have succeeded twice in the past. The latest vehicle was different from previous ones in that it had thinner electrical cables and used different material to place the cables as part of efforts to reduce weight, according to JAXA.
Habu said the rocket design was "appropriate," while adding that "something beyond expectations" may have occurred through multiple factors. But he also said electrical cables and material used for their cladding can be improved.
The rocket -- about the size of a utility pole -- fell into the sea off the Uchinoura Space Center in Kagoshima, southwestern Japan.
Quelle: The Mainichi