8.04.2023
The Soyuz parking spot swap makes way for a new cargo ship and spacewalks later this year, NASA says.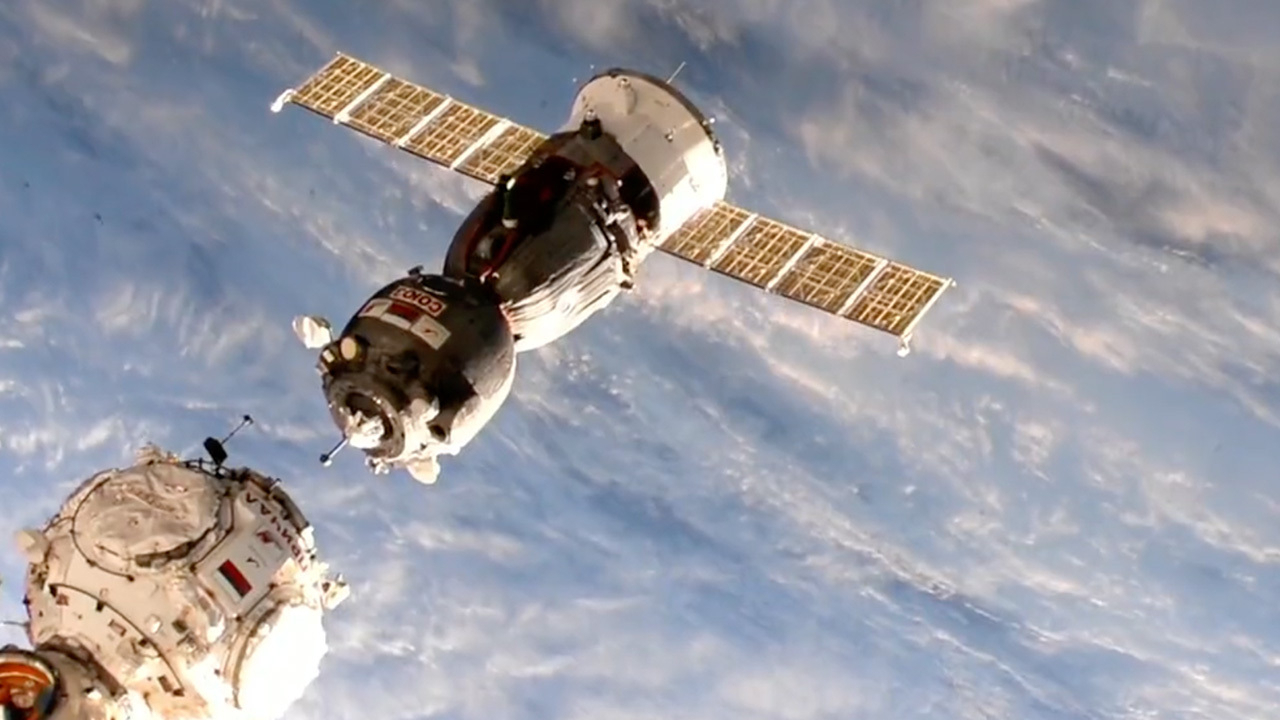 A Russian Soyuz MS-23 space capsule carrying NASA astronaut Frank Rubio and Russian cosmonauts Sergey Prokopyev and Dmitri Petelin moves to a new docking port at the International Space Station on April 6, 2023 with the blue Earth behind. (Image credit: NASA TV)
A NASA astronaut and two cosmonauts took a Soyuz capsule for a spin at the International Space Station early Thursday (April 6) to make way for a new cargo ship arriving later this year.
Astronaut Frank Rubio and cosmonauts Sergey Prokopyev and Dmitri Petelin undocked from their Soyuz MS-23 spacecraft from port on the station's Russian-built Poisk module at 4:45 a.m. EDT (0845 GMT) and parked it at a nearby berth at another Russian module called Prichal at 5:22 a.m. EDT (0922 GMT). Cameras on the International Space Station captured the Soyuz parking spot swap in stunning detail.
The video begins by showing the Soyuz spacecraft as it slowly backs away from the Russian side of the space station. As the Soyuz slowly pulled away from the space-facing Poisk docking module, Prokopyev manually fired its thrusters to steer it clear of the station.
Prokopyev then guided the Soyuz MS-23 away from the station as both craft sailed 260 miles above the east coast of Africa and flew the capsule around the station to reach the Earth-facing Prichal module below the station.
From start to finish, the flight took just 37 minutes, with the Soyuz docking successfully at the Prichal module with the spacecraft framed against the planet Earth in a breathtaking shot.
The purpose of the relocation maneuver is two-fold. Firstly, it will ensure that the Poisk docking module is clear for cosmonauts Prokopyev and Petelin to take spacewalks outside the station in April and May. Secondly, moving Soyuz makes way for the arrival of the uncrewed Roscosmos Progress 84 cargo spacecraft later this year.
The next time the Soyuz MS-23 spacecraft will undock from the station will be Sep. 27 when it carries Rubio, Prokopyev, and Petelin on a longer journey, returning the station crewmembers back to Earth. The three men were originally scheduled to land in March, but their original Soyuz spacecraft sprung a coolant leak in December, leaving it unable to safely return its crew home.
Russia's space agency Roscosmos launched Soyuz MS-23 without a crew in February as a replacement lifeboat and ship for the three men.
Quelle: SC
115 Views