8.04.2023
Venezuela would be first country to join ILRS moon station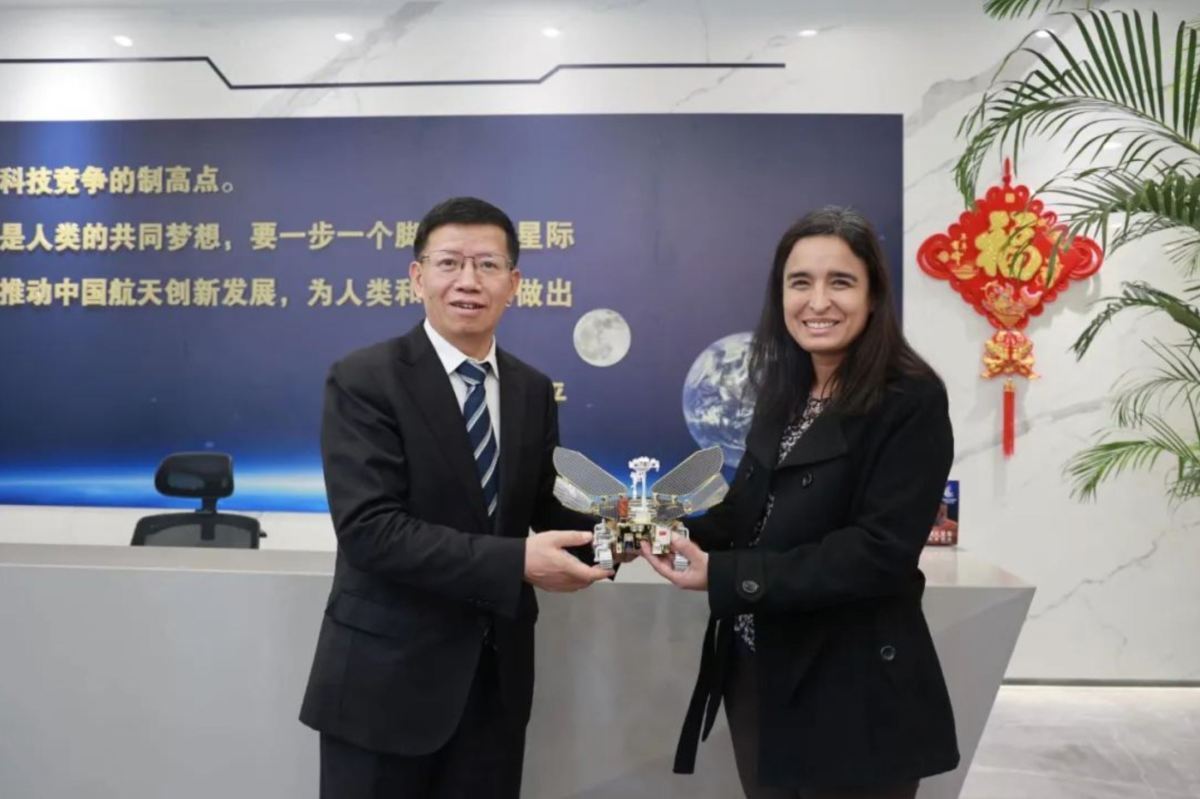 DSEL's Wu Yanhua and ABAE Executive Director Marglad Bencomo hold a model of the Zhurong rover, March 30, 2023. (Credit: DSEL)
HELSINKI — China has invited Venezuela to join its lunar research station project as the country works to gain partners for the endeavor.
Venezuela would be the first country to join China and Russia in the International Lunar Research Station (ILRS), which is planned to be constructed in the early 2030s using super heavy-lift launch vehicles. The launches will follow smaller, precursor missions later this decade.
Marglad Bencomo, executive director of the Bolivarian Agency for Space Activities (ABAE), visited China's new, national Deep Space Exploration Laboratory (DSEL) March 30 to discuss cooperation and exchanges.
She was met by Wu Yanhua, former deputy director of the China National Space Administration (CNSA) and now executive vice chairman of DSEL. The two sides exchanged in-depth views on international cooperation in the field of deep space exploration, according to a DSEL statement.
Bencomo said that Venezuela was willing to sign a China-Venezuela Memorandum of Understanding as soon as possible to jointly promote the construction of international lunar research stations, according to the DSEL statement.
ABAE has been invited to attend an international forum hosted by DSEL during China's national "space day," held annually on April 24 since 2016, potentially providing a platform for signing an MOU.
China and Russia presented a roadmap for the joint ILRS in St. Petersburg, Russia, in 2021 and opened the project to interested parties.
The pair, led by China, are seeking to build partnerships parallel to the NASA-led Artemis Program. So far 23 countries have signed up to the United States' Artemis Accords, the diplomatic underpinning of the Artemis project.
"On one hand, it doesn't surprise me as China and Venezuela have years of cooperating in space," Victoria Samson, Washington Office director at the Secure World Foundation, told SpaceNews. Samson notes that China has built and launched Venezuela's handful of satellites in recent years.
"Given the discrepancy in the two countries' space capabilities, I think that Venezuela's participation in the ILRS is largely symbolic," says Samson, who also notes that there are questions regarding what real contributions Russia will be able to make.
The potential signing of an MOU also highlights a perceived trend in international space partnerships.
"It does lend credence to a concern that I have that we're seeing a bifurcation in lunar governance and approaches to lunar missions, where you are either Team Artemis or Team ILRS.
"I don't think that's helpful and it may end up leading to an unnecessarily competitive spirit for lunar missions, complicating an already complicated environment," Samson says.
DSEL April 6 published a statement with details of a visit by Carlos Moura, president of the Brazilian Space Agency (AEB), which also discussed ILRS cooperation. Wu stated hopes of participation of BRICS countries and Latin American countries in the project. Brazil is a signatory to the Artemis Accords.
China faces apparent challenges in attracting partners to the ILRS. Officials presented opportunities to participate in its future deep space and lunar missions at the International Astronautical Congress in Paris in September 2022.
Russia's role in the project was not mentioned, with Moscow facing international isolation in the wake of its invasion of Ukraine in February 2022.
Reports also indicate that an MOU between China and the United Arab Emirates to fly a small rover on China's Chang'e-7 lunar south pole landing mission was scuppered by complications arising due to ITAR export regulations. That mission is expected to fly in 2026.
China is developing a pair of super heavy-lift launch vehicles capable of launching major infrastructure missions and sending astronauts to the moon.
The Long March 9 project has recently changed to incorporate reusability into the design, potentially delaying the debut launch. The newly-designated Long March 10 is expected to have its test launch in 2027. A pair of Long March 10 launches will be capable of putting a pair of astronauts on the moon before the end of the decade, according to officials.At the same time, officials within China's space industry are proposing that the country seize what is seen as a one-off opportunity to establish international lunar infrastructure.
Quelle: SN
104 Views