4.04.2023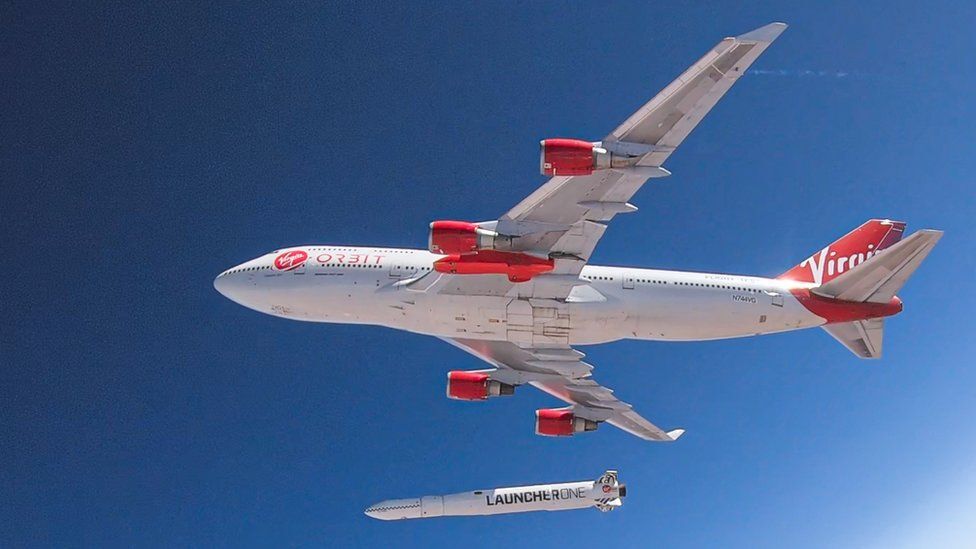 British billionaire Sir Richard Branson's rocket company Virgin Orbit has filed for bankruptcy in the US after failing to secure new investment.
The satellite launch company halted operations weeks ago but it hopes to find a buyer for the business.
The company, based in California, announced last week that it would cut 85% of its 750-strong workforce.
Earlier this year, a Virgin Orbit rocket failed to complete its first-ever satellite launch from UK soil.
Virgin Orbit's boss Dan Hart said that although the company had "taken great efforts" to address its finances and secure more funding, "we ultimately must do what is best for the business."
He said that Virgin Orbit would now concentrate on finding a buyer for the business "to provide clarity on the future of the company to its customers, vendors, and employees".
Virgin Orbit was founded in 2017 and is a spin-off from Sir Richard's space tourism company Virgin Galactic.
It launches rockets from beneath modified Boeing 747 planes to send satellites into space.
But in January, an attempt to send a satellite into orbit from the UK for the first time failed because a rocket fuel filter had become dislodged, causing one of the engines to overheat.
The mission, which launched from Spaceport Cornwall, near Newquay, had been billed as a milestone for UK space exploration.
It was hoped it would mark a major step in helping to turn the UK into a global player - from manufacturing satellites to building rockets and creating new spaceports.
Virgin Orbit, which is mostly owned by Virgin Group, scrambled to find new funding following the UK rocket failure and paused operations last month to conserve cash.
The company, which listed its shares on New York's Nasdaq index in 2021, had debts of $153.5m (£123m) as of September last year.
On Tuesday, the company said Virgin Investments, part of Virgin Group, would provide $31.6m in new money to help Virgin Orbit through the process of finding a buyer.
It has filed for what is known as Chapter 11 bankruptcy protection in the US. This allows a business to keep operating and address its financial issues while providing protection against creditors who are owed money.
Former president of Virgin Galactic Will Whitehorn said the failed launch in Cornwall and the collapse of Silicon Valley Bank at the time it was trying to raise new funding contributed to its downfall.
But Mr Whitehorn said the business deserved a second chance because there was "a lot of demand" in the industry.
"What you have got to remember is they have got nearly 50 satellites into space already, so I think there's a chance they'll be back," he said.
Melissa Quinn, head of Spaceport Cornwall, said the news about Virgin Orbit was "very sad" but said the site would "remain focused on furthering the international space industry".
She said it was the only licensed spaceport in the UK, had multiple users and was working with other launch operators, such as US company Sierra Space.
This is not the end for Virgin Orbit.
Quite a few space companies have gone through Chapter 11, only to re-emerge a few months later with new owners, no debts and a healthy stash of investment cash to take the business forward.
You need look no further than London-based OneWeb, which has just now managed to complete its broadband internet constellation in the sky.
But who will step forward to buy a rocket business? There are tens, if not hundreds, of similar enterprises across the world developing small launch vehicles.
If Sir Richard Branson's company can claim one key separator, it ought to be responsiveness - the ability with its jumbo jet platform to launch from anywhere at short notice. This has appeal to the military, for example. Except, the firm has found it very hard to do, launching only twice last year.
Any prospective new owner, therefore, will want to know a high cadence of launches can be achieved. This means going up every month, the original aim of the company.
Mr Hart said despite the financial problems, he was confident the company had a "wide appeal" to a new owner because its team had created "cutting edge launch technology".
But Danni Hewson, head of financial analysis at investment firm AJ Bell, said the company's failed launch mission from the UK was "not the best advert" for its technology.
"Neither is Virgin Orbit's collapse the best advert for the space investment theme," she added.
"This industry may have significant potential at some point in the unknown future but investors tempted to reach for the stars have only had their fingers burned so far."
The UK Space Agency said it had worked with Virgin Orbit for many years but said its issues were a commercial matter for the company.
Sir Richard is one of a very small group of billionaires who have expanded their business empires into launching satellites and attempts to pioneer commercial space travel.
The others include Jeff Bezos, founder of online retailer Amazon, who set up his space company Blue Origin, as well as Twitter and Tesla owner Elon Musk, who founded SpaceX.
Sir Richard and the Virgin Group have invested more than $1bn in the business in a quest to launch satellites through Virgin Orbit but also to develop reusable "space planes" to take tourists on brief trips to sub-orbital space.
Virgin Galactic has already started selling tickets for $250,000 for these journeys and celebrities such as pop star Justin Bieber have signed up.
But the main players in the "billionaire space race" have also faced criticism for what some see as offering joy rides for the super-wealthy at a time when countries across the globe are being impacted by climate change.
However, Mr Bezos has previously insisted his space exploration is partly an environmental mission "to take all heavy industry, all polluting industry and move it into space, and keep Earth as this beautiful gem of a planet that it is".
Quelle: BBC
141 Views