12.02.2021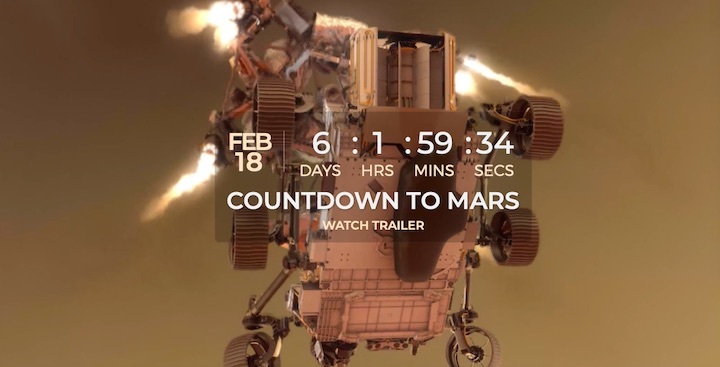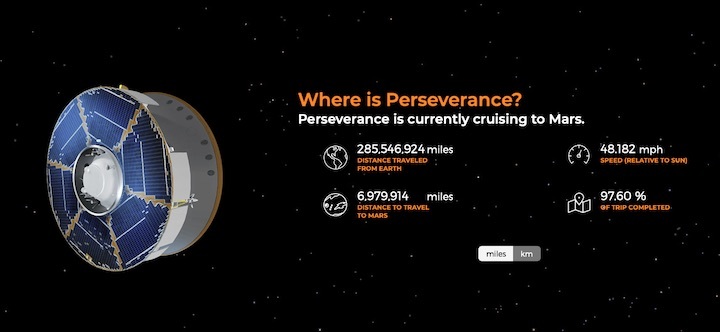 NASA to Offer Spanish-Language Show for Mars Perseverance Rover Landing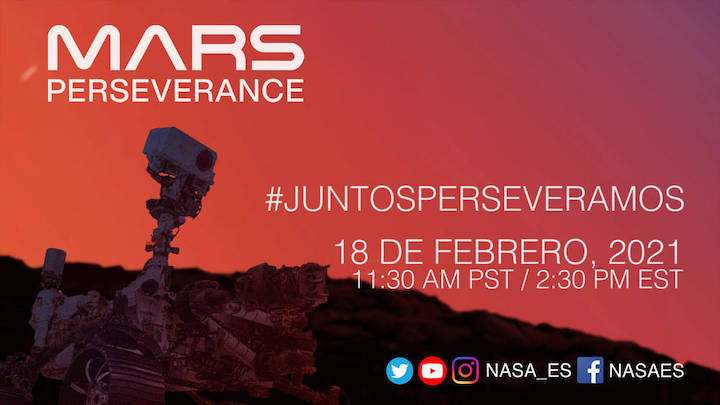 Lee este anuncio de prensa en español aquí.
Among the many firsts of NASA's Mars 2020 Perseverance mission is the agency's first-ever Spanish-language show for a planetary landing. On Thursday, Feb. 18, NASA will air "Juntos perseveramos," a program that will give viewers an overview of the mission to Mars and highlight the role Hispanic NASA professionals have had in it. The program will air at 2:30 p.m. EST on the agency's website, and Spanish-language social media accounts: Twitter, Facebook, and YouTube. "Juntos perseveramos" will air ahead of Perseverance's landing on the Red Planet, which will take place approximately 3:55 p.m.
"I'm so proud of NASA's efforts to better share the excitement of the Perseverance rover landing with the nearly half a billion Spanish speakers around the world. 'Juntos perseveramos' (Together we persevere) is NASA's first Spanish-language show for a historic landing on another planet and will showcase the diversity of the NASA team behind Mars 2020," said Bhayva Lal, acting NASA chief of staff. "The name of the show recognizes that perseverance and diversity are critical to NASA's successful undertaking of ambitious missions like next week's Perseverance landing."
"Juntos perseveramos" will be hosted by Perseverance engineer Diana Trujillo. A prerecorded section will feature interviews with Hispanic scientists, engineers and astronauts from across NASA. There will also be a children's segment in collaboration with Sésamo. Students and prominent Hispanic figures from the world of entertainment, journalism, and politics will also send messages of support. Trujillo will offer live English-to-Spanish translation and commentary during Perseverance's entry, descent and landing on Mars.
Launched July 30, 2020, the Perseverance rover will search for signs of ancient microbial life, carefully collect selected rock and sediment (broken rock and dust) samples for future return to Earth, characterize Mar's geology and climate, and pave the way for human exploration beyond the Moon. It is NASA's fifth Mars rover and, if successful, will be NASA's ninth Mars landing.
Perseverance is also carrying along a technology experiment – the Ingenuity Mars Helicopter– that will attempt the first powered, controlled flight on another planet.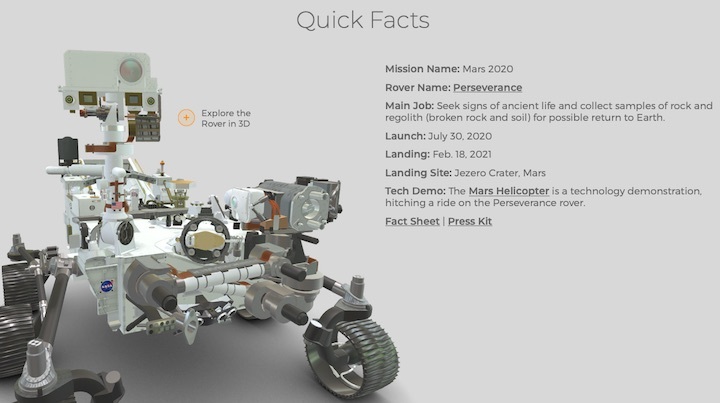 Quelle: NASA
+++
ESA Mars orbiters support NASA Perseverance landing
On 18 February, NASA's Mars 2020 Perseverance rover will land on the Red Planet
ESA's Mars orbiters – the ESA-Roscosmos ExoMars Trace Gas Orbiter (TGO) and Mars Express – are supporting the landing
TGO will relay important data from Perseverance to Earth as soon as four hours after landing
Mars Express is monitoring the local conditions at the landing site, Jezero Crater
Both ESA orbiters are providing context images of the region
TGO will attempt to image the rover in the weeks after landing
NASA's Mars 2020 Perseverance rover is due to land on the Red Planet at 21:43 CET on 18 February 2021. In order to communicate with Earth from its landing site in Jezero Crater, the rover will rely on spacecraft orbiting Mars to relay the images and other data it collects back to Earth and pass on the commands from engineers beamed across space in the other direction.
The ESA-Roscosmos ExoMars Trace Gas Orbiter (TGO) is one of these spacecraft. As its orbit takes it over the landing site, TGO will enter communication windows with Perseverance and relay data between Earth and the rover via a network of deep space ground stations on Earth, including ESA's Estrack network.
Helping Perseverance phone home
The data transmitted by Perseverance in its first hours and days on Mars will be vital to the mission. Did the rover land safely? Are all of its systems functional?
To ensure that this information gets to the engineers on Earth as quickly as possible, TGO and NASA's mars orbiters will be able to communicate with deep space ground stations on Earth almost twenty four hours a day, seven days a week for the first two weeks after landing. ESA's ground station network will provide roughly 14 hours a day of this 'low-latency' coverage.
"TGO will provide low-latency data relay support to Perseverance during this period, and continue to provide routine relay support afterwards," says ESA's Peter Schmitz, TGO Spacecraft Operations Manager. "Our first relay session with TGO will start at 02:07 CET on 19 February, just four hours after landing."
The Trace Gas Orbiter is the first of two missions of the ExoMars programme - a joint endeavour between ESA and Roscosmos. ExoMars is attempting to determine whether life has ever existed on the Red Planet. TGO arrived at Mars in October 2016 and is conducting a detailed study of the atmosphere and mapping signatures of water below the planet's surface. The orbiter is operated from ESA's European Space Operations Centre in Darmstadt, Germany, where mission controllers already have a lot of experience relaying data from existing Mars landers.
"The orbiter usually supports one relay session per lander per day, but from 18 February, we will be supporting an additional two sessions per day for Perseverance," says Schmitz. "From then on, TGO will relay twice the volume of data to and from the surface of Mars as it does now."
In total, Perseverance will communicate with NASA or ESA Mars orbiters at least twice a day, and typically four to six times. During these sessions, data and images will be sent to NASA to help the operations team plan the rover's activities for the following days.
Monitoring conditions at Jezero
Mars Express is Europe's first mission to the Red Planet. Since beginning operations in 2004, the durable orbiter has helped answer fundamental questions about the geology, atmosphere, surface environment, history of water and potential for life on Mars.
The high-resolution camera on board Mars Express has sent back thousands of dramatic, 3D views of the martian surface, including those used to produce a virtual flight over Jezero Crater, the planned landing site for Perseverance.
The spacecraft's Visual Monitoring Camera – also known as the 'Mars Webcam' – is providing additional wide context views of the landing region.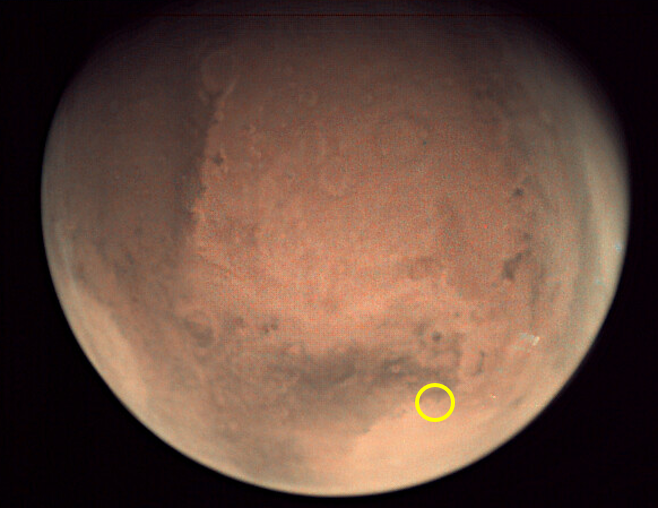 The Mars Express Planetary Fourier Spectrometer (PFS) is monitoring local conditions at Jezero Crater. The information it collects is passed on to the Perseverance Entry, Descent and Landing (EDL) team at NASA and is included in their daily report during the two weeks leading up to the landing.
"The engineers working with EDL systems need precise information on the density of the Martian atmosphere above the site at the time of landing and how it changes with altitude," says Marco Giuranna, PFS Principal Investigator from Istituto Fisica Spazio Interplanetario in Rome, Italy.
"Having up-to-date knowledge of the temperature, pressure, dust and ice conditions in the atmosphere is crucial for understanding its density and predicting and analysing the trajectory of the rover's descent to the surface of the Red Planet."
Quelle: ESA
----
Update: 14.02.2021
.
NASA Invites Public to Share Thrill of Mars Perseverance Rover Landing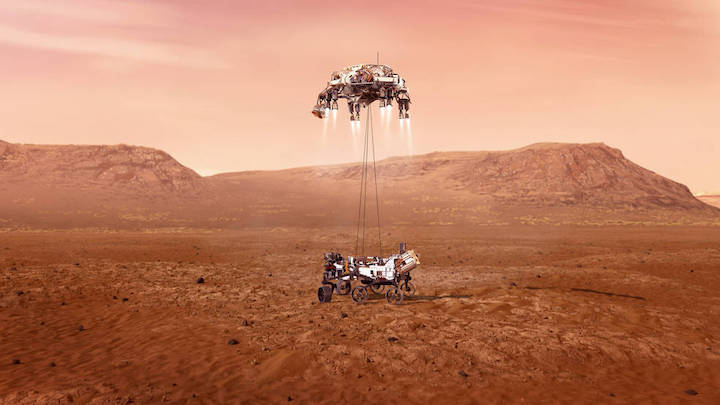 Credits: NASA/JPL-Caltech
NASA is inviting the public to take part in virtual activities and events as the agency's Mars 2020 Perseverance rover nears entry, descent, and landing on the Red Planet, with touchdown scheduled for approximately 3:55 p.m. EST Thursday, Feb. 18.
Live coverage and landing commentary from NASA's Jet Propulsion Laboratory in Southern California will begin at 2:15 p.m. on the NASA TV Public Channel and the agency's website, as well as the NASA App, YouTube, Twitter, Facebook, LinkedIn, Twitch, Daily Motion, and THETA.TV.
Among the many firsts with this mission is the agency's first-ever Spanish-language show for a planetary landing. On Thursday, Feb. 18, at 2:30 p.m., NASA will air "Juntos perseveramos," a show that will give viewers an overview of the mission to Mars and highlight the role Hispanic NASA professionals have had in its success.
During landing, the rover will plunge through the thin Martian atmosphere at more than 12,000 mph (about 20,000 kph). A parachute and powered descent will slow the rover down to about 2 mph (3 kph). During what is known as the sky crane maneuver, the descent stage will lower the rover on three cables to land softly on six wheels at Jezero Crater.
Perseverance also is carrying a technology experiment – the Ingenuity Mars Helicopter – that will attempt the first powered, controlled flight on another planet.
"If there's one thing we know, it's that landing on Mars is never easy," said NASA Associate Administrator for Communications Marc Etkind. "But as NASA's fifth Mars rover, Perseverance has an extraordinary engineering pedigree and mission team. We are excited to invite the entire world to share this exciting event with us!"
NASA is offering many ways for the public to participate and stay up to date on landing information, mission highlights, and interaction opportunities.
Watch and Participate Virtually
Connect with like-minded space enthusiasts, receive a NASA Social badge, ask questions, and take part in other virtual activities by signing up for the Perseverance Rover Virtual NASA Social event.
NASA also will provide a virtual guest experience for members of the public during landing, with notifications about mission updates, curated mission resources, and a virtual passport stamp available after landing.
Stay connected and let people know you're following the mission on Twitter, Facebook, and Instagram. Join the conversation, ask questions, and get answers online by using #CountdownToMars.
Follow and tag these accounts:
Twitter: @NASA, @NASAPersevere, @NASAMars
Facebook: NASA, NASAPersevere
Instagram: NASA
At 7 p.m. EST Tuesday, Feb. 16, a NASA Social live show previewing landing day will stream live via the JPL YouTube, Facebook, and Twitteraccounts.
You also can follow every step of entry, descent, and landing with this visualization, and get a preview of all the excitement with a new video.
Opportunities for Students, Teachers, Educators
Design, build, and land your own spacecraft – just like NASA scientists and engineers do. Join NASA's Mission to Mars Student Challenge, where classrooms, informal education groups, families and individuals will be able to participate in landing week question-and-answer sessions with mission experts and submit student questions and work that could be featured during NASA broadcasts leading up to and on landing day.
A Mars 2020 STEM toolkit also is available, with stories on the students who named Perseverance and Ingenuity, opportunities to code your own Mars exploration games, and more.
Join scientists from NASA and JPL at a briefing of the National Academies Space Studies Board and Aeronautics and Space Engineering Board Wednesday, Feb. 17, at 11:30 am EST to hear more about Perseverance's journey to Mars' Jezero Crater, NASA's Mars Sample Return, and the challenges the team has overcome. Participants include:
Thomas Zurbuchen, NASA associate administrator for science
Lori Glaze, director of NASA's Planetary Science Division
Bobby Braun, Mars Sample Return program manager at JPL
Matt Wallace, deputy project manager, Mars 2020 at JPL
Katie Stack Morgan, Mars 2020 deputy project scientist at JPL
Interactive Experiences
You also can try out a virtual photo booth that allows you to pose next to the Perseverance rover, listen to the differences between sounds on Mars and Earth, and check out other interactive experiences on the mission's website.
Send Your Name to Mars, Again!
Perseverance is carrying three dime-size chips with 11 million names submitted by people all over the world. Anyone who missed the chance to send their name on Perseverance can sign up to send their name on a future Mars mission at:
https://mars.nasa.gov/participate/send-your-name/mars2020
Lighting Towns Red Around the World
To celebrate Perseverance's Red Planet landing, the Empire State Building in New York will light its tower red on Tuesday, Feb. 16, starting at sunset until 2 a.m. the following morning. In addition, the Los Angeles International Airport gateway pylons will glow red from sundown on Wednesday, Feb. 17, through sunrise Friday, Feb. 19. Other sites in the United States recognizing the upcoming landing include select buildings along the Chicago skyline, such as the Adler Planetarium. NASA invites cities around the country and world to participate in "lighting the town red."
Additional Resources
Press kits for the Perseverance rover landing and the Ingenuity Mars Helicopter are available and feature deeper dives into the mission and science, as well as links to image and video resources.
A Perseverance landing toolkit provides additional details about all the activities planned for landing week, as well as additional links for learning more about the rover and helicopter.
NASA Televised Event Schedule
In addition to social media coverage, NASA TV will air a number of events leading up to, including, and following the landing.
Members of the public may ask questions on social media during the events using #CountdownToMars.
The following events currently are scheduled to air live (all times Eastern). Please check the NASA TV schedule for the latest updates:
Tuesday, Feb. 16
1 p.m. – News conference: Mission engineering and technology overview
3:30 p.m. – News conference: Mission science overview
Wednesday, Feb. 17
1 p.m. – News conference: Mission landing update
3 p.m. – News conference: Searching for Ancient Life at Mars and in Samples Returned to Earth
Thursday, Feb. 18
2:15 p.m. – Live landing Broadcast on the NASA TV Public Channel and online.
In addition, an uninterrupted clean feed of cameras from inside JPL Mission Control, with mission audio only, will be available starting at 2 p.m. on the NASA TV Media Channel, and at JPL's Raw YouTube channel.
A 360-degree livestream of the Mars landing from inside mission control, including landing commentary, will be available at the JPL's main YouTube channel.
2:30 p.m. – "Juntos perseveramos," the Spanish-language live landing commentary show, will air on NASA en Español's YouTube channel.
Approximately 3:55 p.m. – Expected Perseverance touchdown on Mars
No earlier than 5:30 p.m. – Postlanding news conference
Friday, Feb. 19
1 p.m. – News conference: Mission status update
Monday, Feb. 22
2 p.m. – News conference: Mission status update
To watch news conferences and commentary online, please visit:
http://www.youtube.com/nasajpl/live
A complete list of ways to watch online can be found at:
Quelle: NASA
----
Update: 15.02.2021
.
After 300 million miles, NASA's Perseverance rover set for Mars touchdown
On the surface, Mars presents itself as a world on the verge of inhospitality.
Average temperatures that hover around negative 81 degrees. A thin, carbon dioxide-rich atmosphere sometimes rendered opaque by planet-wide dust storms that can even be seen from Earth. Gravity that's just one-third of what humans have evolved to tolerate.
But the red planet's features tell a different story.
Looking at photos captured by satellites in orbit, it doesn't take much imagining to see Mars was likely once home to rivers of running water and enormous crater-lakes. With the right conditions, perhaps this planet that gets its rusty color from iron oxide-rich rocks could once have been suitable for life – or at least life as we know it.
This dichotomy has left experts asking one of the most difficult-to-answer questions in science today: What happened to Mars, and can the same thing happen here on Earth?
"We know that Mars had a bad past," said Thomas Zurbuchen, associate administrator of NASA's Science Mission Directorate. "We used our Spirit and Opportunity rovers (2003) to follow the water in search of answers as to why this once ocean world is now dry and desolate. Following those missions came our Curiosity rover, which landed on Mars in 2012 and is still operating."
Now it's time for NASA's next robotic explorer – Perseverance – to follow in the dusty tracks of its predecessors. After a 293 million-mile trek across the expanse since its July 2020 launch from Cape Canaveral Space Force Station, the upgraded rover is slated to land on the red planet at 3:55 p.m. Eastern time Thursday.
Its target: Jezero Crater, a harsh surface feature that was likely once a deep lake fed by rivers of running water.
"Perseverance is our robotic astrobiologist, and it will be the first rover NASA has sent to Mars with the explicit goal of searching for signs of ancient life," Zurbuchen said.
But before it can begin roving its targeted landing site at a neck-breaking 0.1 mph, Perseverance has to pull off a series of risky landing maneuvers all by itself.
The landing
Seven Minutes of Terror: How NASA's Perseverance rover will land on Mars
In this animation, NASA's Perseverance rover is seen during its "Seven Minutes of Terror," or the entry, descent, and landing process. Using a unique "Sky Crane Maneuver," the 10-foot rover will land on Mars on Feb. 18, 2021.
FLORIDA TODAY
Getting to Mars with help from a United Launch Alliance Atlas V rocket and interplanetary cruise stage was one thing, but slowing down from thousands of miles an hour to a soft 1.7 mph at landing is another.
This seven-minute process – from 3:48 p.m. to 3:55 p.m. Eastern – is known as the "seven minutes of terror." Because signals take 11 minutes to reach Earth, human input in the event of a mishap is impossible – Perseverance is on her own.
The nail-biting entry is made even more tense by the fact that once mission managers at NASA's Jet Propulsion Laboratory in California get the first confirmation of entry, Perseverance will have already landed – or crashed – in real-time. The unavoidable signal delay, however, is a short hurdle for teams that have been waiting for this moment for a decade.
"Landing on Mars is really all about finding a way to stop and land in a safe place," said Al Chen, NASA's entry, descent, and landing lead at the Jet Propulsion Laboratory in California.
As it approaches Mars' thin atmosphere, the heat shield affixed to the front of Curiosity's protective capsule will bear the brunt of fiery entry while also acting as an airbrake of sorts. A massive 70-foot parachute then automatically deploys, further slowing down the 2,200-pound rover.
"While coming down on the parachute, Perseverance needs to figure out where it is," Chen said. "It'll jettison the heat shield that protected us during entry and it will use a radar and a new system we call Terrain-Relative Navigation to figure out where it is."
After the newly exposed radar and cameras have a lock on Perseverance's location and landing prospects, it's time for the riskiest part: dropping out of the protective capsule with a web of machinery and eight retrorockets, which begin firing to slow the rover down.
About 65 feet from the surface, the still-firing retrorockets slow Perseverance's approach to 1.7 mph. The descent stage then kicks off the "Sky Crane Maneuver," which uses strong nylon cords to slowly lower the rover down to the ground. After confirmation of touchdown, the sky crane severs the cords and flies off to put distance between it and the rover.
Perseverance is expected to begin transmitting photos of its new surroundings immediately after landing.
The search
> Perseverance even has a friend hitching a ride for this mission: Ingenuity. This four-pound drone will host the first-ever flight on another planet during a roughly month-long window. Though it has no science hardware, two cameras will help steer the drone and teach NASA engineers how to fly on a world with an atmosphere just 1% as dense as Earth's.
But why look for life – past or present – in the first place? For Manasvi Lingam, a professor of astrobiology, aerospace, physics, and space sciences at Florida Tech, it's the ultimate journey.
"Any sign of life will of course be one of the most momentous discoveries in the entire history of humanity," Lingam said. "Even if it is extinct life, just knowing that there was something out there is certainly Nobel Prize-level."
Lingam admits getting even a hint of an answer usually leads to more questions.
Would finding life on Mars inform our perception of how common it is elsewhere in the universe? If life on Mars and Earth appear to be similar, could the millennia-old theory of panspermia – that life can spread via asteroids or comets, for example – see a resurgence? Or what if the discovery is so foreign that it doesn't appear to rely on the building blocks of life we're used to, like DNA and RNA?
"All of these questions are really fascinating," Lingam said. "If you find something very alien, that's great and we can try to understand what it is."
"It might even have some practical implications because humans learn from biology all the time. That's in fact how we've made a lot of drugs – we looked at actual organisms and borrowed ideas from them," he said.
The future
Photos: NASA's Mars Perseverance rover
Photos: NASA's Mars Perseverance rover
No follow-up rovers are solidly planned after Perseverance. Nicknamed "Percy" by her JPL mission managers, she's on her own in Jezero Crater for the foreseeable future.
But what about dropping sample tubes for pickup by a separate mission? That's still in the works at NASA.
Lingam said a sample return mission has two advantages for scientists: the breadth and number of instruments available on Earth vastly outclass what's available on Perseverance; and despite technological advances, having a human eye looking at samples is still the preferred method.
For his research, Lingam would like to see more missions to Venus – a planet that hasn't seen enough investigation surrounding potential for life, he said. Missions like Perseverance, combined with upcoming investigations of other parts of our solar system, will ultimately provide a more holistic view of the history of life.
"There's definitely part of me that wants to believe there's life in the oceans of Europa, that there was life on Mars, and potentially even in the clouds of Venus," Lingam said. "It's always more tempting to think of a cosmos that is filled with all kinds of weird and wonderful life because that would mean we're not alone."
"One should not allow the belief to cloud one's mind about the data and the scientific method. But I do hope that there is life out there."
Contact Emre Kelly at aekelly@floridatoday.com or 321-242-3715. Follow him on Twitter, Facebook and Instagram at @EmreKelly. Support space journalism by subscribing at floridatoday.com/specialoffer/.
By the numbers: NASA's Perseverance rover
Length: 10 feet (17 feet with drill-arm extended)
Width: 9 feet
Height: 7 feet
Weight: 2,260 pounds
Top speed: 0.1 mph
Power source: U.S. government-provided nuclear decay "battery"
Distance traveled to Mars: 293 million miles over six months
Equipment: Cameras, radar sensors, "arm" with a drill, scientific analysis instruments, capsules to store samples, Ingenuity helicopter attached to "belly"
---
Timeline: Seven Minutes of Terror (All times Eastern on Feb. 18)
3:38 p.m.: Cruise stage separation
3:48 p.m.: Seven minutes of terror begin with atmospheric entry
3:49 p.m.: Moment of peak heating (2,400 degrees)
3:52 p.m.: 70-foot parachute deployment
3:52 p.m.: Heat shield separation (20 seconds after parachute)
3:54 p.m.: Perseverance separates from protective back shell and parachute
3:55 p.m.: Perseverance touchdown in Jezero Crater
Visit floridatoday.com/space at 3 p.m. Thursday, Feb. 18, to watch live as Perseverance targets a landing on the red planet.
Quelle: Florida Today
----
Update: 17.02.2021
.
NASA's Perseverance rover on course for Mars landing this week, to search for signs of past life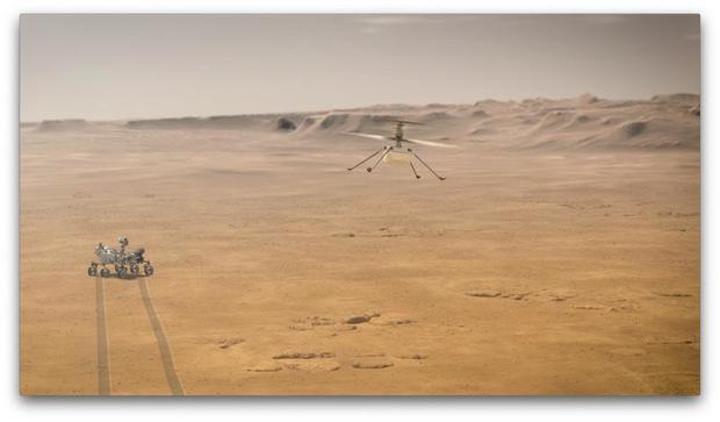 A week after two space probes from China and United Arab Emirates slipped into orbit around Mars, NASA's $2.4 billion Perseverance rover, by far the most complex and ambitious of the three, will plunge into the red planet's atmosphere Thursday for an automated white-knuckle landing.
If it survives the "seven minutes of terror" from atmospheric entry to its rocket-powered touchdown in Jezero Crater, the nuclear-powered Perseverance will proceed on its mission to search for evidence of past microbial life in deposits left over from a now-vanished lake.
"Perseverance is our robotic astrobiologist, and it will be the first rover NASA has sent to Mars with the explicit goal of searching for signs of ancient life," said Robert Zurbuchen, NASA's chief of space operations.
"It will build upon what we currently know from our previous rovers, orbiters and landers. And it will attempt to answer an age-old question that has eluded humanity for generations: whether life has ever existed elsewhere beyond our own planet, our Earth."
Promising rock and soil samples, extracted and collected by a drill at the end of a seven-foot-long robot arm, will be placed in a complex internal carousel mechanism designed to load them in airtight lipstick-size containers.
The samples will be left in caches on the surface for retrieval by another NASA rover later this decade. That rover will be shot into orbit atop a small rocket and then ferried back to Earth by a European spacecraft for laboratory analysis. It will be history's first round trip to another planet and back.
In another first, before Perseverance's exploration and sample collection commences, it will deploy a small, $80 million helicopter named Ingenuity to demonstrate the feasibility of powered flight in the ultra-thin atmosphere of Mars — what NASA has called a "Wright bothers' moment" on another world.
If the 4.5-pound helicopter and its 2,400 rpm counter-rotating blades work as expected, engineers likely will design more capable drones that could fly instruments and cameras to targets that might be inaccessible to rovers and astronauts, greatly extending the scientific reach of future missions.
Along those same lines, an instrument carried by Perseverance will attempt to extract oxygen from Mars' mostly carbon dioxide atmosphere, technology that one day could allow astronauts to partially "live off the land" by manufacturing their own air and rocket fuel.
Looking for signs of past life
The primary goal of Perseverance is to look for fossilized evidence of past life, and Jezero Crater offers one of the most promising places on Mars to look.
"Three-and-a-half billion years ago, Mars was very similar to Earth," said project scientist Ken Farley. "It had a substantial atmosphere. It had lakes and rivers on its surface, and it had habitable environments, places where organisms that we know about on Earth today could have thrived."
Between 3 and 4 billion years ago, Jezero Crater was filled with water that entered through a channel cutting through its rim, depositing sediments in a broad delta. The lake was hundreds of feet deep and remnants of microbial organisms, if present, would have settled out and possibly been preserved in the sediments Perseverance will examine.
Scientists are hopeful because at roughly the same point in Earth's history, single-cell organisms flourished in Earth's rivers, lakes and seas, some of which are preserved in clearly visible sedimentary formations known as stromatolites that can be seen today in western Australia.
"Such biosignatures are the oldest undisputed evidence of life on Earth," Farley said. "Life was abundant on Earth 3-and-a-half billion years ago." Stromatolites, he notes, "can be large enough to see with your eyes."
"We also have capabilities on the rover to study the rocks microscopically to look for structures at a much smaller scale that could have been produced by microbial life. And we have the ability to detect and map organic matter. And of course, organic matter is important because all life as we know it is made out of organic matter."
What is the likelihood Perseverance will find unambiguous evidence of past life on Mars?
"We don't know the answer to that," Farley said. "But I'd like to point out that those rocks that are 3-and-a-half billion years old on Earth, that have stromatolites in them, were deposited by microbes in the bottoms of shallow lakes and seas.
"The Perseverance rover is about to land in a former lake, 3-and-a-half billion years old. This is a tantalizing similarity."
Like the Curiosity rover before it, Perseverance will rely on a novel landing system designed to lower the heavier rover to the surface from a rocket-powered backpack — the sky crane.
Major improvements and upgrades have been built into Perseverance's entry, descent and landing system, enabling the vehicle's flight computer to identify hazards and to autonomously alter the flight path to reach a safe landing zone.
That new technology is needed to safely land in Jezero, where the rover must avoid the towering rim of the crater, high cliffs on the periphery of the rocky delta, sand dunes and smaller impact craters.
"Jezero Crater is a great place, a magnificent place for science," said Allen Chen, the engineer in charge of the rover's entry, descent and landing. "But when I look at it from a landing perspective, I see danger. It's a formidable challenge.
"The site is replete with steep cliff sides that we're having to run right through the middle of the landing site. There's sand, there're boulders, there're impact craters, all these would be a bad day if we touched down on them."
When NASA's Curiosity rover landed in Gale Crater in 2012, the predicted landing footprint — an ellipse reflecting the uncertainty in where the spacecraft might end up — measured 15.5 miles by 12.4 miles. Perseverance's more advanced landing system is aiming for a footprint three times smaller, 4.8 miles by 4.1 miles.
Chen is optimistic Perseverance will stick the landing, but there are no guarantees.
"Entry, descent and landing is the most critical and most dangerous part of the mission," he said. "Success is never assured, and that's especially true when we're trying to land the biggest, heaviest and most complicated rover we've ever built (at) the most dangerous site we've ever attempted to land on."
Bracing for "seven minutes of terror"
Unlike UAE's Hope spacecraft and China's Tianwen-1, which braked into Mars orbit February 9 and 10, respectively, Perseverance will plunge straight into the atmosphere Thursday and descend directly to the floor of Jezero Crater.
Because of the 117-million-mile distance between Earth and Mars on landing day, radio signals will take more than 11 minutes to cross between the planets.
As a result, flight controllers cannot provide any real-time control during the descent. Perseverance must carry out the complex entry, descent and landing on its own.
"We're really throwing our vehicle up in front of Mars and letting Mars run into us," Chen said. "From that position on, really, the spacecraft's on her own to fly out where we're trying to go."
The entire procedure — only half jokingly referred to as seven minutes of terror — will either succeed or fail before radio signals, or lack thereof, are able to convey the outcome back to Earth.
"There's really nothing we can do," said Matt Wallace, the deputy project manager. "We call it 'do EDL' ... we literally send a command to the spacecraft that says that, and then the spacecraft on its own has to get from outside the (atmosphere), moving at 12,000 miles an hour, all the way down safely to the surface without any human interaction.
"It's basically a controlled disassembly the whole way. It's by far the highest risk phase of the mission."
Slamming into the atmosphere at some 12,100 mph, Perseverance's heat shield will endure temperatures as high as 2,370 degrees as atmospheric friction slows the craft to just under 1,000 mph in four minutes. At that point, at an altitude of about seven miles and a velocity of around 940 mph, a 70.5-foot-wide parachute will unfurl.
The timing will depend on a new technology known as "range trigger" that will allow the flight computer to choose the best time to deploy the parachute based on its actual position and the distance remaining to the landing zone.
The heat shield will fall away 20 seconds after parachute deploy, exposing Perseverance to the elements. Shortly after, its radar system and cameras will begin actively measuring altitude and velocity while mapping the surface below and comparing the view to orbital maps stored in on-board memory.
The "terrain relative navigation" system, being used for the first time, will enable Perseverance to select the best possible landing site in the targeted footprint, moving the touchdown point by up to 2,000 feet as required to avoid large boulders, steep slopes or sand dunes that might otherwise cause problems.
"It matches up landmarks that it sees with its camera, with its eye, with those onboard maps to figure out where she is," Chen said. "That helps us get our uncertainty and where we're at down to a couple tens of meters. ... If it wasn't for range trigger and terrain relative navigation, we just could not go to Jezero."
Five minutes and 50 seconds after atmospheric entry, at an altitude of about 1.3 miles, Perseverance will be released from its backshell and parachute, falling freely at a velocity of about 190 mph. Seconds later, the rover's sky crane jet pack will fire up to begin the final phase of the rocket-powered descent.
Up until this point, Perseverance will have been sending X-band radio signals directly back to Earth, using 256 tones to signify various entry events. Actual telemetry from the rover, uplinked via UHF signals, will be relayed to Earth by NASA's Mars Reconnaissance Orbiter as it passes over the landing site.
But Earth will drop below the horizon of Mars about a minute before touchdown, cutting off the direct X-band tones. For the final moments of landing, flight controllers will have to rely on the MRO spacecraft to confirm a successful landing.
In any case, by the time it reaches an altitude of just 70 feet or so, Perseverance will be descending at a sedate 1.7 mph.
At that point, the sky crane jet pack, using eight rocket motors to maintain orientation, will slowly lower Perseverance to the surface on a tether, cutting the cable when the flight computer detects "weight on wheels" about six minutes and 50 seconds after entry. The no-longer-needed sky crane then will fly away, crashing to the surface a safe distance away.
Low-resolution thumbnail images from cameras on the front and back of the rover are expected to be sent back to Earth within a few minutes of touchdown. Higher-resolution imagery will be sent back over the next several days as engineers begin a 90-day checkout operation.
Perseverance is carrying a record 23 cameras, with two more on the Ingenuity helicopter. During descent, cameras will record the release and inflation of the parachute, they will show the ground rushing up, the backshell pulling away, the rover dropping away from the sky crane and a view looking up from the rover to the jetpack.
Those never-before-seen images will be sent back over several days, giving engineers their first looks at the sky crane technology in action.
A robot geologist on Mars
Perseverance, launched from Cape Canaveral last July 30, was aimed at a point in space just ahead of where Mars was predicted to be this week. It has taken seven months to complete the trip, covering 293 million miles. It is the 22nd spacecraft sent to Mars by the United States at a total cost of roughly $25 billion.
Perseverance is the largest lander ever sent to Mars, tipping the scales at 2,260 pounds. It is roughly 10 feet long, 9 feet wide and 7 feet tall. It is equipped with a multi-joint robot arm, stretching 7 feet when fully extended, that carries a rotating 99-pound turret at its far end housing a camera, a rock drill and chemical analyzers.
The rover's body is mounted on six ribbed wheels arranged in a "rocker-bogie" design that evenly distributes the weight and allows it to easily roll over low-lying rocks.
Quelle: CBSNews
1521 Views