3.02.2021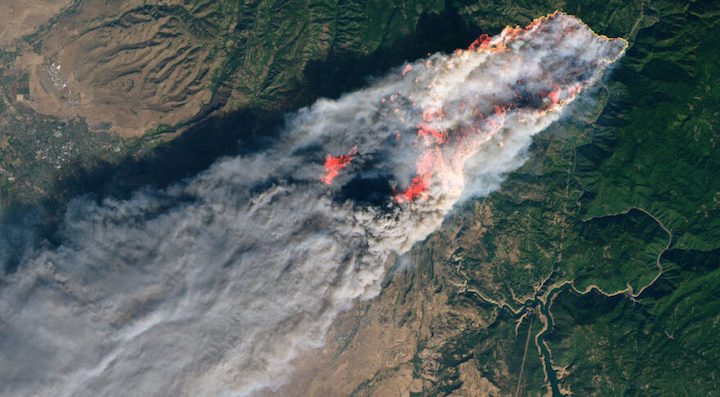 The U.S. Space Force wants an open platform to process and distribute data from missile-warning satellites.
WASHINGTON — During a deadly wildfire season that ravaged California in 2018, the U.S. Forest Service used data from the Air Force's overhead missile-warning satellites to help spot new fires and flareups.
Although the satellites are owned and operated by the U.S. military, sharing data with the Forest Service was difficult because the ground stations use proprietary technology designed decades ago by the Air Force's prime contractor Lockheed Martin.
Making data available for firefighters required a lot of "engineering on the back end," said Col. Rhet Turnbull, director of the U.S. Space Force's Space and Missile Systems Center's cross mission ground and communications enterprise.
Turnbull's office is leading an effort to develop an open platform to process and distribute data from current and future missile-warning satellites. The goal is to become less dependent on a single vendor and transition to an open architecture owned by the U.S. government, he said last week in an interview with SpaceNews.
The military's missile-warning satellites are the Space Based Infrared System, a constellation of heat-detecting spacecraft made by Lockheed Martin, that can see missiles and rockets as they are launched from anywhere on the globe. The Space Force plans to spend an estimated $12 billion over the next several years on a new system called Next-Generation Overhead Persistent Infrared.
Lockheed Martin received two contracts worth $7.8 billion for the development and production of three geosynchronous Next-Gen OPIR satellites. The Space Force also awarded a $2.4 billion contract to Northrop Grumman for two Next-Gen OPIR polar orbit satellites. The GEO satellites are projected to start launching in 2025.
Under the most recent contract awarded Jan. 4 to Lockheed Martin, the company has to develop a ground system for Next-Gen OPIR but also has to figure out a transition plan to migrate its proprietary technology to the open architecture being developed by the Space and Missile Systems Center.
The Space Force is projected to spend $2 billion on a government-owned open platform known as Forge, short for Future Operationally Resilient Ground Evolution. It is also developing an open system called Enterprise Ground Services (EGS) to operate all future satellites using common standards by 2028.
SMC in January 2020 awarded Raytheon a $197 million five-year contract to design an open-architecture system for Forge.
It's costly to fund two separate ground systems but it was necessary because Lockheed Martin owns much of the critical technology and has decades of experience as the SBIRS prime contractor, said Lt. Col. Kellie Brownlee, materiel leader for future ground integration at the Space and Missile Systems Center.
Brownlee said a major challenge ahead will be to work out the details of transitioning Lockheed Martin's proprietary technology and data to a system where the government will possess the intellectual property.
"Lockheed Martin has owned the system for more than 20 years," she said. SMC is negotiating the transfer of intellectual property and software source code to the government, said Brownlee. "As we migrate our legacy assets to the new system, data rights is one of our biggest concerns and risk areas," she said. "They have owned it for a long time. We need to understand how the older systems are going to operate on our new system."
The Forge open framework being developed by Raytheon will host third-party apps. Three companies — Altamira, Maxar and SciTec — won contracts to develop apps to process missile warning data. One will be selected to build an app to process data from Next-Gen OPIR, said Brownlee. Lockheed Martin also will be developing apps to be hosted on Forge and EGS.
Turnbull described Forge as a "government-owned baseline, with the government owning the design and the data and the software."
It is a shift from the SBIRS model where Lockheed Martin is the prime contractor for the satellites and the ground system, and owns all the software, said Turnbull. "If we want to modify or add another satellites, we are in a sole-source situation with a vendor. It can be costly and slow to modify. In some cases it's not even possible because of the way the system was designed."
Quelle: SN
865 Views