2.02.2021
A Maine company that's developing a rocket to propel small satellites into space passed its first major test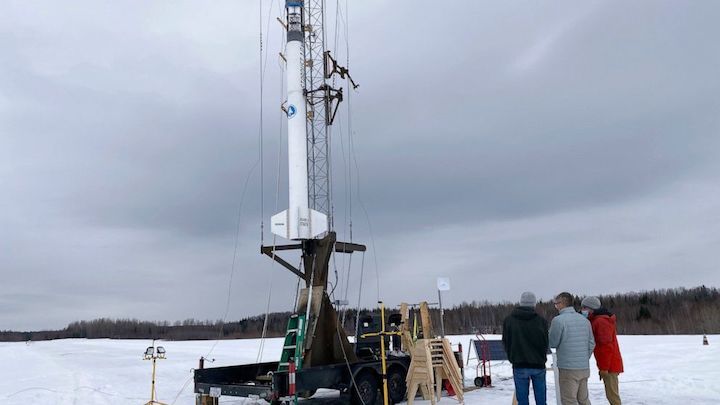 Members of bluShift Aerospace prepare for a test launch of a 20-foot rocket prototype, Thursday, Jan. 14, 2021, in Limestone, Maine. The company hopes to eventually use similar rockets to launch small satellites
BRUNSWICK, Maine -- A Maine company that's developing a rocket to propel small satellites into space passed its first major test on Sunday.
Brunswick-based bluShift Aerospace launched a 20-foot (6-meter) prototype rocket, hitting an altitude of a little more than 4,000 feet (1,219 meters) in a first run designed to test the rocket's propulsion and control systems.
It carried a science project by Falmouth High School students that will measure flight metrics such as barometric pressure, a special alloy that's being tested by a New Hampshire company — and a Dutch dessert called stroopwafel, in an homage to its Amsterdam-based parent company. Organizers of the launch said the items were included to demonstrate the inclusion of a small payload.
The company, which launched from the northern Maine town of Limestone, the site of the former Loring Air Force Base, is one of dozens racing to find affordable ways to launch so-called nano satellites. Some of them, called Cube-Sats, can be as small as 10 centimeters by 10 centimeters.
Sascha Deri, chief executive officer of bluShift, said the company is banking on becoming a quicker, more efficient way of transporting satellites to space.
"There's a lot of companies out there that are like freight trains to space," Deri said. "We are going to be the Uber to space, where we carry one, two or three payloads profitably."
Another aspect that makes bluShift's rocket different is its hybrid propulsion system.
It relies on a solid fuel and a liquid oxidizer passing either through or around the solid fuel; the result is a simpler, more affordable system than a liquid fuel-only rocket, said spokesperson Seth Lockman. The fuel is a proprietary biofuel blend sourced from farms, Deri said.
"It's a very nontoxic fuel, I like to say that I could give it to either one of my little daughters. Nothing bad would happen to them, I swear," he said. "So it's very much nontoxic. It's carbon neutral."
The goal is to create a small rocket that could launch a 30-kilogram (66-pound) payload into low-Earth orbit, more than 100 miles (160 kilometers) above Earth's surface. Lockman said orbit could be possible by 2024.
The company has spent $800,000 on research and development, with some of the money coming from NASA.
Representatives from bluShift said they don't anticipate being able to launch from Brunswick, where they are headquartered, because of population density in the area.
An attempted test launch in Limestone earlier in January was postponed because of weather. Sunday's launch was also held back by a couple of false starts, but event organizers described the eventual 3 p.m. liftoff as "perfect."
Quelle: abcNews
+++
Startup tests hybrid engine for small launch vehicle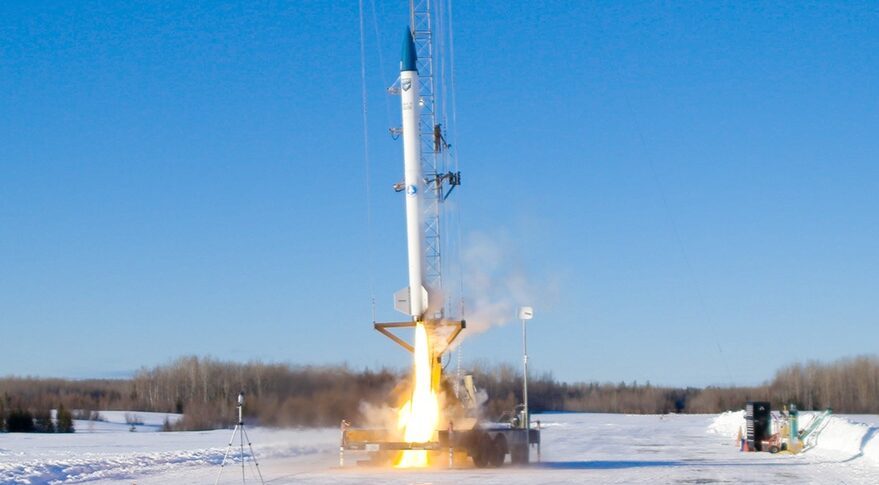 WASHINGTON — A Maine startup made its first, albeit small, step towards space Jan. 31 with the successful launch of a rocket testing the engine technology it plans to use on future small launch vehicles.
The Stardust 1.0 rocket by Braunschweig, Maine-based bluShift Aerospace launched at about 3 p.m. Eastern from the Loring Commerce Centre, a former Air Force base in northern Maine. The rocket fired its hybrid rocket engine for about 10 seconds on a very low altitude flight, with the rocket parachuting back to the ground minutes later.
Two launch attempts earlier in the day were aborted. The first abort took place when the rocket's igniter fired but an oxidizer valve failed to open. The second abort took place when the igniter failed to ignite. The company corrected both problems in time for a third, and ultimately successful, launch attempt later in the day.
"I don't think we could have asked for anything better," Sascha Deri, chief executive of bluShift, told reporters in a call after the launch. The rocket fell a little short of the planned apogee of about 1,500 meters, he said, possibly because some fuel grains in the rocket's hybrid motor eroded during the first aborted launch attempt. Otherwise, "it went perfectly."
The rocket carried three payloads, each the size of a three-unit cubesat, for two companies and a high school, as well as mementos flown by the company. However, the main purpose of the launch was to test the company's technology, which it plans to later scale up for suborbital and orbital launch vehicles.
"The primary goal is to demonstrate that we are capable of more than just building a nifty, novel rocket engine, that we are capable of building full rockets, acquiring customers, going after a niche market that others are not going after in a unique way, so that we can attract private investors for funding the next stage of our company," Deri said in a Jan. 30 briefing about the launch.
The successful launch may help the company raise a $650,000 angel round of investment so it can pursue a larger suborbital vehicle, Stardust 2.0. That vehicle could fly as soon as late this year, he said after the Stardust 1.0 launch, and be powerful enough to reach the edge of space, but provide only about a half a minute of microgravity.
The larger hybrid engine developed for Stardust 2.0 would serve as a "fundamental building block" for a larger suborbital launch vehicle, Stardust Rogue, and for Red Dwarf, a launch vehicle designed to place up to 30 kilograms into orbit. Those vehicles would require additional funding rounds, with Red Dwarf ready for launch no earlier than 2024.
All those vehicles will be powered by versions of the hybrid engine tested on the Stardust 1.0 launch. That engine uses nitrous oxide and a proprietary "bio-derived" solid fuel. Deri declined to provide details about that fuel other than it is nontoxic and easy to transport, and that it can be "produced on farms across America."
Hybrid engines — so named because they use a solid fuel and liquid oxidizer — have struggled to find a niche in the space industry. The best-known application of hybrid engines was on Scaled Composites' SpaceShipOne suborbital spaceplane and its successor, Virgin Galactic's SpaceShipTwo. However, problems developing that hybrid propulsion system caused extensive delays in the development of SpaceShipTwo, and few other companies have considered using it.
Deri said a technical adviser for bluShift had been involved in work three decades ago by the American Rocket Company, or Amroc, that attempted to develop a launch vehicle using hybrid engines. "We were able to take advantage of his sage advice and guidance to not repeat some of the errors of the past," he said. "Hybrid engines certainly have their unique challenges."
Despite those challenges, he said bluShift was attracted to the lower complexity and cost that such engines promise compared to liquid-propellant engines, while trading off performance. "We will never become the Formula 1 of rockets," he said. "We're trying to become the Toyota Tercel: something reliable that gets there and is cost effective."
That approach, he said, will allow it stand out in a crowded market of small launch vehicle companies, with 100 or more in various stages of development by some estimates. A particular focus will be on civil and academic customers who today rely on rideshare launch opportunities.
A flight test, even one to a low altitude, puts bluShift ahead of some other launch vehicle developers yet to make any kind of flights, but does not guarantee long-term success. Vector Space Systems performed two low-altitude flight tests of its Vector-R rocket in 2017. However, the company filed for Chapter 11 bankruptcy in late 2019 after one of its major investors pulled out, and only recently restarted operations under new ownership.
Quelle: SN
1272 Views