12.12.2020
SpaceX set to roll next Starship to the launch pad days after SN8 crash landing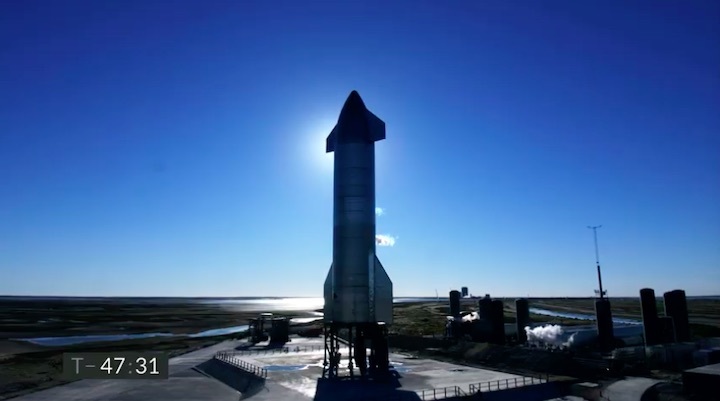 In a rock-solid sign of SpaceX's confidence in Starship, the company has filed plans to roll the second fully assembled prototype – known as serial number 9 (SN9) – to the launch pad days after SN8's first launch and (crash) landing.
According to a public road closure request submitted by SpaceX less than 24 hours after Starship SN8's spectacular debut, the company intends to transport Starship SN9 and a large crane from the factory to the launch pad as early as Monday, December 14th.
On the heels of such a successful high-altitude launch debut, even highly optimistic (but well-sourced) hints from several reporters seem to fall short of SpaceX's plans to prepare the next ship for testing as few as five days later.
Unlike SN8, which was sent tank section only to the launch pad and put through a month of several major tests before a tricky in-situ nosecone installation operation, Starship SN9 was fully assembled at SpaceX's build site. While still incredibly impressive as the first large flightworthy rocket in history to complete major structural integration work at a launch pad, fully exposed to the elements, the challenge added complexity and delayed SN8's launch schedule.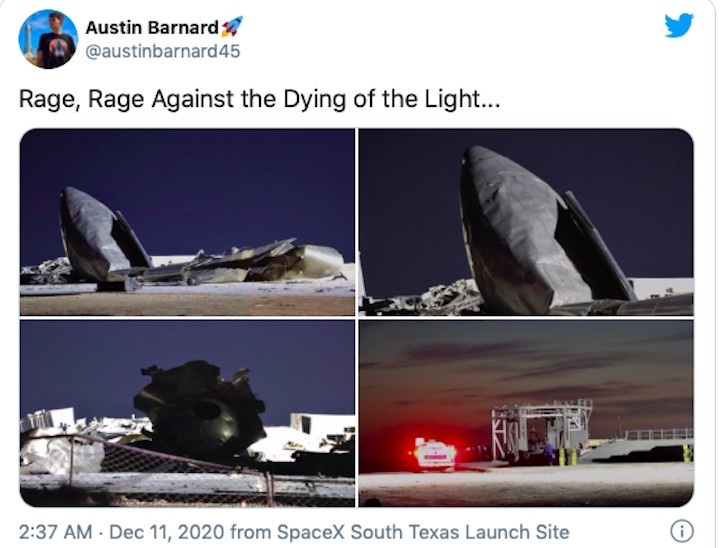 The in situ installation was only needed because of Starship SN8's role as a pathfinder and fleet leader. Testing the vehicle prior to SpaceX's first true nosecone installation attempt reduced both the schedule risk and cost of a potential failure during the first multi-engine Raptor static fire. After SpaceX confirmed that SN8 – also the first prototype built mainly out of a different 304L steel alloy – was meeting expectations and performing well, nosecone installation was greenlit.
Thanks to eight (mostly) successful cryogenic proof and static fire tests SN8 completed, as well as the rocket's nearly flawless launch debut, SN9's path to testing and flight is dramatically simpler. Assuming that the "low-pressure fuel header tank" responsible for Starship SN8's failed landing is relatively simple to fix, Starship SN9 could feasibly require just a single 'cryo proof' and static fire test before its first launch attempt.
If SN9's proof tests go smoothly and the low-pressure header tank bug can be easily fixed, it's entirely conceivable that SpaceX could be ready to attempt a second high-altitude Starship launch before the end of the year. Stay tuned!
Quelle: TESLARATI
----
Update: 20.12.2020
.
SpaceX's first Starship booster a step closer as custom parts arrive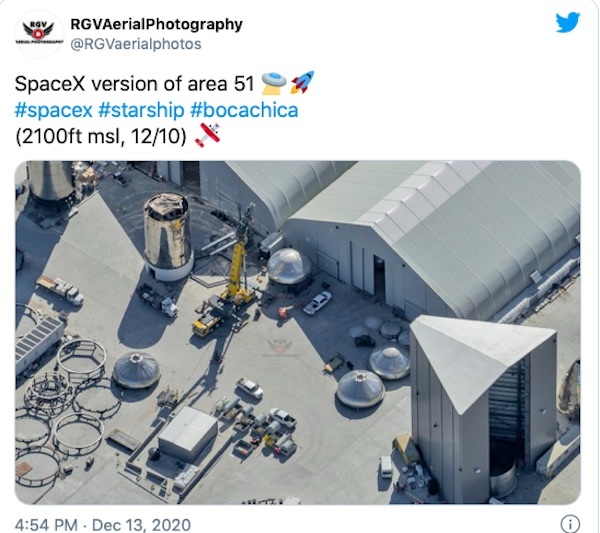 While SpaceX remains focused on Starship flight testing as the dust settles from SN8's launch debut, the company continues to make slow but steady progress building the first Super Heavy booster prototype.
For the most part, SpaceX has learned from trial and error and developed a decent stainless steel rocket manufacturing process by building a dozen Starship prototypes over the last ~12 months, ranging from a lone nosecone tip to stout test tanks and Starship SN8, which launched to 12.5 km (~7.8 mi) earlier this month. Practically identical below the nose, Super Heavy directly benefits from that maturity and is more or less an extended Starship tank section with more engines and bigger legs.
In many ways, Super Heavy can be much simpler than Starship, as a suborbital booster has no need for header tanks, flaps, or a nosecone, and can be much stronger and heavier in all aspects. However, carrying three or more times as propellant as Starship (and carrying Starship itself), Super Heavy also needs to be stronger. All those changes – requiring new design work and new fabrication – take time. In a great sign that most of that work is complete, some of that custom hardware needed to strengthen and power Super Heavy has begun to arrive over the last several weeks.
SpaceX began stacking the first Super Heavy booster (BN1) on November 8th and appears to have more or less paused integration operations after joining eight rings. Production continued apace, however, and no less than five ring sections destined for Super Heavy appeared over the next several weeks. Why assembly slowed down is unclear but it's reasonable to assume that SpaceX was trying to keep its focus primarily on Starship SN8's launch debut and the preparation of several other full-scale ships, where early work on Super Heavy could ultimately be for naught if Starship flight tests uncover major design flaws.
Regardless of the reason, BN1 remains eight rings (14.5m/48ft) tall as of December 14th, representing one-fifth of Super Heavy's full 70-meter (~230 ft) height.
On December 17th, one of the parts unique to Super Heavy unexpectedly appeared in SpaceX's South Texas shipyard, labeled "B1 FWD PIPE DOME". The dome was quickly sleeved with a stack of three steel rings with labels confirming that the assembly was Super Heavy BN1's common tank dome –
"common" because it's shared by both booster propellant tanks. The new dome is unique to all previous Starship domes, featuring a smaller, more reinforced cutout – likely because Super Heavy doesn't need header tanks.
It also appears to borrow forward domes, using the same rougher steel normally used to cap off Starship methane tanks.
Unlike Starship common domes, which place a spherical methane header tank at the bottom, Super Heavy's common dome will have a transfer tube welded directly to its nozzle-like opening. As it turns out, what could be the first Super Heavy methane transfer tube was delivered to Boca Chica late last month.
Unlike Starship transfer tubes, the new plumbing appeared to have a much wider diameter and was delivered in four sections, meshing well with the fact that Super Heavy tanks are roughly twice as tall as Starship's. Able to support as many as 28 Raptors compared to Starship's 6, Super Heavy transfer tubes will also need to pump more than five times as much methane per second at full thrust, which could explain the larger diameter.
Finally and perhaps most significantly, aerial photos from RGV Photography appeared to capture the first glimpse of what might be the hardest custom part required by Super Heavy – a thrust structure designed to support up to 28 Raptor engines. On December 10th, casually sitting between Starship Mk1's remains (on the white concrete mount) and a tent, a flat ring with clear eightfold symmetry and a donut-like cutout large enough to fit a Starship thrust puck with room to spare was easily visible.
The hexagonal symmetry was the main giveaway, matching comments from CEO Elon Musk that Super Heavy's thrust structure will feature a central ring of eight engines surrounded by an outer ring of up to 20 more Raptors. Assuming the first Super Heavy booster only flies with a few Raptor engines, that sole eight-engine 'puck' may be all that SpaceX needs to complete BN1.
Quelle: TESLARATI
----
Update: 22.12.2020
.
Starship SN9 rolling to launch site – Super Heavy construction ramps up
SpaceX Boca Chica is now transitioning towards the next launch campaign, with Starship SN9 began the rollout to the launch site on Tuesday. There remains a slim chance SN9 will be ready to launch before the end of the year, repeating the flight profile that almost saw SN8 return in one piece.
SN9's campaign comes ahead of an untold number of launches in 2021, with a total of nine Starships in various stages of production, along with the first Super Heavy prototype.
Starship SN8 beat expectations, completing numerous milestones before a loss of thrust in the landing burn's final seconds concluded the flight with a fireball.
Clean up operations are continuing at the landing site, with just the almost-intact nosecone yet to be moved from its resting place. Elon has intimated the nosecone will be preserved in honor of SN8's incredible achievement.
It was always part of the plan to move on to the SN9 launch campaign immediately. However, while SN9 was waiting for rollout from the High Bay, a transport mount collapsed.
This caused SN9 to topple into the High Bay sidewall, damaging aero surfaces on the nosecone.
That has resulted in several days of remedy work, including the use of an aero surface that was originally designated for SN10's nosecone – which itself is undergoing mating operations inside the Wind Break facility.
This multi-flow processing mandate at SpaceX Boca Chica allows for the goal of launching numerous prototype Starships to refine the flight profile, with SN9 still expected to fly to 12.5 km before a likely push to the original goal of between 15 and 20 km with a future Starship – pending the results of the SN9 flight.
With SN9 now repaired and released from the grip of the Liebherr LR1600/2 Crawler Crane "Tankzilla" – which rushed to the rescue of SN9 to allow for a replacement stand to be installed in the High Bay – rollout to the launch site could then take place.
Tankzilla first made the slow roll down Highway 4 on Monday, followed by the roll of SN9 operations on Tuesday.
This is the first time a fully-integrated Starship has been rolled down Highway 4, with its nosecone already mated and its three Raptor engines already installed.
A refined pre-launch flow will follow, likely requiring only a single cryo-proof testing run with Liquid Nitrogen, followed by a triple-Raptor Static Fire test.
Pending the results of those tests and the required clearance to proceed toward the launch, SN9 is expected to take to the air either side of the New Year, potentially before 2020 comes to an end.
Although Starship's achievements in 2020 have been impressive, 2021 promises to be a banner year to develop the first fully and rapidly reusable interplanetary launch system
Once SN9 has departed the High Bay, SN10 is expected to take up residence before receiving the nosecone currently being mated in the Wind Break.
In turn, that will allow for SN11 – currently in the Mid Bay with SN10 – to gain a new neighbor, namely SN12.
All of the required sections, and even a nosecone, have been spotted by Mary (@bocachicagal), with just stacking operations – which takes place inside the Mid Bay – to come.
Future Starships post-SN12 are also lining up for their turn in the Mid Bay, with the latest section to be spotted belonging to SN17. Mary (@bocachicagal) caught the Aft Dome Sleeve out in the open, waiting to meet its SN17 comrades that are likely being prepared inside some of the "Big Tent" production facilities.
However, somewhat more exciting than the observation of nine new Starships is the continued staging of numerous sections for the first Super Heavy prototype.
BN1 (Booster Number 1) has been noted for several weeks now, with two sections already moving to the High Bay, a facility that was specifically built for Super Heavy stacking, as much as its space is being utilized by the ability allow for the nosecone stacking at the Production site for SN9.
Seven sections of Super Heavy have now been identified, ready to join the two sections already located in the High Bay. This past week's most notable Super Heavy processing milestone was the sleeving of the Forward Pipe Dome section.
While some observers believe Super Heavy stacking won't take place until a new overhead gantry crane is installed into the facility, there remains the potential one of SpaceX Boca Chica's impressive cranes could provide the interim role via the use of load spreaders, as have been employed during Starship stacking operations.
Starship operations will keep SpaceX busy for the early months of next year before Super Heavy enters the fray and makes its own trip down Highway 4 – although this time to its own launch site closer to the beach.
Work on the Orbital Launch Site has been ongoing, focusing on the area surrounding the new mount that will host BN1 ahead of its test launch.
That launch is expected to be a short hop, akin to SN5 and SN6's tests, per the only time Elon Musk has referenced it on Twitter – who also noted the launch would involve two Raptors. Plans may have changed since.
The ability to cater to this high cadence launch campaign will depend on the amount of Raptor engines that can be supplied, and/or survive upcoming tests.
Raptors are initially test-fired at SpaceX McGregor. The latest fly-past from NSF member Gary Blair (L2 McGregor Section) showing two Raptors have been removed from both the vertical "Tripod" test stand and Horizontal test stand, with one Raptor remaining on the latter.
New engine testing is understood to be in the late SN50 to early SN60 range – although repaired, retested engines can often be seen on the stands.
However, it can be summarized that SpaceX already has a good number of Raptors for upcoming testing, with more Raptors likely making their way through SpaceX's manufacturing center in Hawthorne, California.
Quelle: NS
+++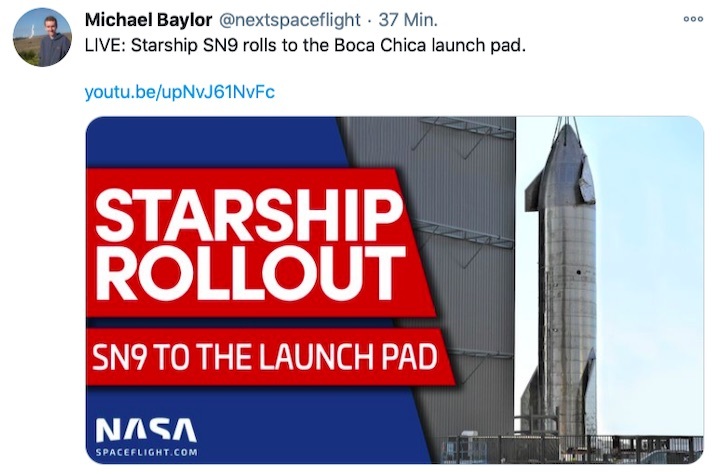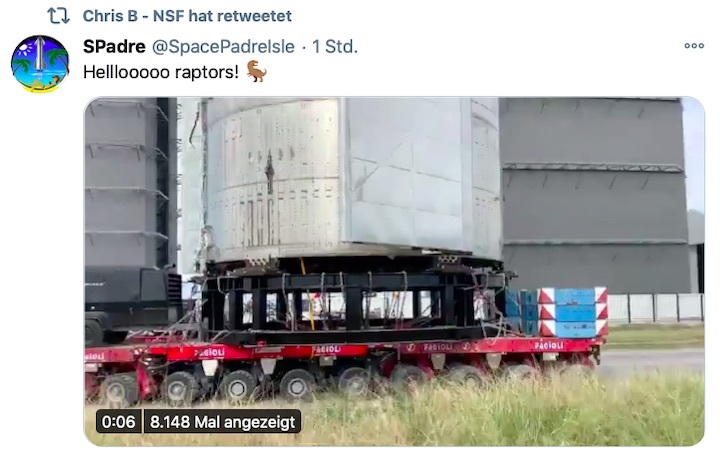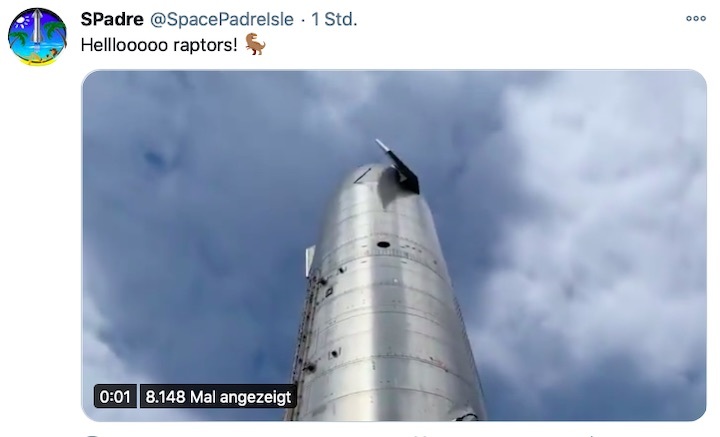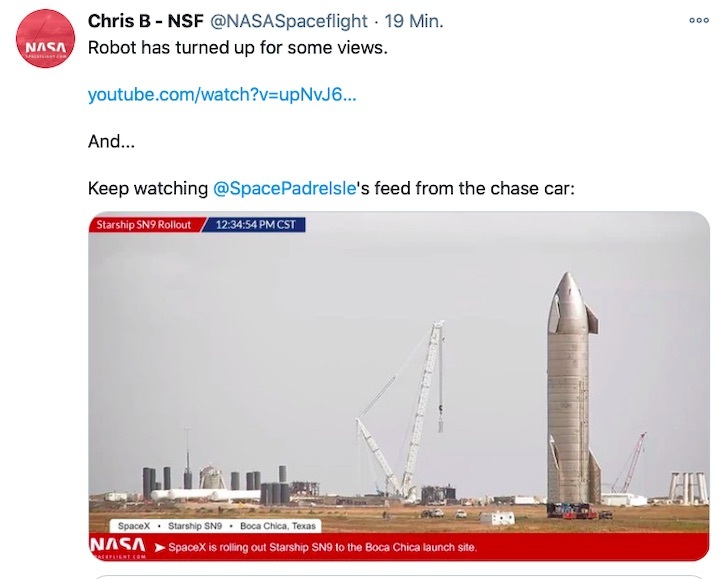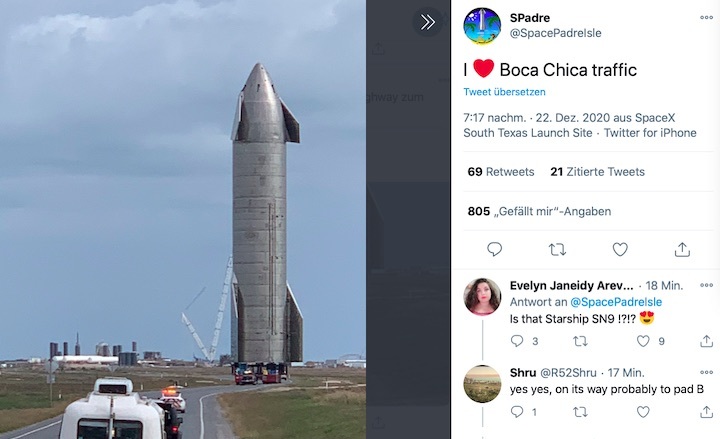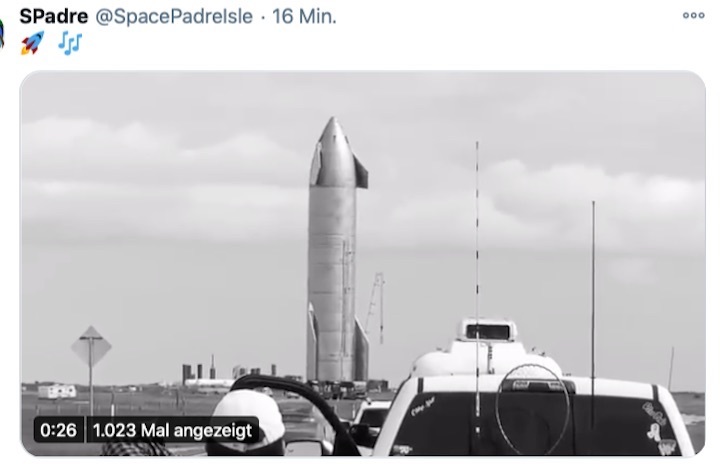 Quelle: Twitter
----
Update: 30.12.2020
.
SpaceX's first Super Heavy booster hop "a few months" away, says Elon Musk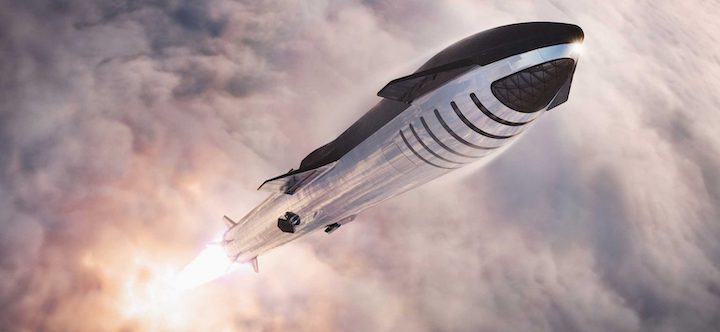 SpaceX CEO Elon Musk says that the first prototype of a Starship booster – known as Super Heavy – could be finished and ready for flight testing just "a few months" from now.
Standing about as tall as an entire two-stage Falcon 9 rocket at 70 meters (230 ft) tip to tail, the Super Heavy booster tasked with getting Starship about a quarter of the way to orbit will unequivocally be the largest rocket stage ever built. Outfitted with up to 28 Raptors capable of producing more than ~7300 metric tons (~16.2 million lbf) of thrust at liftoff, Super Heavy will also be the most powerful rocket ever built, respectively outclassing Saturn V and SpaceX's own Falcon Heavy by a factor of more than two and three.
While it could be awhile before SpaceX is ready to risk more than two-dozen Raptor engines on a single vehicle, Super Heavy will be able stand on the back of a wealth of experience gained from a full year of Starship production and testing.
As previously discussed on Teslarati, SpaceX has been gradually working on the first Super Heavy booster over the last few months despite a clear primary focus on Starship production and SN8's high-altitude launch debut. Most recently, the first eight-Raptor thrust structure, a custom common (i.e. shared) tank dome, and an extra-wide transfer tube needed to feed liquid methane through Super Heavy's liquid oxygen tank were spotted at SpaceX's Boca Chica, Texas factory.
Aerial photos captured by RGV Aerial Photography on December 22nd also revealed that SpaceX appears to be simultaneously stacking two separate sections of Super Heavy BN1 inside an ~80-meter (~260 ft) tall high bay. While it's impossible to know exactly where SpaceX stands in the process of assembling what it's deemed Booster Number 1 (BN1), at least a dozen rings are in the stacking stage with another one or two dozen awaiting their addition to the main booster 'stack'.
Combined, SpaceX may already have all ~38 of the steel rings it needs to complete Super Heavy BN1 staged around the build site. With BN1's forward dome already into the stacking process in the high bay and its common dome more or less ready to join it, the only major parts missing are the first Super Heavy engine section and landing legs. It's not even clear if BN1 will receive the fin-like legs depicted in SpaceX's official renders, so that engine section is all that truly remains.
To complete what Musk has described as a short hop test powered by as few as two Raptor engines, it's likely that the first Super Heavy booster will be far closer to a grounded structural test article than something capable of sending a 2000-ton Starship on its way to orbit. It's even possible that SpaceX will build another test tank to independently stress test Super Heavy's new engine section and eight-Raptor "thrust puck" before risking some three-dozen steel rings.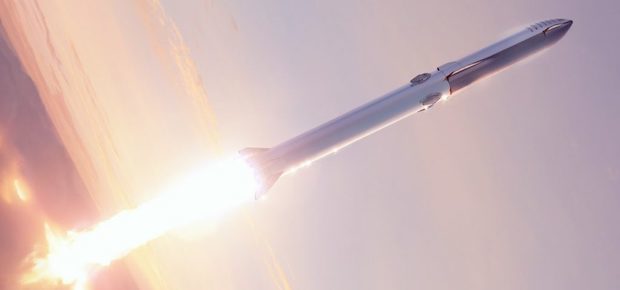 Regardless, if SpaceX really could be ready for Super Heavy's first hop test within "a few months," BN1 integration is about to speed up substantially. Stay tuned for updates!
Quelle: TESLARATI
----
Update: 6.01.2021
.
SpaceX targets bold new 'catch' strategy for landing Super Heavy rockets
5759 Views