24.11.2020
On Nov. 18, NASA was informed by the National Science Foundation (NSF) that, after careful assessment and consideration, they have decided to decommission the 305m radio telescope at the Arecibo Observatory in Puerto Rico, which recently sustained structural damage from failed cables. The planetary radar capability at Arecibo, funded by NASA's Near-Earth Object (NEO) Observations Program, has served as one of two major planetary radar capabilities. It has allowed NASA to fully characterize the precise orbits, sizes, and shapes of some NEOs passing within radar range after they are discovered by wide-field optical telescope survey projects.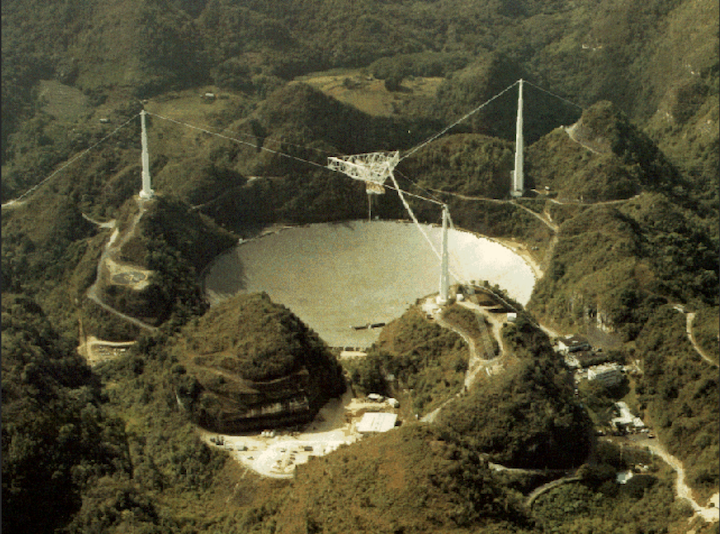 Credits: National Astronomy and Ionosphere Center, Cornell U., NSF
For decades, the facility has been an important emblem of Puerto Rico's commitment to international science research and education, and the discoveries enabled by Arecibo's 305m radio telescope will continue to inspire the next generation of explorers. While the 305m radio telescope is being decommissioned, the Arecibo facility and its STEM education and other assets will continue.
While NASA was not directly involved in the investigation of what led to the observatory's damage in August, the NSF communicated with stakeholders, including NASA, as their investigation proceeded. NASA respects the National Science Foundation's decision to put the safety of those who work, visit, and study at the historic observatory above all else. NASA has facilitated some engineering assistance from NASA Centers at NSF's request.
NASA's Goldstone Observatory in California, another planetary radar, recently returned to full operations after successful delivery and testing of a new klystron tube for its high-power transmitter. Radars such as those at Goldstone and Arecibo are used only to characterize known NEOs, not to discover previously unknown asteroids and comets, so NASA's NEO search efforts are not impacted by the planned decommissioning of Arecibo's 305m radio telescope.
Quelle: NASA
1867 Views