6.05.2020
SpaceX's next Starlink satellite launch slips closer to Crew Dragon astronaut debut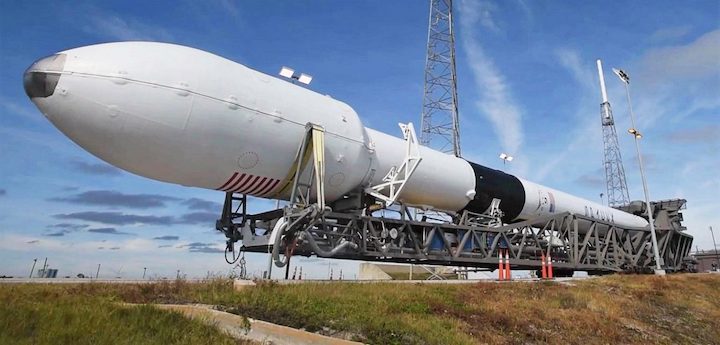 Cape Canaveral Air Force Station (CCAFS) Launch Complex 40 (LC-40). (SpaceX)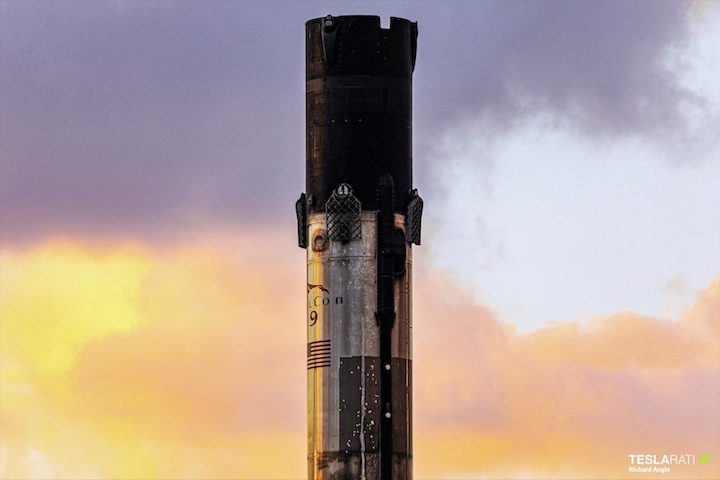 SpaceX's next Starlink satellite launch has slipped about a week and a half into mid-May, placing it just nine days (or less) prior to the company's inaugural NASA astronaut mission.
Known as Crew Dragon's second Demonstration Mission (Demo-2), SpaceX's first astronaut launch is officially scheduled no earlier than May 27th and is with little doubt the most important mission in the company's history. Simultaneously, however, SpaceX is working to rapidly launch thousands of Starlink satellites in a bid to deliver high-quality internet service to tens – or even hundreds – of millions of people. The company has already launched an incredibly 420 operational Starlink satellites but that's just a drop in the bucket compared to the ~4400, ~12,000, or even ~40,000+ the company will ultimately need to match its ambitions.
Along those lines, SpaceX's eight Starlink launch (the seventh flight of v1.0 satellites) is now scheduled to lift off no earlier than (NET) 3:09 am EDT (07:09 UTC) on May 18th – a delay of 11 days from a previous May 7th target. The cause of that delay is unclear and will likely remain so but it does mean that 60 new Starlink satellites could head to orbit just nine days before Crew Dragon attempts to ferry astronauts to the International Space Station (ISS) for the first time ever.
The fact that SpaceX is still pursuing a Starlink launch a little over a week before the most important mission in the company's history is not exactly surprising given that it's performed several launches just days apart over the years. Still, given how much of a priority Demo-2 must be for both SpaceX and NASA, the closeness of Starlink-7 heavily implies that SpaceX has a more or less separate team capable of independently performing a Starlink launch.
SpaceX certainly has two orbital Florida launch pads at Kennedy Space Center (Pad 39A) and Cape Canaveral Air Force Station (CCAFS; LC-40). At least for now, SpaceX only has one drone ship – needed to recover boosters after both Starlink-7 and Demo-2 – but that could change in the near future. Now, with Starlink-7's May 18th launch date firming up, it's also safe to say that SpaceX has a workforce large enough to near-simultaneously support major a NASA astronaut mission and an uncrewed satellite launch.
Beyond its adjacency to Crew Dragon's astronaut launch debut, Starlink-7 is also expected to feature a significant hardware milestone, (hopefully) marking the second time a Falcon 9 booster successfully completes five orbital-class launches and landings. Next Spaceflight recently confirmed that Falcon 9 booster B1049 has been assigned to support Starlink-7 approximately four and a half months after it completed its last (fourth) launch, Starlink-2.
Lost during its fifth launch after suffering an in-flight engine failure caused by an improper refurbishment procedure, Falcon 9 booster B1048 is currently the first and only SpaceX rocket to successfully complete five orbital-class launches. After the loss of B1048, B1049 became SpaceX's new 'life-leader' for Falcon reusability. That refers to the fact that – if successfully recovered – B1049's condition will help inform all future recovery and refurbishment efforts, while also ensuring that the booster will be the first to attempt all future nth reuse milestones.
If B1049 survives Starlink-7 and safely returns to shore, that future will (at least partially) be assured. For now, we'll have to wait a little less than two weeks to find out if it does.
Quelle: TESLARATI
----
Update: 14.05.2020
.
SpaceX Falcon 9 rocket aces test-fire for next Starlink launch
SpaceX successfully test-fired a Falcon 9 rocket in Florida today (May 13), setting the stage for a predawn launch of a a new fleet of Starlink internet satellites this weekend.
The SpaceX rocket ignited the nine Merlin engines on its first stage in a brief static fire test atop a pad at Space Launch Complex 40 of the Cape Canaveral Air Force Station. Liftoff is set for Sunday at 3:53 a.m. EDT (0753 GMT).
"Static fire test of Falcon 9 complete — targeting Sunday, May 17 at 3:53 a.m. EDT, 7:53 UTC, for launch of the eighth Starlink mission, which will lift off from SLC-40 in Florida," SpaceX wrote on Twitter today.
Static-fire tests are routine preflight checks for SpaceX to ensure its rockets are ready for flight. The Falcon 9 rocket on this flight has flown four times before, launching two Starlink missions for SpaceX, as well as the Iridium-8 mission in 2019 and Telstar 18 VANTAGE satellite in 2018.
For this flight, the Falcon 9 will carry 60 Starlink satellites for SpaceX's growing constellation of broadband internet satellites. The company has launched 422 satellites to date, making it the largest satellite fleet operator today.
The upcoming Starlink mission will be SpaceX's eighth since mid-2019 and bring the number of satellites launched to 482. The Starlink constellation is designed to provide high-speed internet access to users around the world.
SpaceX CEO Elon Musk has said that at least 400 Starlink satellites would be required to begin internet service, with 800 satellites needed for moderate coverage. That service will be accessible through a ground-based terminal. SpaceX plans to launch at least 12,000 Starlink satellites for the main constellation.
Sunday's Falcon 9 launch will mark the second time a SpaceX booster has flown five times (the first was in March of this year). The 229-foot-tall (70 meters) Falcon 9 is a two-stage rocket capable of returning its first stage to Earth for a landing on either a ground-based pad or drone ship in the ocean.
SpaceX has been reusing Falcon 9 boosters since 2017. The company has made resuability a cornerstone of its rocket technology in order to lower the cost of spaceflight.
Quelle: SC
+++
Planet's next six satellites will launch on upcoming SpaceX Starlink missions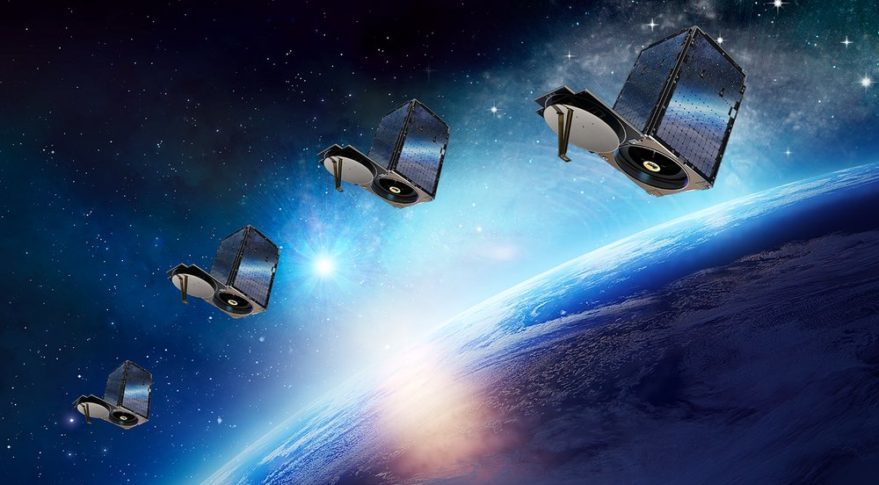 Six SkySat satellites will be evenly split across two Starlink launches on Falcon 9.
WASHINGTON — Planet announced that its next six SkySat satellites will fly to low Earth orbit on SpaceX Starlink missions scheduled later this summer.
The six SkySats will be evenly split across two launches on SpaceX's Falcon 9, Planet said May 13 in a news release. Planet's spacecraft will be rideshare payloads on the Starlink launches.
The first three — SkySats 16-18 — will launch on SpaceX's ninth Starlink mission expected to launch in June. The next three — SkySats 19-21 — will launch later this summer. Both missions will lift off from Cape Canaveral Air Force Station in Florida.
The deployment of six more SkySats would add coverage to Planet's fleet of 15 currently in operation. These remote sensing satellites collect high-resolution imagery, a capability that the company needs to compete in the national security market. With its new satellites in a lower altitude, Planet will be able to offer 50-centimeter-resolution imagery from its SkySat constellation, an improvement from the 72-centimeter imagery provided by older satellites.
SkySats 1-15 operate in sun synchronous orbits. SkySats 16-21 will operate at a "mid-inclination" orbit of 53 degrees, complementing the sun synchronous fleet, the company said. 'They will offer more targeted coverage, rapid revisits and raw image capacity in key geographic regions."
Quelle: SN
----
Update: 17.05.2020
.
Blustery weather keeps Atlas 5 rocket grounded, SpaceX launch slips to Tuesday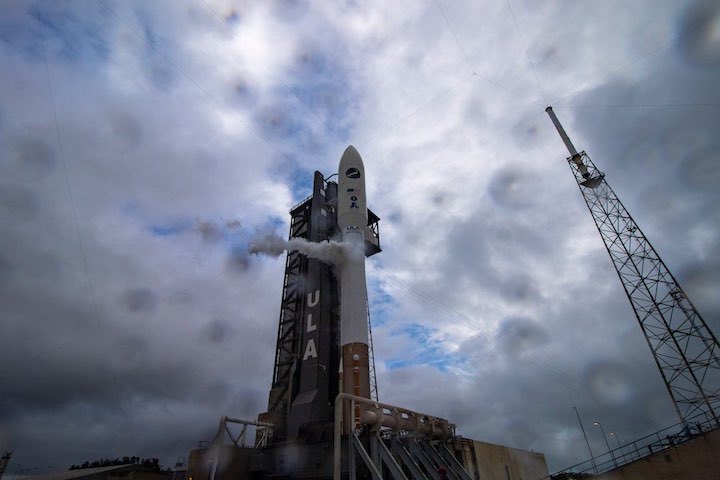 Gusty winds associated with a subtropical low pressure system prevented United Launch Alliance from sending an Atlas 5 rocket into orbit Saturday from Cape Canaveral with the U.S. Air Force's clandestine X-37B spaceplane. ULA plans to try again Sunday, and a SpaceX Falcon 9 rocket launch from a nearby pad has been delayed to Tuesday.
ULA had reserved Sunday as a backup launch date for the Atlas 5 rocket weeks ago, before SpaceX requested the same day on the U.S. Space Force's Eastern Range after delaying its launch from earlier in May. The range provides safety and other support functions for rocket launches from Cape Canaveral and the Kennedy Space Center.
The range typically operates on a first-come, first-served basis, so SpaceX's Falcon 9 mission could only launch Sunday if the Atlas 5 rocket lifted off from Cape Canaveral's Complex 41 launch pad Saturday.
SpaceX initially announced after the Atlas 5 scrub that its launch would be pushed back from Sunday to Monday. Later Saturday, the company said the Falcon 9 flight with the next set of Starlink Internet satellites would not occur before 3:10 a.m. EDT (0710 GMT) Tuesday.
The additional slip in the Falcon 9's launch to Tuesday was caused by weather conditions spawned by a developing tropical depression off Florida's East Coast, SpaceX said. A rocket recovery vessel was deployed into the Atlantic Ocean around 400 miles (630 kilometers) northeast of Cape Canaveral for landing of the Falcon 9's first stage booster.
The floating platform began moving closer to the North Carolina coast Saturday as forecasts showed the tropical system strengthening and moving toward the rocket's landing zone.
"SpaceX teams will continue monitoring launch and landing weather conditions," the company tweeted Saturday night.
The Atlas 5 and Falcon 9 rockets will launch from neighboring pads located about a mile-and-a-half apart at Cape Canaveral Air Force Station.
After high winds and cumulus clouds prevented launch of the 197-foot-tall (60-meter) Atlas 5 rocket at 8:24 a.m. EDT (1224 GMT), ULA targeted Saturday's back-up 10-minute launch window. The launch team proceeded with the terminal countdown for a potential liftoff of the Atlas 5 at 10:23 a.m. EDT (1423 GMT) in hopes weather conditions might improve.
In the end, the weather remained unfavorable and ground winds tripped the Atlas 5's launch limit.
"The ground winds exceeded the limit of what we could safely fly through," said Julie Arnold, a ULA spokesperson.
Officials called off the countdown at T-minus 1 minute, 40 seconds.
ULA's launch director confirmed the Atlas 5 team would try again to send the launcher into space at 9:14 a.m. EDT (1314 GMT) Sunday, when there is a 70 percent chance of favorable weather.
The payload awaiting launch inside the Atlas 5's nose cone is the U.S. Air Force's reusable X-37B spaceplane, which takes off on top of a rocket and returns to Earth for landing on a runway. The military has two of the Boeing-built vehicles in its inventory to perform experiments and deploy small satellites in orbit.
The X-37B is about one-quarter the length of NASA's retired space shuttle orbiters, but it can operate in orbit for years on each flight, significantly longer than the shuttle's mission lifetime of a couple of weeks. This mission marks the sixth orbital flight of the X-37B program.
Military officials have disclosed several experiments on the upcoming flight, including two NASA investigations to study the effects of spaceflight on seeds and other materials. A Naval Research Laboratory experiment will demonstrate technology that could generate solar power in space, then beam the energy down to Earth for terrestrial use.
And a dishwasher-sized satellite from the U.S. Air Force Academy named FalconSAT-8 will deploy from the X-37B in orbit to perform propulsion experiments.
The spacecraft is also believed by analysts to host other classified experiments.
The Falcon 9 rocket scheduled to take off from Cape Canaveral's Complex 40 launch pad is loaded with SpaceX's next batch of around 60 Starlink satellites.
If the Atlas 5 and Falcon 9 had remained scheduled to launch on consecutive days, the two flights Sunday and Monday would have occurred 18 hours, 18 minutes apart.
That would have marked the shortest turnaround between two orbital launches from Cape Canaveral since September 1967 when Delta-G and Atlas-Centaur rockets took off within a 10-hour span from separate launch pads, according to a launch log maintained by Jonathan McDowell, an astronomer at the Harvard-Smithsonian Center for Astrophysics who tracks global satellite and launch activity.
Last August, a Falcon 9 and an Atlas 5 rocket launched from Cape Canaveral in a period of less than 35 hours. That was the shortest span between two orbital missions at Cape Canaveral since May 1981.
In recent years, range teams at Cape Canaveral are working to reduce the time required between launches. In the last few decades, the range team needed up to 48 hours to reconfigure infrastructure between launches.
That was primarily driven by readying tracking radars, transmitters and other equipment to monitor the trajectory of rockets as they arced downrange, and to send a destruct command if the launcher flew off course.
The range now tracks rockets using the GPS satellite navigation network, and the Falcon 9 launches with an autonomous flight safety system, an on-board computer that would automatically terminate the flight in the event of a major problem.
Brig. Gen. Doug Schiess, commander of the 45th Space Wing that operates Cape Canaveral Air Force Station, said the range team for an Atlas 5 launch, which uses a ground-commanded flight termination system, numbers around 300 people, including range operations, security forces, the fire department and other support teams. That number is around 200 people for a typical commercial Falcon 9 launch, which uses an autonomous flight safety system.
"The fact that one is a flight termination system (with a human in the loop), and one is an autonomous flight safety system is what really gets us to the ability to do (two launches) within 24 hours," Schiess said.
Schiess said earlier this week that the range recently assessed the possibility of launching two SpaceX missions within six hours from different launch pads. That appears feasible with two rockets that use autonomous flight safety systems, Schiess said.
Unless the Atlas 5 launch is delayed to Monday, range officials will have to wait for a future opportunity to demonstrate the rapid launch turnaround capability.
Quelle: SN
----
Update: 18.05.2020
.
Planet reserves rideshare slots on SpaceX Starlink launches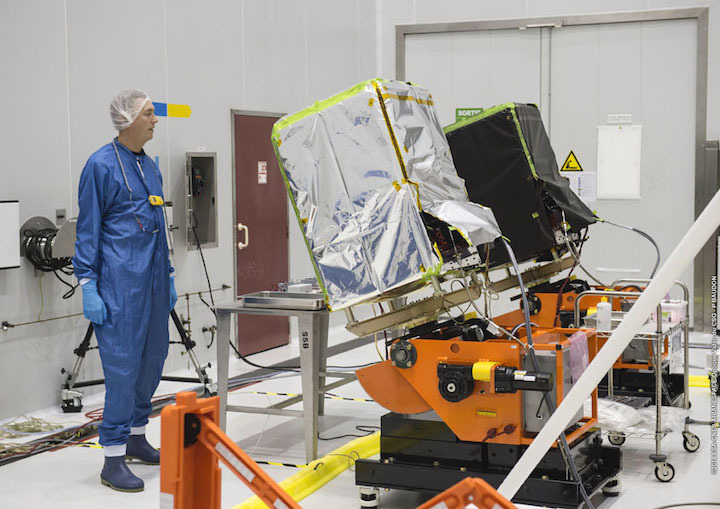 Three of Planet's commercial SkySat Earth-imaging spacecraft will ride to space on top of a stack of SpaceX Starlink satellites next month aboard a Falcon 9 rocket, and three more will hitch a ride on another SpaceX mission later this summer.
Planet announced the rideshare launch agreement with SpaceX on Wednesday, confirming plans to launch six satellites on two previously-scheduled Falcon 9 missions carrying more of SpaceX's Starlink broadband satellites into orbit.
The first three SkySat satellites will fly into orbit on SpaceX's dedicated ninth Starlink mission planned for launch from Cape Canaveral some time in June, Planet said. Three more SkySat spacecraft will launch on a Starlink mission later this summer.
Mike Safyan, vice president of launch for San Francisco-based Planet, said the SkySat satellites will be mounted at the very top of the stack of Starlink payloads inside the fairing on each Falcon 9 flight. The SkySats will attach to the Starlink stack using a custom adapter.
Built by Maxar, each of the SkySat satellites weighs around 242 pounds (110 kilograms) at launch. The SkySats are about the side of a mini-refrigerator, and their optical instruments produce images of Earth with a resolution of less than 2.4 feet, or about 72 centimeters, according to Planet.
With somewhere between 100 and 150 Earth-imaging spacecraft in its fleet, Planet operates the world's second-largest constellation of commercial satellites after SpaceX's Starlink Internet network. Planet's fleet includes Dove CubeSats designed for quick-response imaging, and 15 SkySats to capture sharper views of Earth.
The first 15 SkySat satellites launched into polar sun-synchronous orbits and fly in in north-south paths around Earth. Sun-synchronous orbits are popular for remote sensing and environmental satellites because they allow regular imaging of the Earth's surface with the sun at the same angle.
"About half of the SkySats currently pass overhead in a morning crossing plane, while the other half moves in an afternoon crossing plane, so together they provide twice-daily coverage of select areas on a global scale," Safyan wrote on Planet's website. "SkySats 16-21 will operate at a 'mid-inclination' orbit of 53 degrees, complementing the sun-synchronous fleet, and will offer more targeted coverage and raw image capacity in key geographic regions."
Starlink satellites fly in the same type of orbit at an inclination of 53 degrees. Safyan told Spaceflight Now the SkySats will use their own propulsion to maneuver from the Starlink injection orbit to an operating altitude of around 250 miles (400 kilometers).
The first 15 SkySats have launched on a range of rockets, riding a Ukrainian-Russian Dnepr booster in 2013, a Russian Soyuz launcher in 2014, an Indian PSLV and a European Vega rocket in 2016, Northrop Grumman's Minotaur-C rocket in 2017, and a Falcon 9 mission in 2018.
SpaceX is selling capacity on Starlink launches to other companies who want to book rides for small satellites, offering an online booking system for prospective customers. SpaceX says launch prices for a rideshare payload of up to 440 pounds, or 200 kilograms, start at $1 million.
In addition to selling excess room on Starlink missions, SpaceX is planning as many as three dedicated Falcon 9 rideshare launches per year to sun-synchronous orbit. The first of the company's dedicated rideshare missions is scheduled for December from Vandenberg Air Force Base in California.
The rideshare launches are similar to a sun-synchronous orbit multi-satellite launch from Vandenberg on a Falcon 9 rocket in December 2018. But that mission was managed by Spaceflight, a rideshare launch broker based in Seattle, which purchased the entire capacity of a Falcon 9 rocket and sold slots to commercial and government customers.
Now SpaceX itself is putting together rideshare launches, selling slots directly to satellite operators and brokers that then distribute mass and volume allotments to their customers.
The majority of SpaceX's launches this year will add satellites to the Starlink fleet, which is designed to beam broadband Internet service to consumers around the world. The first phase of the Starlink network will include 1,584 satellites in low Earth orbit, but SpaceX eventually plans to launch thousands more on dozens of Falcon 9 missions.
The flat-panel Starlink satellites launch in a stack inside the Falcon 9 rocket's payload fairing. Each Starlink craft weighs more than a quarter ton, and a load of 60 of the satellites weighs more than 34,000 pounds (15.6 metric tons).
Gwynne Shotwell, SpaceX's president and chief operating officer, said in December that she hopes to book rideshare payloads on all of the company's Starlink launches. If necessary, SpaceX could reduce the number of Starlink satellites on a particular launch to accommodate a secondary payload.
"You can take a satellite off, or if it's super tiny, you can just put it on the top," Shotwell said.
Quelle: SN
+++
SpaceX rocket recovery fleet dodges tropical storm amid Starlink launch delays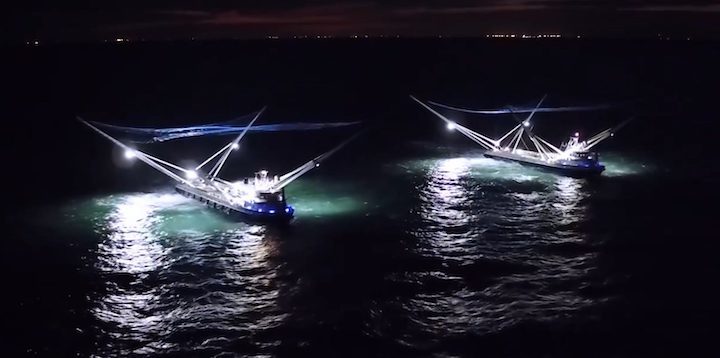 In the last 24 hours, SpaceX's fleet of rocket recovery ships has had to dramatically change course to dodge a tropical storm, weather that has partially delayed the company's next Starlink satellite launch.
Previously scheduled to launch no earlier than (NET) ~4 am EDT on May 17th, less than 24 hours after the United Launch Alliance (ULA) planned to launch a US military spaceplane, the ULA launch was delayed by weather at the last second, pushing SpaceX's Starlink launch to May 18th. Nine hours later, SpaceX announced that it had delayed its eighth Starlink launch another ~24 hours to avoid impacts from a tropical depression developing where the company's rocket recovery fleet was assembling in the Atlantic Ocean.
As of now, Starlink-7 is scheduled to lift off on an exceptionally flight-proven Falcon 9 rocket at 3:10 am EDT (07:10 UTC) on Tuesday, May 19th. It will be the eighth time SpaceX has performed a dedicated launch of 60 Starlink satellites since May 2019 and the 7th launch of Starlink v1.0 spacecraft since November 2019, a little over six months.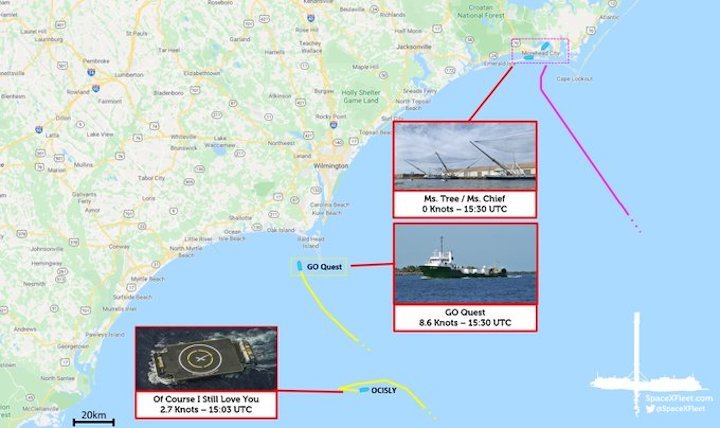 Falcon 9 Block 5 booster B1049 will be supporting the mission, set to be the rocket's fifth launch since it debuted in September 2018 and second launch this year. Most recently, B1049 successfully launched SpaceX's third Starlink mission (Starlink-2) on January 7th.
B1049 will be the second SpaceX booster to attempt a fifth orbital-class launch. Designed to fly no fewer than 10 times each, five flights marks the halfway point on the path to that ambitious design goal, itself just a preliminary target short of an even more ambitious goal of 100 flights per booster (with regular overhauls). It remains to be seen if SpaceX and CEO Elon Musk continue to aim for that ~100-launch target for Falcon 9 and Heavy boosters but with multiple boosters already nearing their fifth flights, it's a question that will have to be answered sooner than later.
Unfortunately, during SpaceX's inaugural fifth flight of Falcon 9 booster B1048, the rocket stage suffered a critical engine failure and emergency shutdown shortly before main engine cutoff and booster separation. B1048's engine failure also prevented the booster from successfully landing, resulting in its destruction. SpaceX ultimately concluded that improper refurbishment – not an issue with the hardware itself – was the cause of the failure.
As a result, B1049's fifth launch is much more important than it might otherwise be. If successful, it will help demonstrate that nothing (aside from shoddy quality assurance) should hold back Falcon reusability from SpaceX's design goals. If a similar failure occurs, however, it could quickly start to look like Falcon 9 Block 5 has hit a wall with respect to reusability, potentially capping each booster and five flights per life. Either way, SpaceX's Starlink-7 mission will be a crucial mission for the company – up next is Crew Dragon's inaugural NASA astronaut launch.
Quelle: TESLARATI
----
Update: 19.05.2020
.
SpaceX postpones Starlink satellite fleet launch due to Tropical Storm Arthur
The satellites will launch after SpaceX's Demo-2 mission.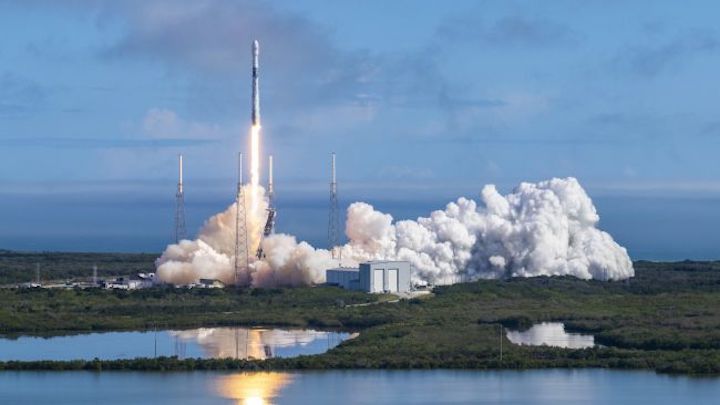 SpaceX has delayed the launch of its next batch of Starlink internet satellites due to weather fallout from Tropical Storm Arthur.
The Starlink flight, which will loft 60 new satellites for SpaceX's growing megaconstellation from Cape Canaveral Air Force Station in Florida, will now lift off after the company's planned Demo-2 mission on May 27.
"Standing down from the Starlink mission, due to tropical storm Arthur, until after launch of Crew Demo-2," SpaceX wrote on Twitter today.
SpaceX's Demo-2 mission is the company's first crewed flight test of its Dragon capsule for NASA. The mission will launch two NASA astronauts to the International Space Station from Pad 39A of NASA's Kennedy Space Center in Florida.
SpaceX originally planned to launch the upcoming Starlink mission on Sunday (May 17), but was forced to postpone the flight to Monday after another mission, the U.S. Space Force's launch of an X-37B space plane, was also delayed by weather over the weekend.
SpaceX later announced that bad weather conditions from Arthur would push the launch back another to Tuesday, May 19. However, with surface winds expected to reach at least 39 mph (63 km/h), according to the National Hurricane Center, the launch has been pushed once again until sometime after May 27.
The company received criticism after the first Starlink launches because astronomers and other scientists cited that the brightness of the satellites, which launch in batches of 60, was interfering with observations.
SpaceX experimented with painting the satellites with a dark coating but, with this launch, intended to test a new approach, a "sunshade," known as VisorSat, is a set of darkened shades that could deploy to block the sun. By eliminating the sun's bright reflection, the satellites would, in theory, be much less bright and much less visible in the night sky.
In April, SpaceX founder Elon Musk announced that the company's next launch, would test their new "sunshades," known as the VisorSat, but they did not specify when that launch would be or if it would carry multiple VisorSats, according to SpaceNews. This upcoming launch will mark SpaceX's eighth Starlink mission. Musk has said that all Starlink satellites would be equipped with sunshades by the ninth Starlink launch.
Quelle: SC
----
Update: 29.05.2020
.
SpaceX to add sunshades to all future Starlink satellites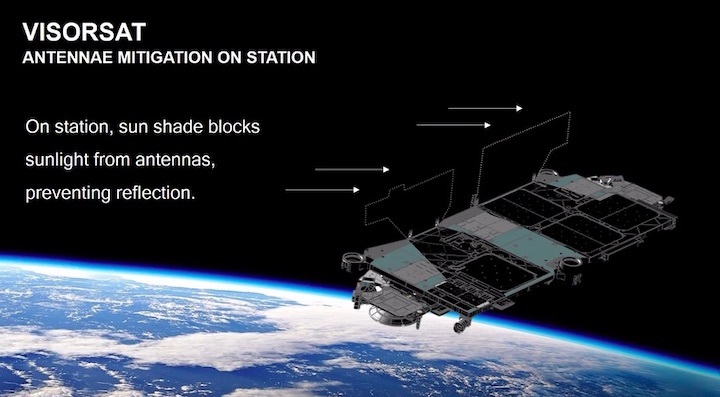 WASHINGTON — SpaceX has decided to add sunshades to future Starlink satellites to reduce their impact on astronomy, having opted for constellation-wide implementation of the reflective hardware.
Patricia Cooper, SpaceX's vice president of satellite government relations, said May 26 that SpaceX has another 80 or so Starlink satellites it is preparing to launch based on their current design before regularly incorporating sunshades that block sunlight from hitting reflective parts of each satellite.
"We would have about 500 satellites at their current brightness, and then all satellites beyond that would have these sunshades," Cooper said during a webinar hosted by the American Astronomical Society and the Satellite Industry Association. "That is the ratio we would be looking at."
SpaceX has launched 422 Starlink satellites, including two prototypes, since 2018. The company is building and launching an initial constellation of roughly 4,400 satellites, though regulatory filings indicate the company could grow Starlink to 12,000 or even 42,000 satellites.
SpaceX's first visor-equipped satellite, dubbed VisorSat, was expected to launch May 17, but was delayed because of Tropical Storm Arthur until after the company's highly anticipated Crew Demo 2 mission, scheduled for May 27 at 4:33 p.m. Eastern. Cooper said SpaceX has yet to announce a date for its next Starlink mission.
SpaceX typically launches Starlink satellites in batches of 60 on Falcon 9 rockets, a rate that would suggest one or two more launches would occur without Starlink satellites routinely equipped with sunshades. Cooper said SpaceX will likely retire early Starlink satellites more quickly to reduce their impact on astronomy.
"The earlier version of our satellites that we've launched, we don't expect them to have a complete five-year life span," she said. "We are expecting to cut in the VisorSat mitigation at the point that we are launching still in the 500s of satellites."
Tony Tyson, chief scientist for the Vera Rubin Observatory, said Starlink satellites need to be dimmed to an apparent magnitude of seven so that astronomers can work around them using image processing. Recent observations show Starlink satellites at around magnitude five. DarkSat, a Starlink satellite treated with an experimental darkening coating, was observed at roughly magnitude six, he said.
"Progress is being made, [but] we still have to get to seventh magnitude somehow," Tyson said. SpaceX is working with astronomers on reducing the impact of Starlink, he said.
Cooper, when asked if SpaceX had the same goal of lowering Starlink's brightness to magnitude seven, said it is an "interesting threshold," but did not commit to meeting that target.
Quelle: SN
----
Update: 2.06.2020
.
SpaceX targets Wednesday night for next Starlink launch
Days after launching astronauts for the first time, SpaceX is set to resume a speedy cadence of satellite launches Wednesday night with liftoff of a Falcon 9 rocket carrying the company's next batch of Starlink broadband relay stations.
A Falcon 9 rocket is scheduled for takeoff Wednesday, likely around 9:25 p.m. EDT (0125 GMT Thursday), from Cape Canaveral's Complex 40 launch pad. A weather forecast issued by the U.S. Space Force's 45th Weather Squadron on Monday indicates there is a 70 percent probability of favorable conditions for launch Wednesday night.
The weather forecast lists a 61-minute launch window for the Starlink mission opening at 8:55 p.m. EDT (0055 GMT), but SpaceX typically targets liftoff in the middle of the window for Starlink flights.
SpaceX has launched 420 Starlink satellites on seven dedicated Falcon 9 launches since May 2019, with each rocket carrying 60 Starlink spacecraft. This week's launch is expected to loft around 60 additional Starlink satellites, which each weigh about a quarter-ton.
This eighth launch devoted to the Starlink network was previously scheduled for mid-May. SpaceX delayed the launch after Tropical Storm Arthur brought high winds and rough seas to the downrange recovery area northeast of Cape Canaveral in the Atlantic Ocean, where SpaceX's drone ship needs to be positioned for landing of the Falcon 9 rocket's first stage booster.
Once Tropical Storm Arthur forced the initial launch delay, SpaceX decided to keep the Starlink mission on the ground until after the company launched the Crew Dragon spacecraft from nearby pad 39A at the Kennedy Space Center. The Crew Dragon launched Saturday with NASA astronauts Doug Hurley and Bob Behnken, the first crewed mission to launch into orbit from U.S. soil since the retirement of the space shuttle in 2011.
SpaceX's drone ship "Of Course I Still Love You" was deployed in the Atlantic Ocean for the landing of the Falcon 9's first stage booster after the Starlink launch. The drone ship was later used for the landing of the Falcon 9 first stage after the Crew Dragon launch.
Another drone ship in SpaceX's fleet — named "Just the Read Instructions" — has completed upgrades and departed Port Canaveral, Florida, to support the booster landing for the next Starlink launch. Meanwhile, SpaceX's "Of Course I Still Love You" recovery vessel is on the way back to Port Canaveral with the first stage recovered after the Crew Dragon launch.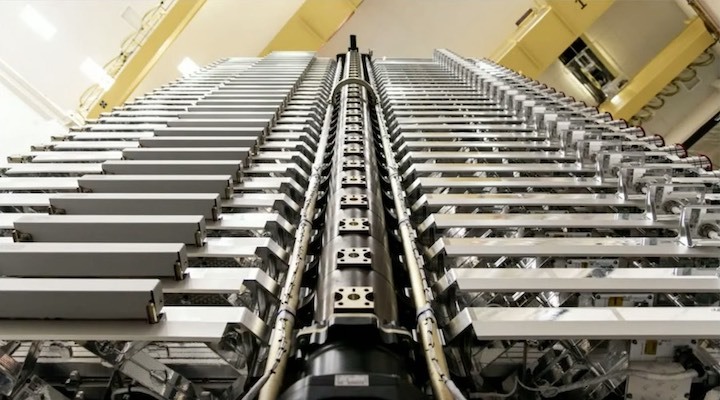 The primary weather concerns for Wednesday night's launch attempt are with potential violations of the thick cloud and cumulus cloud rules.
"By late Wednesday, a mid-level disturbance from the Gulf of Mexico will begin to approach the area, steadily increasing moisture and cloud cover heading into the nighttime hours," the 45th Weather Squadron said. "Models have trended slightly faster with the returning moisture over the last several days, but some dry air is still expected to linger in the mid-levels.
"The main concerns will be the thick cloud layer rule due to upper level clouds streaming in from the west, and the cumulus cloud rule due to the potential for isolated showers."
The Falcon 9 rocket for the next Starlink mission completed a hold-down test-firing of its Merlin main engines May 13 on pad 40.
The first stage assigned to this week's launch is a veteran of four previous flights, landing on a SpaceX drone ship after each mission. The booster first flew from Cape Canaveral in September 2018 with a Telesat communications satellite, then launched again from Vandenberg Air Force Base in California in January 2019 with 10 Iridium voice and data relay payloads.
Its third flight occurred last May on the first dedicated Falcon 9 launch for the Starlink program. Most recently, the booster launched Jan. 6 from Cape Canaveral and again landed on a SpaceX drone ship offshore.
If the booster lands after Wednesday night's launch, it will mark the first time SpaceX has recovered a Falcon 9 first stage for a fifth time.
SpaceX aims to launch around 1,000 more Starlink satellites later this year and next year to begin offering worldwide Internet service. Initial beta testing of the Starlink network could begin later this year, beginning in higher latitude regions like Canada and the northern United States, the company says.
Thousands more Starlink spacecraft could launch in the coming years to meet global demand, according to SpaceX.
A new sunshade to reduce the brightness of the Starlink satellites will debut on this week's launch. The umbrella-like visor will block sunlight from reaching the shiniest parts of the flat-panel spacecraft, making them less visible from the ground.
Scientists have raised concerns that thousands of Starlink satellites — as envisioned by SpaceX — could impact astronomical observations through ground-based telescopes. So far, SpaceX has answered with an experimental darkening treatment that offered some reduction in visibility, and the company says it is changing the orientation of the Starlink satellites during the period shortly after launch to turn their solar panels away from the sun.
The sunshade should provide a more significant dimming effect, SpaceX says.
SpaceX plans two more Falcon 9 launches later this month after this week's flight to deliver more Starlink satellites into orbit from Cape Canaveral.
Quelle: SN
----
Update: 3.06.2020
.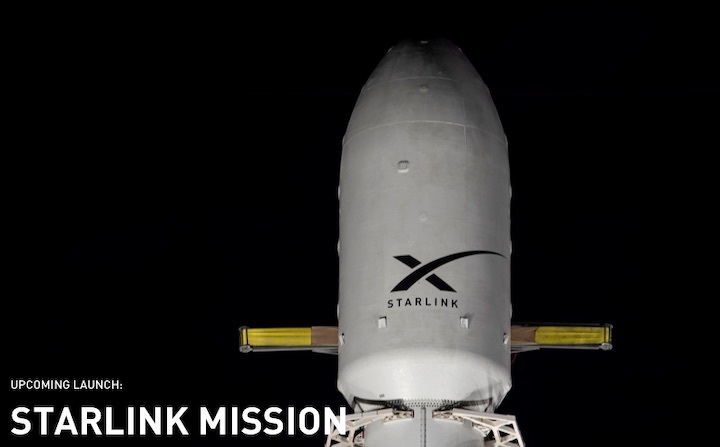 SpaceX is targeting Wednesday June 3 at 9:25 p.m. EDT, 1:25 UTC on June 4, for its eighth launch of Starlink satellites. Falcon 9 will lift off from Space Launch Complex 40 (SLC-40) at Cape Canaveral Air Force Station. A backup opportunity is available on Thursday, June 4 at 9:03 p.m. EDT, 1:03 UTC on June 5.
Falcon 9's first stage previously supported the Telstar 18 VANTAGE mission in September 2018, the Iridium-8 mission in January 2019, and two separate Starlink missions in May 2019 and in January 2020. Following stage separation, SpaceX will land Falcon 9's first stage on the "Just Read the Instructions" droneship, which will be stationed in the Atlantic Ocean. Approximately 45 minutes after liftoff, SpaceX's fairing recovery vessels, "Ms. Tree" and "Ms. Chief," will attempt to recover the two fairing halves.
The Starlink satellites will deploy in an elliptical orbit approximately 15 minutes after liftoff. Prior to orbit raise, SpaceX engineers will conduct data reviews to ensure all Starlink satellites are operating as intended. Once the checkouts are complete, the satellites will then use their onboard ion thrusters to move into their operational altitude of 550 km. On this mission, SpaceX will launch the first Starlink satellite with a deployable visor to block sunlight from hitting the brightest spots of the spacecraft. Learn more about our work with leading astronomical groups to mitigate satellite reflectivity.
You can watch the launch webcast here, starting about 10 minutes before liftoff.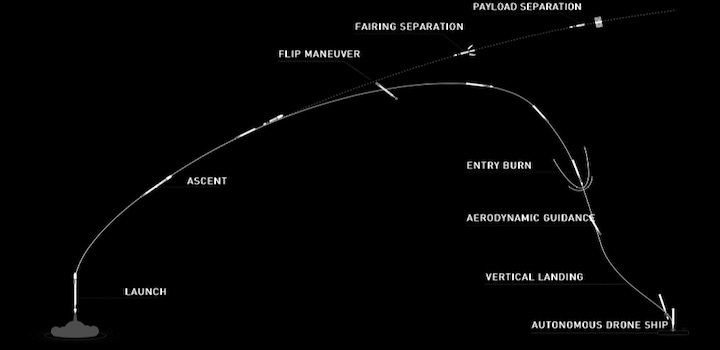 Quelle: SpaceX
----
Update: 4.06.2020
.
Erfolgreicher Start von SpaceX Falcon-9 mit nächsten 60 Starlink7-Satelliten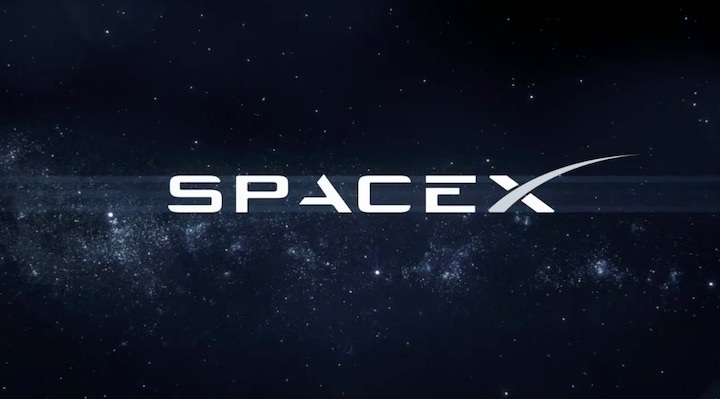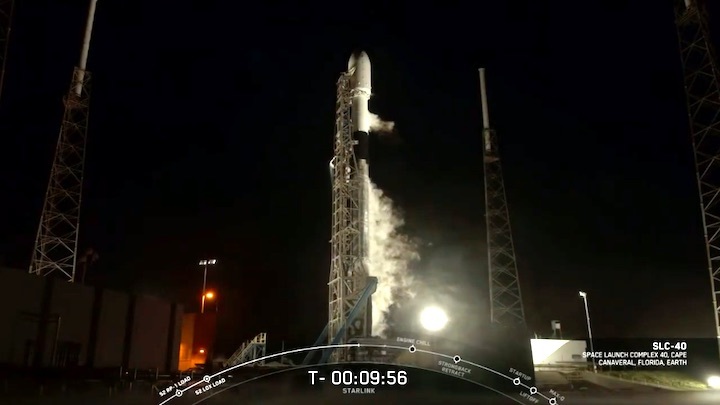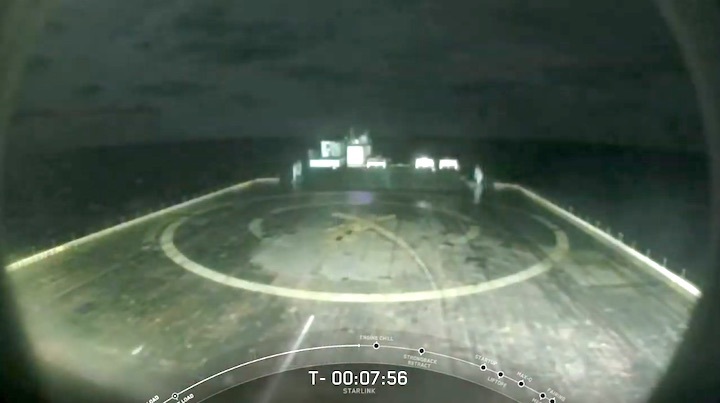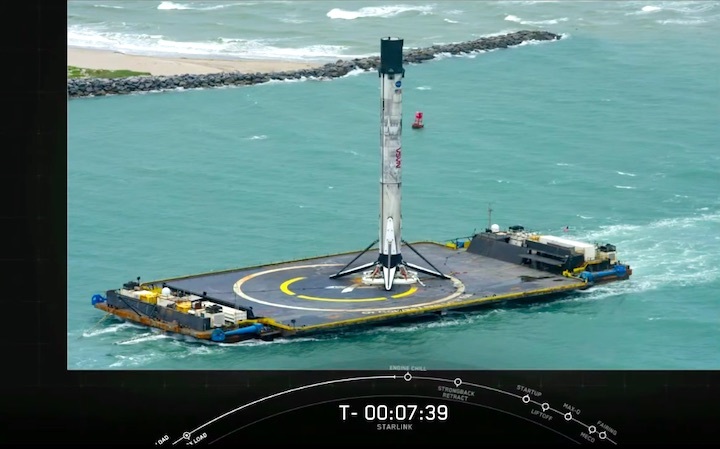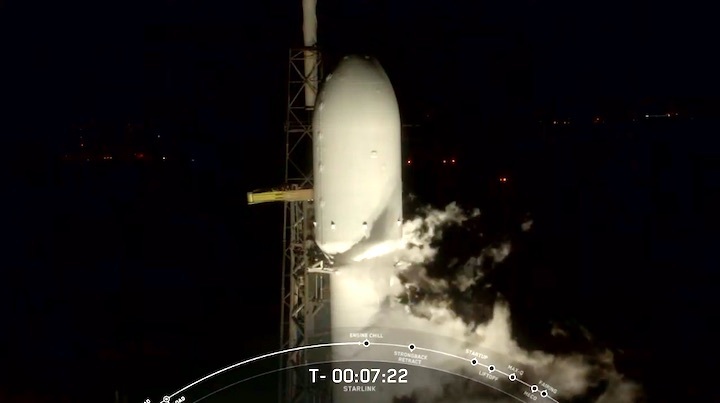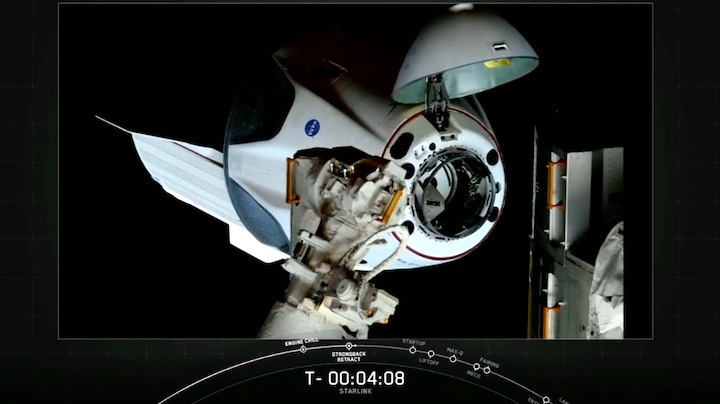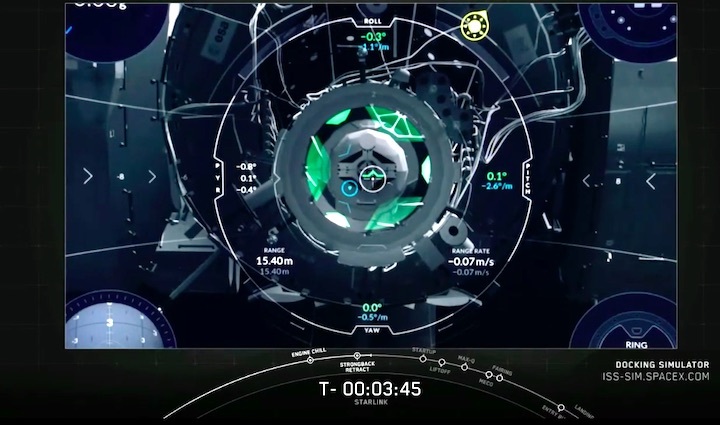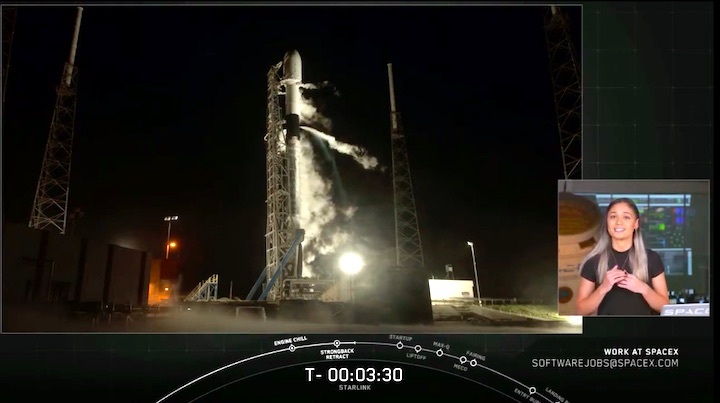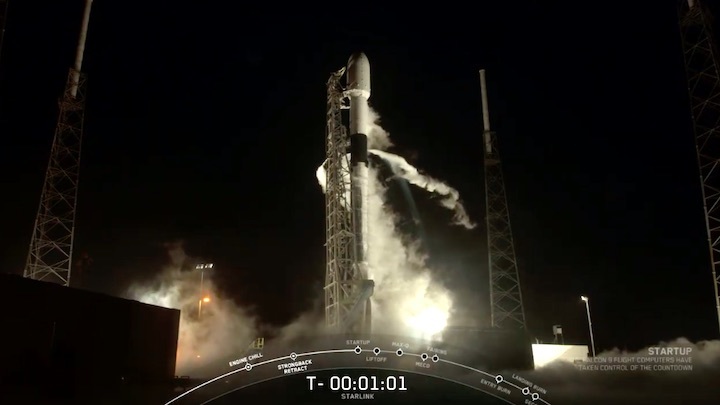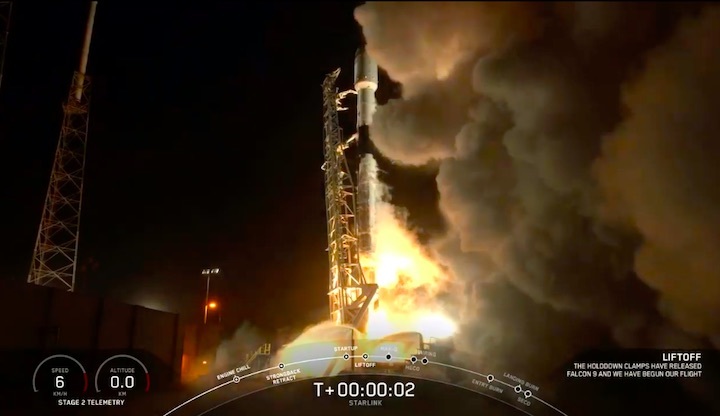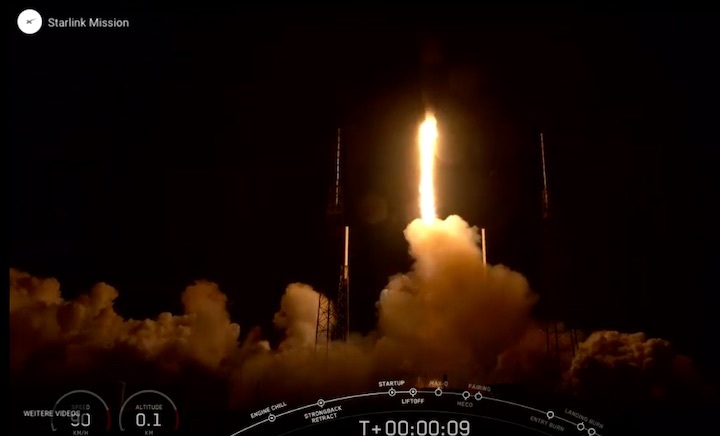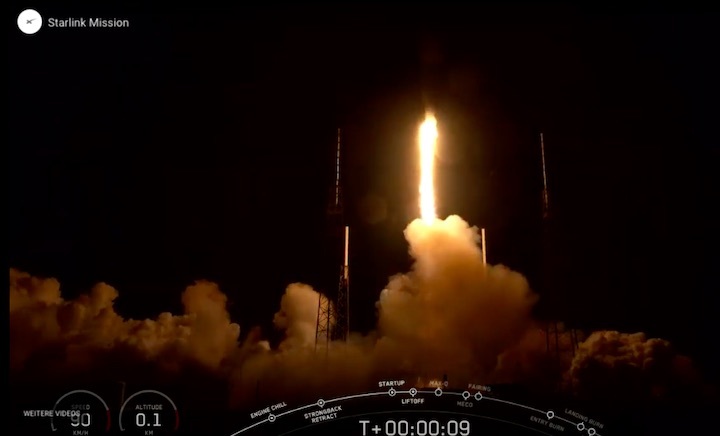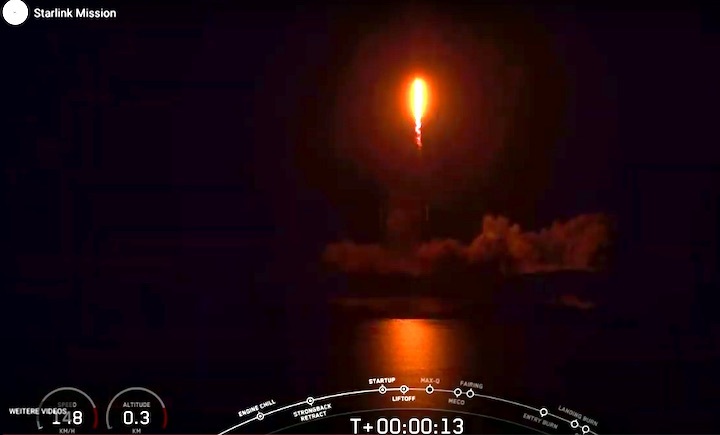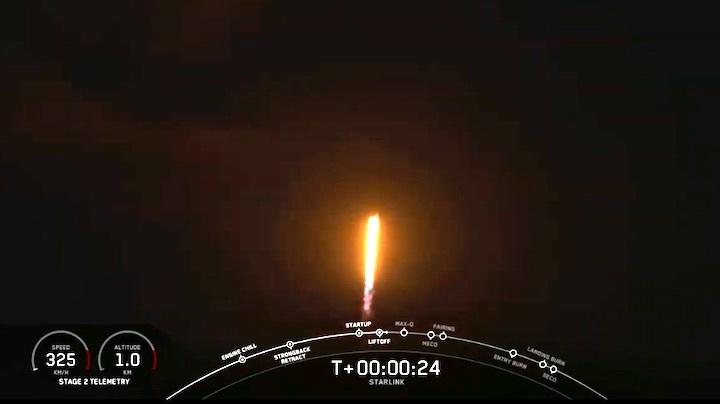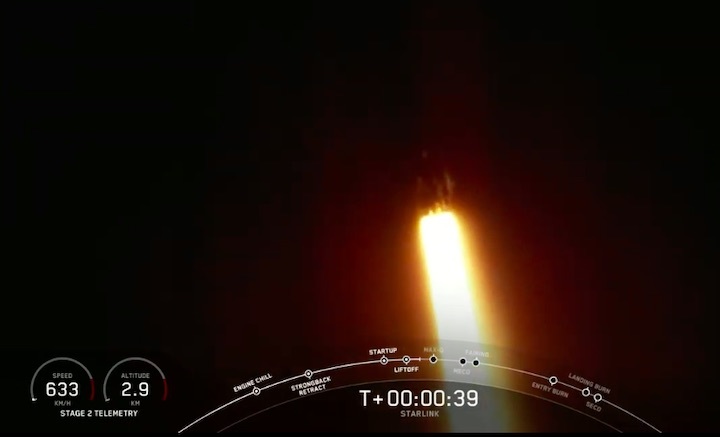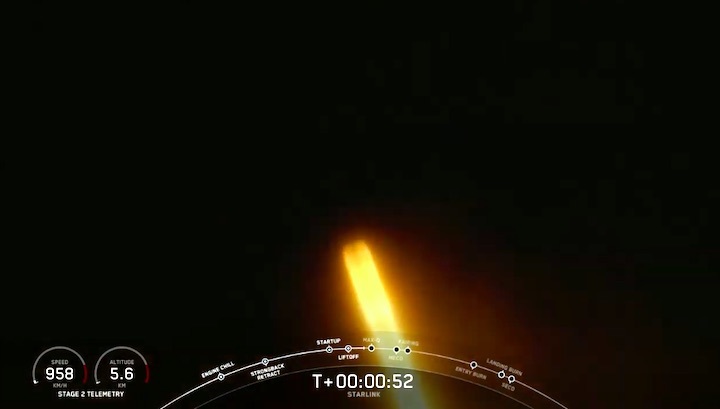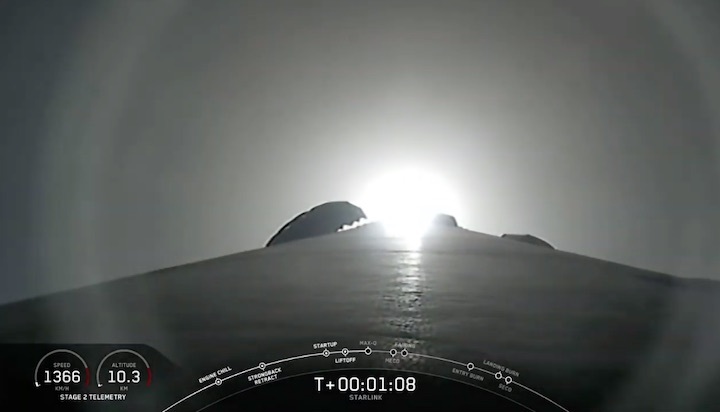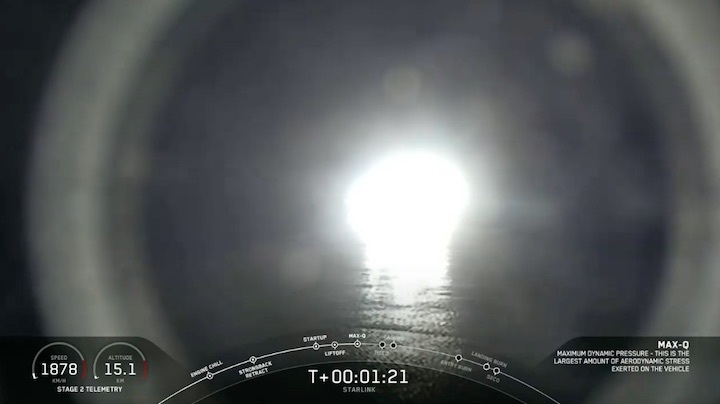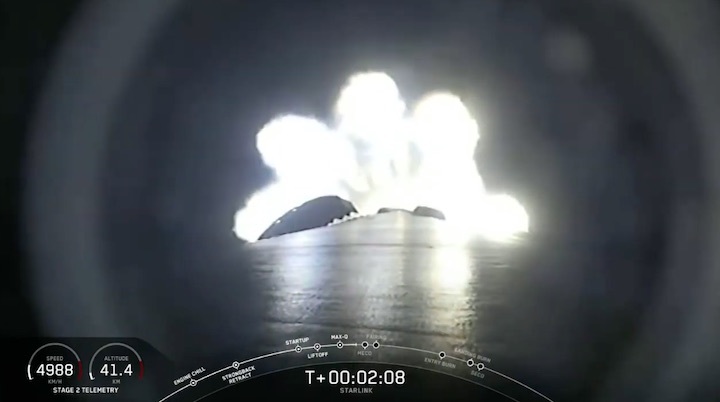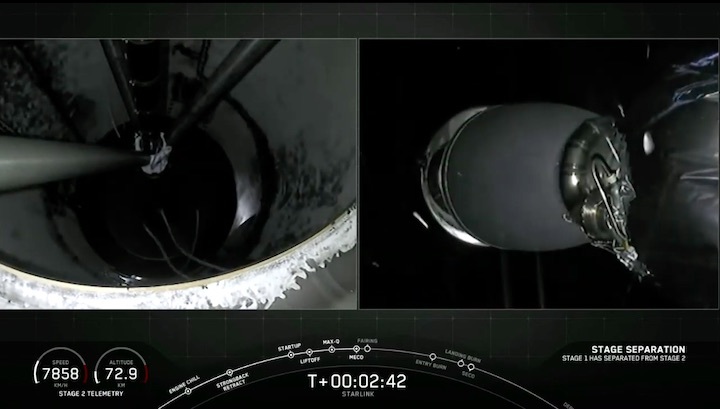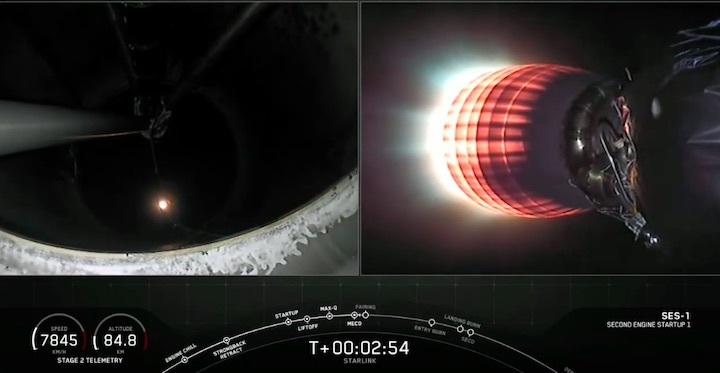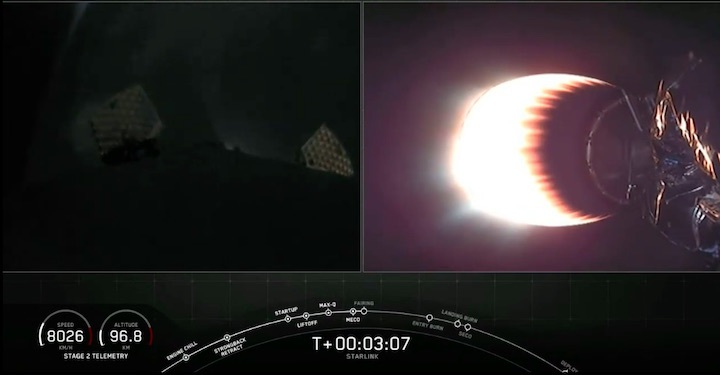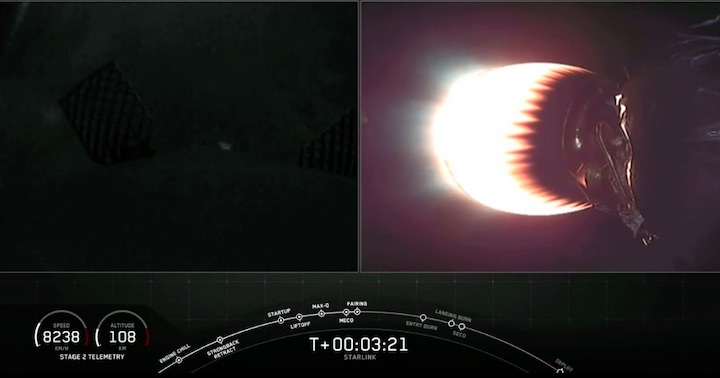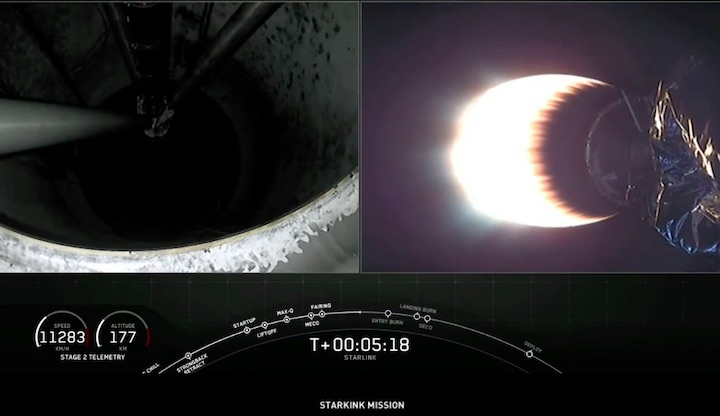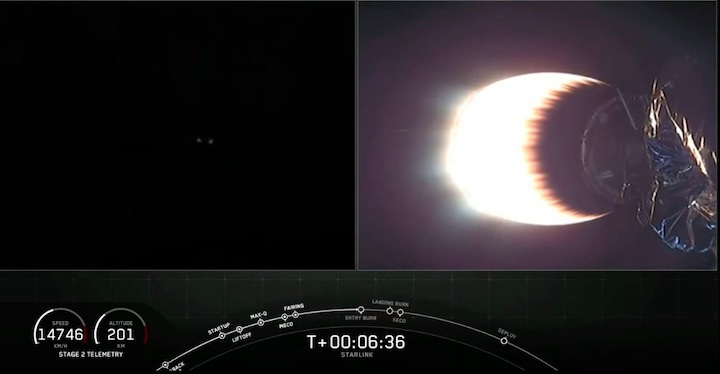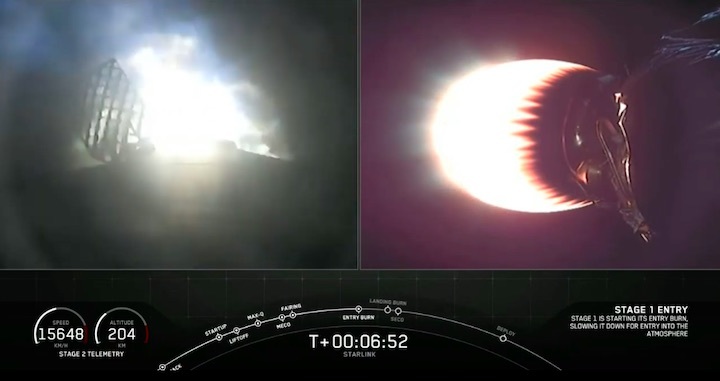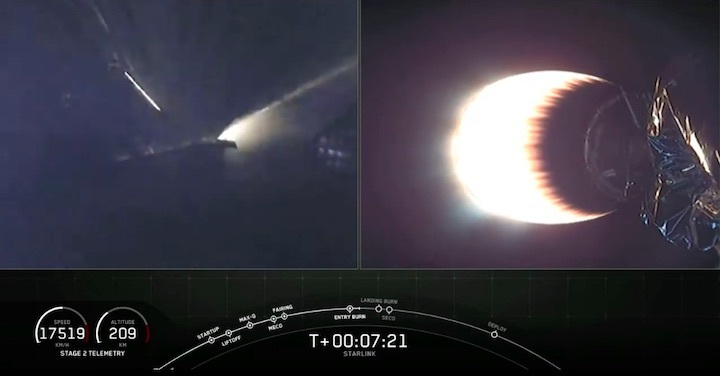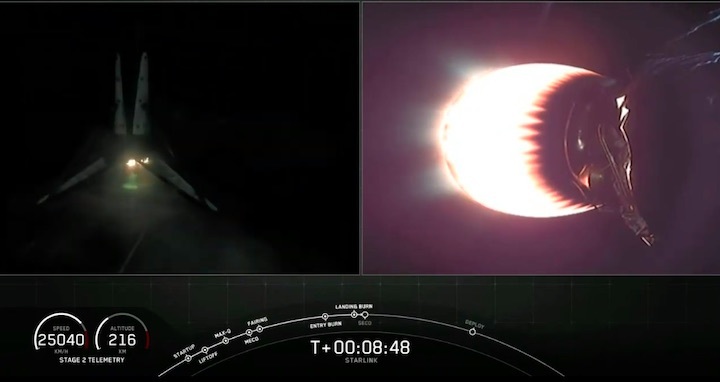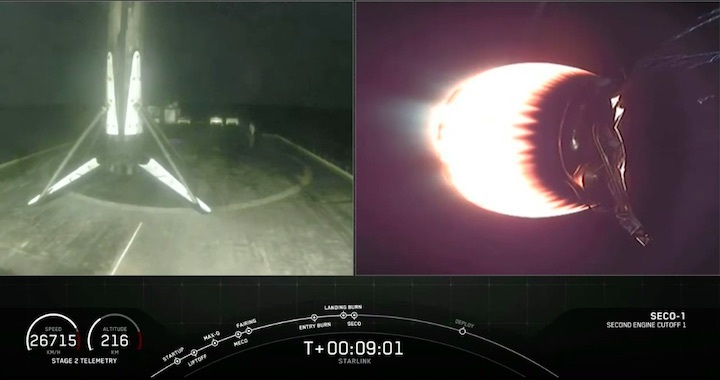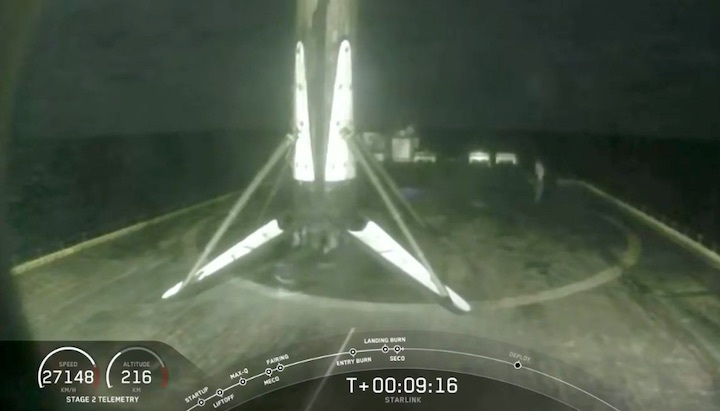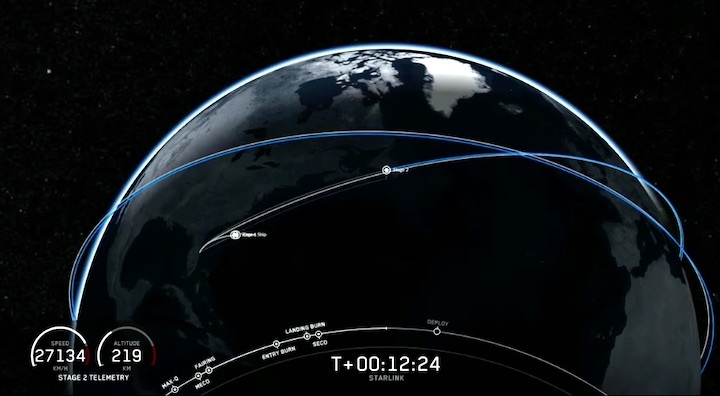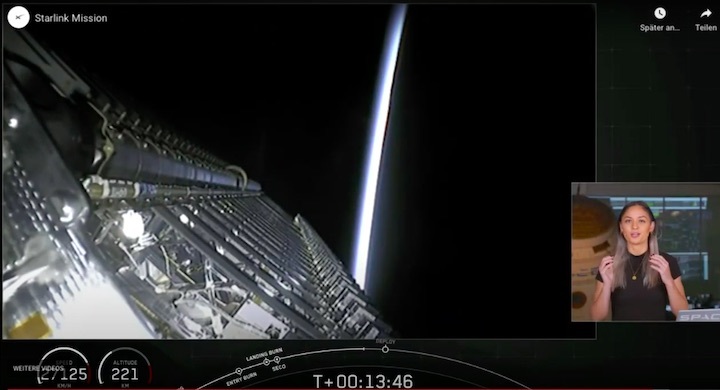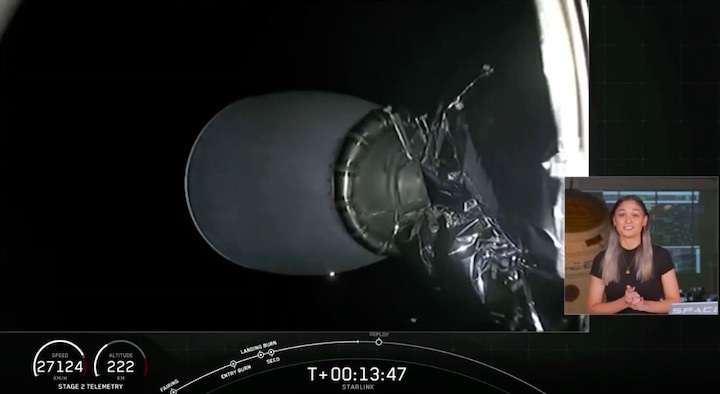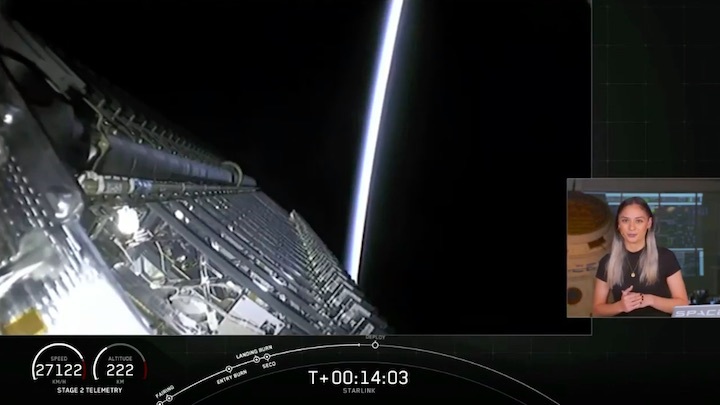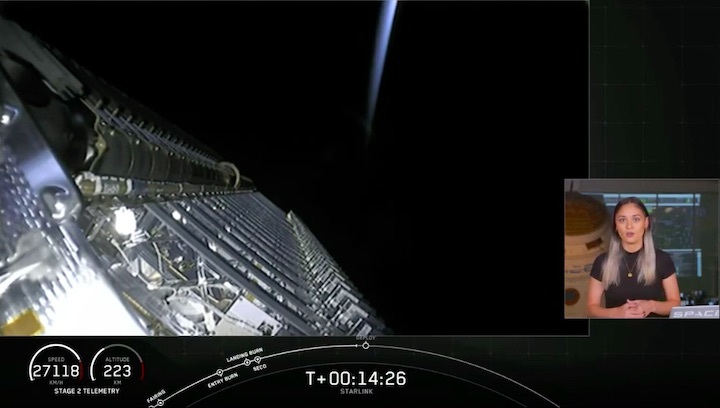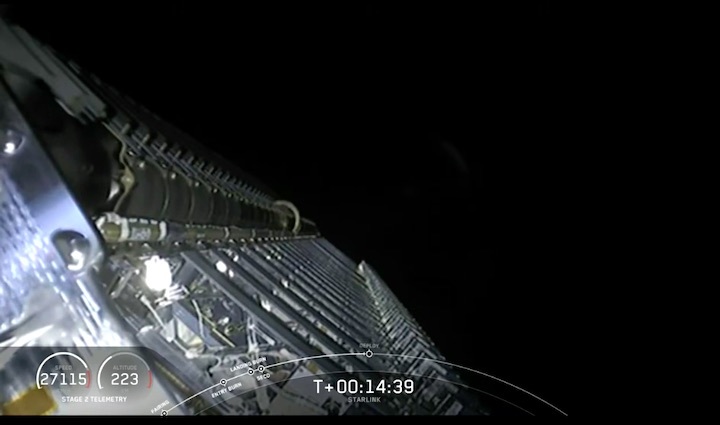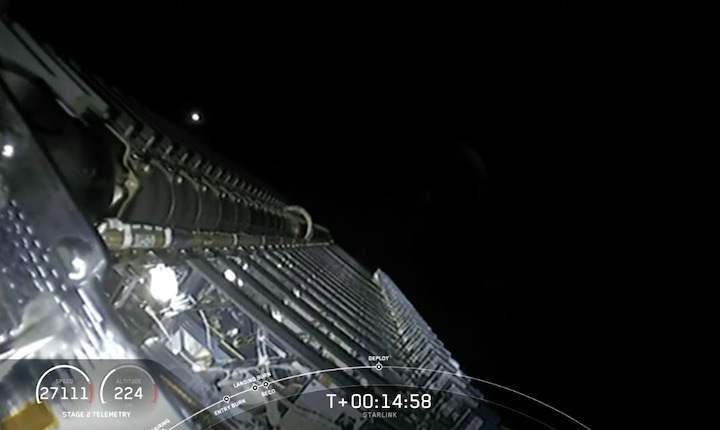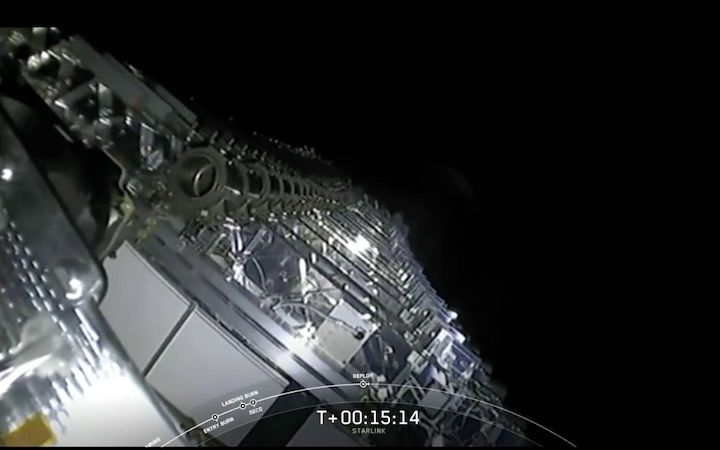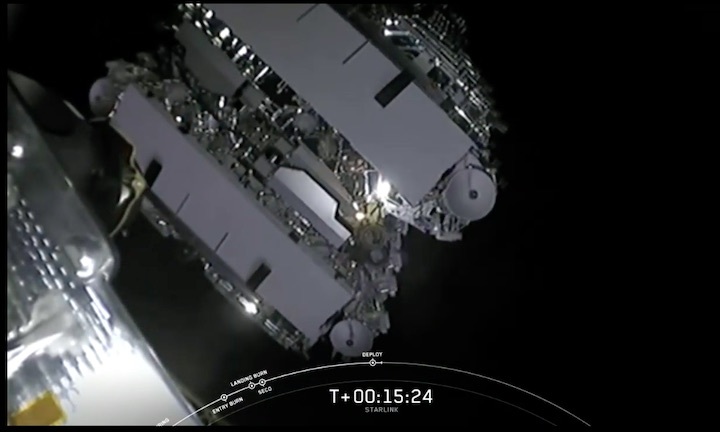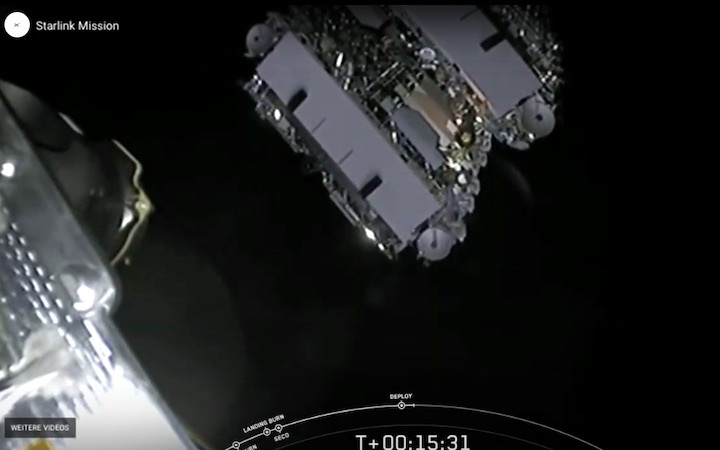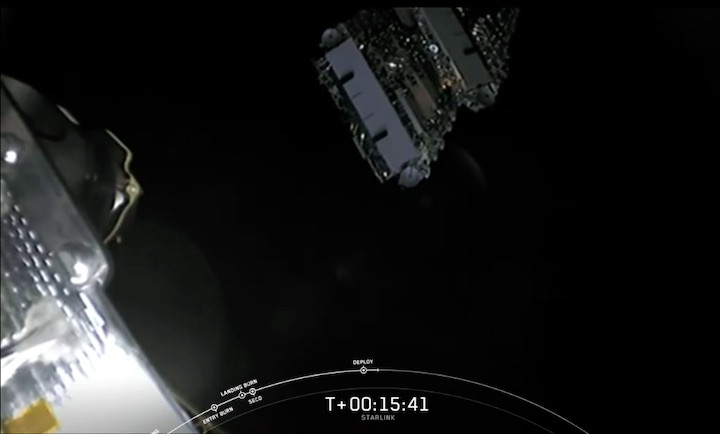 Quelle: SpaceX
6466 Views