SpaceX has delayed the launch of its next Dragon cargo ship to the International Space Station by at least four days in order to replace part of the mission's Falcon 9 rocket.
The private spaceflight company initially planned to launch the Dragon resupply mission from Florida's Space Coast on Monday (March 2), but is now targeting a March 6 liftoff due to a suspect valve motor on the Falcon 9's upper stage. Liftoff is set for 11:50 p.m. EST on March 6 (0450 March 7) from Space Launch Complex 40 at the Cape Canaveral Air Force Station.
"During standard preflight inspections, SpaceX identified a valve motor on the second stage engine behaving not as expected and determined the safest and most expedient path to launch is to utilize the next second stage in line that was already at the Cape and ready for flight," NASA officials said in an update Tuesday (Feb. 25). "The new second stage has already completed the same preflight inspections with all hardware behaving as expected."
The Dragon cargo ship is carrying more than 5,600 lbs. (2,540 kilograms) of science equipment, food and other supplies for the three-person Expedition 62 crew on the International Space Station. The spacecraft is carrying gear for a variety of space experiments, "including research on particle foam manufacturing, water droplet formation, the human intestine and other cutting-edge investigations," NASA officials said.
The mission, called CRS-20, will mark SpaceX's 20th cargo run for NASA under a multi-billion-dollar deal as part of the agency's Commercial Resupply Services program.
Quelle: SC
----
Update: 29.02.2020
.
SpaceX targeting next week for Space Coast's next rocket launch
SpaceX is targeting next week for the Space Coast's next rocket launch, a mission slated to deliver thousands of pounds of cargo and science experiments to the International Space Station.
Teams at Cape Canaveral Air Force Station's Launch Complex 40 are looking at no earlier than 11:50 p.m. Friday for Falcon 9's liftoff with a Dragon capsule. The launch window is instantaneous, meaning it has to launch at 11:50 p.m. or delay to another day.
This will mark the final flight of Dragon 1, which has been flying to the ISS since 2012. Moving forward, SpaceX will start flying to the space station with Dragon 2, a platform being used for cargo-only trips as well as crewed missions with astronauts.
The new spacecraft look similar, but Cargo Dragon 2 lacks windows that astronauts would need. Crew Dragon, meanwhile, is slated to launch American astronauts from Kennedy Space Center sometime in the second quarter of this year.
About eight minutes after liftoff, the rocket's 162-foot-tall first stage is expected to land on the Of Course I Still Love You drone ship in the Atlantic Ocean. It will return to Port Canaveral soon thereafter for processing and refurbishment.
An Air Force-issued weather forecast for Friday's launch is expected Tuesday.
The mission, SpaceX's 20th under NASA's Commercial Resupply Services contract, paves the way for a quick turnaround at the Eastern Range. A few miles north at KSC's pad 39A, the company will again launch on March 11 with 60 Starlink internet communications satellites. Liftoff time for that mission is slated for no earlier than 10:40 a.m.
Quelle: Florida Today
+++
NASA TV Coverage Set for SpaceX's Next Space Station Resupply Mission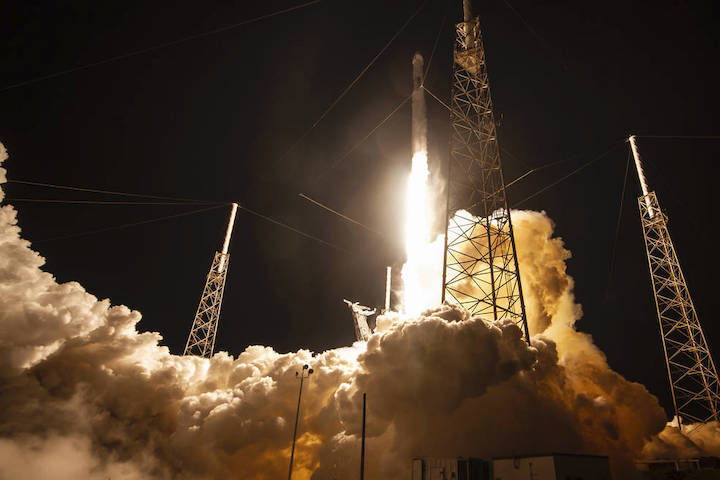 NASA commercial cargo provider SpaceX is targeting 11:50 p.m. EST Friday, March 6, for the launch of its 20th resupply mission to the International Space Station. Live coverage of the launch from Cape Canaveral Air Force Station in Florida will air on NASA Television and the agency's website with prelaunch events Thursday, March 5 and March 6.
The NASA-contracted Dragon spacecraft will be filled with supplies and payloads, including critical materials to directly support dozens of the more than 250 science and research investigations that will take place during Expeditions 62 and 63. In addition to bringing research to station, the Dragon's unpressurized trunk will transport ESA's (European Space Agency) Bartolomeo, a new commercial research platform set to be installed on the exterior of the orbiting laboratory.
Dragon will reach its preliminary orbit about 10 minutes after launch. It will then deploy its solar arrays and begin a carefully choreographed series of thruster firings to reach the space station. When it arrives March 9, Expedition 62 Flight Engineer Jessica Meir of NASA will grapple Dragon, with Andrew Morgan of NASA acting as a backup. The station crew will monitor Dragon functions during rendezvous. After Dragon's capture, mission control at NASA's Johnson Space Center in Houston will send ground commands for the station's arm to rotate and install it on the bottom of the station's Harmony module.
Full mission coverage is as follows (all times Eastern):
Thursday, March 5
3 p.m. – NASA Social, What's on Board science briefing from NASA's Kennedy Space Center in Florida. Media have the opportunity to call in for this event only. Media will have one-on-one, in person opportunities to speak with principal investigators for payloads on this mission at the Kennedy Press Site at 3 p.m. Friday. Media who would like to call in for the What's on Board science briefing should phone Kennedy's NASA News Center at 321-867-2468 by 2 p.m. Thursday for dial-in information. This briefing will highlight the following research:

Jennifer Buchli, deputy chief scientist for NASA's International Space Station Program Science Office, will share an overview of the research being conducted aboard the space station and how it benefits exploration and humanity.
Michael Roberts, interim chief scientist for the International Space Station U.S. National Laboratory, will discuss the lab's work in advancing science in space, and in developing partnerships that drive industrialization through microgravity research.
Bill Corely, director of business development for Airbus Defence and Space, and Bartolomeo Project Manager Andreas Schütte, will discuss the new external science platform, Bartolomeo.
Chunhui Xu, associate professor at Emory University School of Medicine, and principal investigator for the Generation of Cardiomyocytes from Induced Pluripotent Stem Cells (MVP Cell-03) experiment, will discuss the study on the generation of specialized heart muscle cells for use in research and clinical applications. Chief Scientist of Techshot, Gene Boland, will share how the Multi-use Variable-g Platform will facilitate this experiment.
Paul Patton, senior manager, front end innovation and regulatory, for Delta Faucet, and Garry Marty, principal product engineer for Delta Faucet, will discuss the Droplet Formation Study, which evaluates water droplet formation and water flow of Delta Faucet's H2Okinetic showerhead technology. This research in microgravity could help improve the technology, creating better performance and improved user experience while conserving water and energy.
Aaron Beeler, professor of medicinal chemistry at Boston University and principal investigator, and Matthew Mailloux, co-investigator, will discuss Flow Chemistry Platform for Synthetic Reactions on ISS, which will study the effects of microgravity on chemical reactions, as a first step toward on-demand chemical synthesis on the space station.
Friday, March 6
4 p.m. – Prelaunch news conference from Kennedy with representatives from NASA's International Space Station Program, SpaceX, and the U.S. Air Force's 45th Space Wing. Media who would like to call in for the prelaunch news conference should phone the NASA News Center at 321-867-2468 by 3 p.m., for dial-in information. Participants include:

Joel Montalbano, deputy manager for International Space Station Program
Jennifer Buchli, deputy chief scientist for International Space Station Program
Hans Koenigsmann, vice president, Build and Flight Reliability at SpaceX
Mike McAleenan, launch weather officer, U.S. Air Force 45th Space Wing

11:30 p.m. – NASA TV launch coverage begins for the 11:50 p.m., launch.
Monday, March 9
4:30 a.m. – NASA TV coverage begins of Dragon arrival to the station and capture. Capture is scheduled for approximately 6 a.m.
7:30 a.m. – NASA TV coverage begins of Dragon installation to the nadir port of the Harmony module of the station
Dragon will remain at the space station for about four weeks, after which the spacecraft will return to Earth with research and cargo.
Quelle: NASA
----
Update: 1.03.2020
.
More Than 20 ISS National Lab-sponsored Payloads Set to Launch on SpaceX CRS-20
KENNEDY SPACE CENTER (FL), February 27, 2020 – When the Dragon spacecraft launches on SpaceX's 20th commercial resupply services (CRS) mission (contracted through NASA) to the International Space Station (ISS), it will do so with dozens of research experiments to be executed on the orbiting laboratory over the coming months. In particular, the ISS U.S. National Laboratory is sponsoring more than 20 separate payloads on this mission that will leverage the unique space-based environment of station to benefit life on Earth. Launching no earlier than 11:50 p.m. ET on Friday, March 6 from Cape Canaveral Air Force Station in Florida, this mission carries with it a wide variety of research investigations—several funded by private companies focused on technologies critical to their commercial success and others supported by external funds focused on science questions to improve knowledge and human health. Below highlights some of the investigations sponsored by the ISS National Lab on SpaceX CRS-20.
Global shoe and apparel leader adidas will launch its proprietary Boost shoe technology to station to observe the flow of foam particles in microgravity. With this applied physics experiment, adidas seeks to better understand how foam particles of different sizes can improve the performance of its Boost shoe line, creating an even better shoe design for athletes around the world.
Another recognizable consumer brand, Delta Faucet Company, will launch an experiment designed to observe the formation of water droplets on station with the goal of improving its commercially available H2OKinetic® shower head technology. The shower head's innovative technology is already designed to conserve water by controlling the size and force of water droplets, but Delta Faucet Company believes the microgravity environment of the space station may lead to new designs for the precise control of water droplets that will further enhance the shower head's ability to conserve water.
This launch also includes multiple investigations funded by external partners. The National Center for Advancing Translational Sciences, one of 27 institutes and centers within the National Institutes of Health, is funding two additional investigations building on its Tissue Chips in Space initiative. Through this initiative, researchers can conduct studies in microgravity using devices called tissue chips that contain human cells and mimic the structure and function of human tissue. Studies using tissue chips in space allow us to better understand how normal human cells in organs function and how, when the cells are not functioning normally, they may cause disease on Earth. Additionally, the National Science Foundation (NSF) is funding a physical sciences investigation seeking to examine colloidal suspensions, a mixture of large molecules or small particles from one substance dissolved into another substance, in microgravity to help advance 3D printing technology. NSF has funded a variety of investigations studying fluid flow in microgravity to inform us about materials and products on Earth, and this investigation is the latest to launch to the ISS National Lab.
Several projects on SpaceX CRS-20 were developed by innovative startup companies funded in part by Boeing and the ISS National Lab through a MassChallenge "Technology in Space Prize."Through the MassChallenge business incubator program, Boeing and the ISS National Lab have provided funding and flight opportunities on the ISS National Lab to more than 15 startups. This launch will include three payloads designed to accelerate drug development and improve drug delivery methods for better patient care on Earth.
Multiple academic investigations are also slated to launch as part of this mission. Emory University will study the growth and maturation of cardiomyocytes (specialized heart muscle cells) in microgravity for use in regenerative medicine, disease modeling, and drug discovery. Boston University will conduct a flow chemistry experiment on station to learn how to improve chemical reactions for the on-demand production of chemical products and materials in space.
"The payloads launching on SpaceX CRS-20 demonstrate that the ISS is not only an amazing multi-purpose, multi-user research facility in low Earth orbit but also a proof-of-concept incubator where industries can advance their applied research and technology development programs," said ISS National Lab Chief Operating Officer Ken Shields. "Moreover, the diversity of investigations supported by the private sector, government agencies, and academic institutions demonstrates the continued rising demand and interest in utilizing our orbiting laboratory to benefit life on Earth and build a thriving market economy in space."
Quelle: THE CENTER FOR THE ADVANCEMENT OF SCIENCE IN SPACE, INC.
----
Update: 3.03.2020
.
Weather OK for SpaceX Falcon 9 launch from Cape Canaveral to ISS
There could be as many as four launches from the Space Coast this month and it all kicks off with SpaceX's Falcon 9 rocket set to liftoff from Cape Canaveral Air Force Station Friday night.
The rocket will send the company's Dragon 1 spacecraft to the International Space Station for its 20th resupply mission. The launch is scheduled to liftoff at 11:50 p.m. from Launch Complex 40.
Weather is currently 60% "go" as calculated by the U.S. Air Force with the primary concern for launch being liftoff winds, according to the 45th Weather Squadron.
In the event of a delay or scrub, weather improves to 90% "go" for a Saturday launch.
Friday's mission will mark the last time SpaceX uses its Dragon 1 capsule before retiring it to make way for its newer, updated spacecraft: Dragon 2.
The new spacecraft will not only be capable of sending cargo to space but is also certified to send humans, which could happen as soon as May for NASA's Commercial Crew Program.
For this mission, Dragon 1 will deliver over 5,600 pounds of supplies and payloads including materials to support dozens of the more than 250 science investigations occurring onboard the station.
Some of the science experiments and payloads being flown up include:
• The shoe company Adidas will investigate new ways to increase its shoe performance in microgravity. Results from the study could increase manufacturing methods for commercial use on the space station.
• A new external payload hosting facility called Bartolomeo will be added to the space station's European Columbus Module that will provide new scientific opportunities on the outside of the space station for commercial and institutional users.
• Delta Faucet Company will study water droplet formation and flow in microgravity to learn how to improve its shower head technology in an effort to create a better performance while also conserving water and energy.
The spacecraft is expected to arrive at the space station Sunday morning.
Following this launch, SpaceX is scheduled to have two more Falcon 9 launches on March 11 and 30, while United Launch Alliance is scheduled to launch its Atlas V rocket from Launch Complex 41 March 19.
Launch Friday
Rocket: SpaceX Falcon 9
Mission: CRS-20
Launch Time: 11:50 p.m.
Launch Window: instantaneous
Launch Complex: Launch Complex 40 at Cape Canaveral Air Force Station
Landing: drone ship, Of Course I Still Love You
Weather: 60% "go"
Join floridatoday.com/space at 10 p.m. Friday for live updates and chat of the launch. We will also be hosting SpaceX's webcast.
Quelle: Florida Today
----
Update: 7.03.2020
.
Launch Frams: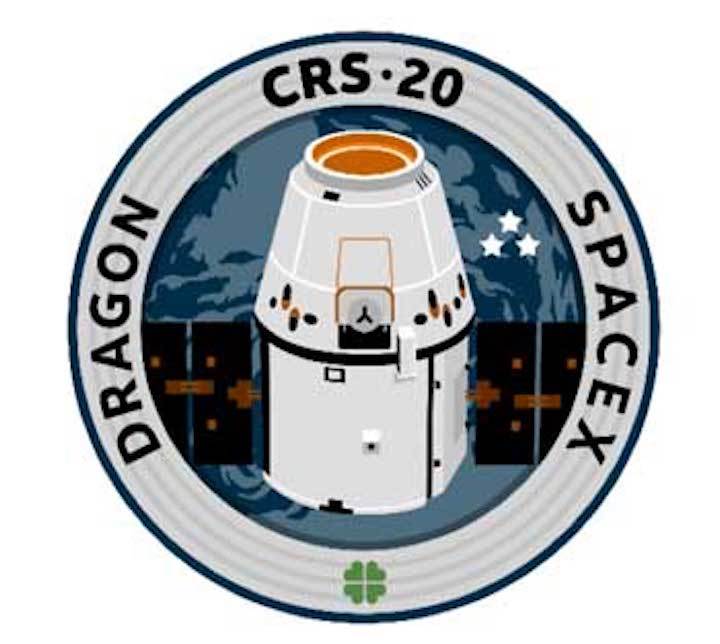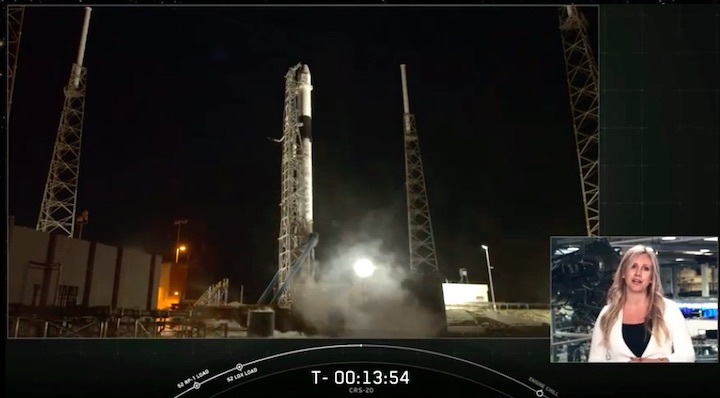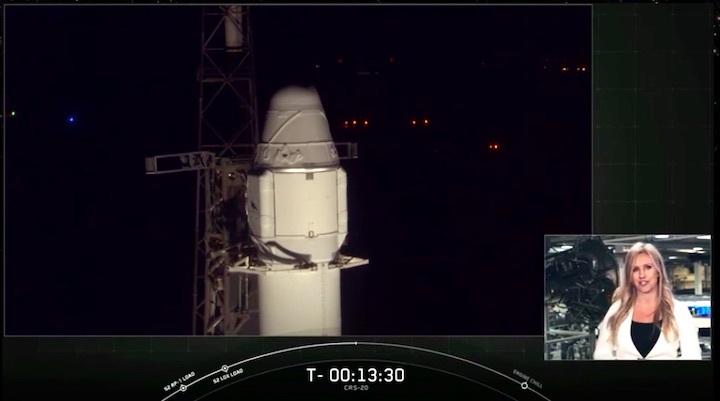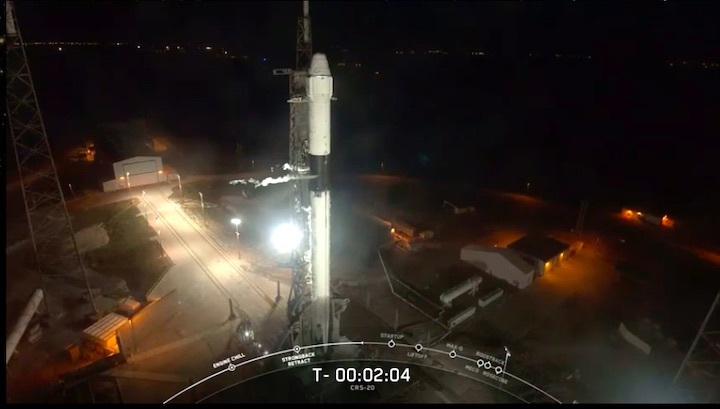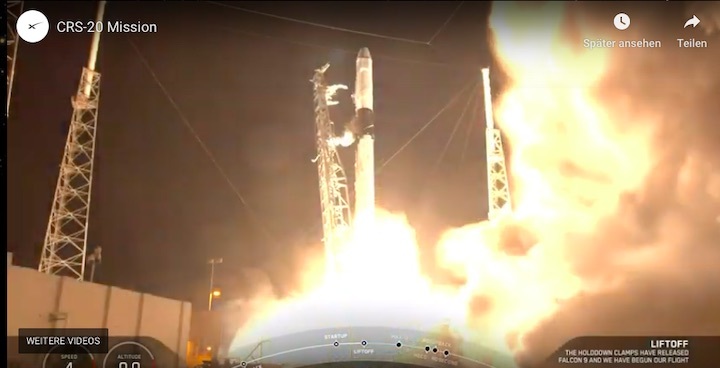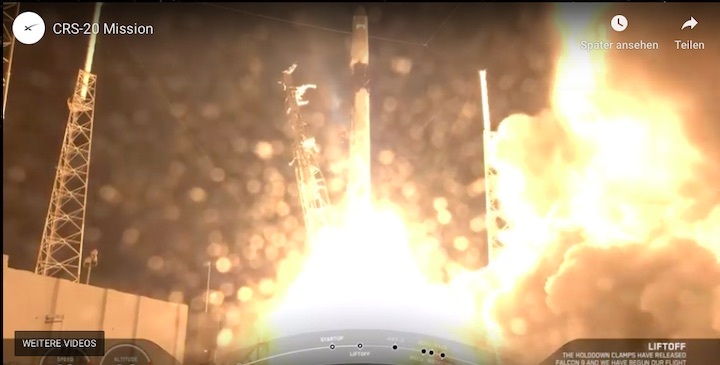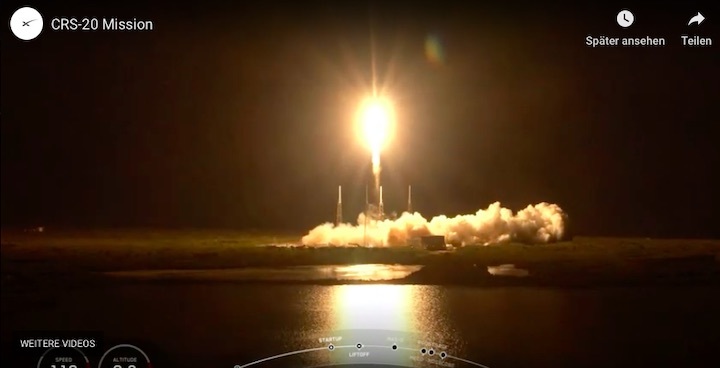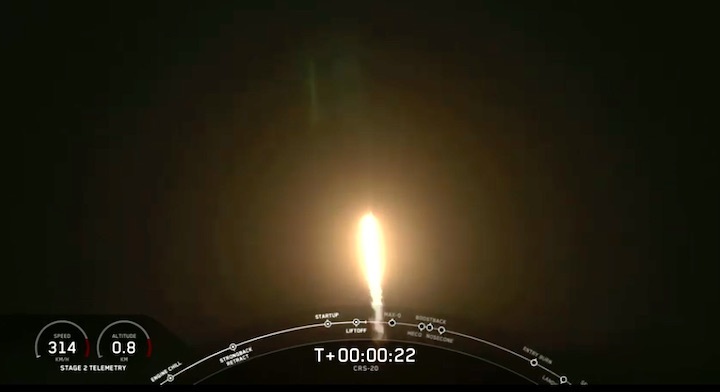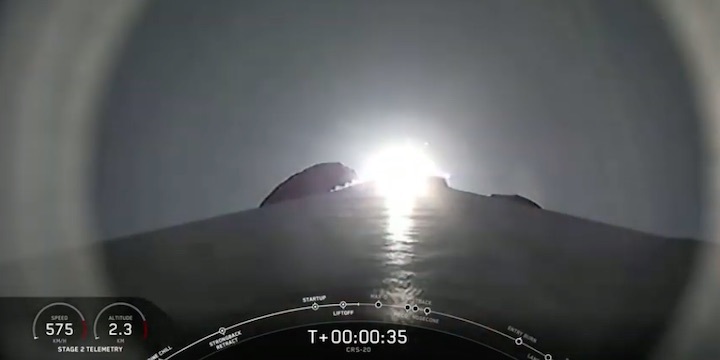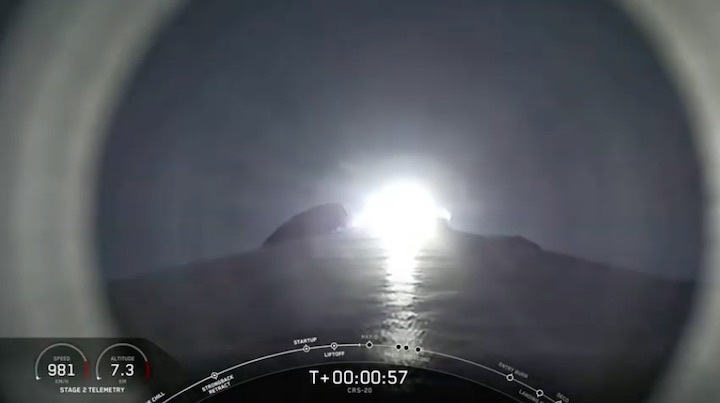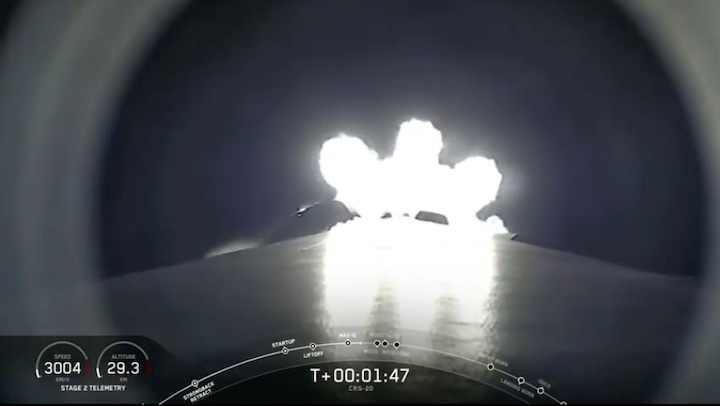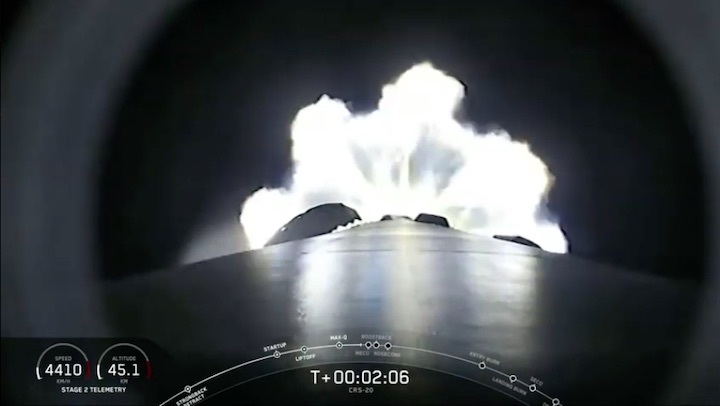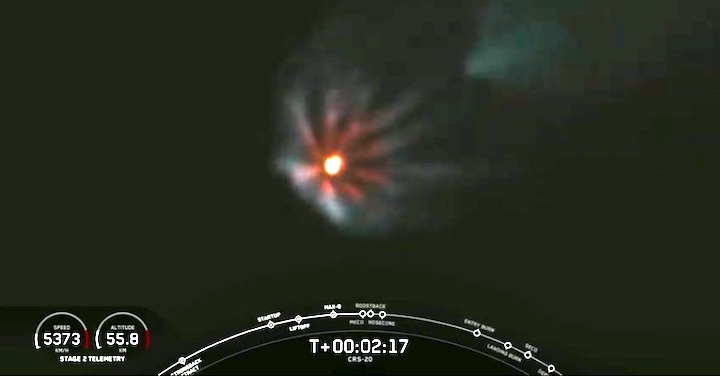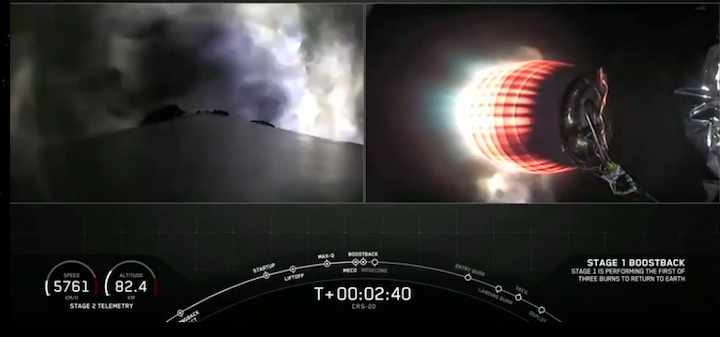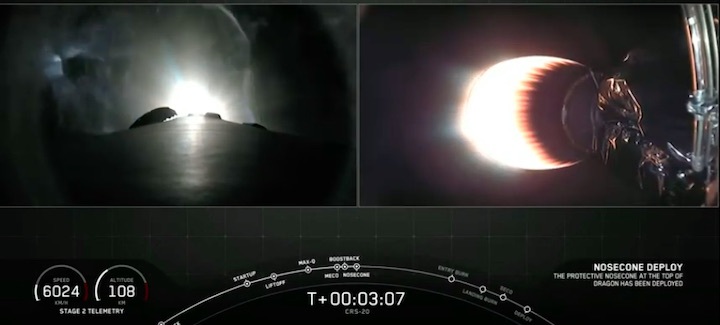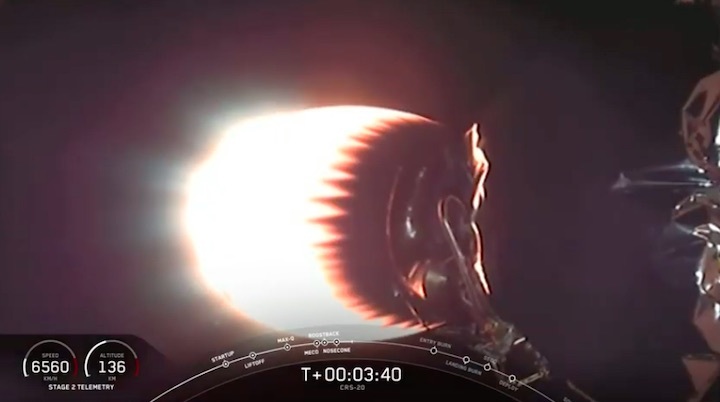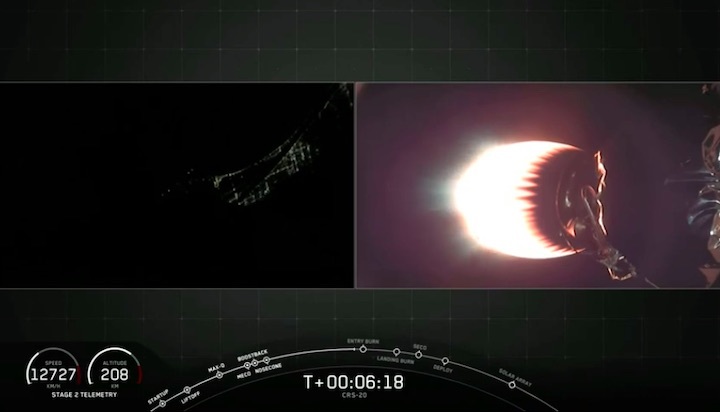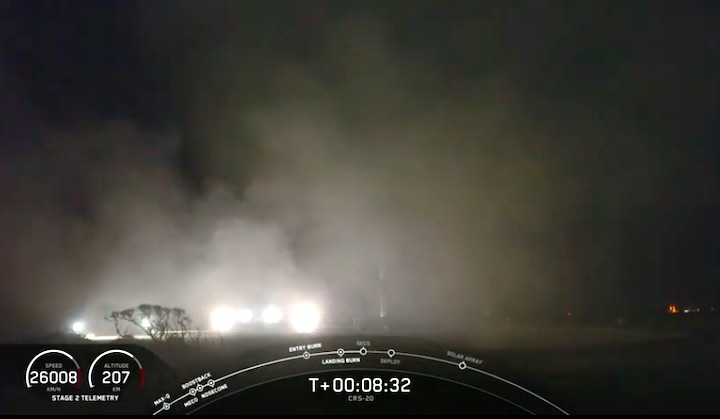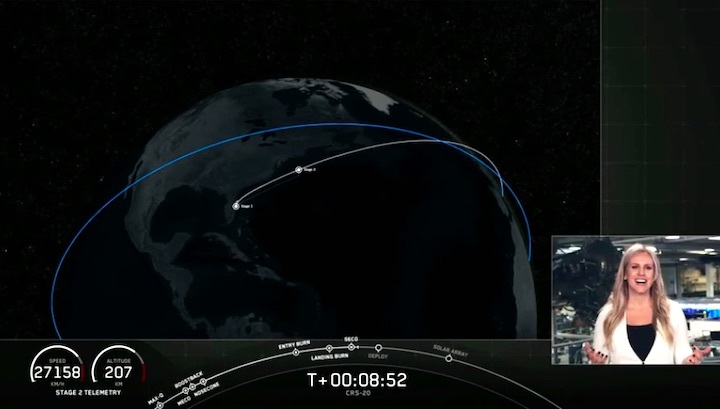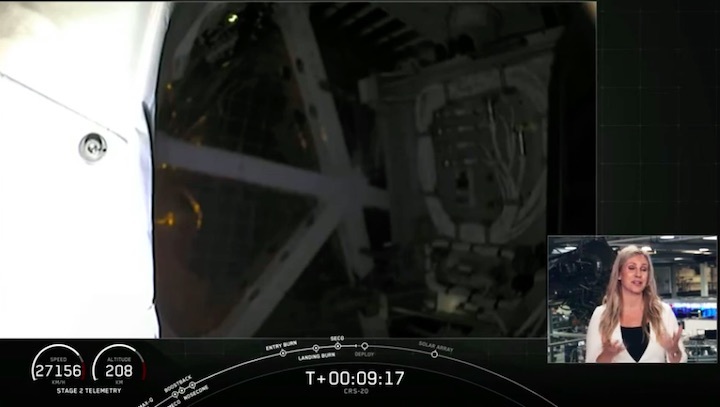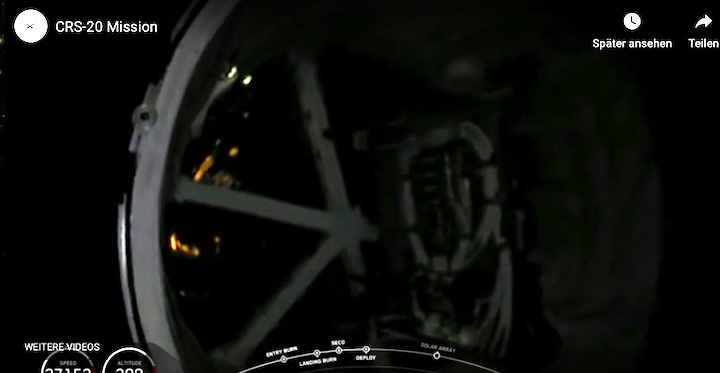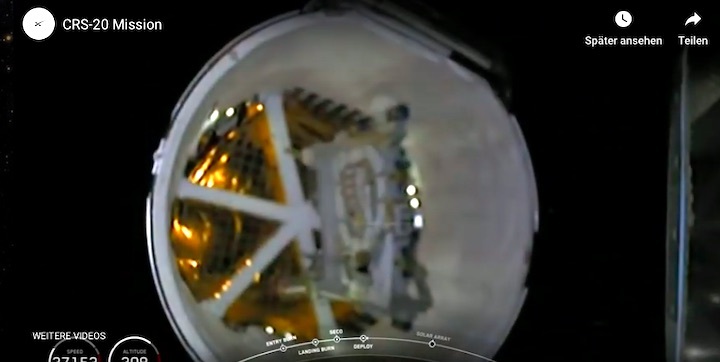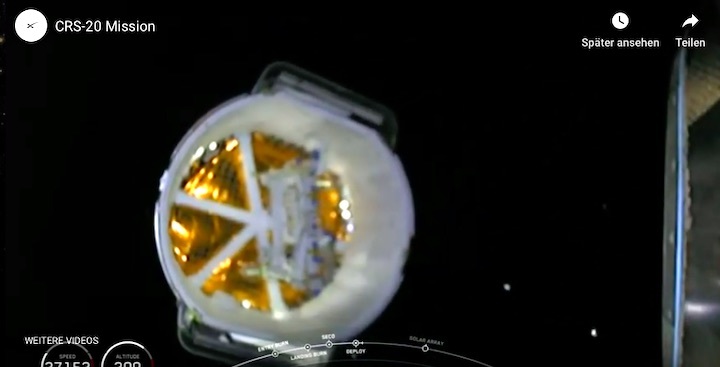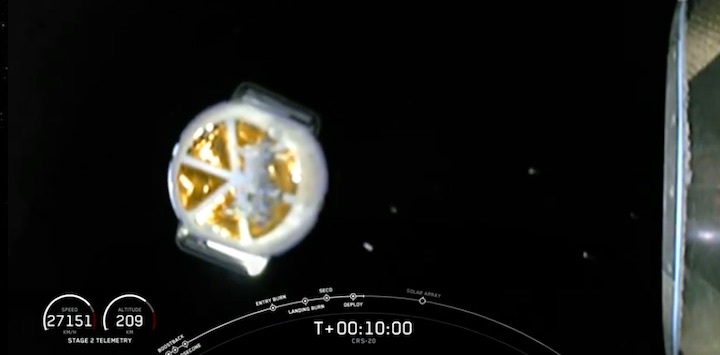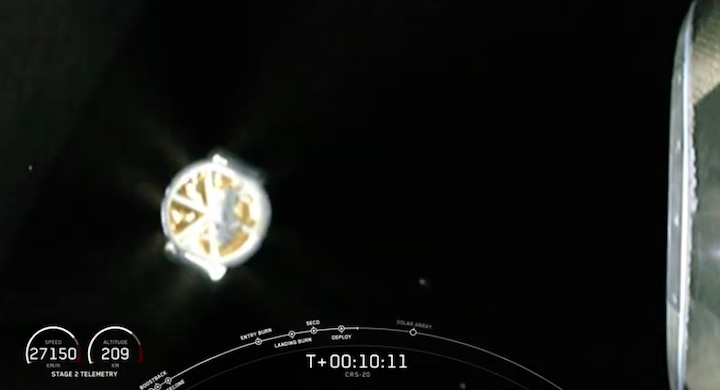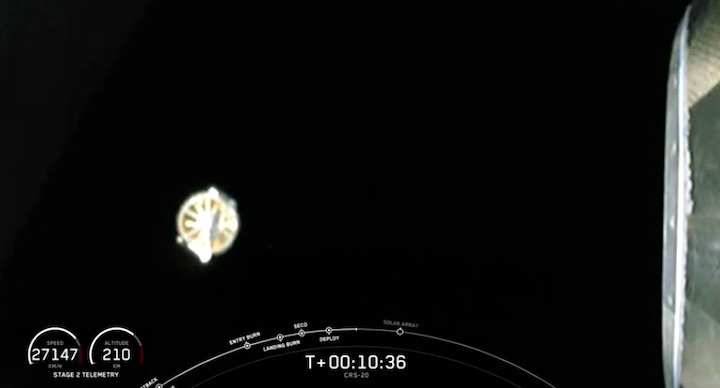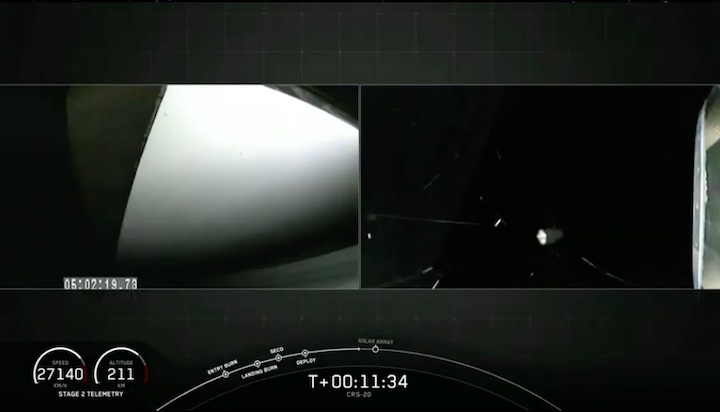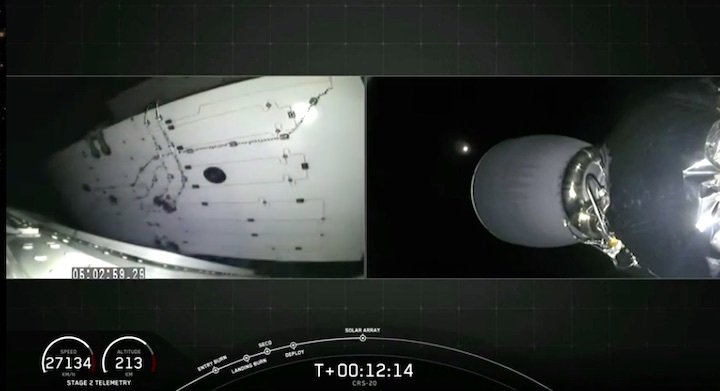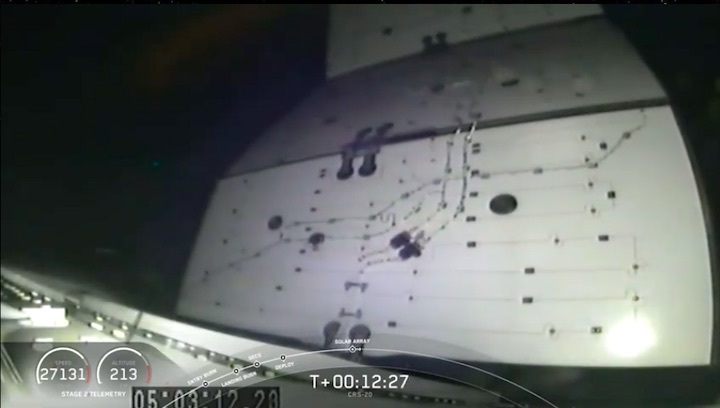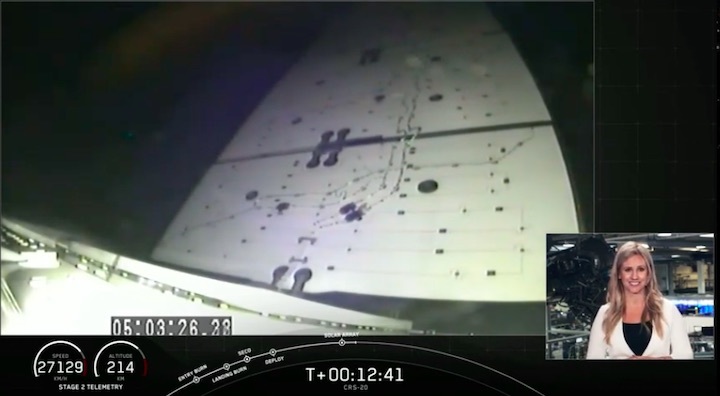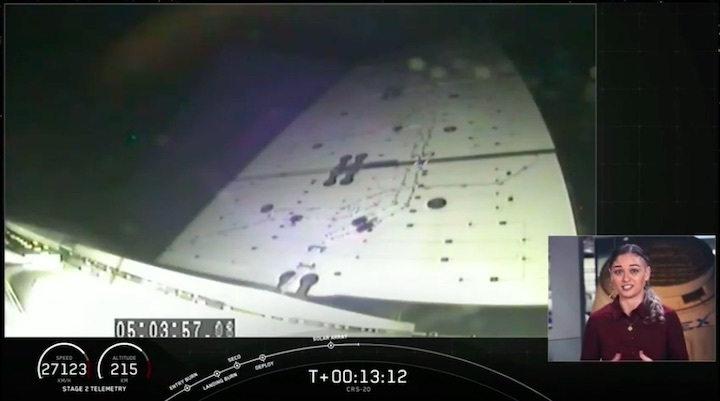 Quelle: SpaceX