As the ISRO (Indian Space Research Organisation) gets ready to launch the Geo Imaging Satellite GSAT-1 from the second launch pad of the Satish Dhawan Space Centre (SDSC) SHAR, Sriharikota, it would be one of the first agile earth observation satellite from ISRO which will facilitate real time observation of the Indian subcontinent on a continuous basis.
Slated for launch at 5.43 PM on March 5th, from the Geosynchronous Satellite Launch Vehicle (GSLV-F10), the satellite will be placed in a Geosynchronous Transfer Orbit by GSLV-F10. Subsequently, the satellite will reach the final geostationary orbit using its on board propulsion system. Experts with whom THE WEEK spoke to feel that GISAT-1 will fundamentally addresses the challenge of being able to monitor the Indian subcontinent on a continuous basis.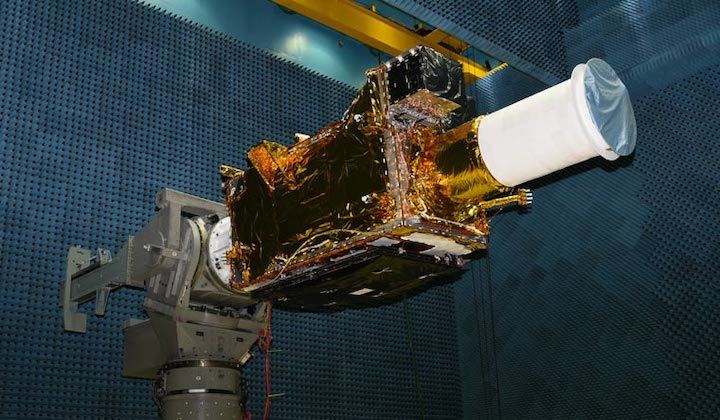 As per ISRO a 4 metre diameter Ogive shaped payload fairing is also being flown for the first time in this GSLV flight. This is the fourteenth flight of the GSLV. Operating from geostationary orbit, GISAT-1 will facilitate near real time observation of the Indian sub continent, under cloud free condition, at frequent intervals.
"ISRO's higher resolution satellites such as CARTOSATs have high revisit times whereas GISAT-1 will reasonably provide continuous coverage. This will be of significant importance for increasing the integration of space into security and defence. It will also help in other applications that need fast revisits such as disaster monitoring. Additionally the Ogive shape payload faring provides reduces drag and increases vehicle performance," said Narayan Prasad, the co-founder and chief operations officer of Satsearch told THE WEEK.
Some experts are of the view that a very large 4 metre diametre Ogive Fairing has been used for the first time and has been designed to protect the satellite from the aerodynamic forces and external atmosphere encountered during its space flight.
"Once the launch vehicle reaches the desired altitude, the two symmetrical halves of the payload fairing are discarded without effecting the vehicle path. The Ogive shape reduces drag and increase vehicle performance," remarked Raju Prasad, Chief of Business Development at Satellize.
This expert further observed that since the GISAT-1 has near real time imaging (once every 5 minutes) in the multi-spectral and hyperspectral bands, and a resolution of up to 50 m, its use could include changing contours of vegetation, water, water vapor transportation, soil, minerals, or tracking the status of moving vehicles larger than 50 m (like for example, ships).
"Possible uses of the raw imagery could include weather forecasting, disaster assessment, agriculture, geo sciences or even surveillance keeping an eye on our borders. The applications will depend on the algorithms used to process and analyze the raw data. What we get from the raw data is dependent entirely on the Artificial Intelligence we use to analyze it, along with the algorithms. Every field of science will have its own separate algorithms, some of them highly complex. So translating images to usable information rely on this data processing and analysis.
NASA has had some success in measurement of pollution (methane) using hyperspectral imaging," added Prasad.
Quelle: THEWEEK
----
Update: 5.03.2020
.
ISRO postpones launch of top notch imagery satellite
Bengaluru, Mar 4 (PTI) Indian Space Research Organisation on Wednesday postponed the launch of its latest earth observation satellite ''GISAT-1'' scheduled for tomorrow due to technical reasons.
"The launch of GISAT-1 onboard GSLV-F10, planned for March 05, 2020, is postponed due to technical reasons. Revised launch date will be informed in due course," ISRO said in a statement. The space agency, headquartered here, however, did not elaborate. The launch was earlier tentatively scheduled at 17:43 hours on Thursday, subject to weather conditions, from the second launch pad of Satish Dhawan Space Centre at Sriharikota in Andhra Pradesh.
Weighing about 2,268 kg, GISAT-1 is a "state-of-the- art agile" earth observation satellite, according to the space agency.
Quelle: Outlook