9.12.2019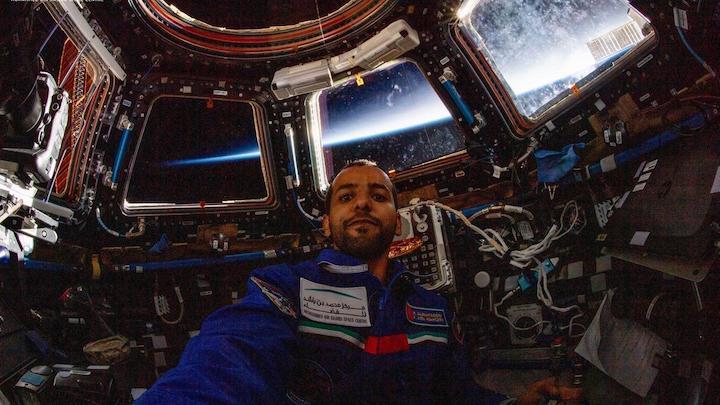 The UAE wants a new homegrown astronaut for its second space mission.
Sheikh Mohammed bin Rashid, Vice President and Ruler of Dubai, announced the second round of open applications on Friday.
Taking to Twitter, Sheikh Mohammed said men and women with "ambition, energy, and determination" should apply for the job.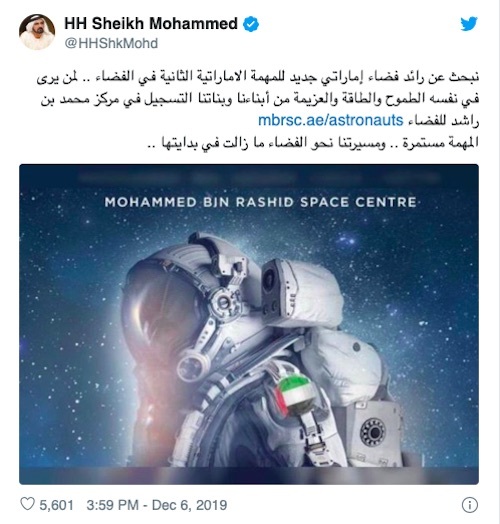 On Saturday, Salem Al Marri, director of the UAE Astronaut Programme said they had received nearly 1,000 applications in the four hours since registration opened.
"Once again we are witnessing the determination of Emiratis to apply for the programme," he said.
Hazza Al Mansouri in September became the first Emirati astronaut to be sent into space and was the first Arab to work on the International Space Station.
He was picked from 4,022 applicants for the first UAE Astronaut Programme after a series of advanced medical and psychological tests.
The UAE has now launched its search for its next astronaut, with applications invited from degree-educated, adult Emiratis who can speak Arabic and English.
"People of all professions are invited to register," a statement from the Government of Dubai Media Office said.
The new search marks a "new phase of the UAE's space exploration journey", the statement added.
The new programme would benefit from the experience of Maj Al Mansouri, a former fighter pilot, and back-up Sultan Al Neyadi, who was also selected from the first programme.
The number of applications is expected to be high, with the exploits of Maj Al Mansouri capturing imaginations across the country.
When he successfully returned to Earth in early October, he spoke of the start of a new "golden era" of Arab space exploration.
"We are not done yet, and we will never be," he said, as he set off on his journey home. "We just began, and we will be back soon."
The UAE is also planning to send an unmanned probe to Mars in 2021, the year of the UAE's 50th anniversary.
During a call with Maj Al Mansouri during his mission, Sheikh Mohammed told him: "You're a source of pride for all Emiratis. You're the first (Emirati to travel to space) and the first is always remembered. However, I can proudly assure you that a generation of young Emiratis will follow in your footsteps and become space scientists and technology pioneers."
The search for the next UAE astronaut, who will be trained to carry out scientific missions, has launched exactly two years after the first search got under way.
Quelle: N UAE
2008 Views