10.12.2019
Nachfolgend Überflugzeiten der Starlink-Satelliten am 11.12+12.12.2019: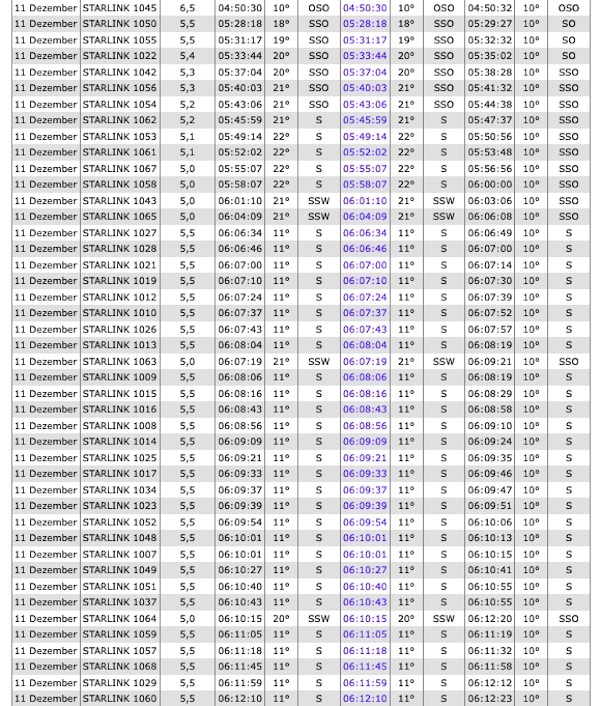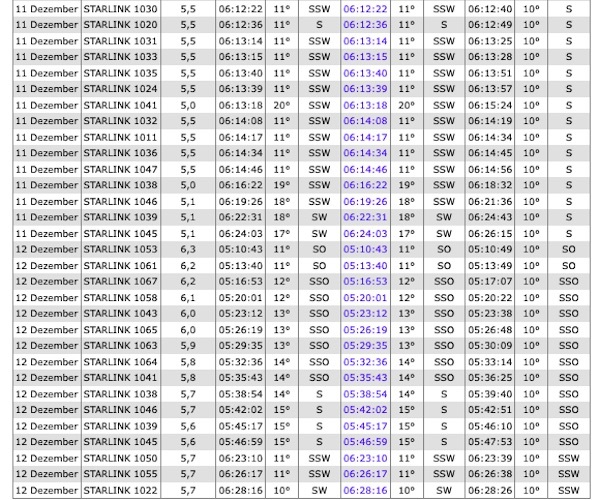 Heavens About
+++
Weitere Meldungen über Beobachtungen von Starlink-Satelliten vom 5.12. und 6.12. wurden uns per Kontaktformular und E-Mail zugesandt (somit haben wir bis heute 60 Meldungen, Stand 10.12.2019):
Braunschweig, Fulda, Werneck, Korbach, Stadtallendorf
CENAP-Michelstadt
+++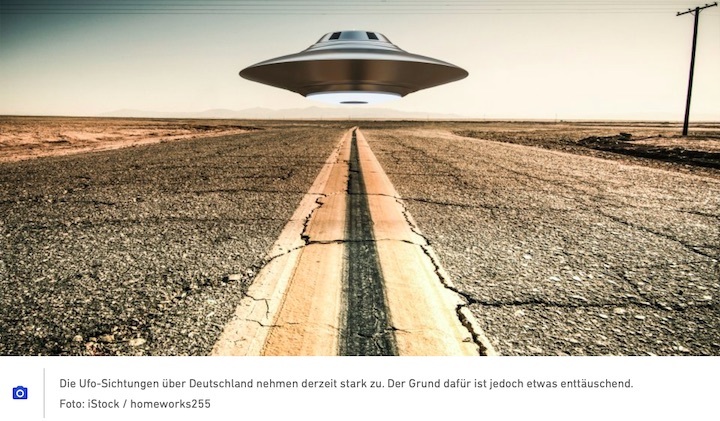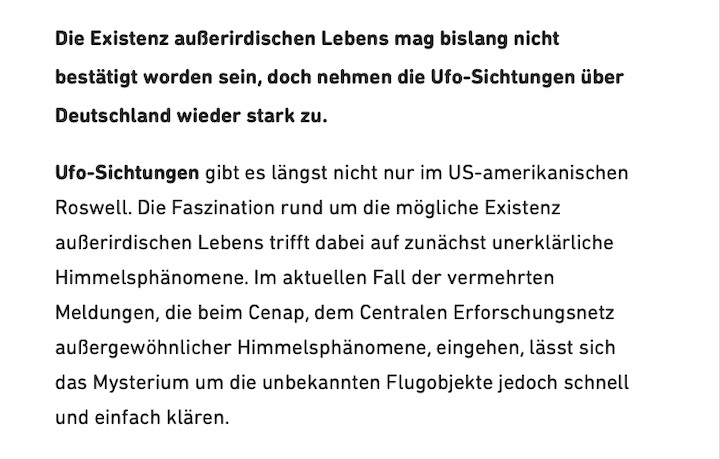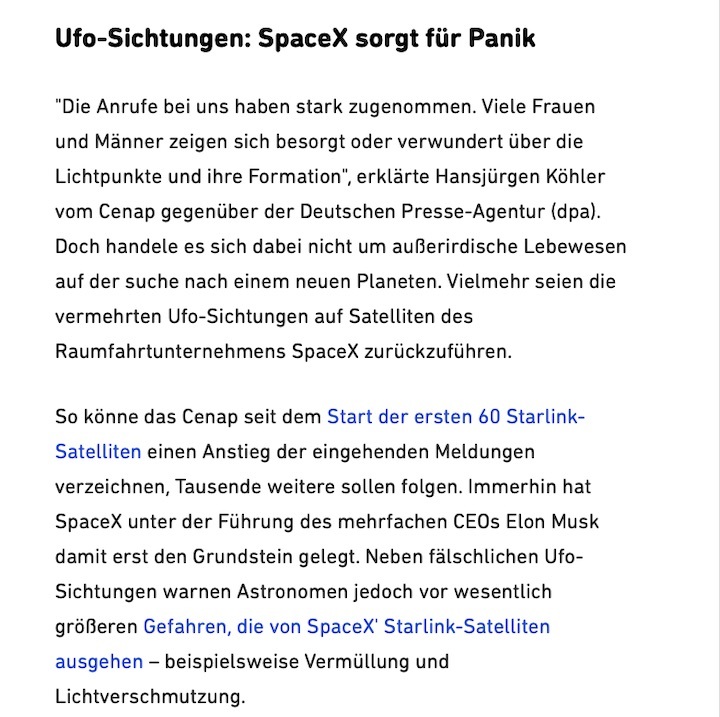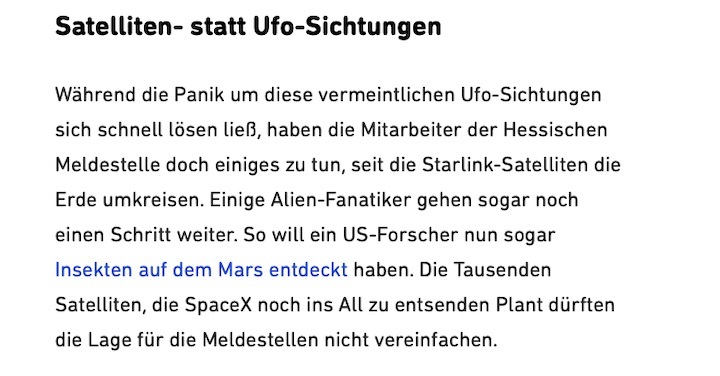 Quelle: futurezone
+++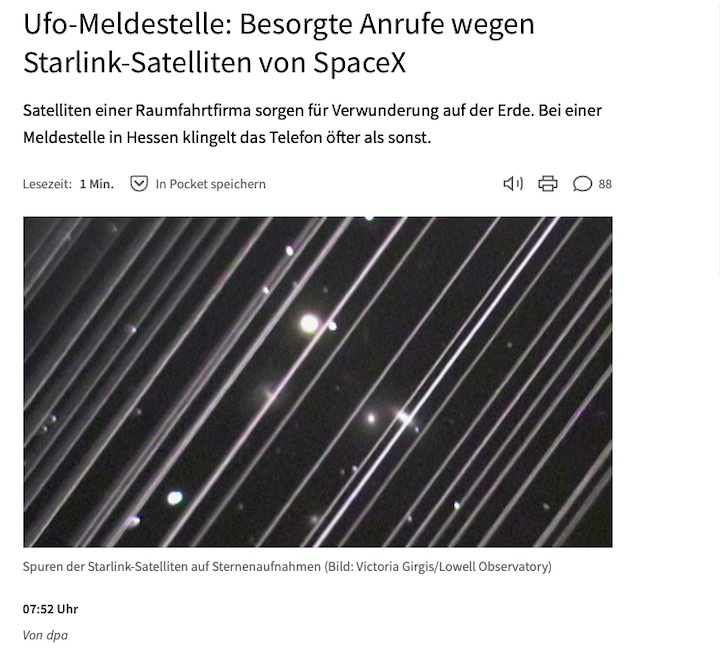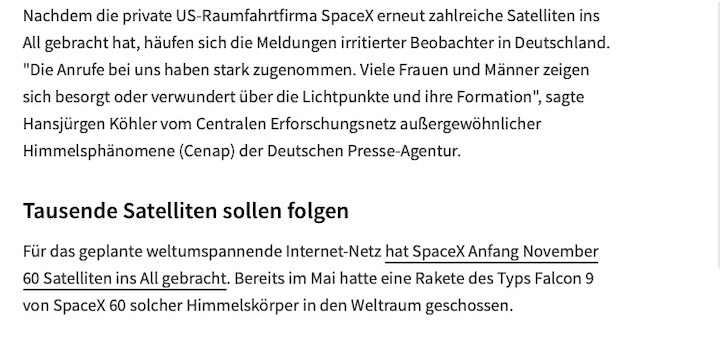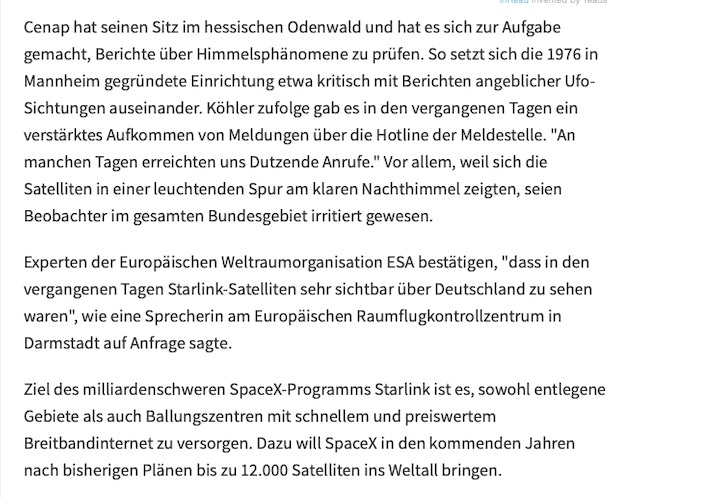 Quelle: heise.de
+++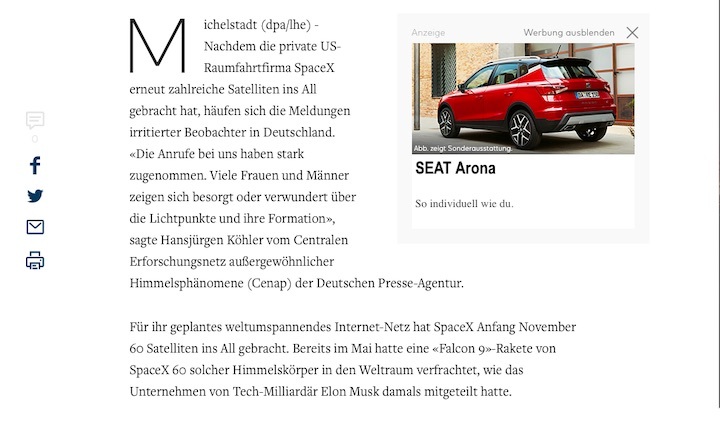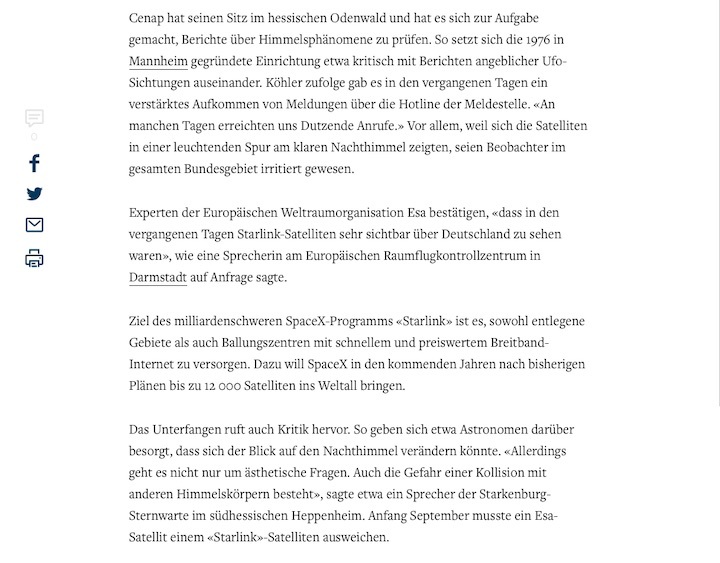 Quelle: Welt
+++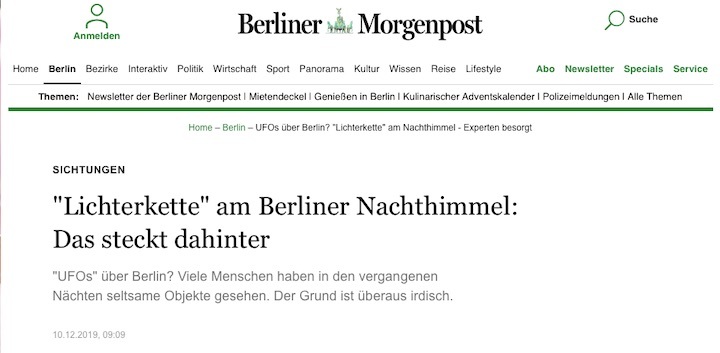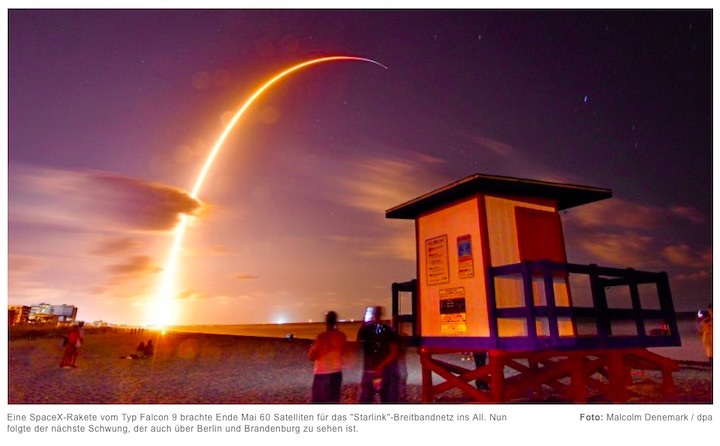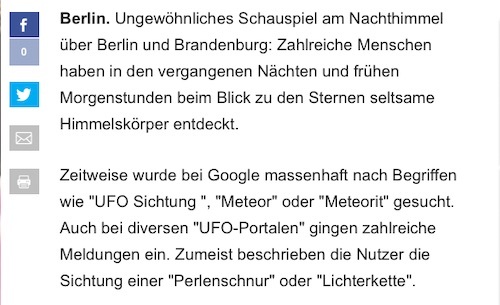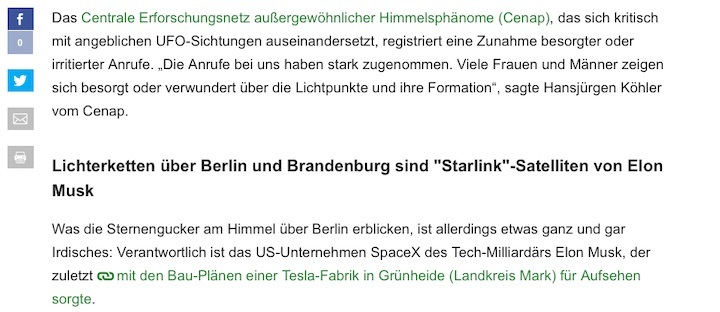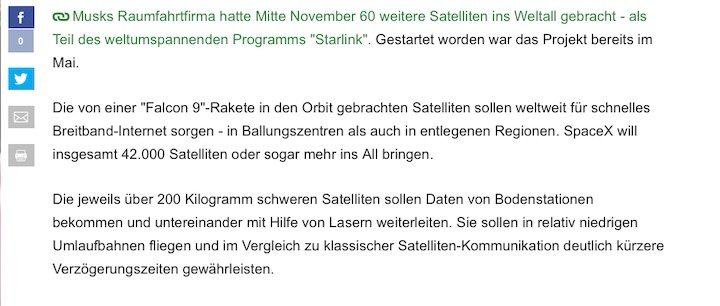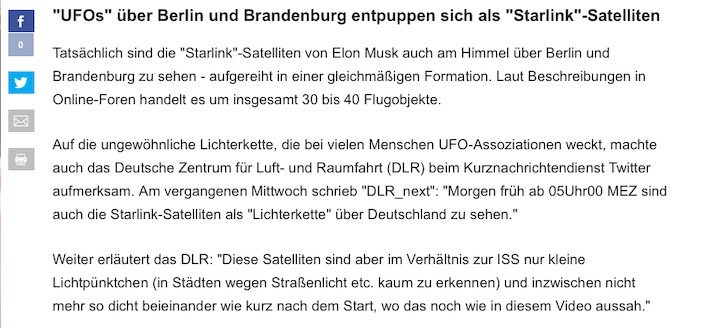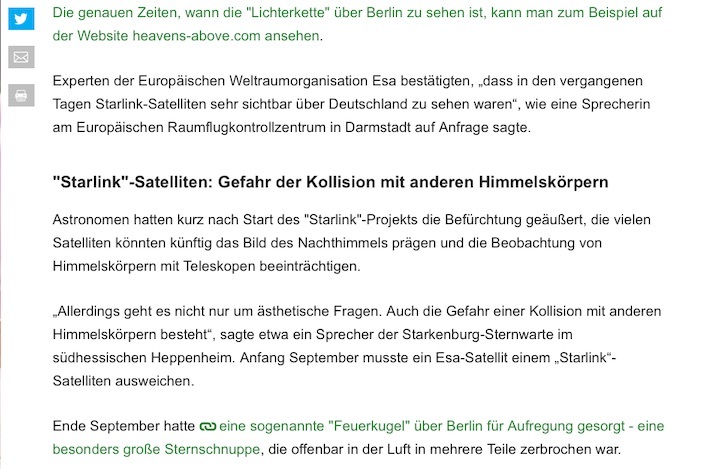 Quelle: Berliner Morgenpost
+++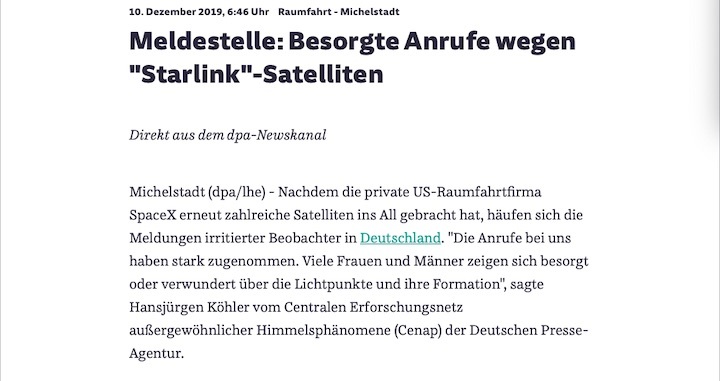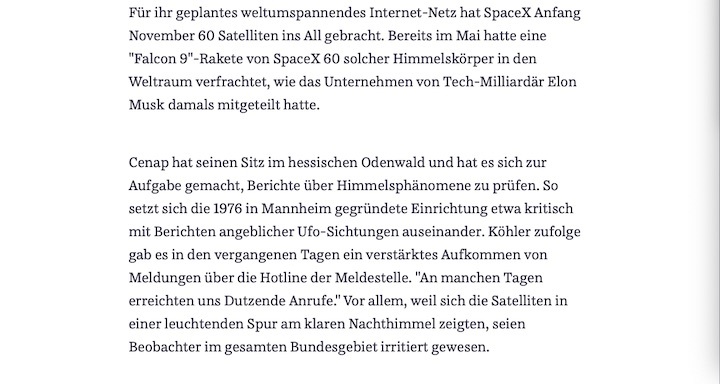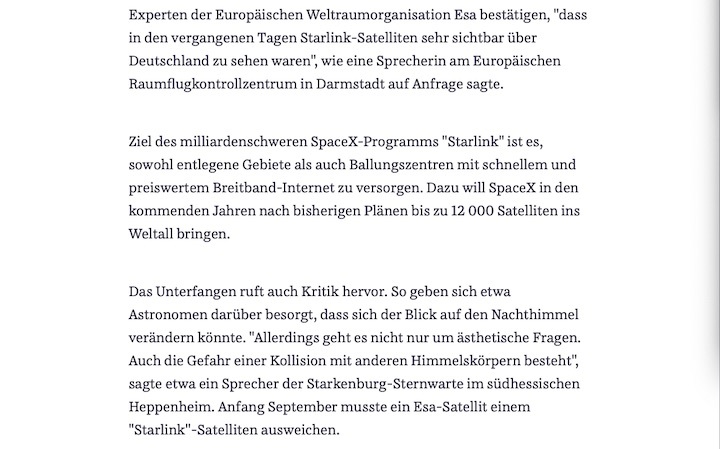 Quelle: Süddeutsche Zeitung
+++
10.12.2019
SpaceX announces second Starlink satellite launch in two weeks
SpaceX has announced its second planned Starlink satellite in two weeks, sticking to a trend that could see the company launch more than a thousand communications satellites over the next 12 months.
Barely two weeks after SpaceX opened media accreditation for Starlink-2, the second launch of finalized 'v1.0' satellites and third dedicated launch overall, the company has announced that that late-December mission will be followed by another Starlink launch in January 2020. This tracks almost exactly with SpaceX's reported plans for as many as 24 dedicated Starlink launches in 2020, a feat that would singlehandedly break SpaceX's current record of 21 launches performed in a single year.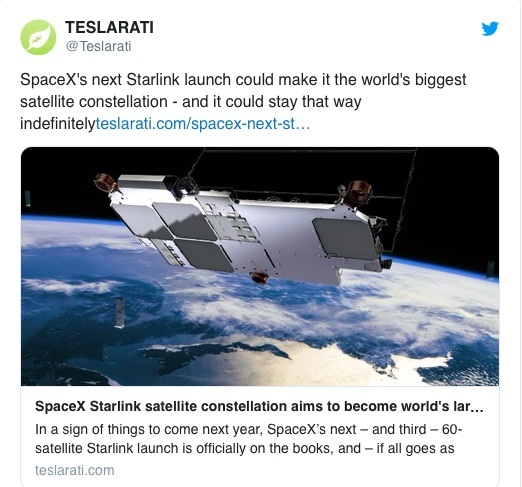 As previously discussed on Teslarati, SpaceX opened media accreditation for Starlink-2 on November 24th, confirming that the company hopes to complete one more 60-satellite Starlink launch before the end of 2019. That mission is currently targeted no earlier than (NET) late-December and would be SpaceX's last launch of 2019 if current schedules hold.
Regardless of when it happens, there's a strong chance that the 60 Starlink-2 satellites will make SpaceX the world's largest individual satellite operator, potentially raising the number of satellites under the company's command to ~170. According to SpaceX's announcement, Starlink-3 – another 60-satellite mission – is now scheduled to launch no earlier than January 2020. If Starlink-2 is successful and no more v0.9 spacecraft drop out of the operational constellation, it can be said with certainty that Starlink-3 will unequivocally make SpaceX the world's largest satellite operator.
Incredibly, if those schedules hold, SpaceX will have gone from two satellites in orbit to the world's largest satellite constellation operator – by a large margin – in as few as nine months. In fact, after cresting that peak, it will take nothing short of a miracle for SpaceX to be usurped. The company hopes to launch as many as 24 Starlink missions in 2020 and is simply miles ahead of its competitors in its efforts to make high-performance orbital launches as efficient and affordable as possible.
If SpaceX and its executives are to be believed, as early as the very first dedicated Starlink launch (May 2019), the cost of launching Falcon 9 was already significantly less than the cost of its payload of 60 Starlink v0.9 satellite prototypes. CEO Elon Musk and COO Gwynne Shotwell have strongly implied that the per-satellite cost is already well below $500,000, meaning that the absolute worst-case internal cost of a Falcon 9 launch is less than $30M.
If, for example, each Starlink satellite already costs as little as $250,000 to build, it's possible that SpaceX can already launch a dedicated 60-satellite mission (including launch costs) at an internal cost of less than $30M ($15M for launch, $15M for 60 satellites). Even in the former scenario, a single Starlink launch might cost SpaceX has little as $60M in total.
In a best-case scenario for megaconstellation competitor OneWeb, the company purchased up to 21 Soyuz launches from Roscosmos for "more than $1 billion", translating to roughly $50 million per launch (rocket costs only). Meanwhile, OneWeb's satellite design is far more traditional and Soyuz offers significantly less performance than Falcon 9, resulting in a cap of 34 ~150 kg (330 lb) per launch. Finally, OneWeb hopes to build each satellite for about $1M, translating to a best-case per-launch cost of ~$85 million. OneWeb aims to launch once per month after its first 34-satellite mission, currently NET January 30th, 2020.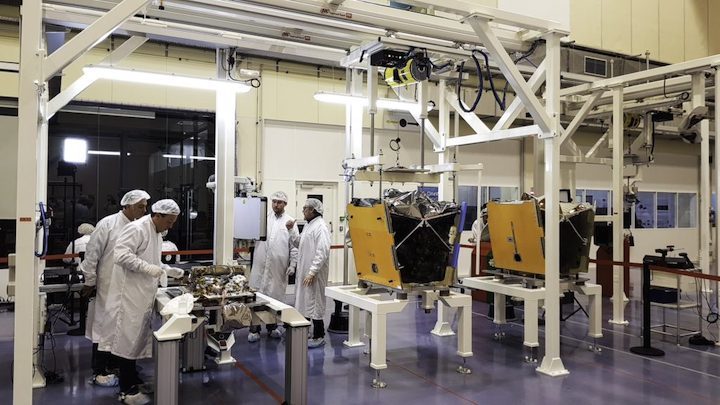 This is all a very roundabout way of illustrating the fact that once SpaceX becomes the world's largest satellite operator, nothing short of repeated launch failures or the company's outright collapse will prevent it from retaining that crown for the indefinite future. Once OneWeb has completed all 21 of its planned Soyuz launches, a milestone unlikely to come before mid-2021, it will have a constellation of ~700 satellites.
Even if SpaceX falters and manages a monthly Starlink launch cadence over the next 13 months, the constellation could surpass OneWeb's Phase 1 plans as early as Q3 2020 – up to as early as June 2020 if SpaceX manages a biweekly cadence. By the time OneWeb's constellation is complete, SpaceX could potentially have more than 2000 operational satellites in orbit – perhaps ~600 metric tons of spacecraft compared to OneWeb's ~100 metric tons.
Quelle: TESLARATI
+++
----
Update: 11.12.2019
.

Unsere UFO-Meldestelle in hessenschau-kompakt Spätausgabe (10.12.2019) zur Starlink-Satelliten Problematik und in Verbindung mit ESA Weltraummüll-Beseitigung-Mission Clear Space welche Re-Entry verursachen soll und somit auch zu "Himmelsphänomenen" führen kann.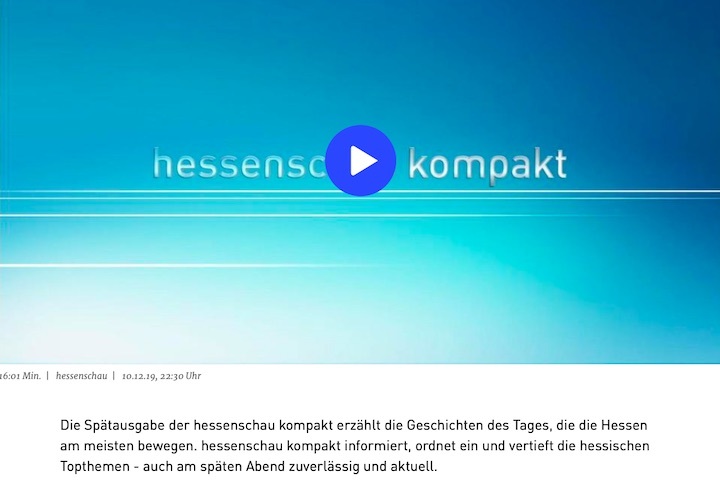 https://www.hessenschau.de/tv-sendung/hessenschau-kompakt---spaetausgabe,video-109626.html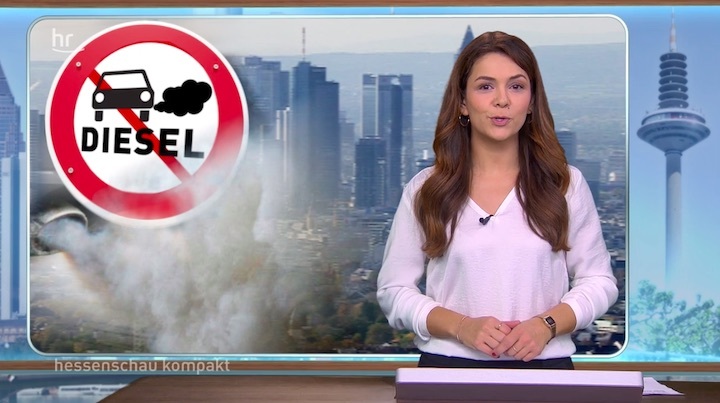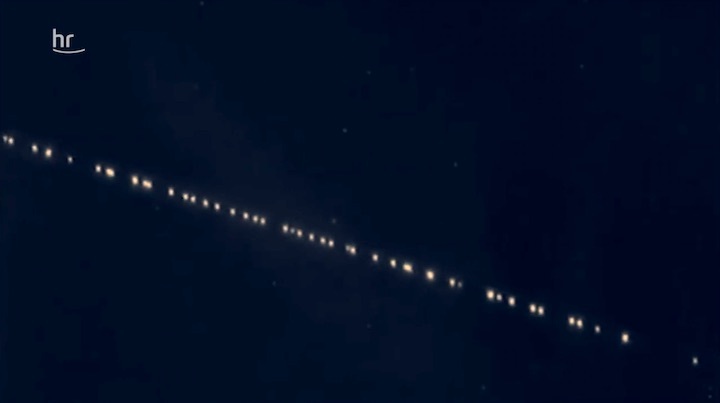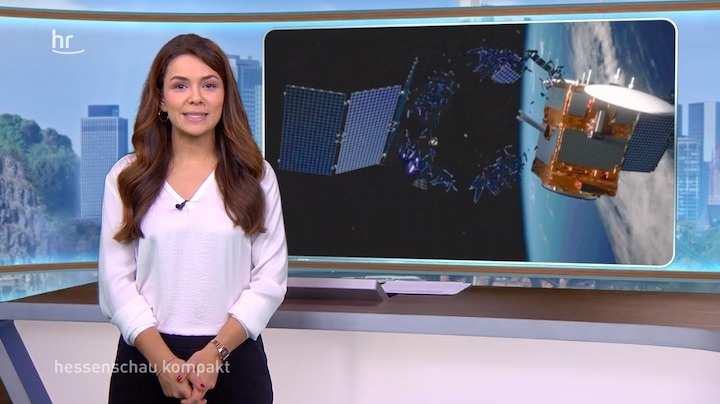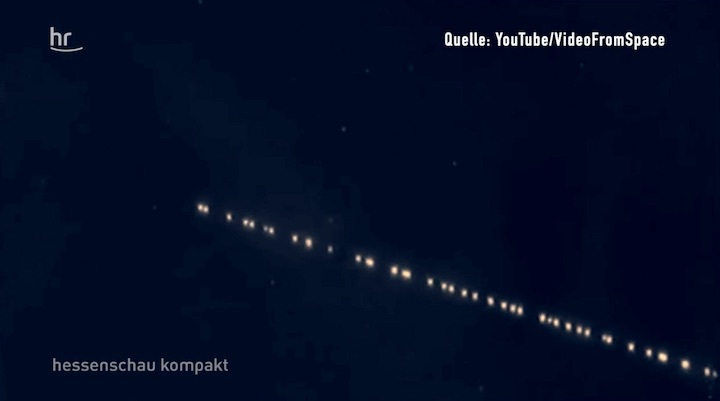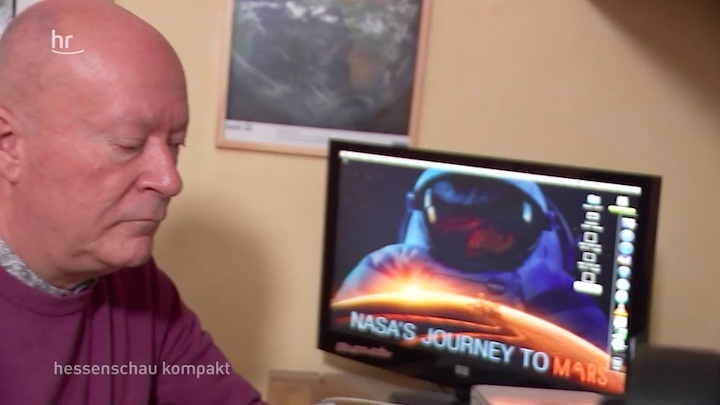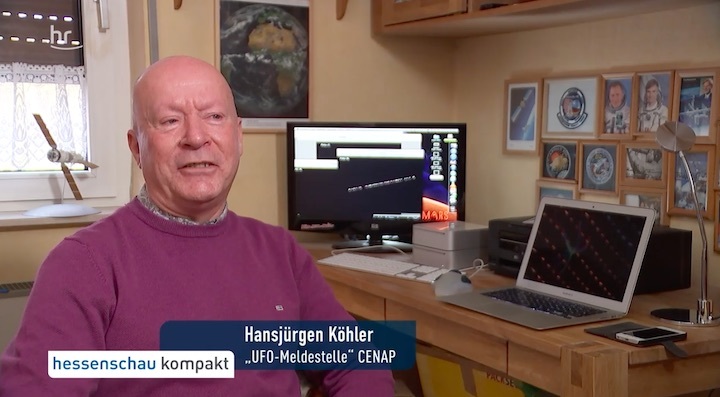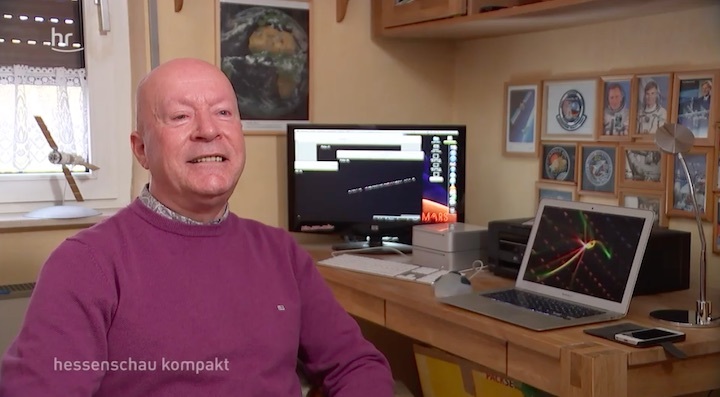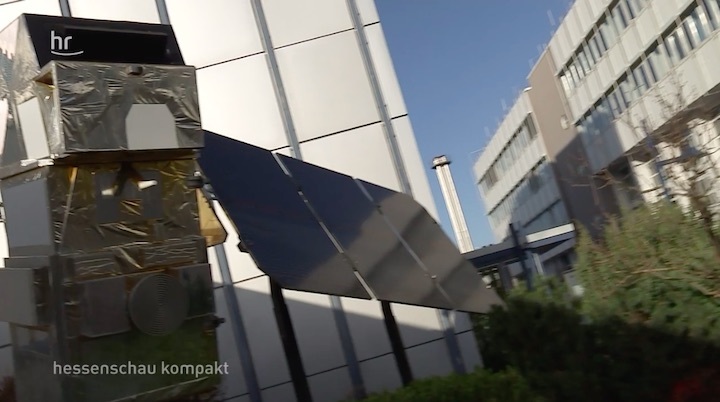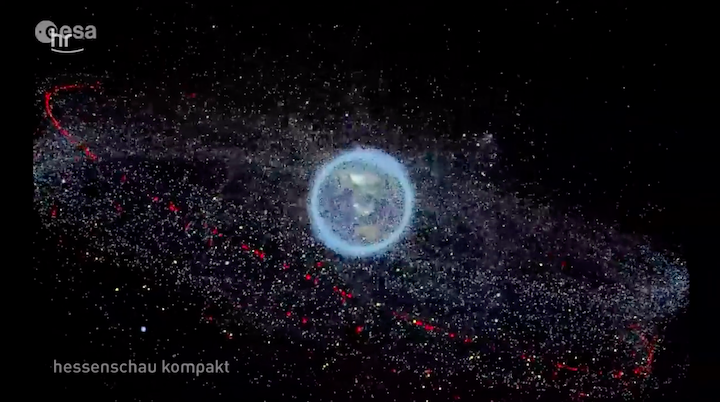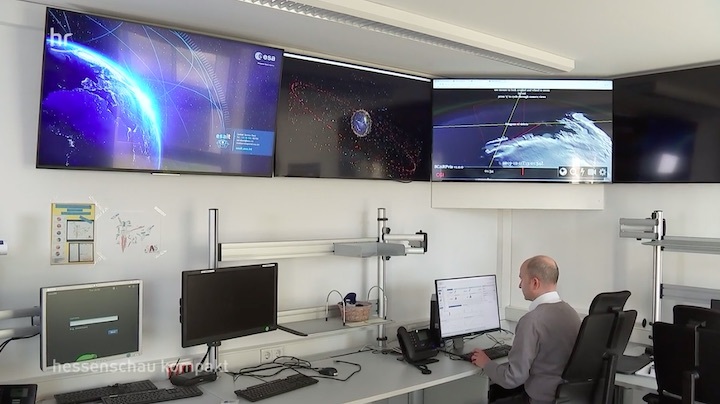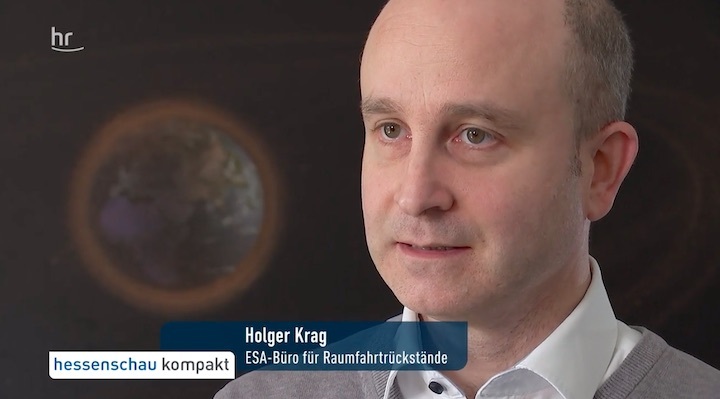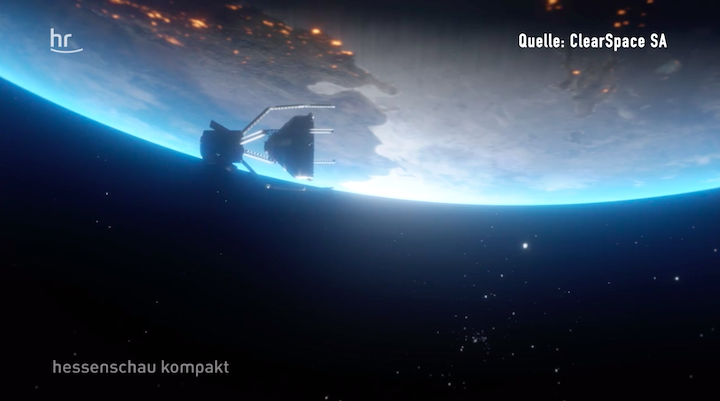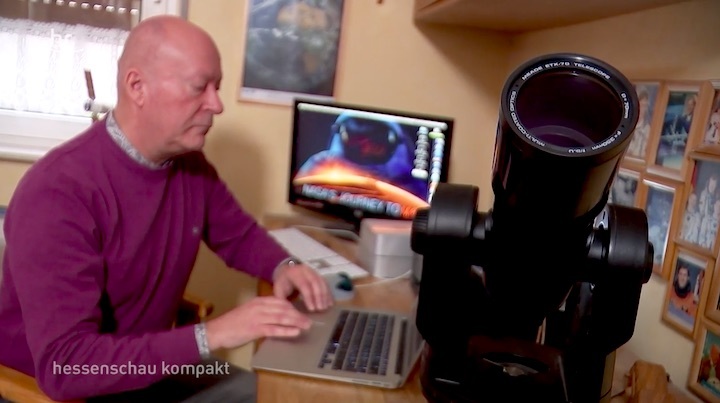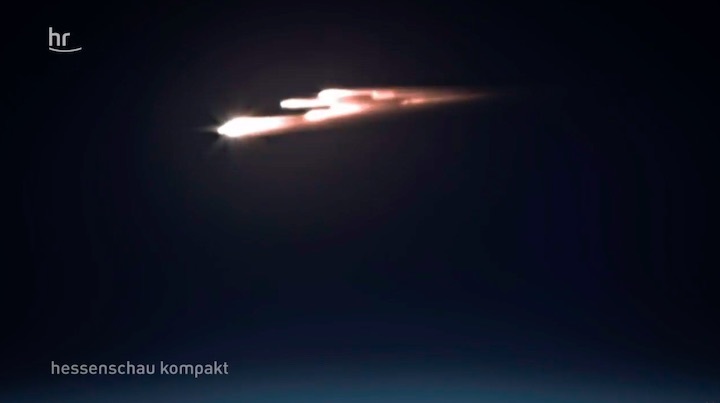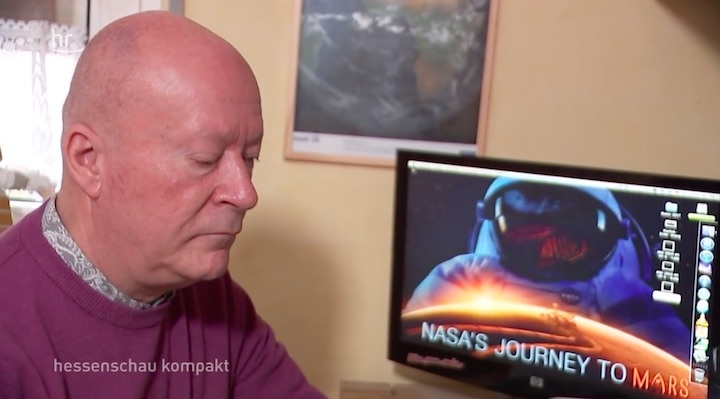 Quelle: hessenschau, HR
3062 Views