10.12.2019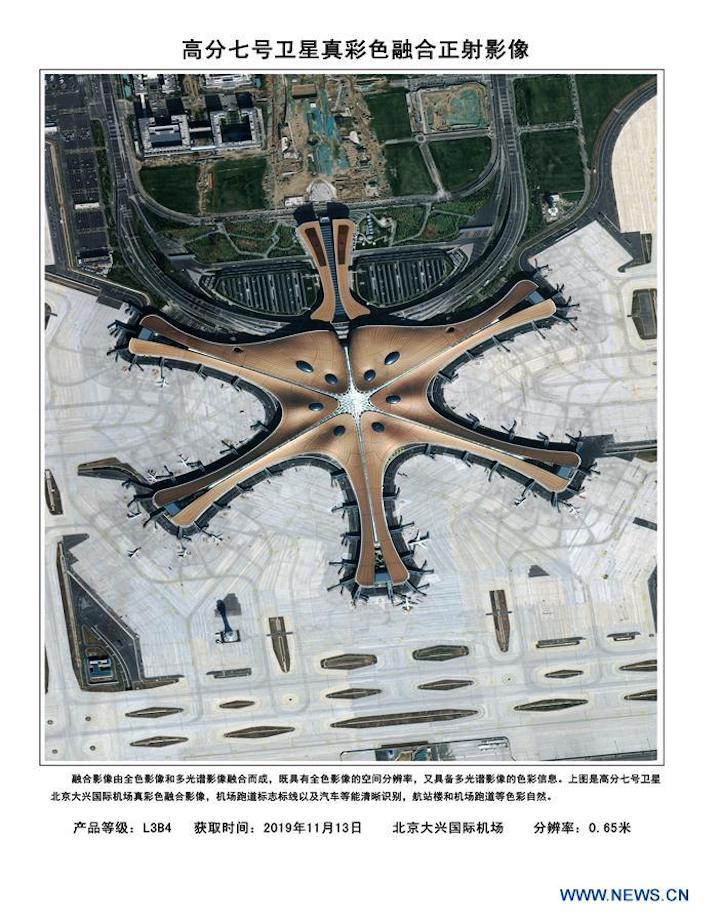 Image shows the fusion orthophoto image of the Beijing Daxing International Airport with 0.65 m resolution true color based on the data from the Gaofen-7 Earth observation satellite. The China National Space Administration Tuesday released the first batch of three-dimensional images based on the data from the recently launched Gaofen-7 Earth observation satellite. (Xinhua)
BEIJING, Dec. 10 (Xinhua) -- The China National Space Administration Tuesday released the first batch of three-dimensional images based on the data from the recently launched Gaofen-7 Earth observation satellite.
The Gaofen-7, an important part of China's high-definition Earth observation project, is the country's first civil-use optical transmission three-dimensional surveying and mapping satellite that reaches the sub-meter definition.
The 22 images unveiled show the Beijing Capital International Airport, the new Beijing Daxing International Airport, as well as some regions in China's Anhui, Guangdong and Shandong provinces. Airplanes, vehicles, buildings and trees can be clearly seen in the images.
The satellite, launched from the Taiyuan Satellite Launch Center in north China's Shanxi Province on Nov. 3, is in orbit at an altitude of 506 km and has a design life of eight years. More than 14,000 images have been obtained by the satellite.
It will be mainly used for 1:10,000-scale 3D mapping. Only a few countries have acquired this level of satellite surveying and mapping, said Cao Haiyi, chief designer of the Gaofen-7 at the China Academy of Space Technology.
Its horizontal positioning accuracy of ground objects is within five meters, and the height measurement accuracy about 1.5 meters, said Cao.
"It's like a precise ruler for measuring the land. Before the launch of Gaofen-7, we could only precisely locate super-highways, but now Gaofen-7 can help us accurately locate rural roads," Cao said.
The main users of Gaofen-7 are from the Ministry of Natural Resources, the Ministry of Housing and Urban-Rural Development and the National Bureau of Statistics.
China has an urgent need for 1:10,000-scale surveying and mapping data, as the country undergoes rapid economic development, drastic changes in urban and rural structure, a sharp reduction in farmland and frequent natural disasters.
Gaofen-7 will help solve problems in monitoring geographical conditions, housing and urban-rural construction and national statistics, Cao said.
It might serve major national projects, planning and economic construction. For example, development of the Xiong'an New area, the selection of venue sites of the 2022 Beijing Winter Olympics and key projects along the Belt and Road all need high-precision surveying and mapping data for decision-making.
"In the past, surveying and mapping work was labor-intensive and lasted for months or even years. With the new satellite, these tasks can be completed in minutes," Cao said.
The positioning accuracy of vehicles and mobile phones is determined by navigation satellites, while map accuracy is realized by surveying and mapping satellites, she said. Gaofen-7 can greatly improve the accuracy of China's maps.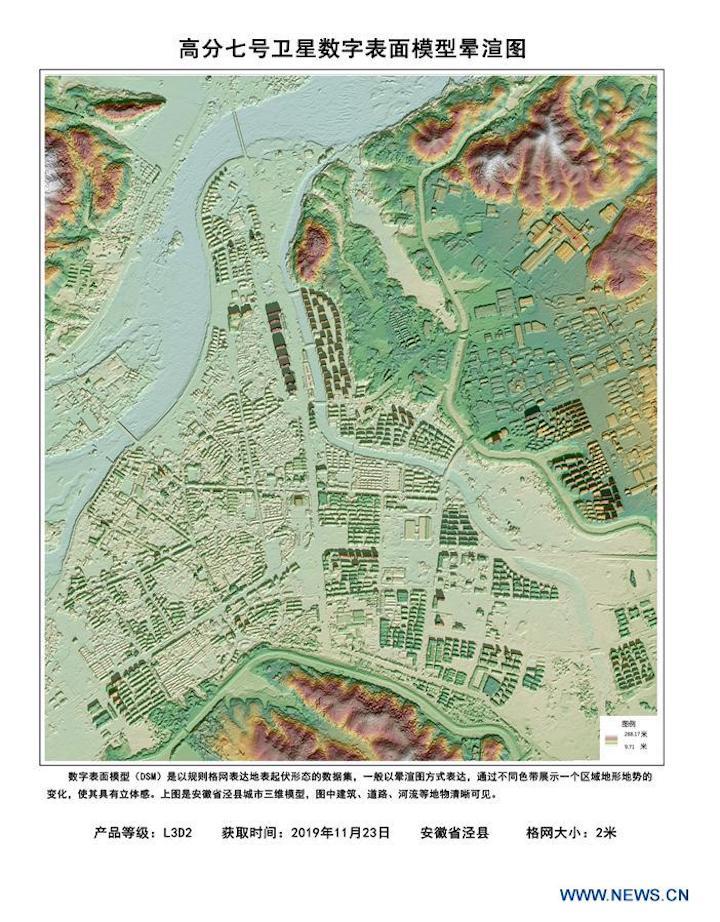 Image shows the relief map of the digital surface model of Jingxian County of east China's Anhui Province with the grid size of 2 m based on the data from the Gaofen-7 Earth observation satellite. The China National Space Administration Tuesday released the first batch of three-dimensional images based on the data from the recently launched Gaofen-7 Earth observation satellite. (Xinhua)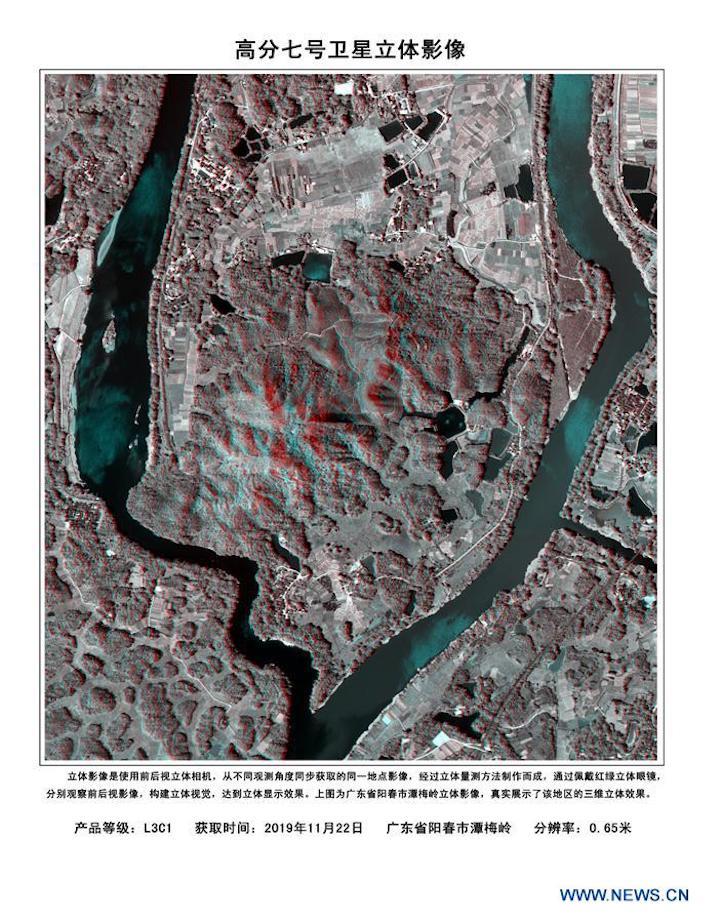 Image shows the stereo image of the Tanmei Mountain in Yangchun City of south China's Guangdong Province with 0.65 m resolution based on the data from the Gaofen-7 Earth observation satellite. The China National Space Administration Tuesday released the first batch of three-dimensional images based on the data from the recently launched Gaofen-7 Earth observation satellite. (Xinhua)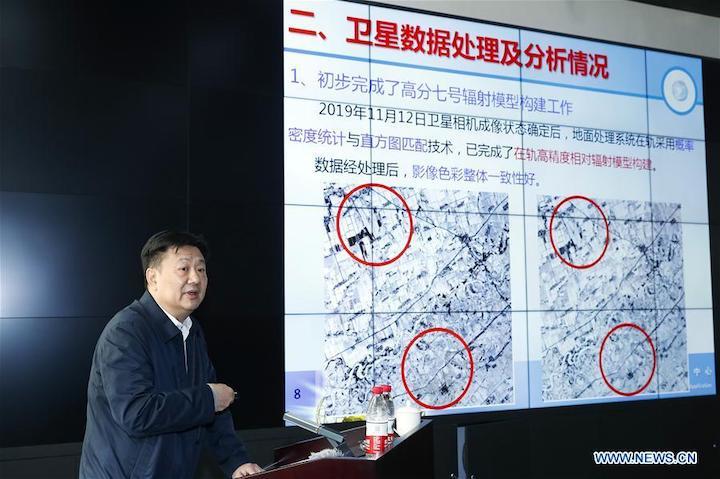 Xu Wenxiang, director of the China Center for Resources Satellite Data and Application, introduces the data processing of the Gaofen-7 Earth observation satellite during the launching ceremony of its first batch of three-dimensional images in Beijing, capital of China, Dec. 10, 2019. The China National Space Administration Tuesday released the first batch of three-dimensional images based on the data from the recently launched Gaofen-7 Earth observation satellite. (Xinhua/Shen Bohan)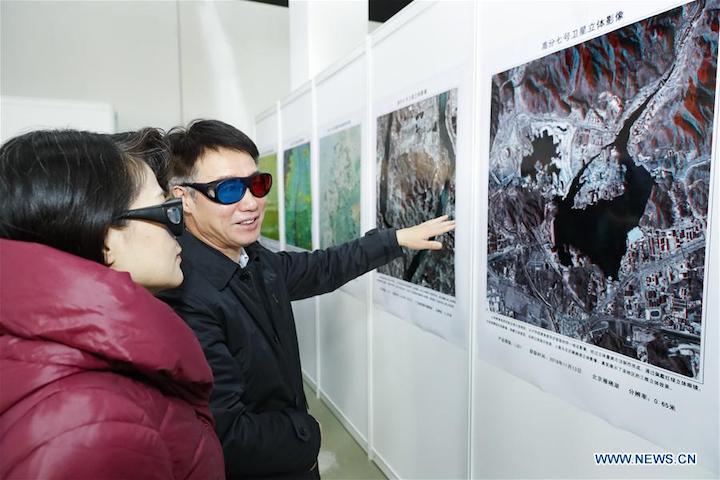 Attendees wear three-dimensional glasses to watch the three-dimensional image of Yanqi Lake of Beijing with 0.65 m resolution based on the data from the Gaofen-7 Earth observation satellite during the launching ceremony in Beijing, capital of China, Dec. 10, 2019. The China National Space Administration Tuesday released the first batch of three-dimensional images based on the data from the recently launched Gaofen-7 Earth observation satellite. (Xinhua/Shen Bohan)
Quelle: Xinhua
2590 Views