7.11.2019
SpaceX test fires Falcon 9 rocket at Cape Canaveral ahead of Starlink launch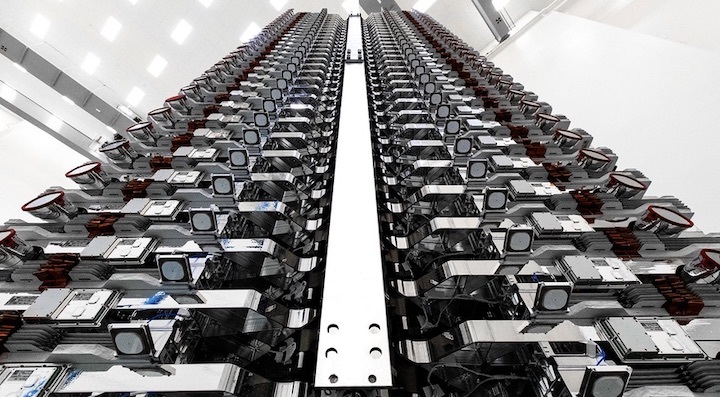 The Merlin main engines of a SpaceX Falcon 9 rocket roared to life at Cape Canaveral Air Force Station on Tuesday, indicating a key stepping stone to the company's next launch — and a first for the Space Coast in months.
SpaceX teams at 12:30 p.m. conducted a static test fire of the rocket's nine main engines, a routine process of checkouts that verify the hardware's "go" status for launch. Liftoff from Launch Complex 40 is targeted for 9:55 a.m. Nov. 11.
On board will be the company's second batch of 60 Starlink spacecraft, part of a planned constellation of thousands of satellites designed to beam internet connectivity back down to Earth. SpaceX develops, builds, and launches Starlink satellites in-house.
If successful, CEO Elon Musk sees a future in which Starlink captures just 5% of the trillion-dollar worldwide telecommunications industry, giving his company some $50 billion every year to continue development of deep-space initiatives, like building colonies on the moon and Mars.
It's been quiet on the Eastern Range – Kennedy Space Center and Cape Canaveral Air Force Station – since Aug. 22. The last rocket to take flight was a United Launch Alliance Delta IV with an Air Force Global Positioning System satellite.
Experts have attributed the lull to shifting spacecraft availability schedules, preparations for upcoming new rocket systems, and delays to NASA's Commercial Crew Program, which aims to take astronauts back to the International Space Station from U.S. soil.
Quelle: Florida Today
+++
SpaceX to reuse payload fairing for first time on Nov. 11 launch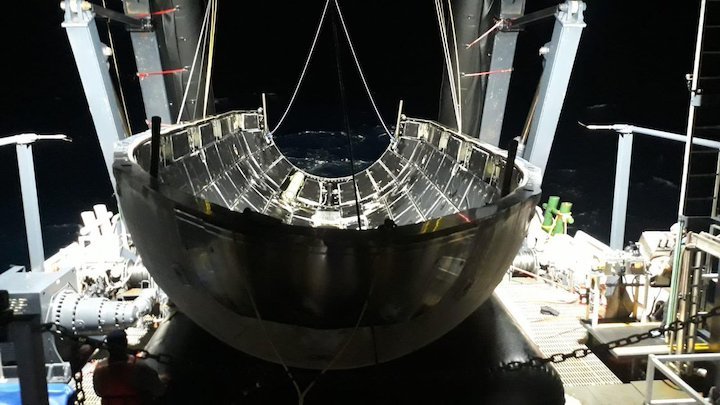 A SpaceX launch set for Nov. 11 will mark the first Falcon 9 mission to use a payload fairing from a previous flight, the company announced Tuesday, shortly after SpaceX engineers at Cape Canaveral test-fired the mission's first stage booster, also refurbished and reused.
The Falcon 9 launch scheduled for next Monday — and previously planned for October — will loft 60 satellites for SpaceX's Starlink broadband network, joining 60 other test craft deployed on a Falcon 9 flight in May.
The launch window opens at 9:51 a.m. EST (1451 GMT) Monday and extends for approximately 11 minutes. It will be SpaceX's first launch since Aug. 6, and the first ground-based launch from Cape Canaveral since Aug. 22.
The U.S. Air Force-run Eastern Range at Cape Canaveral supported the Oct. 10 launch of an air-dropped Pegasus XL rocket over the Atlantic Ocean east of Florida.
SpaceX has not said what caused the delay in the Starlink mission from October to Nov. 11.
SpaceX test-fired the Falcon 9 rocket's first stage booster at 12:30 p.m. EST (1730 GMT) Tuesday at Cape Canaveral's Complex 40 launch pad. The Falcon 9's nine Merlin 1D first stage engines fired for several seconds, throttling up to produce 1.7 million pounds of thrust while hold-down restraints kept the rocket firmly on the ground.
The commercial launch provider confirmed in a tweet that the Falcon 9 rocket is on track for a Nov. 11 launch with the next 60 Starlink broadband satellites. SpaceX also announced the mission would be the first to fly with a reused payload shroud, which shields sensitive satellite payloads during the first few minutes of flight through the thick lower atmosphere.
Last month, a senior SpaceX official said the Starlink flight would be the company's first mission to fly a Falcon 9 first stage booster for a fourth launch.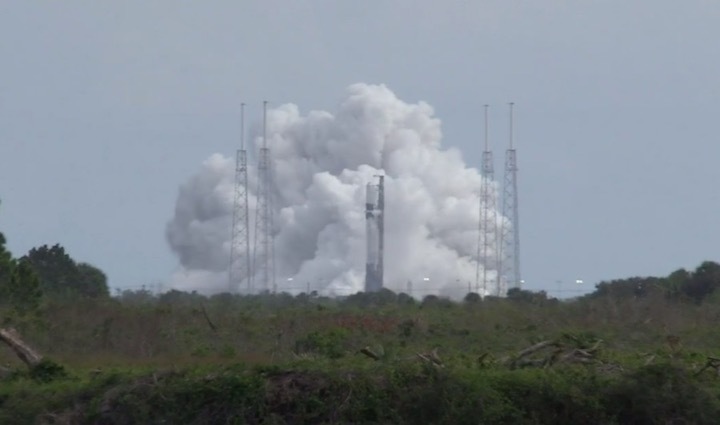 SpaceX said the fairing on next week's launch first flew April 11 on the company's Falcon Heavy rocket. The Falcon 9 and Falcon Heavy use the same type of clamshell-like composite payload shroud, composed of two pieces and measuring 43 feet (13.1 meters) tall and 17 feet (5.2 meters) wide.
The fairing jettisons from the rocket a few minutes after liftoff. Each half of the fairing is fitted with avionics, thrusters and steerable parachutes to make a soft landing. The company wants to reuse the fairing, eyeing it as the next step in reducing launch costs after proving the landing and reuse of Falcon booster stages.
Other launch providers dispose of the fairing, but SpaceX has sought for several years to retrieve the components for refurbishment and reuse.
Elon Musk, SpaceX's founder and CEO, told reporters last year that the fairing costs around $6 million.
The two fairing halves from the Arabsat 6A mission gently fell into the Atlantic under their parachutes, where recovery vessels retrieved the structures. SpaceX's tweet suggested both halves of the fairing will be re-flown on the Starlink launch. A company spokesperson did not respond to a request to clarify.
SpaceX successfully caught a fairing with a net for the first time after a Falcon Heavy launch in June. The giant net is carried aboard a recovery vessel named "Ms. Tree." SpaceX has since outfitted a second boat, named "Ms. Chief," for fairing recovery missions, and the company could attempt to catch both fairing halves with the two vessels after the Starlink launch next week.
SpaceX has modified the architecture for its Starlink network, which aims to provide global broadband Internet service, since launching the first 60 Starlink satellites in May.
The Federal Communications Commission submitted documents to the ITU on Oct. 7 outlining SpaceX's ambition to operate the 30,000 additional Starlink satellites, beyond the 12,000 already authorized by the FCC.
Gwynne Shotwell, SpaceX's president and chief operating officer, said in September that the company plans as many as 24 Starlink launches next year.
Each Starlink satellite weighs about 500 pounds, or 227 kilograms. The satellites launched in May each carried a krypton ion propulsion system and Ku-band antennas for high-speed communication links.
SpaceX is in competition with other planned satellite "mega-constellations" targeting the broadband market, such as OneWeb and Amazon's Kuiper network.
The initial set of Starlink satellites will fly in 341-mile-high (550-kilometer) orbits inclined 53 degrees to the equator. In August, SpaceX requested approval from the Federal Communications Commission to fly up to 1,584 Starlink satellites in 72 different orbital pathways, a change from the the commission's earlier authorization for SpaceX to operate the same number of spacecraft in 24 planes.
SpaceX says the realignment will allow the Starlink network to begin providing broadband services to parts of the United States with fewer satellites and launches than previously planned. The Starlink fleet could offer service to the northern United States, Canada and locations at similar latitudes as soon as next year, the company said.
The Starlink network could provide coverage over all populated areas after 24 launches, SpaceX said.
Quelle: SN
----
Update: 9.11.2019
.
SpaceX's next Starlink launch will make it one of the top satellite operators in the world
SpaceX will expand on its well-known telecommunications ambitions Monday with the launch of a Falcon 9 rocket from Cape Canaveral, but the company will also quietly cross a significant threshold and become the second-largest satellite operator in the world — on top of its already dominant position as a launch provider.
The 9:55 a.m. liftoff from Launch Complex 40 will take 60 more of the company's Starlink satellites to low-Earth orbit as part of the program designed to beam internet connectivity down to the ground, pushing the constellation's total size to 120 after a debut launch in May. That will put it above heavyweights like NASA, the Air Force, and Iridium when it comes to the sheer number of spacecraft on orbit.
SpaceX plans on putting thousands of its own Starlink spacecraft into orbit – possibly up to 40,000 and beyond – then continually refreshing the constellation as some are lost to orbital decay. Despite the challenges and high costs with deploying a system of this magnitude, CEO Elon Musk sees it as a way to pay for his company's future deep-space initiatives, like the Starship vehicle and Super Heavy booster. He also hopes it increases internet connectivity to underserved regions of the world.
Monday's tipping point launch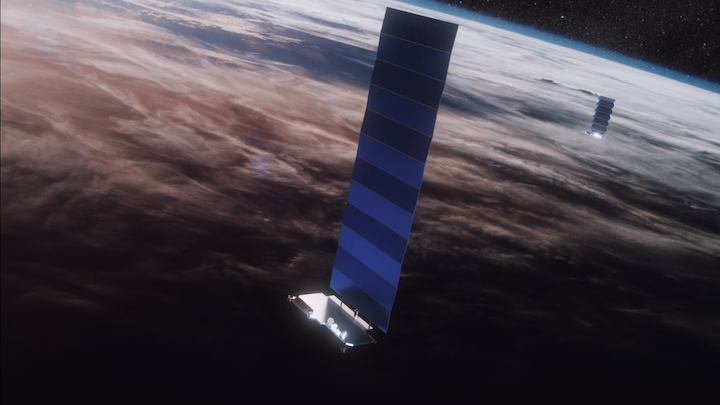 There are stark differences between Starlink spacecraft and the vehicles operated by more established operators. National security satellites, for example, can weigh more than 12,000 pounds when fueled, operate thousands of miles above Earth, and require complicated ground systems. Starlink satellites, meanwhile, weigh just 500 pounds and operate a few hundred miles in altitude.
According to the Space Foundation, a nonprofit based in Colorado that advocates for space industries around the world, the launch will propel SpaceX to the No. 2 position from a number-on-orbit standpoint:
Planet: 197 Earth observation satellites
SpaceX: 120 internet-beaming satellites (117 after contact was lost with three in May; expected to deorbit and burn up)
Iridium: 106 communications satellites
Air Force: A mix of 98 classified, communications, Earth observation, position and navigation, and technology development satellites
Spire: 85 Earth observation satellites
NASA: 67 science, Earth science, technology development, and communications satellites (includes International Space Station)
With just two more Starlink launches, scheduled to happen by next year, SpaceX will eclipse Planet to become the No. 1 operator by volume.
"They set a very aggressive plan and stuck to it," said Rich Cooper, Space Foundation's vice president of strategic communications and outreach. "Monday's launch will further accelerate their accomplishment of that timeline."
One of SpaceX's key advantages with Starlink, however, isn't that it designs and builds the satellites. The company also controls the ride to orbit through its family of reusable Falcon 9 rockets.
"Look, this is competition," Cooper said. "Diversifying your portfolio makes you a stronger, more resilient company. When you can provide the full suite of services that SpaceX is showing that they're able to do – being the launch provider, the integrator, and the (satellite) operator – it separates you from a lot of your competition."
But it's not just about sheer numbers – the Starlink constellation's expansion and overall message is having serious impacts on the spaceflight, communications, and satellite industries. As one of a few companies authorized by the Federal Communications Commission to operate in space, SpaceX is pushing the boundaries of regulations, too.
"The launches themselves are having less of an impact on the marketplace as much as what they're doing and what they're signaling they want to do," said James Dunstan, founder of Mobius Legal Group, an outer space and telecommunications law firm. "And that's got everybody in a real tizzy."
Several factors contribute to that state of nervous excitement, ranging from the FCC's approval allowing Starlink to occupy lower altitudes to the company's most recent plan that quadruples the size from an initially planned 11,000 to more than 40,000 satellites. The biggest concern, Dunstan said, is that some of the satellites will become orbital debris.
"The interesting part of it is that now, the FCC is going to be the real battleground for orbital debris," Dunstan said, noting that the agency, while competent, doesn't have the expertise to seriously manage debris decisions. "Fundamental, generation-lasting policy decisions are going to be coming out of an agency that's not really equipped or trained to be making them."
To date, SpaceX has said the low altitudes are actually an advantage for Starlink, enabling older spacecraft to cleanly burn up in the atmosphere.
Paying for future endeavors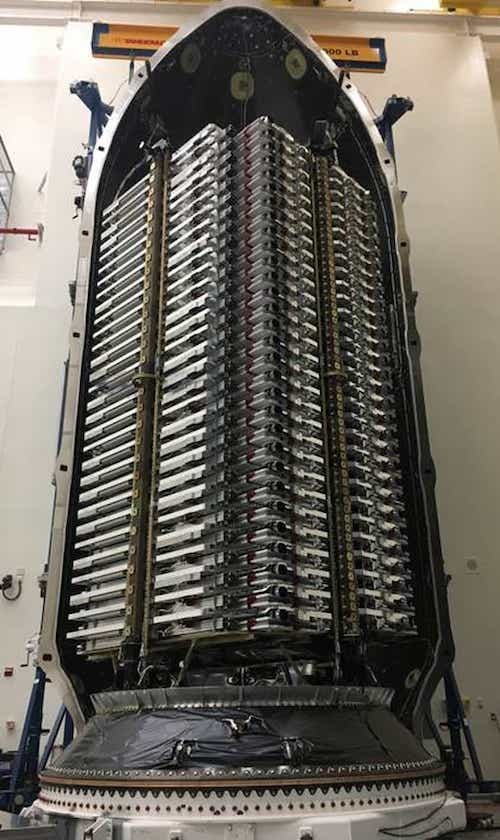 Capturing just 5% of the trillion-dollar worldwide telecommunications industry, Musk says, would secure SpaceX with $50 billion a year. That's magnitudes more than the $4.6 billion available in launch services, according to the Satellite Industry Association's 2018 report.
"We see this as a way for SpaceX to generate revenue that can be used to develop more and more advanced rockets and spaceships," Musk said before the first flight in May. "We think this is a key stepping stone on the way toward establishing a self-sustaining city on Mars and a base on the moon."
Experts also believe experience gained in the deployment of Starlink could carry over to those far-flung goals, too. If it works as planned, similar constellations could be deployed in orbit around the moon and Mars, connecting deep-space inhabitants to each other – and Earth.
Milestones for SpaceX
Payload aside, Monday's launch will mark two major milestones for SpaceX.
First, the company will fly with a fully reused fairing, or the nose cone that protects spacecraft during launch. Musk has long sought to save on launch costs by reusing the hardware, which can cost millions of dollars when simply tossed into the ocean after liftoff. During a Falcon Heavy mission in April, however, two fairing halves were recovered and will fly with Starlink. Since it's an in-house mission, this helps SpaceX further reduce costs.
Second, the Falcon 9 first stage flying on Monday will mark the fourth flight of the SpaceX booster. To date, no Falcon booster has flown more than three missions before being retired, but this one will help the company push toward its goal of using them 10 times or more.
About eight minutes after liftoff, the 156-foot-tall first stage will target a drone ship landing in the Atlantic Ocean. If it survives and is serviceable, it could someday fly a fifth time.
Quelle: Florida Today
----
Update: 11.11.2019
.
Start von SpaceX Falcon 9 mit 60 Starlink-Satelliten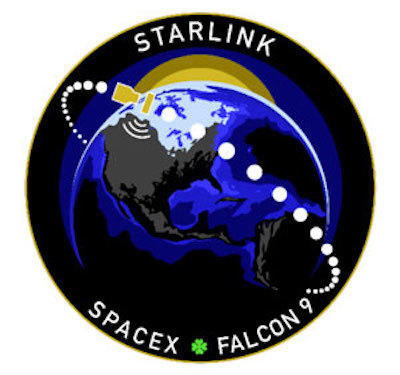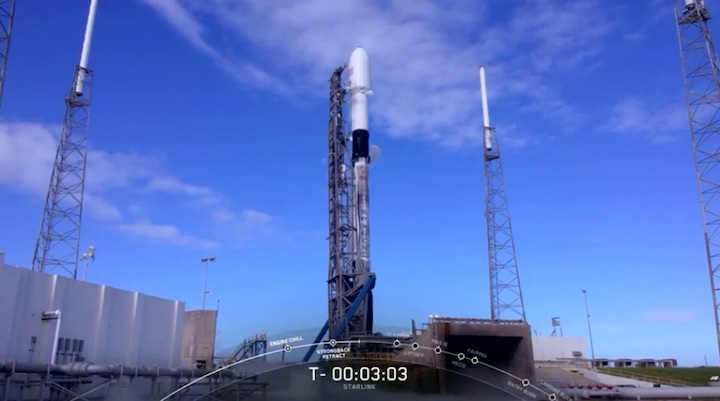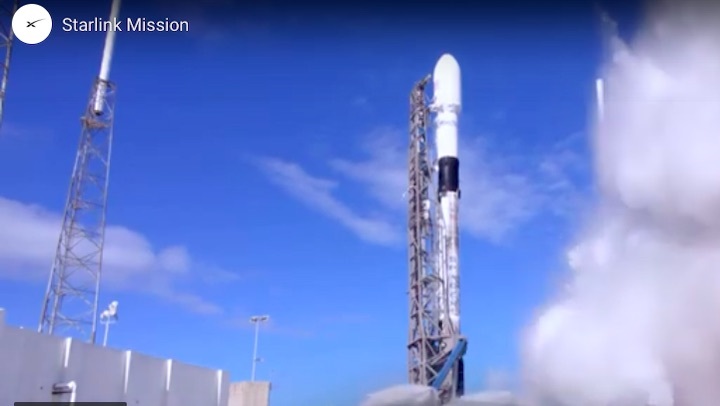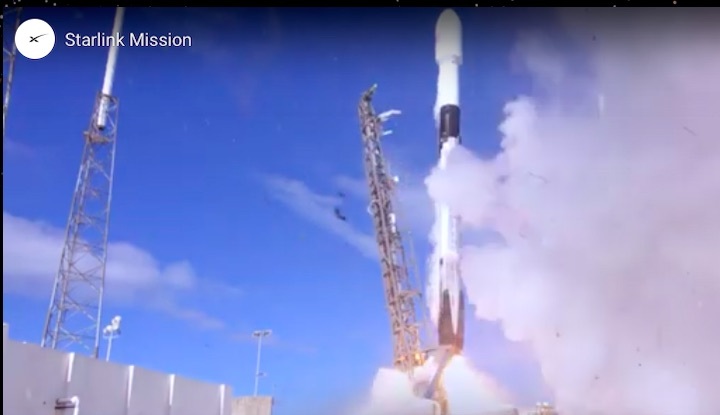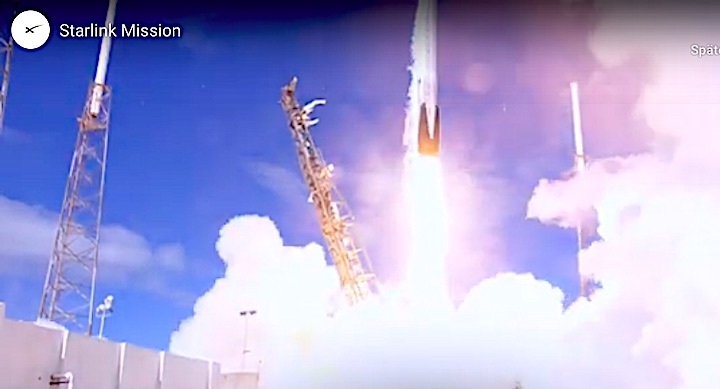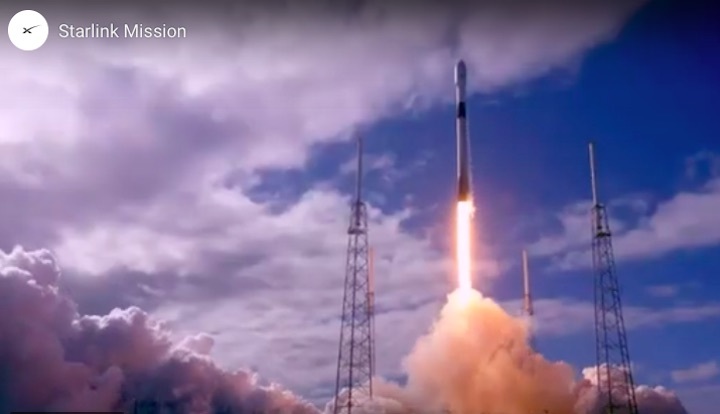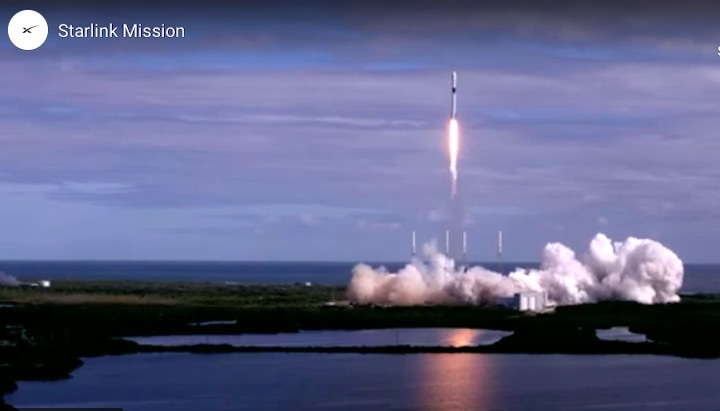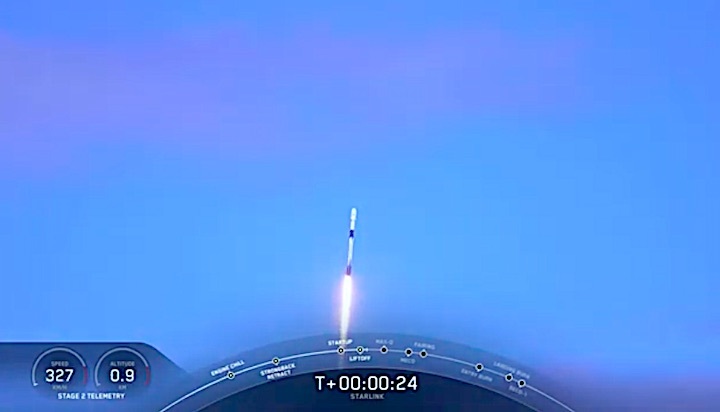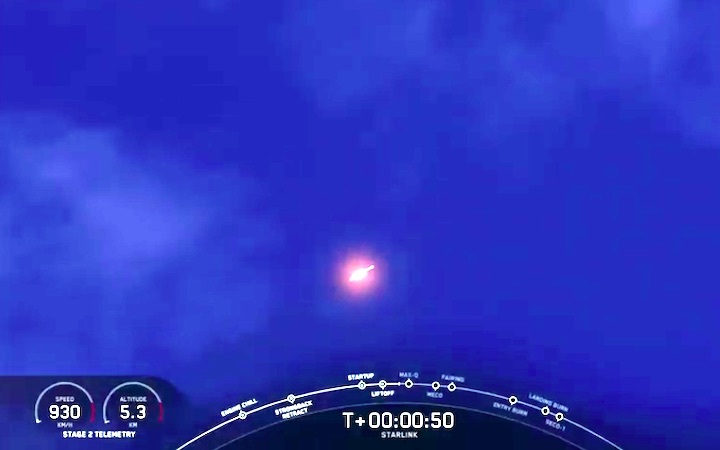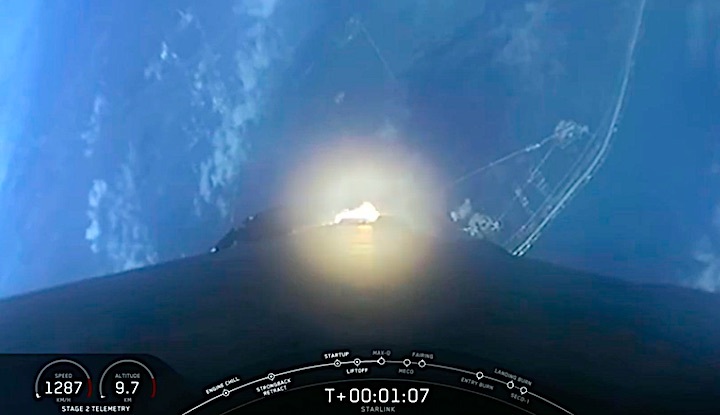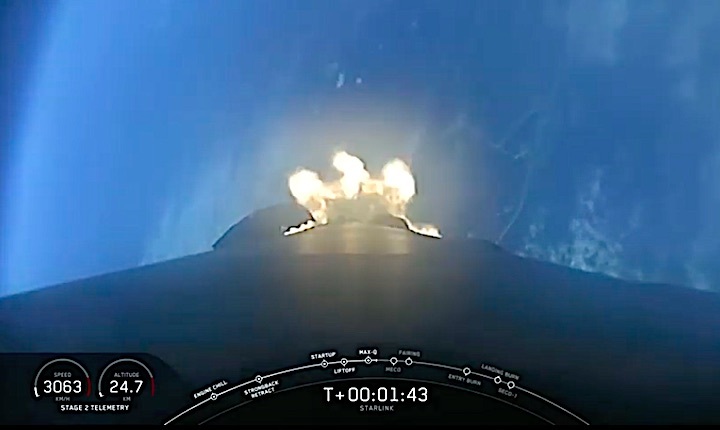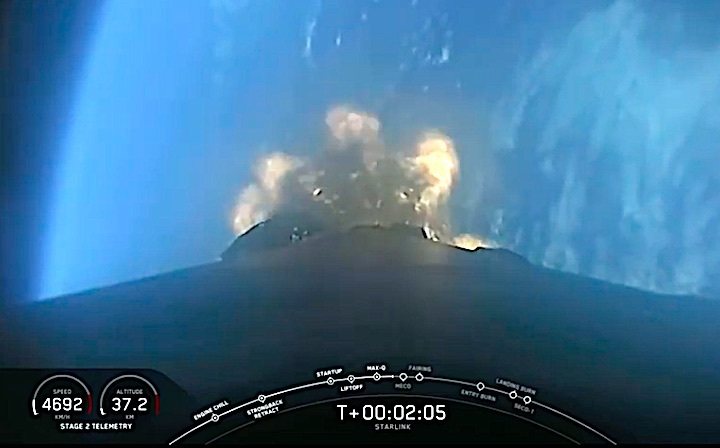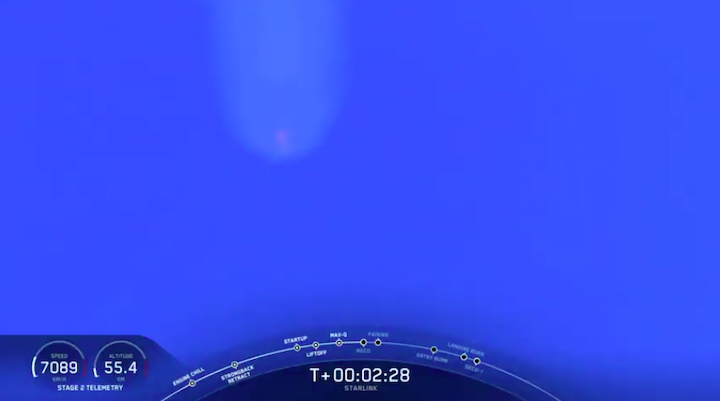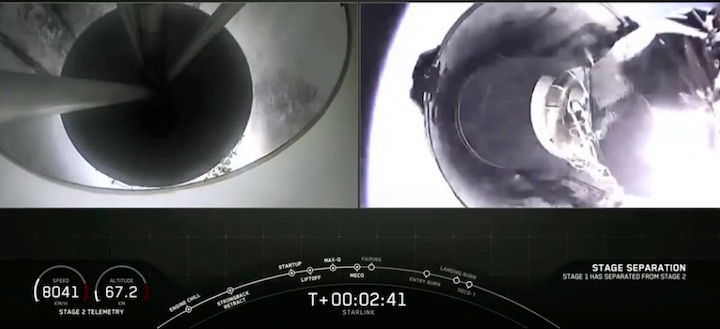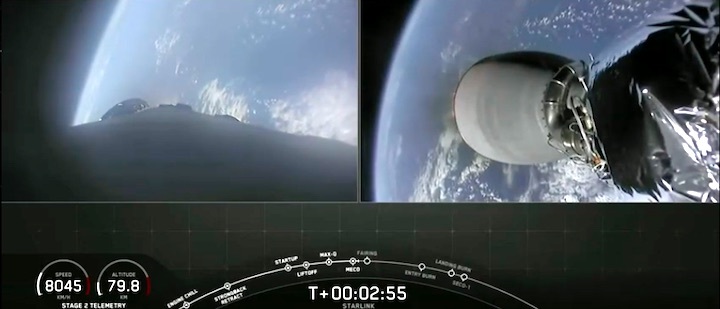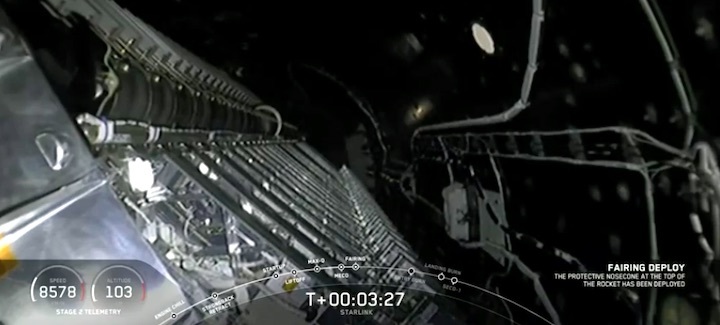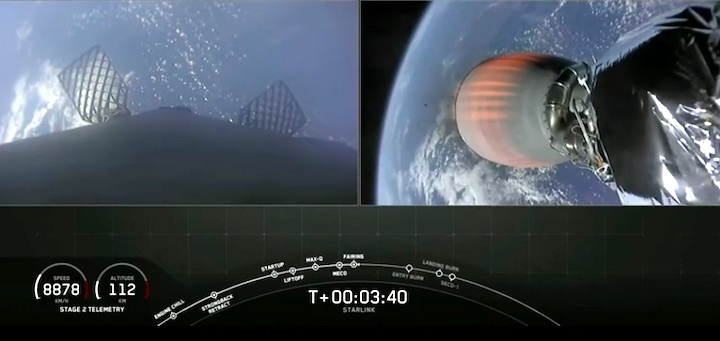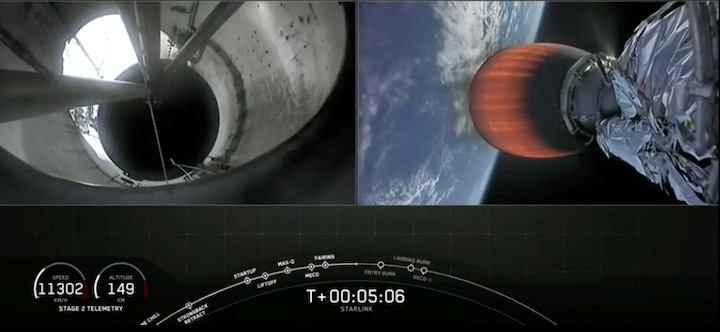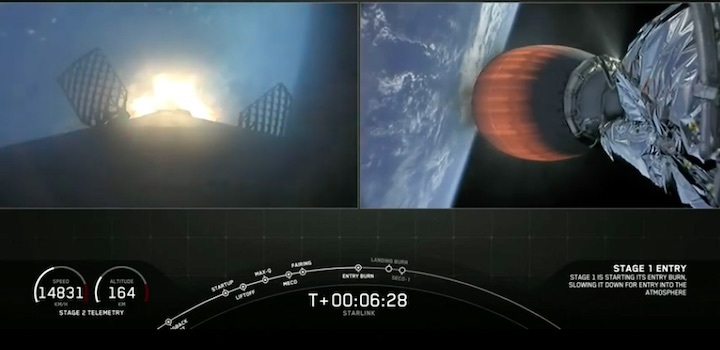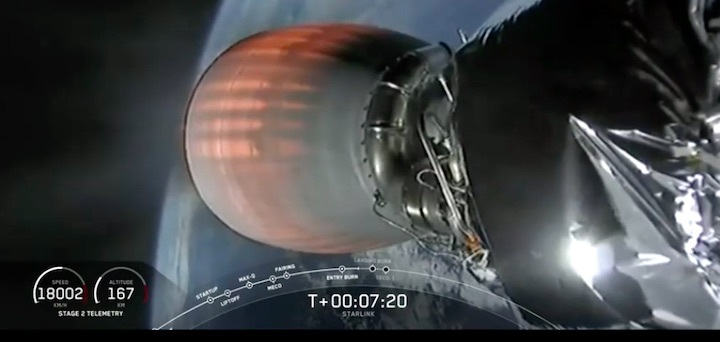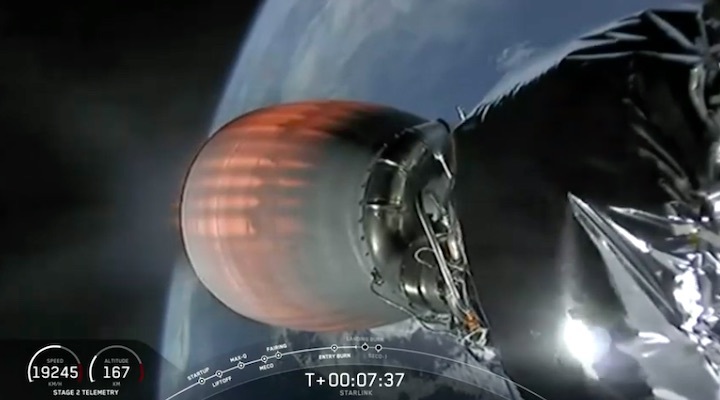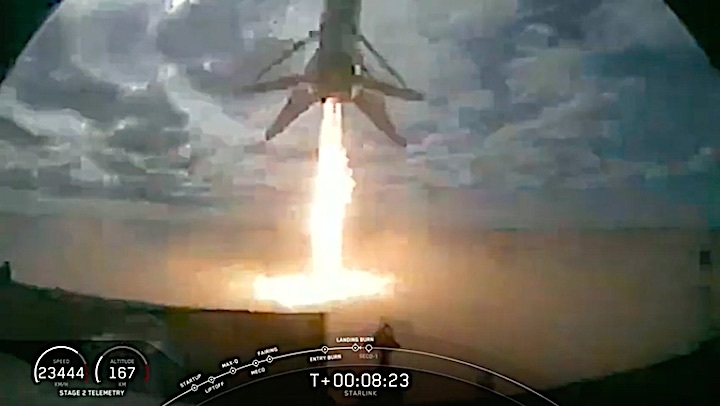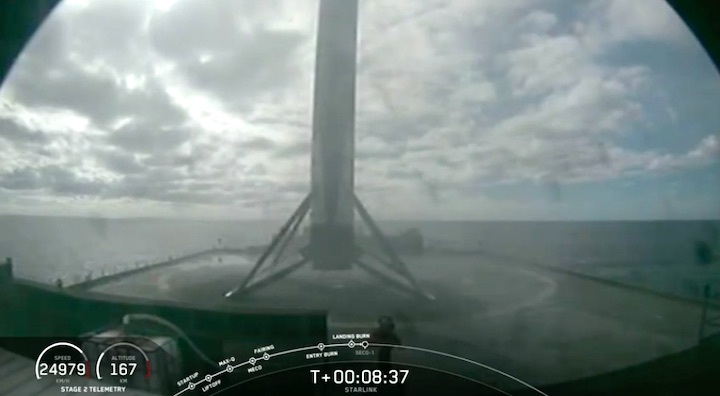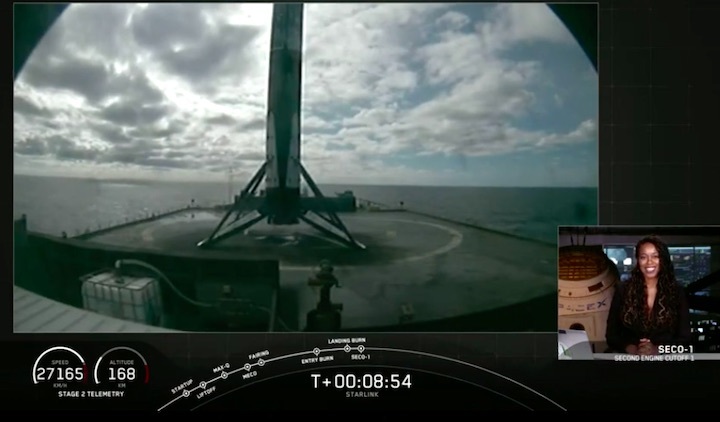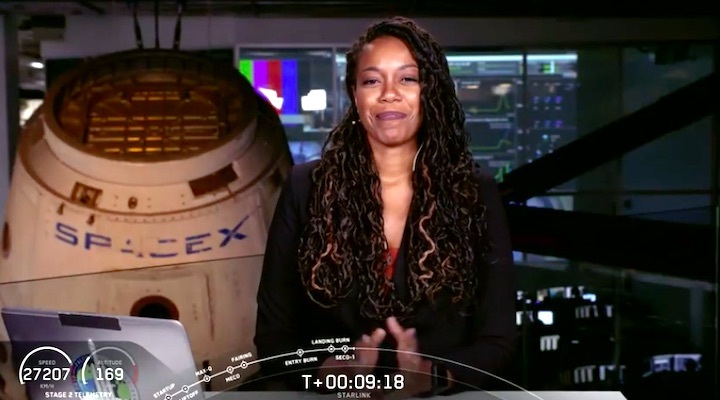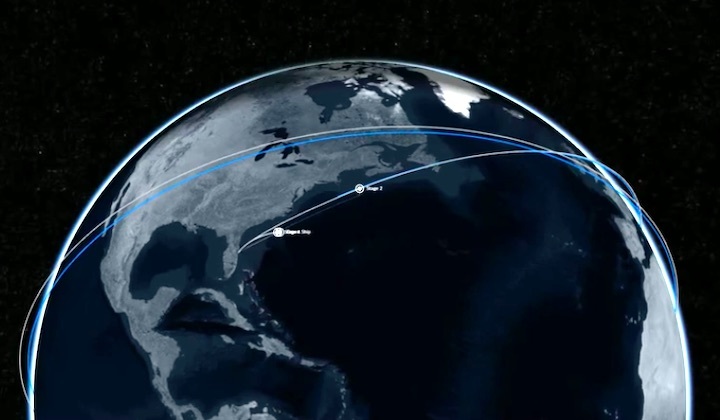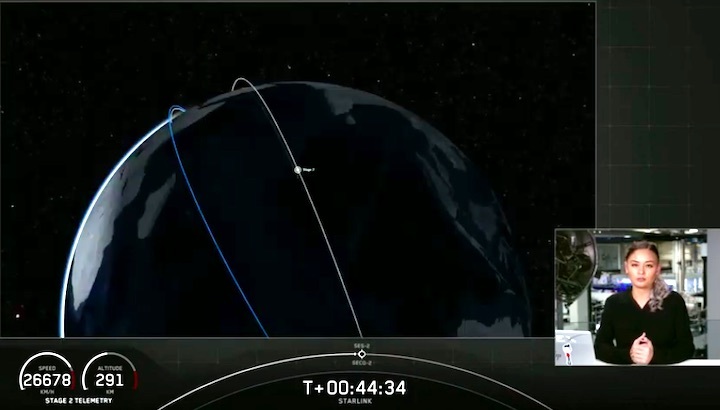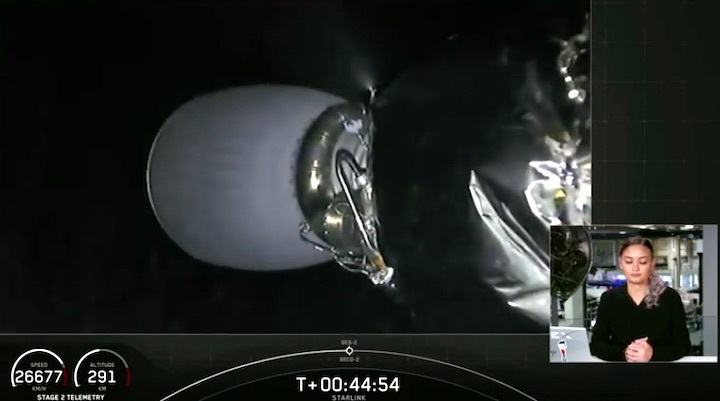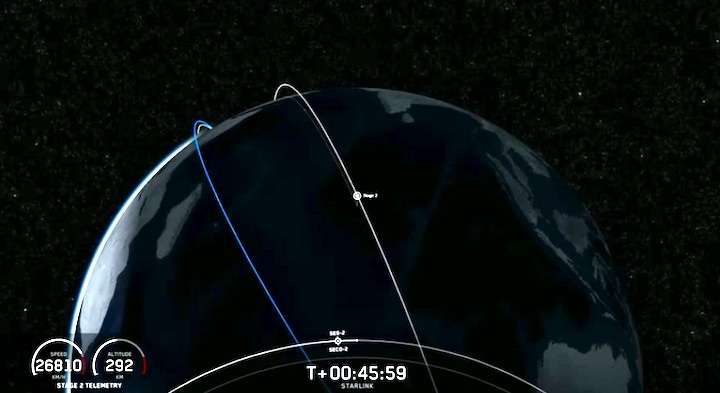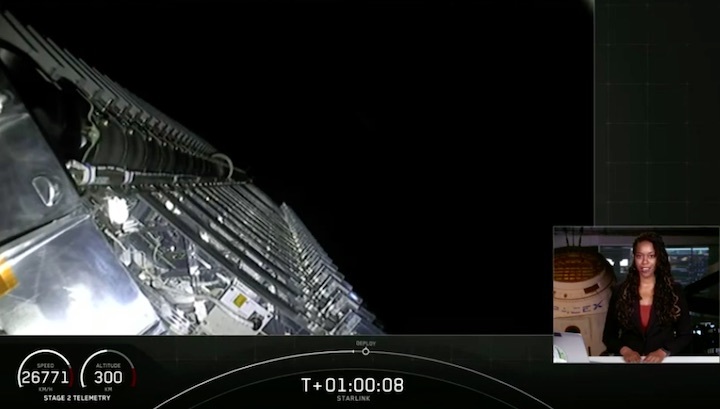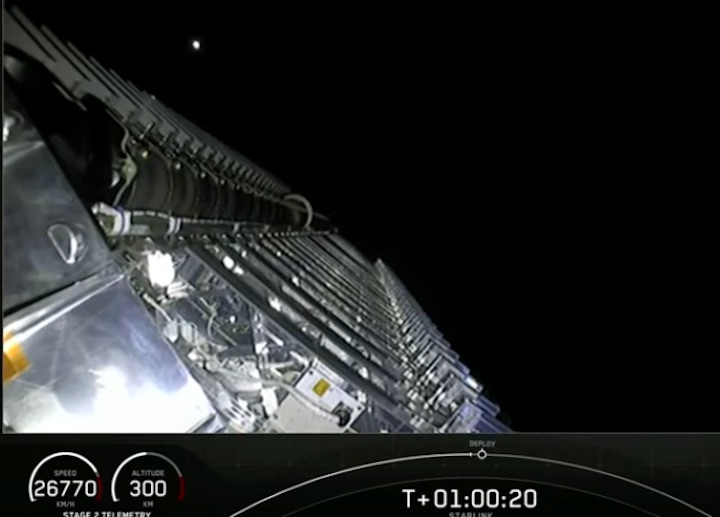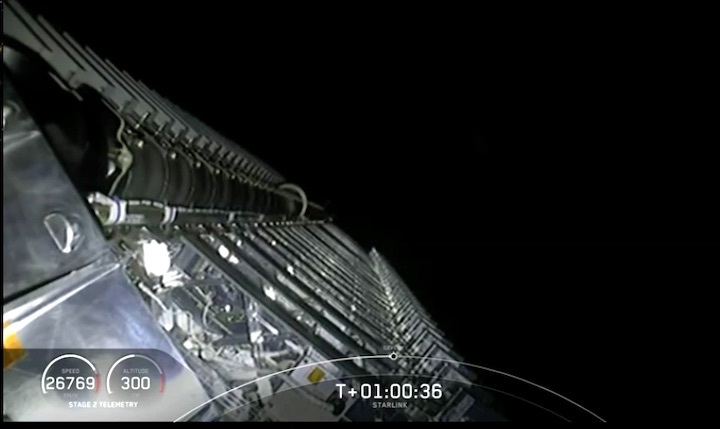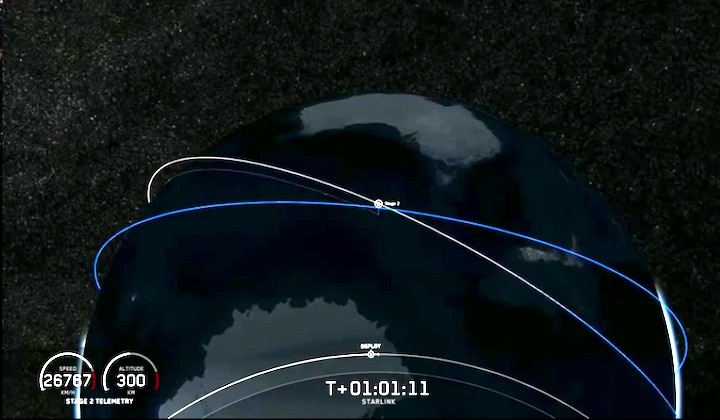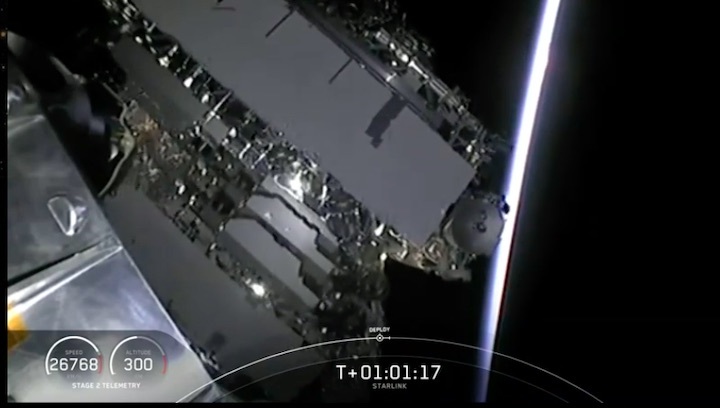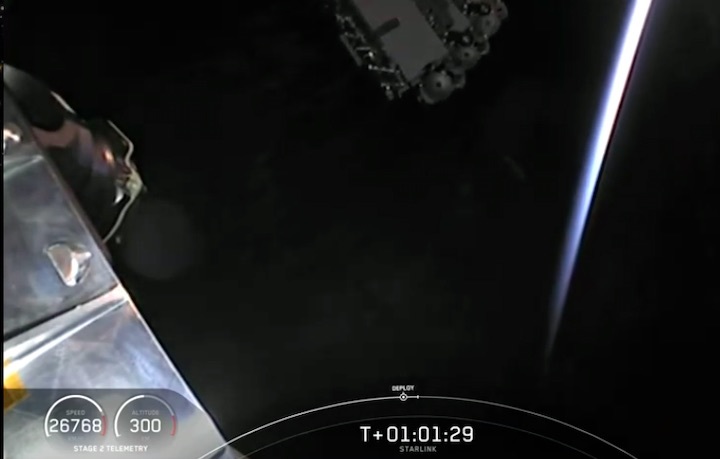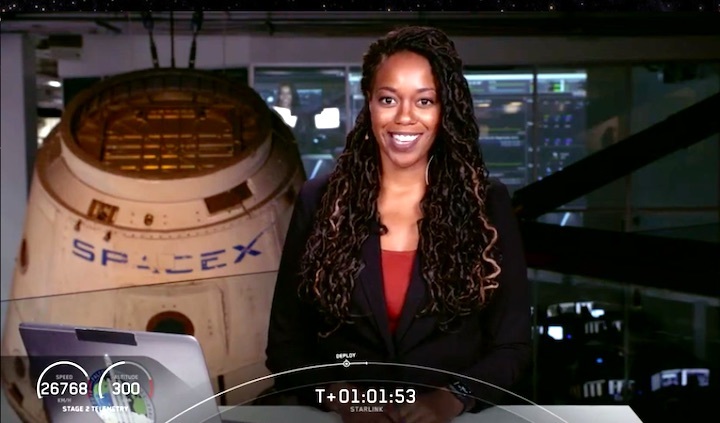 Quelle: SpaceX
3012 Views