Late on Thursday, July 25th, SpaceX launched a test version of its next big rocket from Texas, sending the vehicle hovering in the air for a few seconds before it landed back on the ground. The hardware didn't get very high, but it was the first time the test vehicle flew detached from the ground, powered by SpaceX's next-generation rocket engine.
The vehicle is a test prototype of SpaceX's future, Starship rocket. Starship is the company's most ambitious vehicle concept yet: it's a fully reusable design intended to send cargo and people to deep space destinations like the Moon and Mars. Similar to SpaceX's Falcon 9 rockets, Starship is supposed to land upright — on Earth or on distant worlds — and then be able to take off again.
Starship still has a long way to go before it even gets to space, let alone lands on another planet. First, SpaceX wants to validate the basic design of the vehicle as well as its newly developed main engine, the Raptor. That's what this test was all about. Thanks to a single Raptor engine mounted on its base, the Starship test vehicle briefly flew above SpaceX's facility in Boca Chica, Texas, moved sideways, and then landed upright. These kinds of tests are often referred to as "hops," which is why this test vehicle was dubbed "Starhopper." The whole test took about 15 seconds, but it demonstrated the very basic launch and landing capability that Starship will need in the future.
SpaceX first tried to do the flight on Wednesday, July 24th, but had to abort right after igniting the engine. SpaceX CEO Elon Musk said Starhopper would fly up to 65 feet (20 meters) high during this flight, though he did not confirm if it reached that height once the test was complete. Live feeds of the test showed the Starhopper covered in clouds, making it difficult to see just how high it flew. The Raptor ignition also caused a large fire near the launch site after the test that burned for up to an hour afterward. Musk confirmed that the test was successful, though. The company will try another hop test in a week or two, he says — one that will fly more than 650 feet (200 meters) up.
SpaceX has already ignited a Raptor engine underneath Starhopper a few times before, though the rocket remained tethered to the ground for those tests, so it only rose a few inches. Today marked Starhopper's first free flight, and it came just a week after the vehicle suffered a small failure. Last week, the company ignited the engine underneath the vehicle in preparation for this hop test, and the hardware briefly caught on fire due to a fuel leak. However, the rocket only sustained minimal damage, according to SpaceX CEO Elon Musk. "[B]ig advantage of being made of high strength stainless steel: not bothered by a little heat!" he wrote on Twitter.
SpaceX plans to fly this same vehicle on more hop tests in the months ahead, but the company is already working on scaling things up. SpaceX is currently building two Starship prototypes that are meant to fly much higher than Starhopper — one in Boca Chica and another in Cape Canaveral, Florida. Those vehicles will be outfitted with three Raptor engines, Musk says. He claimed that one of the prototypes will "hopefully" reach an altitude of 12 miles (20 kilometers) in the next few months. Musk has also hinted that he'll give a more in-depth presentation on the Starship design later this month, once the Starship vehicles start flying. The CEO has given two presentations on the vehicle — one in 2016 and one in 2017 — but the design of Starship has evolved in the months since.
Musk recently claimed that the Starship / Super Heavy system could perform its first uncrewed landing on the Moon within the next two years, followed by a crewed landing in four. It's an incredibly ambitious timeline, especially since there's still quite a lot of work to be done. The final Starship design calls for six total Raptor engines — three optimized for working best at sea level and three optimized for working best in the vacuum of space. And the entire spacecraft is supposed to launch on top of a larger rocket booster known as the Super Heavy, which has not been developed yet. Musk is also fairly notorious for giving unrealistic estimates for big projects.
After today's test, SpaceX can boast that its precursor to Starship has finally flown. Now, it just needs to keep flying again and again.
Quelle: The Verge
----
Update: 4.08.2019
.
Report details Starship launch, landing plan at Kennedy Space Center
SpaceX plans to construct launch mount, landing pad for Starship at 39A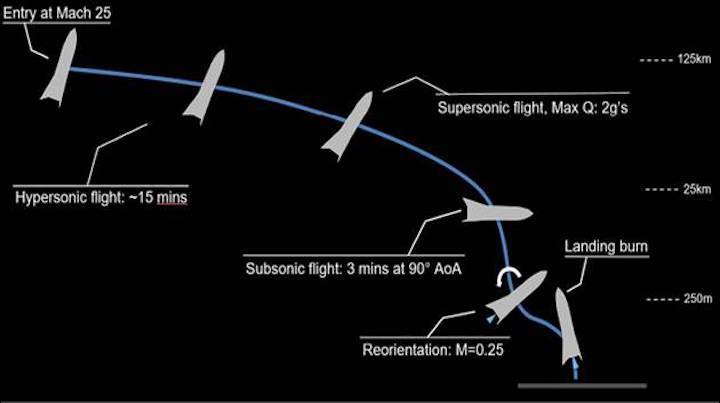 CAPE CANAVERAL, Fla. - An environmental report from SpaceX for NASA details what interplanetary launches could look like from NASA's Kennedy Space Center including where Elon Musk's company plans to land Starship and its mega rocket booster Super Heavy.

SpaceX produced a draft report for NASA to provide a possible action plan to avoid environmental impacts that Starship and Super Heavy booster launches and landings could have on the Space Center, Merritt Island National Wildlife Refuge, Canaveral National Seashore and the greater Space Coast.

Starship is SpaceX's fully reusable spacecraft designed for human and spacecraft launches to the moon and Mars. The 180-foot-tall, 30-foot-wide Starship will launch on a reusable booster called the Super Heavy which is powered by 31 Raptor engines.

For those launches, SpaceX plans build an additional launch mount for Starship/Super Heavy within the Launch Complex 39A at KSC, according to the 250-page action plan. The company currently launches its Falcon 9 and Falcon Heavy rockets from the historic KSC launch site where Saturn V launched Apollo 11 to the moon 50 years ago.
The document also shows SpaceX plans to construct a new landing pad at 39A to support Starship landings. Before a new pad is complete, Starship will land at Landing Zone-1 at Cape Canaveral Air Force Station where SpaceX currently lands its Falcon boosters.
The new landing pad at 39A would be approximately 85 meters in diameter and look similar to the existing landing pads SpaceX uses at Cape Canaveral.
However, land landings of Starship at 39A will require "additional analysis to fully assess the potential impacts to NASA programs, facilities, personnel and operations," according to the report.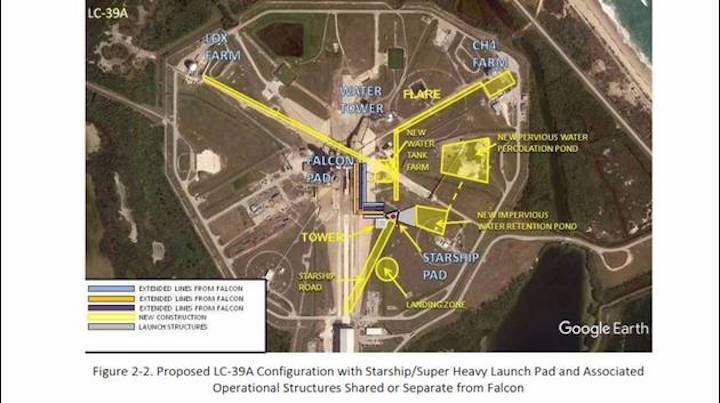 The company considered utilizing Cape Canaveral Air Force Station Space Launch Complex 40 for Starship launches and landings but the infrastructure and size of the facility wouldn't support the operation, according to the report.

SpaceX plans to eventually launch the spaceship about 24 times a year with the first test flight happening no earlier than next year.
The company also has its first paying customer for Starship, Japanese billionaire Yusaku Maezawa will invite eight artists to fly around the moon with him.

Musk said last year the paid moon flight could happen as soon as 2023, after several test flights without crew. However, the SpaceX founder also said he was "pretty not sure" about that timeline, because "things do not go right in reality."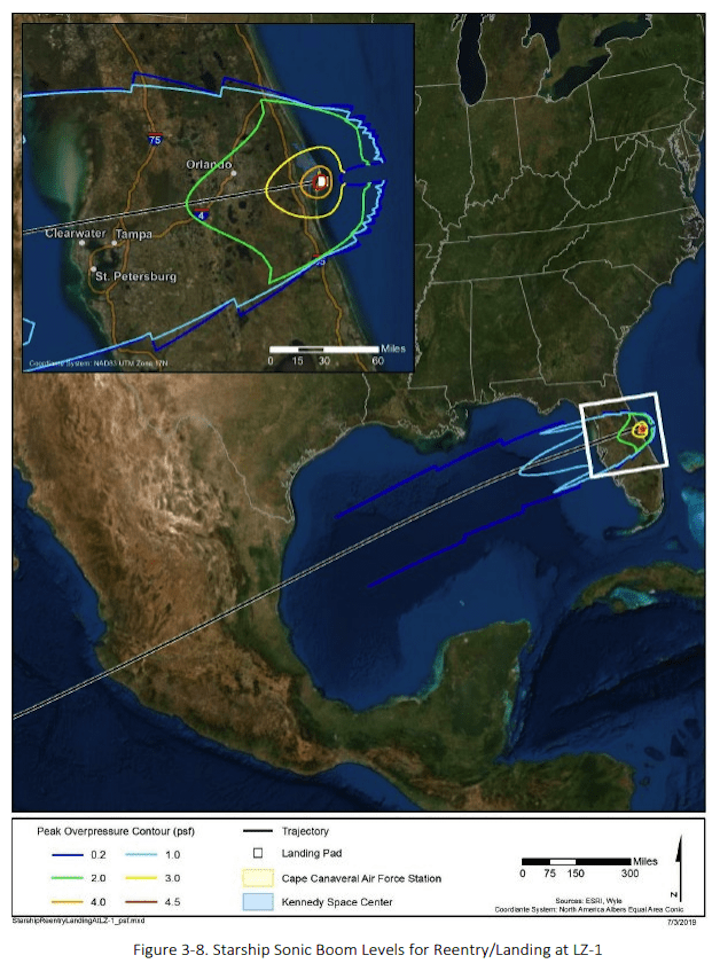 Part of the report provides information on what noise residents can expect when Starship comes back in for landing. Sonic booms will be generated when Starship and Super Heavy travel faster than the speed of sound coming in for landing.

At liftoff, Super Heavy will produce 13.9 million pounds of thrust. Approximately 43 miles above the launch site, Super Heavy's 31 engines would cut off and Starship would separate from the booster.

The Super Heavy booster would come back to land downrange no closer than 20 miles away on a droneship in the Atlantic Ocean. If SpaceX is able to land the booster back on land like it does with Falcon booster currently, then another environmental assessment would need to be developed.

It's unlikely, people on land will hear sonic booms associated with the ocean landings 20 miles out, according to the report.

However, when Starship returns from its mission SpaceX plans to land it Cape Canaveral Air Force Station at landing Zone 1, where SpaceX currently lands its Falcon boosters.
A graphic (featured below) in the report shows what a Starship re-entry and landing would look like.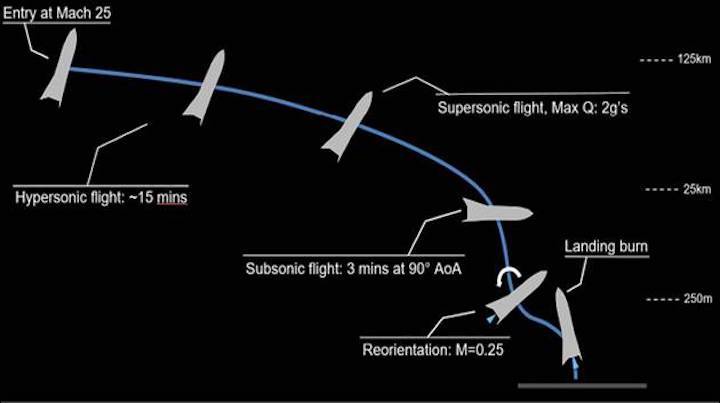 A sonic boom foot print for a Starship landing at LZ-1 shows that residents in the surrounding areas of the landing pad to Florida's West Coast could hear the multiple booms when Starship comes in for landing.
Weather conditions also have an affect on how intense a sonic boom is and how far the sound travels.

The spaceship would also have the option to land on an ocean drone ship no closer than five nautical miles off the Space Coast.

SpaceX said it plans to notify the public through news media and law enforcement prior to a landing that would produce a sonic boom.

Moving a giant spaceship and rocket booster

Currently, Starship prototypes are under construction and being tested at sites in Boca Chica, Texas and in Cocoa. According to the action plan, SpaceX plans to continue to use the sites to manufacture Starship.

Together, the spaceship and booster will stand 400 feet tall.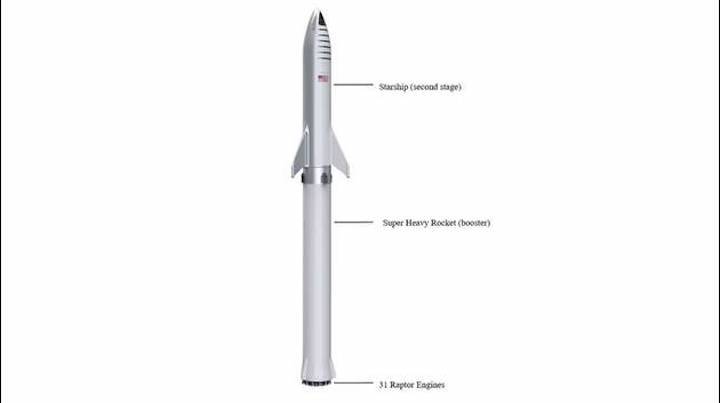 The crawlerway would be used to transport the vehicles to the launch pad, similar to how SpaceX transports its Falcon rockets. A mobile crane would then be used to hoist the spaceship on top of the booster after the booster is mounted to the launch tower.

SpaceX will utilize the same area of the Turn Basin NASA used during the Space Shuttle Program to offload hardware just southeast of the Vehicle Assembly Building.
Quelle: Orlando.com
----
Update: 13.08.2019
.
SpaceX's Starship Prototype Could Make Its Biggest Hop Yet This Weekend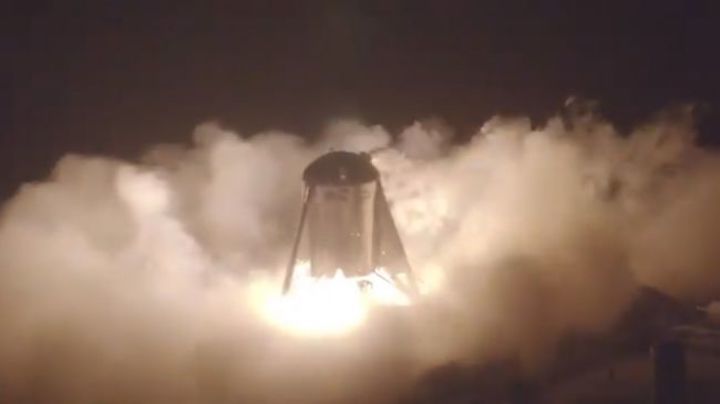 SpaceX's Starhopper will make its biggest-ever leap soon, if all goes according to plan.
The private spaceflight company aims to get Starhopper, an early test prototype of the company's Mars-colonizing Starship vehicle, about 650 feet (200 meters) off the ground this weekend, SpaceX founder and CEO Elon Musk said via Twitter on Friday (Aug. 9).
"Starhopper 200m on Aug 16-18? ;)" Twitter user Reagan Beck asked the billionaire entrepreneur Friday. "Just spoke with FAA, so hopefully yes," Musk responded, referring to the U.S. Federal Aviation Administration, which grants licenses for test flights and other launches.
Starhopper is designed to help pave the way for the 100-passenger Starship and Super Heavy, the giant rocket that will loft the spaceship off Earth's surface. Starship will feature six of SpaceX's next-generation Raptor engines, and Super Heavy will be powered by 35 of them, Musk has said. (These numbers may change, however; Musk plans to give a Starship-Super Heavy design update on Aug. 24.)
Starhopper, by contrast, has just one Raptor. The stubby prototype has flown three times to date. It made two brief hops in early April of this year, staying tied to the ground for safety's sake both times. Starhopper also lifted off on July 25, on its first untethered test flight, which had a targeted altitude of about 65 feet (20 m). All three hops occurred at SpaceX's facility in Boca Chica, near Brownsville, Texas.
SpaceX is also building two orbital prototypes of Starship — one at Boca Chica, known as Mk1, and one on Florida's Space Coast, called Mk2. The goal is to improve the final Starship design via a little intracompany competition, Musk has said. The Mk1 and Mk2 prototypes will each have at least three Raptor engines.
If everything goes well with the test campaign, Starship and Super Heavy could be ready to fly as early as 2021, SpaceX representatives have said. The first few missions will probably loft commercial communications satellites, but passenger flights could follow in short order. Japanese billionaire Yusaku Maezawa has booked a trip around the moon for himself and a handful of artists; that flight is currently targeted for 2023.
Musk made some other news via Twitter on Friday as well. He confirmed that SpaceX now has a second net-equipped boat and will attempt to snag both halves of the company's falling payload fairings during orbital launches.
Payload fairings are the nose cones that surround and protect satellites during launch. Each one SpaceX uses costs about $6 million, so there's a strong incentive to refly each one. And catching fairings before they hit corrosive seawater makes reuse more feasible, Musk has said.
The first boat, named GO Ms. Tree, has caught falling fairing halves twice over the past month and a half. The new one, GO Ms. Chief, will try to add to these successes.
Quelle: SC
----
Update: 17.08.2019
.
SpaceX's first Super Heavy hardware is already being built at Florida Starship campus
Based on some basic analysis of recent photos of SpaceX's East Coast Starship facility, situated in Cocoa, Florida, SpaceX has almost certainly begun fabricating and staging hardware that will eventually become part of the company's first Super Heavy booster prototype.

This is by no means surprising but it does confirm the reasonable assumption that SpaceX is already working hard to ensure that the first Super Heavy booster(s) can be assembled as quickly as possible. Additionally, SpaceX appears to have started clearing brush in the process of preparing to transport the Florida orbital Starship prototype ("Mk2") to SpaceX's Pad 39A launch facilities, dozens of miles away.
COUNTING RINGS
The aforementioned "basic analysis" is more or less comprised of looking for and counting the massive steel rings that SpaceX has decided to build its Starships (and Super Heavy boosters) out of. By all appearances, SpaceX is doing nearly everything short of milling and preparing the raw materials (steel) internally. In Florida and Texas, giant rolls of stainless steel are delivered to the worksite by semi-truck, where SpaceX technicians prepare the rolls for sectioning (likely with a plasma torch or laser) and any necessary machining.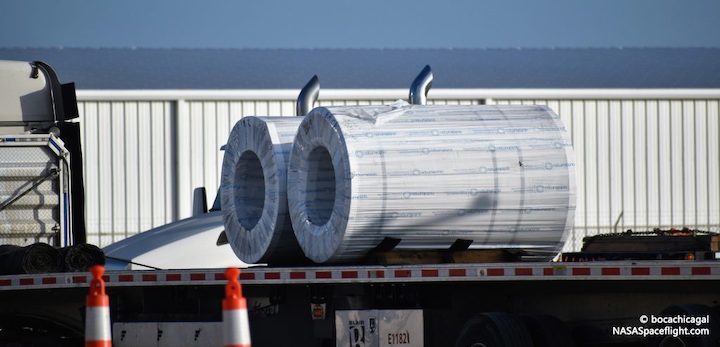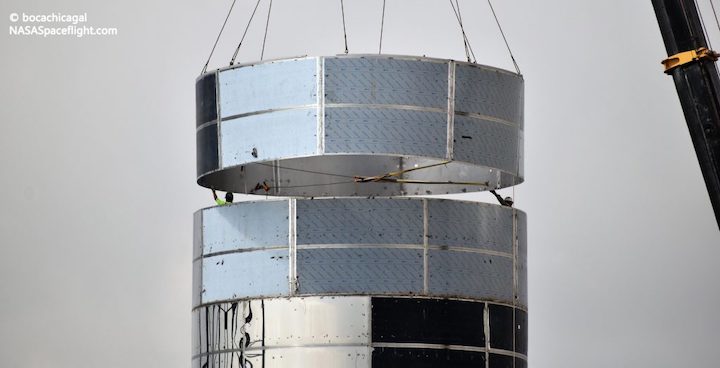 Intriguingly, SpaceX's Texas and Florida teams are using different sizes of sheets – Florida has gone for taller segments while Texas uses rings that are a fair bit shorter ring, welding two rings together before installing each section on Starship. Florida's rings are roughly 1.8m (6 ft; +/- 5%) tall.

In August alone, Cocoa has effectively doubled the height of the barrel section of its Mk2 orbital Starship prototype, jumping from 7-8 to 15 steel rings. The barrel section is now ~28m (90 ft) tall and Starship Mk2's pointed nose section is still approximately 20-22m (65-70 ft) tall, adding up to a stacked height of 48-50m, approximately 10% shy of its final 55m (180 ft) height. Assuming that SpaceX hasn't stretched Starship further since CEO Elon Musk's September 2018 update, this leaves Starship Mk2 around 2-4 rings and a small nose cap shy of its full height (excluding legs).
SUPER HEAVY RISING
This brings us to even more recent views of SpaceX's Cocoa Starship facility, taken on August 15th by local pilot Brian (Twitter: @flying_briann). A video from the flight offers an uninterrupted ~360-degree overview of the site, including glimpses of a surprising number of staged steel rings that have completed initial welding and are waiting for stacking and integration.
Two photos taken a bit less than two weeks ago provide a decent overview of SpaceX's Cocoa facility. Of note, six staged rings are visible, as well as four additional rings in the form of two stacked sections of two rings. Those latter two sections (four rings) have since been stacked on Starship's tank section, bringing it to its current 15-ring, ~28m height.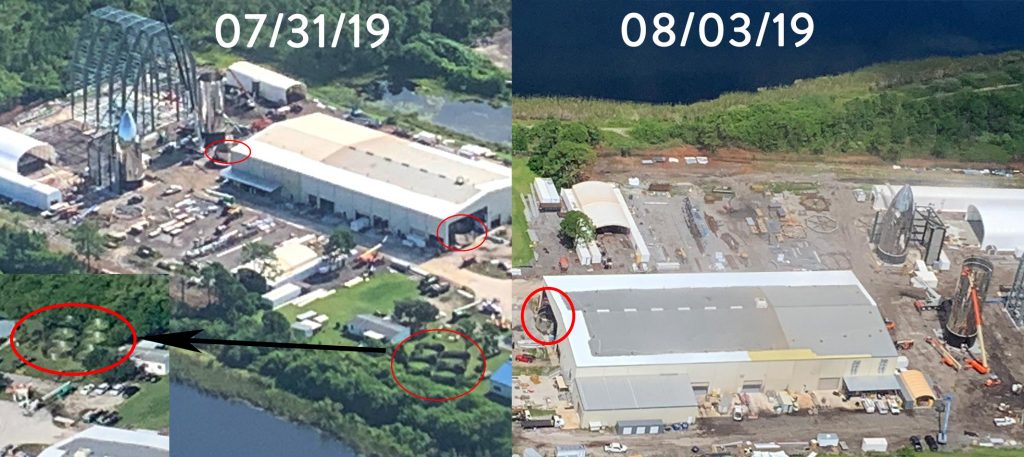 Despite the fact that Starship Mk2 appears to be just a few rings away from its final height, Brian's August 15th overview revealed that no fewer than 11 additional rings (18m, 60 ft) are either staged or in the final stages of welding. Even if SpaceX has significantly stretched Starship over the last 10 or so months of design iteration, it seems exceedingly unlikely that Starship has grown by a full 10-12m (~20%).

Rather, these rings are probably the beginnings of SpaceX's first Super Heavy booster prototype, a necessity before Starship can begin crucial orbital flight tests. Per the vehicle's official 2018 specifications, Super Heavy will stand at least 63m (205 ft) tall before accounting for its landing legs/fins, requiring around 35 steel rings to complete its propellant tanks, interstage, and thrust structure.
According to CEO Elon Musk, Super Heavy will likely perform its first flight tests with approximately 20 Raptor engines, eventually arriving at a full 31-37 engines depending on the configuration. Musk also believes that Starship could be ready for its first orbital flight tests as early as December 2019, implying that SpaceX's first Super Heavy prototype(s) could be fully assembled as few as 4-5 months from now.

In reality, 2020 is far more likely for both milestones, but Musk is not exactly well-known for his conservative schedule estimates.
Quelle: TESLARATI
----
Update: 24.08.2019
.
The SpaceX 'Starhopper' is ready to make its biggest leap
After delays, the prototype version of Elon Musk's Mars rocket could soon get the go-ahead to rise up.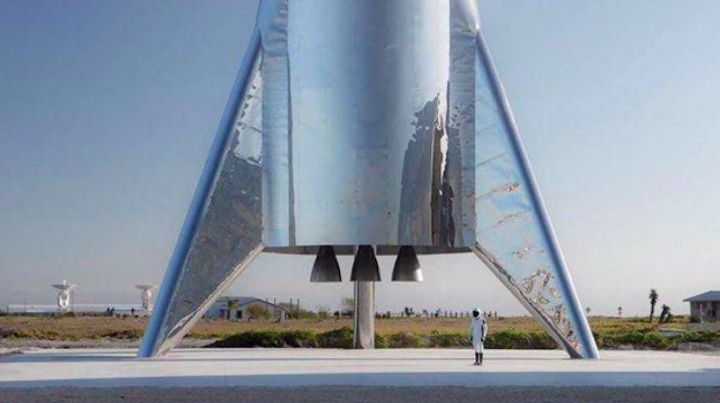 It looks like Elon Musk's Starship prototype, dubbed "Starhopper," might make its highest hop yet as soon as Monday.
SpaceX had planned to test the single-engine version of its eventual Mars vehicle with its second short flight last week, but the launch was abruptly canceled. Musk later tweeted that the Federal Aviation Administration required a bit more "hazard analysis" and Starhopper "should be clear to fly soon."
Now the FAA has posted a new airspace closure for the area around the SpaceX test facility in Boca Chica, Texas, beginning Monday afternoon and running through Wednesday night. However, the agency has not yet issued an updated permit that would give Starhopper the green light to fly to new heights: it's currently permitted to fly no higher than 25 meters above ground level (82 feet).
Elon Musk shows off the shiny SpaceX Starship
If a new permit is issued, we could finally see Starhopper make some serious maneuvers. Its last test hop was a short, nighttime 20-meter (66 feet) liftoff, hover and landing that was mostly obscured from view by fire, smoke and darkness.
This time the hope is that Starhopper will reach an altitude of around 650 feet (198 meters) before returning to the ground.
If this next hop is successful, Musk has said, he'll follow it with a public presentation "hopefully mid September," updating us on the design and vision for Starship.
In previous presentations from the past few years, Musk has outlined his plans to use his next-generation heavy launcher (also previously known as BFR or Big Falcon Rocket) to help build a colony on Mars, send a group of artists on a trip around the moon and even provide transcontinental travel on Earth.
But before any of that can happen, Starhopper needs to show it has real hopping chops, hopefully soon.
Originally published Aug. 22, 11:05 a.m. PT.
Update, 6:30 p.m.: Adds information on the status of SpaceX's permit to fly Starhopper from the FAA.
Quelle: cnet