Two NASA astronauts stepped outside the International Space StationWednesday (Aug. 21) to install a new docking port for incoming commercial crew spacecraft during the fifth spacewalk from the station this year.
Nick Hague and Andrew Morgan began their 6 hour and 32 minute spacewalk at 8:27 a.m. EDT (12:27 GMT), exiting from the U.S.-built Quest airlock after switching their spacesuits over to battery power.
The pair installed the International Docking Adapter-3 (IDA-3) to the space-facing side of the station's Harmony connecting module. IDA-3 will serve as a second docking port at the space station for incoming commercial spacecraft built by Boeing and SpaceX. NASA has tapped Boeing's Starliner capsule and SpaceX's Crew Dragon spacecraft to ferry astronauts to and from the space station in the future.
The spacewalk marked Morgan's first time venturing outside the space station, while Hague has already performed two spacewalks earlier this year to assist in replacing some of the station's solar array batteries. During Wednesday's excursion, Hague was the first one out, followed by Morgan a few minutes later as the station soared over the Atlantic Ocean.
Hague's mother was watching the action from Earth at NASA's Mission Control center at the Johnson Space Center in Houston. She apparently cooked up some special treats for the flight controllers on the ground who assisted the astronauts on their spacewalk.
"I heard she was busy in the kitchen yesterday," Hague radioed Mission Control while routing cables outside the station. "I'm glad you guys enjoyed, and I'm jealous." NASA did not disclose in spacewalk commentary what dishes Hague's mother prepared.
Hague and Morgan expected to have some difficulty in wrangling the docking adapters cables, which have been baking in the sun on the station's exterior since their delivery five years ago. But those fears, it seemed, were unfounded. The astronauts installed the cables with ease, even finishing ahead of schedule.
The only trouble the spacewalkers experienced occurred as they stowed a bulky thermal cover for their tools. As spacecraft communicator Mike Barratt, also an astronaut, in Mission Control put it: "It's like beating a big hostile marshmallow."
After installing the docking port, Hague and Morgan went on to install two vital reflectors on the IDA-3, which will serve as a docking aid for visiting spacecraft, providing visual cues for those incoming vehicles.
Hague and Morgan also got an extra hand from Canada's Dextre, a two-armed robot that was launched in 2008.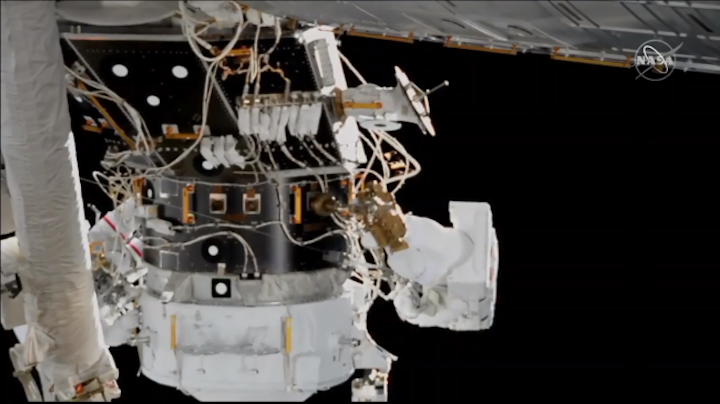 In addition to Hague and Morgan, the station's six-person Expedition 60 crew includes NASA astronaut Christina Koch, Russian cosmonauts Alexey Ovchinin and Alexander Skvortsov and European Space Agency astronaut Luca Parmitano. Ovchinin commands the Expedition 60 mission.
The crew is also tending to scientific research on board such as rodent experiments and stem cell differentiation. NASA's plan to use commercial spacecraft such as SpaceX's Crew Dragon and Boeing's Starliner will bolster scientific research and technology development to advance the agency's future missions to the moon and Mars, NASA officials said in a in a statement.
Wednesday's spacewalk brings Hague's total time outside the space station to 19 hours and 59 minutes across three spacewalks. Morgan ended the day with 6 hours and 32 minutes of spacewalking time as it was his career first.
"Welcome to the club, you did a brilliant job," Barratt congratulated Morgan as he stepped back into the station.
Morgan apparently enjoyed his first walk in space.
"It's a special thing we get to do, and it's an honor to be part of such a stellar team," Morgan said.
Quelle: SC
+++
Spacewalkers Install IDA-3 for SpaceX & Boeing; ISS Ready for Commercial Crews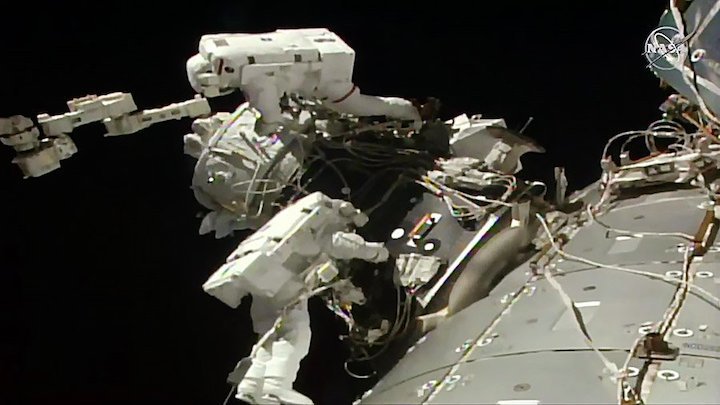 Veteran spacewalker Nick Hague and recently-arrived Expedition 60 crewmate Drew Morgan ventured outside the International Space Station (ISS) earlier today (Wednesday) to cap off preparations for the first piloted Commercial Crew missions. The duo spent six hours and 32 minutes outside the orbital outpost, installing the second International Docking Adapter (IDA-3) onto Pressurized Mating Adapter (PMA)-3, which sits atop the space-facing (or "zenith") interface of the Harmony node.
In doing so, the station now boasts primary and backup docking ports for the Commercial Crew vehicles—SpaceX's Crew Dragon and Boeing's CST-100 Starliner—both of which are tentatively slated to undertake their maiden crewed flights before year's end.
Hague, who has been in space since March, already had two spacewalks and almost 13.5 hours of time spent working outside the ISS in a pressurized suit, whilst Morgan—who launched last month on the 50th anniversary of the Apollo 11 lunar landing—was set to perform his first session of Extravehicular Activity (EVA). Officially designated "U.S. EVA-55", today was the 55th spacewalk executed by resident ISS crew members, in the absence of the Space Shuttle, and in U.S.-made suits, since February 2002. In readiness for the spacewalk, Hague, Morgan and Expedition 60 crewmate Christina Koch have spent the last several days reviewing procedures, verifying the sizing of the suits, configuring tools and tethers and printing out cuff checklists.
The main objective for U.S. EVA-55—the installation of IDA-3—officially got underway last month, when the 1,150-pound (520 kg), Boeing-built docking port was launched aboard SpaceX's CRS-18 Dragon. After berthing at the station, it remained snugly secured inside Dragon's trunk for several weeks, until it was extracted overnight Monday, 19 August, by Robotics (ROBO) flight controllers at NASA's Johnson Space Center (JSC) in Houston, Texas. Confirmation of the successful unberthing of IDA-3 was tweeted late Monday by ISS Robotics Flight Controller Kam Bahrami. Held securely by the 57.7-foot-long (17.6-meter) Canadarm2 robotic arm, IDA-3 was moved from Dragon's trunk on the Earth-facing (or "nadir") side of the station to the top of PMA-3.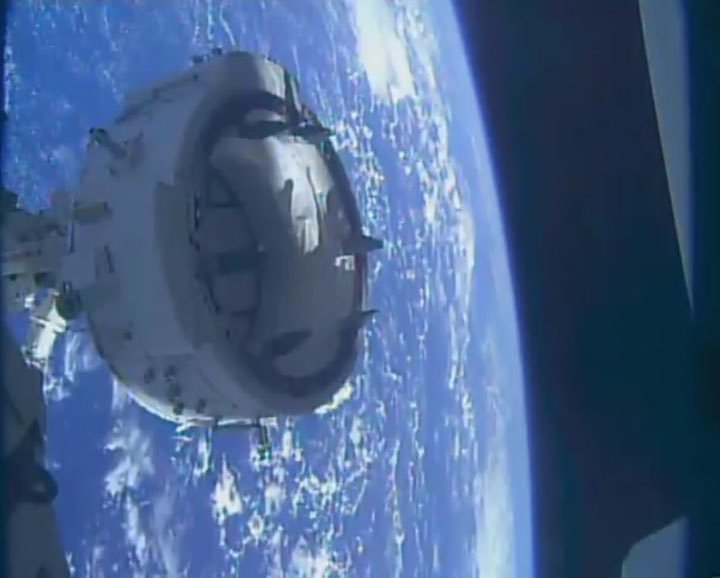 As outlined previously by AmericaSpace, IDA-3 is actually the second of two docking ports—primary and backup—to be installed onto the station's older, Space Shuttle-specification PMAs to support the interfaces of the Commercial Crew vehicles. However, IDA-1 was lost in a launch failure in June 2015 and when IDA-2 flew in July 2016 it became the "new" primary port. IDA-2 was installed onto PMA-2 at the forward end of Harmony during an EVA by Expedition 48 spacewalkers Jeff Williams and Kate Rubins in August 2016 and successfully supported SpaceX's unpiloted Demo-1 flight of the Crew Dragon in March 2019.
IDA-3 was somewhat later coming to flight, because it needed to be assembled from around 300 ground spares (representing 70 percent of the whole) and was originally meant to fly in the spring or fall of 2017. However, delays to the Commercial Crew Program led several key ISS science payloads—including the Global Ecosystem Dynamics Investigation lidar (GEDI)—to take priority. In readiness for its arrival, PMA-3 itself was relocated from its berth on the Tranquility node to the zenith face of Harmony during a robotics operation in March 2017 and IDA-3 finally rose to orbit late last month.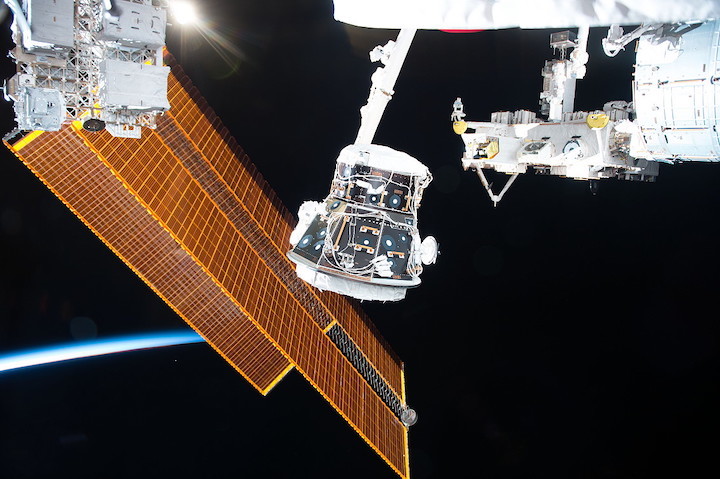 EVA operations in support of Commercial Crew have been ongoing for several years. In early 2015, Expedition 42 spacewalkers Barry "Butch" Wilmore and Terry Virts began the laborious process of installing and routing 400 feet (122 meters) of power and data cables for the Common Communications for Visiting Vehicles (C2V2) architecture. Over the course of a series of subsequent EVAs, spacewalkers Scott Kelly and Kjell Lindgren and Tim Kopra and Tim Peake readied cables for the arrival of the IDAs and the relocation of PMA-3 from Tranquility over to Harmony. Following the successful arrival and installation of IDA-2 in the late summer of 2016, PMA-3 was relocated in March 2017, with Expedition 50 spacewalkers Shane Kimbrough, Thomas Pesquet and Peggy Whitson supporting the physical disconnection and reconnection of power and data cables. Last year, ISS residents Drew Feustel and Ricky Arnold wrapped up the most recent C2V2 installation tasks. And in March 2019, Demo-1 saw the triumphant maiden voyage to the station by a Crew Dragon in an unpiloted capacity.
The Expedition 60 crew awakened at 2 a.m. EDT Wednesday morning and pressed directly into EVA preparations in the station's Quest airlock. Assisting Hague (EV1) and Morgan (EV2) were crewmates Christina Koch and Luca Parmitano. (Interestingly, Koch served as Capcom in Mission Control during the IDA-2 installation in August 2016.) The two spacewalkers-to-be spent about an hour "pre-breathing" on masks and the airlock's inner "equipment lock" was depressed from its ambient 14.7 psi to 10.2 psi for suit checks and purging. It was then repressed back up to 14.7 psi, enabling the crew to push into a nominal pre-breathing regimen and 50 minutes of In-Suit Light Exercise (ISLE).
Just after 7 a.m. EST, Koch and Parmitano prepared to transfer the spacewalkers from the equipment lock into the outer "crew lock", when a glitch arose with their communications headgear. Initial troubleshooting between Koch and Mission Control led to a consensus that—whilst it might pose an annoyance during the EVA—the preparations to depress the airlock could go ahead. Hatch closure between the equipment and crew locks was complete by 7:48 a.m. Depressurization occurred in a two-step fashion, punctuated by leak checks, before reaching a condition of near-vacuum at 0.5 psi. Hague and Morgan transferred their suits' life-support utilities onto internal battery power and U.S. EVA-55 officially got underway at 8:27 a.m. EDT as the space station passed 264 miles (425 km) above the Atlantic Ocean.
Today's activities were led by Flight Director Scott Stoever and EVA Capcom Mike Barrett, the latter of whom chalked up a spacewalk during his own long-duration mission to the space station back in 2009. Hague was first out of Quest and was passed a crew lock bag by Morgan, who emerged shortly thereafter. The two men performed "buddy checks" on each other's suits, tethers and tools, before Hague picked up an Articulating Portable Foot Restraint (APFR) and commenced a swift translation along the starboard face of the U.S. Destiny lab to reach PMA-3. Once there, he set up his APFR and dropped off his crew lock bag to begin work. Morgan translated along the station's main truss and joined him shortly thereafter to set up his own APFR on the opposing face of PMA-3.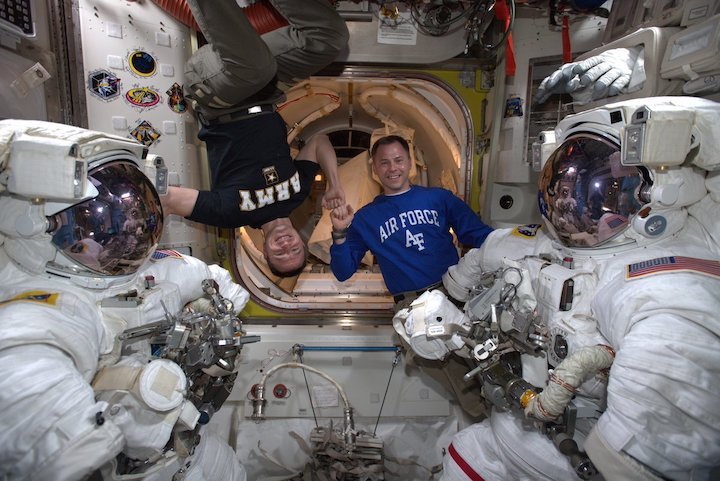 The duo attached tethers between IDA-2 and PMA-3 and Hague set to work installing a Portable Wireless Camera onto PMA-2, which resides on the forward "end" of Harmony, in order to provide a clear view of their work site. The camera was in place by 9:15 a.m., less than an hour into the EVA. For the first round of cable-routing, Hague occupied the APFR and Morgan handled the routing of a pair of cables which provide Ready-to-Hook sensor data. This enabled Mission Control to ensure that a "flush mate" condition existed between PMA-3 and IDA-3. For the second round of cable-routing, the spacewalkers switched roles, with Morgan in his APFR and Hague free-floating, to install power and data lines for driving the hooks between the PMA and the new docking port. Additional cabling provided heating to IDA-3 and activated the docking port's zenith portion, making it accessible to Commercial Crew vehicles.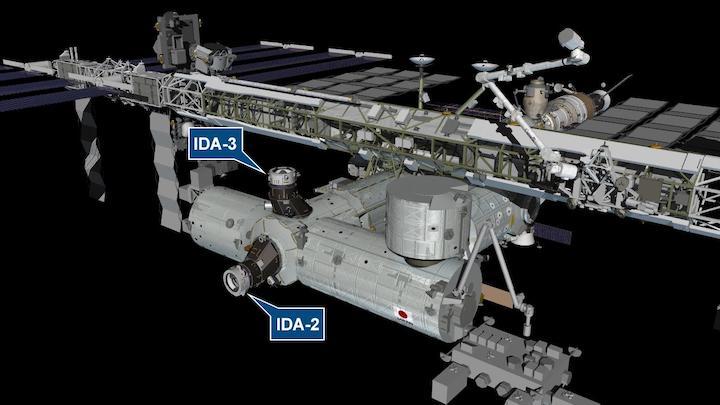 It was noted in last week's U.S. EVA-55 press conference that the cables—most of which were set outside the station almost five years ago—could prove stiff and difficult to route, having been subjected to long periods of extreme solar heating and the strong ultraviolet environment of low-Earth orbit. As it turned out, Hague and Morgan noted "flaking" in some sections of the cabling.
Closing out their work, the astronauts took photographs and Hague retrieved the Portable Wireless Camera and put it back into his crew lock bag for transfer back to the airlock, before tending to get-aheads by installing a truss jumper into the S-0 truss and External Wireless Communications ethernet cables. For his part, Morgan lingered at the work site to install some sections of Multi-Layered Insulation (MLI) and a pair of hemi-reflector docking aids and remove the MLI cover on the top of IDA-3 to expose the Passive Soft Capture System.
All told, U.S. EVA-55 ended at 2:59 p.m. EDT, after six hours and 32 minutes, concluding the third U.S. spacewalk of 2019. Coming up in the fall are a rapid-fire series of EVAs to continue the replacement of outdated nickel-hydrogen batteries with lithium-ion batteries on the station's truss and long-awaited repair work on the Alpha Magnetic Spectrometer (AMS)-2.
Quelle: AS