10.08.2019
Pearl White cubesats mission set to launch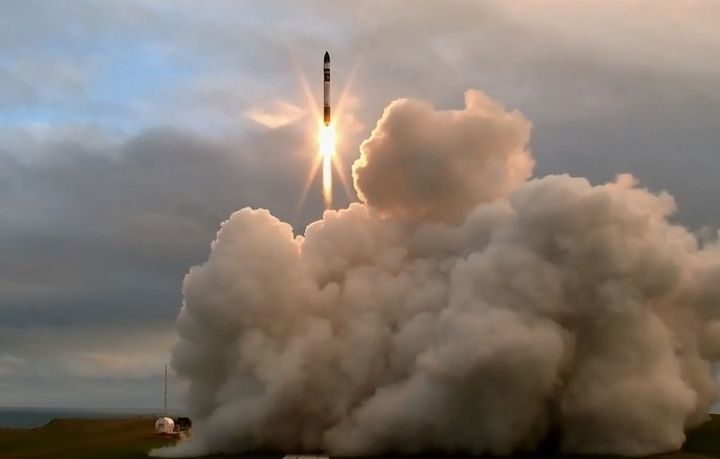 MAHIA, New Zealand --
Pearl White, an Air Force Space Command demonstration program, is set to launch no earlier than August 16th as part of a rideshare aboard a Rocket Lab Electron launch vehicle in summer 2019. The launch will take place at the Rocket Lab Launch Complex-1 near Mahia, New Zealand.
The program goal is to design, develop, launch and operate two 6U cubesat experimental spacecraft as an on-orbit testbed for emerging technologies in 2019.
The demonstration will test new technologies including propulsion, power, communications, and drag capabilities for potential applications on future spacecraft. The spacecraft will be placed in Low Earth Orbit (LEO) with a notional altitude of ~540 km and an inclination of ~45 degrees.
The two cubesats were built by Tiger Innovations Inc., which is located in Herndon, Virginia, and are designed for a one-year lifetime. Tiger Innovations Inc. will operate the spacecraft for the life of the program under the direction and oversight of AFSPC.
Quelle: USAF
----
Update: 17.08.2019
.
Rocket Lab goes dark
Attempts to launch Rocket Lab's eighth rocket mission will start on Saturday, the United States-based company says.
However, people wanting to watch will have to stay up late.
A two-week launch window will open from 12.57am and will last for one hour and 40 minutes each day.
"The launch window remains open for 14 days. Subsequent launch attempts will move earlier by approximately 20 to 30 minutes per day," a company spokeswoman said.
The 57 minutes past midnight launch time would make it the "darkest" launch to date. A previous launch in May was at 6pm and was clearly visible from parts of Gisborne.
"The unique requirements for this mission's launch window are to allow for a customer on this flight, BlackSky, to align with a satellite they previously launched with Rocket Lab and continue to form their planned constellation of small satellites for Earth-monitoring," the Rocket Lab spokeswoman said.
"The usual air, marine, and road safety requirements apply to this flight, and all payloads must be approved by the New Zealand Space Agency prior to launch from Rocket Lab's Launch Complex 1 facility at Onenui Station.
The mission, named Look Ma, No Hands, will launch satellites destined to begin a new constellation for UNSEENLABS, as well as more rideshare payloads for Spaceflight, which will consist of a spacecraft for BlackSky and the United States Air Force Space Command.
A live webcast will be available approximately 15 minutes before to the target T-0 launch time at www.rocketlabusa.com/live-stream.
Quelle: The Gisborne Herald
----
Update: 20.08.2019
.
Rocket Lab Electron Booster Launches 4 Satellites Into Orbit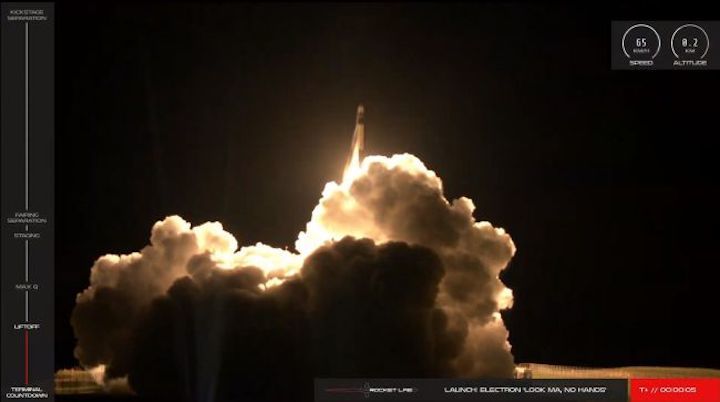 The private spaceflight company Rocket Lab launched four new satellites into orbit in a dazzling predawn liftoff for the U.S Air Force Space Command and companies in Seattle and France on Monday (Aug. 19).
Rocket Lab's two-stage Electron booster soared into space at 8:12 a.m. EDT (1212 GMT) from the company's Māhia Peninsula launch site in New Zealand, where the local time was 12:12 a.m. Tuesday. The launch was delayed three days due to unacceptably high winds at the launchpad.
Everything went smoothly with the launch itself and the rocket deployed the four satellites before 9:15 a.m. EDT, Rocket Lab confirmed in a tweet.
Monday's launch, nicknamed "Look Ma, No Hands," carries four very different satellites into orbit. One cubesat managed by French company UnseenLabs is the first of a planned constellation of small maritime surveillance satellites for ocean monitoring.
The remaining satellites' flight was arranged by the rideshare provider Spaceflight. Those payloads include an Earth imaging satellite for the Seattle-based BlackSky's constellation for intelligence purposes, and two experimental technology demonstration satellites for the United States Air Force Command.
The Air Force satellites are "designed to test new technologies including propulsion, power, communications, and drag capabilities for potential applications on future spacecraft," Rocket Lab said in a statement.
"Look Ma, No Hands" is the eight Electron launch for Rocket Lab since 2017.
Monday's launch also marked Rocket Lab's second flight of an Electron with a new data recorder to monitor the first stage during its flight. This will further the company's goal to snatch returning rockets out of the sky using a helicopter.
Rocket Lab's recovery plan for rockets is much different than the typical approach of SpaceX or Blue Origin, as their rockets or boosters land vertically on drone ships or on the ground.
The company first began flying the data recorder on Electrons during its June 29 launch, nicknamed "Make It Rain," to "inform future recovery efforts," Rocket Lab said in a statement earlier in August.
Quelle: SC
3342 Views