10.04.2019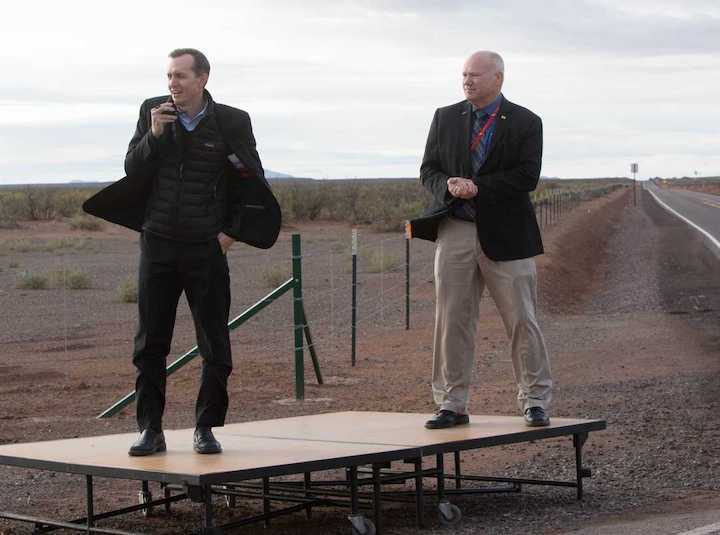 Josh Bachman/Sun-News
LAS CRUCES — Weeks before the second Las Cruces Space Festival kicked off with an open house at New Mexico's Spaceport America Sunday, anchor tenant Virgin Galactic inked a deal with the United Arab Emirates space agency in March covering operations at a spaceport planned for Abu Dhabi.
Billionaire Richard Branson founded space flight company Virgin Galactic in 2004 and cofounded the Spaceship Company the following year to manufacture and launch commercial spacecraft. UAE joint stock company Mubadala Investment Company has invested in both companies.
Last year, Virgin Galactic entered an agreement with two Italian companies over a future spaceport in Italy, and said it was ramping up construction of support infrastructure at New Mexico's Spaceport America in preparation for commercial flights.
Virgin Galactic achieved successful test flights in December and February, the latter with a test passenger, as the company progresses toward offering suborbital flights to regular passengers who purchase a ticket.
The company says more than 600 people in several countries have paid as much as $250,000 to join what spokeswoman Aleanna Crane calls the "community of future astronauts."
MORE: Virgin Galactic: Rocket reaches space again in test flight
"There's been huge progress over the last six months," Crane said during a meeting with the Sun-News last week.
Besides the test flights and continuing work on the design of the spacecraft, including the passenger cabin, Crane said the Spaceship Company is gearing up to produce a fleet of ships at the company's facility in Mojave, California.
Meanwhile, the agreement with the UAE Space Agency is a step toward developing an infrastructure for commercial space flight both technologically and as a business model.
Does this mean Spaceport America, substantially completed in 2012 with $220 million in public money, is facing competition from other prospective spaceports? Not really, the company says.
"You need a network of spaceports" for point-to-point travel, said Jason Lazich, Virgin Galactic's director of infrastructure and ground services.
MORE: Virgin Galactic lays off dozens of employees as it prepares for commercial flights
Under the March agreement, according to a statement from the UAE Space Agency, Virgin Galactic will bring a SpaceShipTwo craft and the aircraft from which it launches in mid-air to Abu Dhabi, and collaborate on plans for operations at Al Ain airport. The plan also includes a microgravity research center in the UAE.
Crane said the company was confident that 2019 is "the year of space," with passenger flights leaving from New Mexico the next major step in a race to build a commercial space flight industry.
Yet it remains to be seen what that industry will look like with respect to logistics or legalities such as customs enforcement and international trade regulations.
"At some point, somebody in southern Italy is going to want Hatch chiles," Lazich said.
Quelle: Las Cruces, Sun News
3078 Views