8.04.2019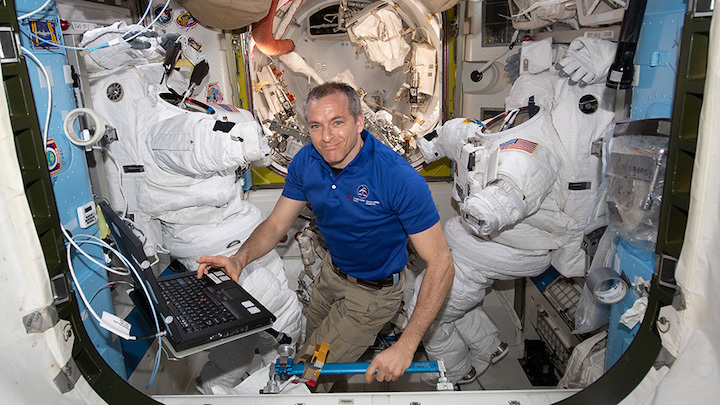 The Expedition 59 crew is going into the weekend preparing for another spacewalk on Monday. The International Space Stationresidents also continue microgravity research as they wait for two U.S. cargo ships to arrive before the end of the month.
Astronauts Anne McClain and David Saint-Jacques are getting their tools ready for another power upgrades spacewalk and will wrap up their final procedures review on Sunday. The spacewalkers will set their spacesuits to battery power around 8:05 a.m. EDT Monday signifying the start of their spacewalk and exit the space station's Quest airlock.
The duo will work outside for about six-and-a-half hours installing truss jumpers to provide a redundant power source to the Canadarm2 robotic arm. McClain and Saint-Jacques will also install cables to update the station's External Wireless Communications system. NASA TV starts its live coverage at 6:30 a.m. Monday.
Russia's Progress 72 (72P) resupply ship delivered over 3.7 tons of food, fuel and supplies after docking to the Pirs docking compartmentThursday morning. Next up is Northrop Grumman's Cygnus space freighter when it launches from Virginia on April 17 on a two-day ride to the station's Unity module. SpaceX follows in late April when its Dragon cargo craft blasts off from Florida on a two-day trip to the orbital lab's Harmony module.
Virtual reality filming and space research continued full pace inside the orbital lab today. Flight Engineer Christina Koch first strapped herself into an exercise bike to measure her aerobic capacity then set up a virtual reality camera inside the Unity module today. Nick Hague of NASA then recorded himself describing his space experiences for a short immersive, cinematic film.
Cosmonauts Oleg Kononenko and Alexey Ovchinin unloaded the new 72P and worked on an array of life science experiments in the orbital lab's Russian segment. The duo photographed red blood samples and microbes to help doctors keep long-term crews healthy in space.
+++
Monday's Spacewalk Will Be Broadcast Live on NASA TV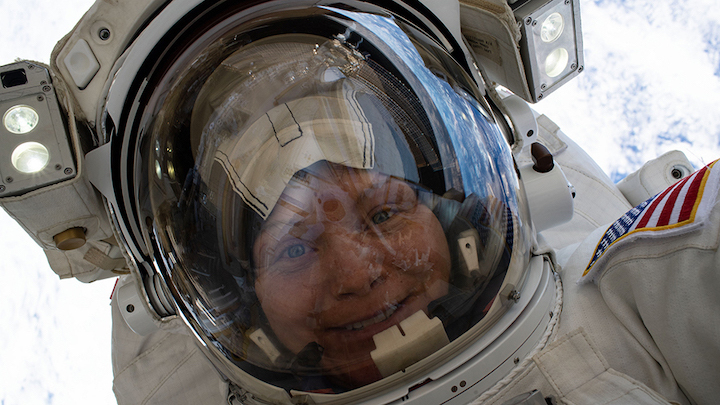 Expedition 59 Flight Engineers Anne McClain of NASA and David Saint-Jacques of the Canadian Space Agency are scheduled to conduct another spacewalk Monday, April 8, to establish a redundant path of power to the Canadian-built robotic arm, known as Canadarm2, and install cables to provide for more expansive wireless communications coverage outside the orbital complex, as well as for enhanced hardwired computer network capability.
Watch the spacewalk on NASA TV and on the agency's website. Live coverage of the spacewalk will begin at 6:30 a.m., and is expected to last about 6.5 hours. The spacewalk is set to start at 8:05 a.m.
This will be the 216th spacewalk in support of space station assembly and maintenance. McClain will be designated extravehicular crew member 1 (EV 1), wearing the suit with red stripes. Saint-Jacques will be designated extravehicular crew member 2 (EV 2), wearing the suit with no stripes.
This is the third spacewalk in under a month on the space station. The first two spacewalks installed powerful lithium-ion batteries for one pair of the station's solar arrays. On March 22, the first spacewalk in the series was completed by McClain and fellow NASA astronaut Nick Hague. On March 29, the second spacewalk was completed by Hague and NASA astronaut Christina Koch.
The spacewalking work continues the overall upgrade of the station's power system that began with similar battery replacement during spacewalks in January 2017.
Quelle: NASA
+++
Nick Hague
What does a spacewalk feel like? It's tough work! It's the equivalent of running a marathon – you're in a spacesuit for nearly 12 hours straight with only 32 ounces of water. Watch @AstroAnnimal & @Astro_DavidS perform power upgrades to station tomorrow at 6:30 a.m. on @NASA TV: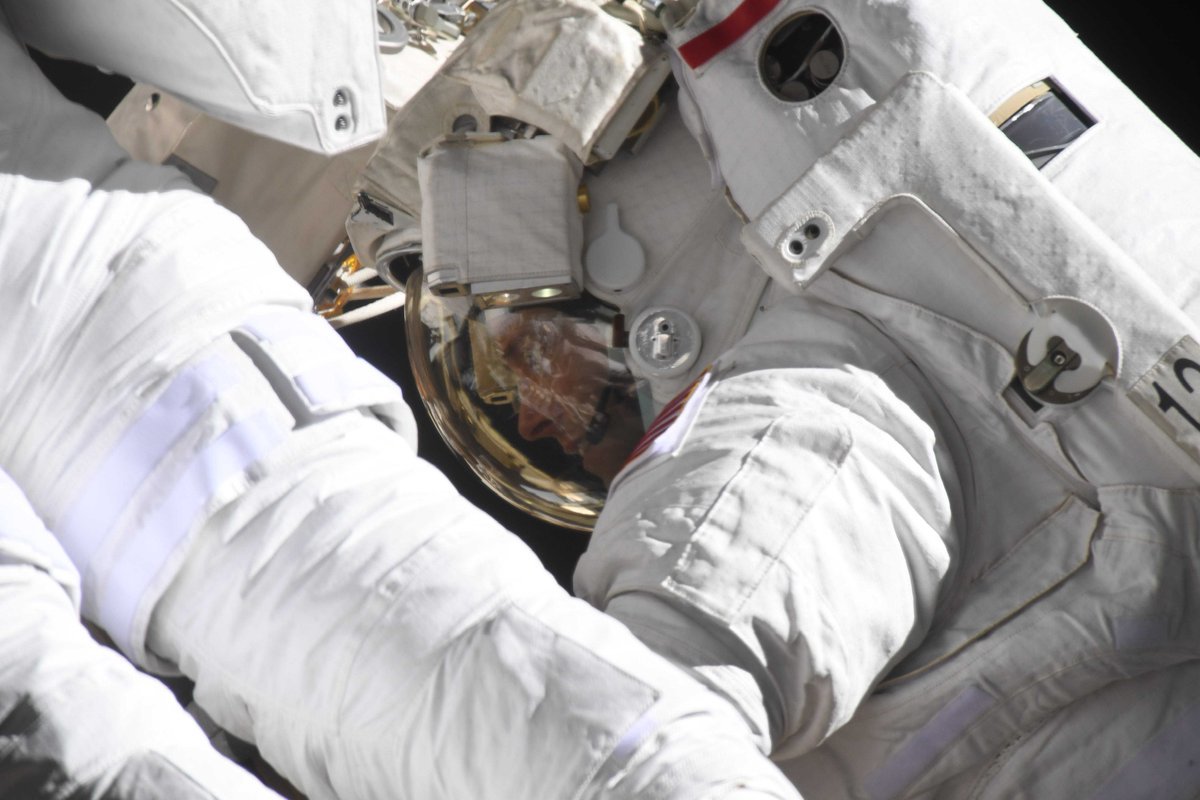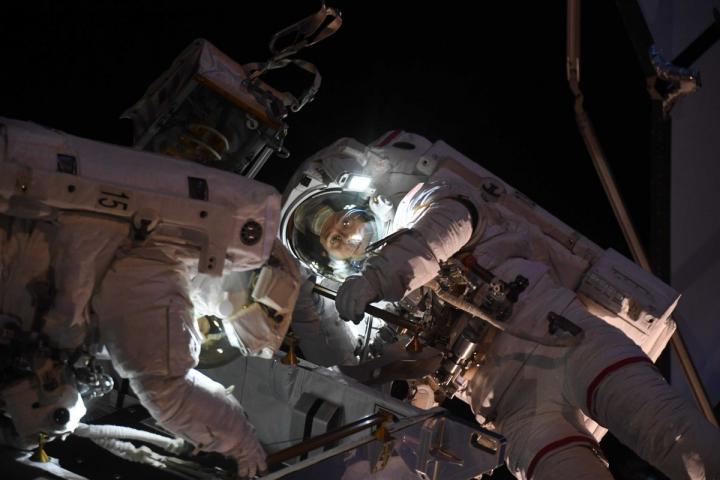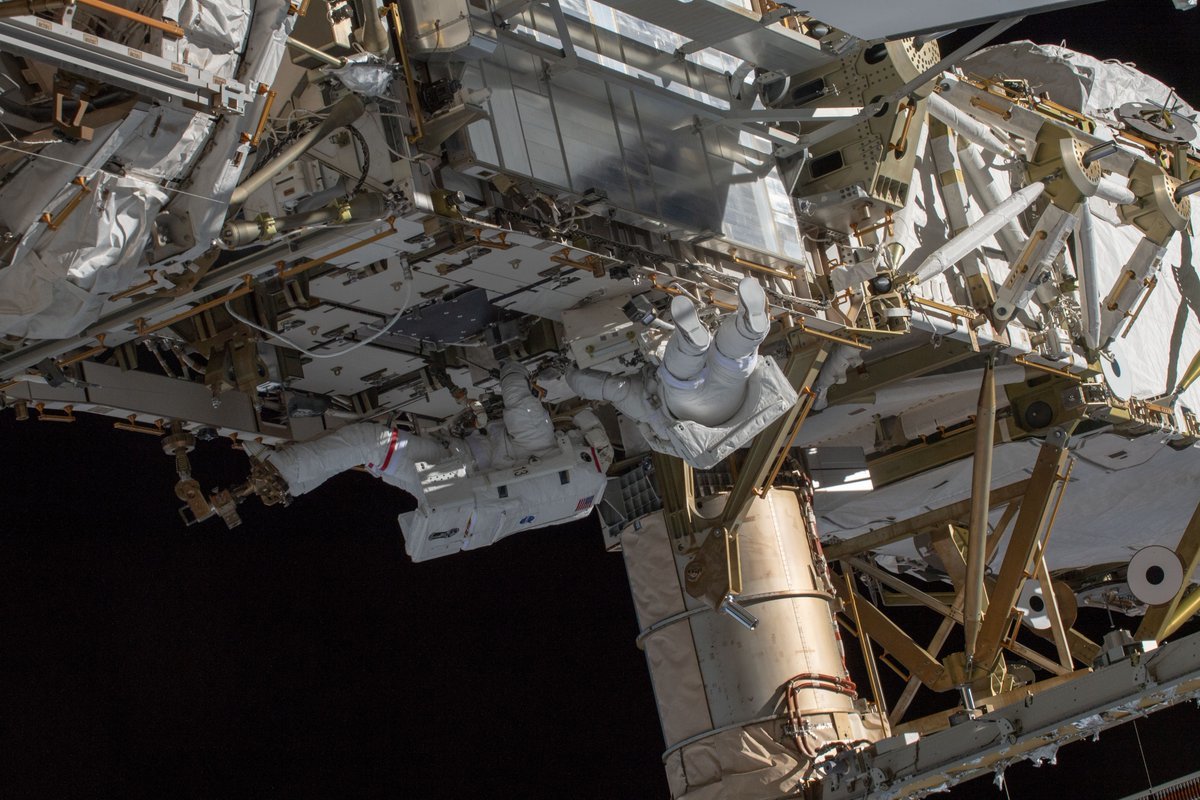 Quelle: NASA
---
Update: 21.00 MESZ
.
LIVE-Frams von EVA-54 Ende in NASA-TV: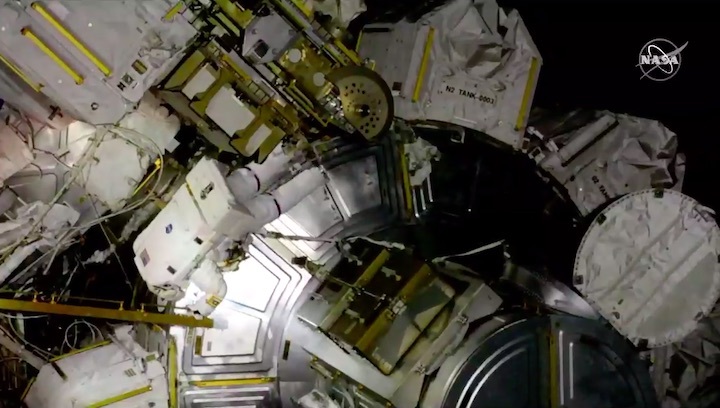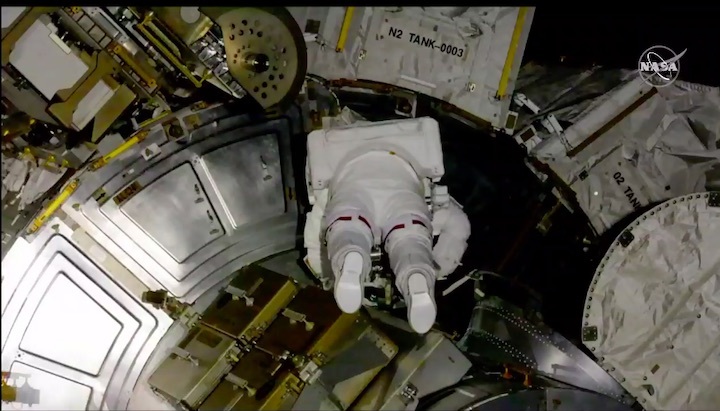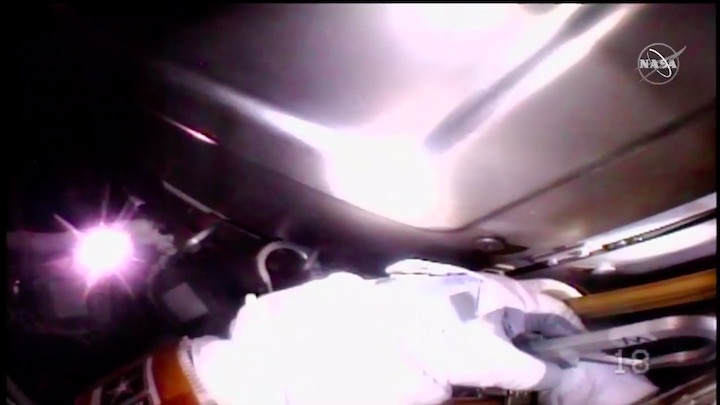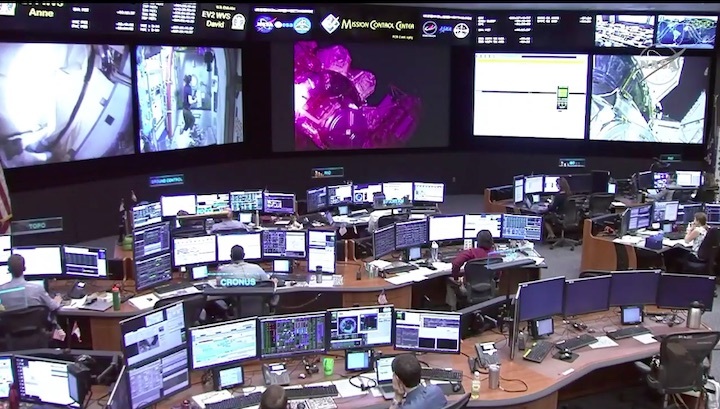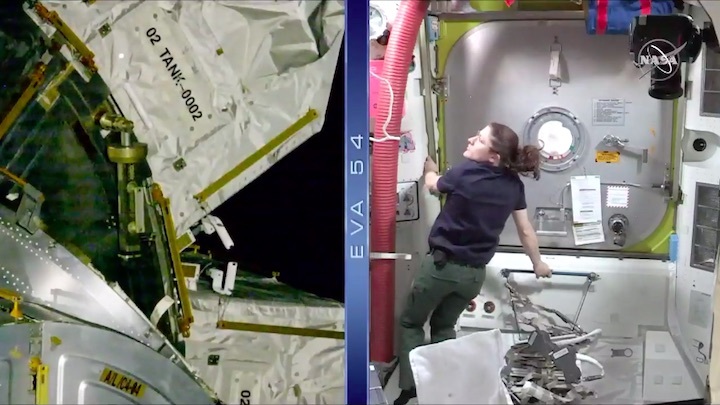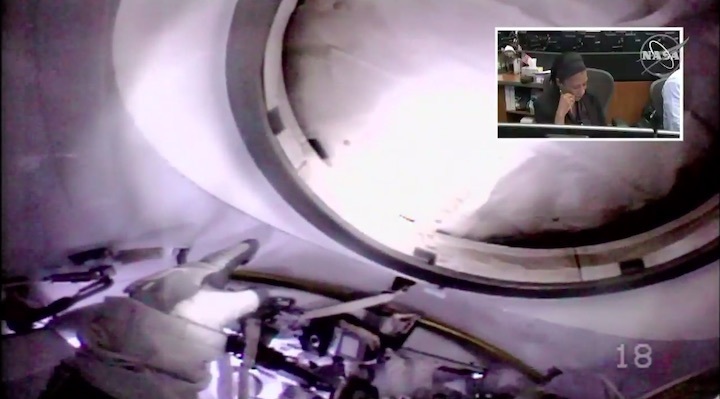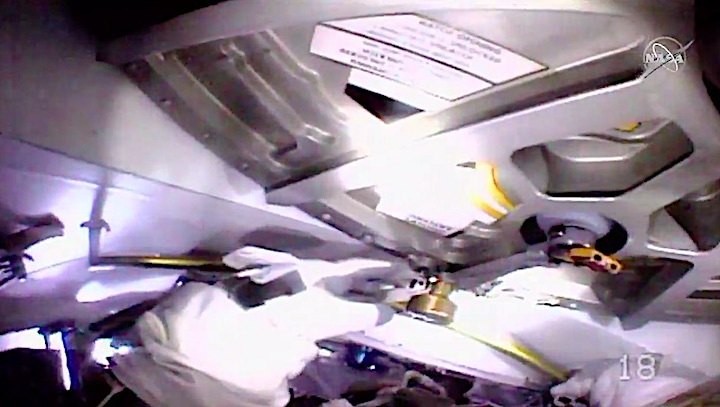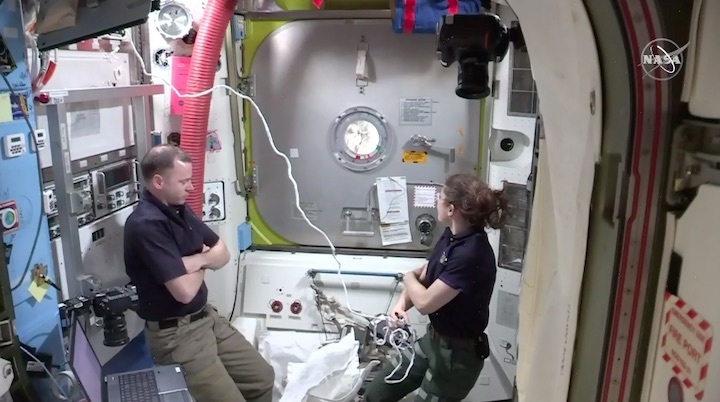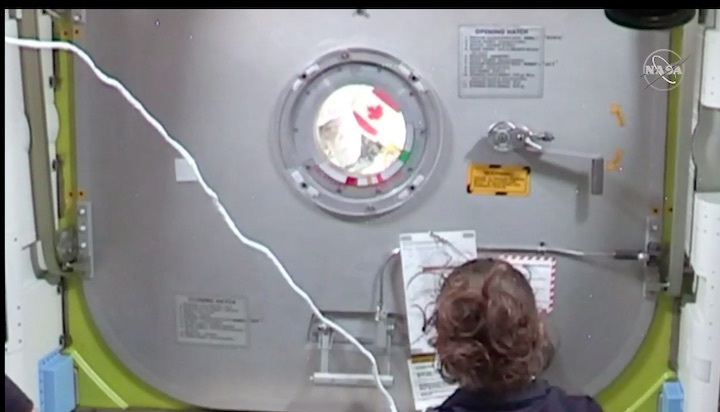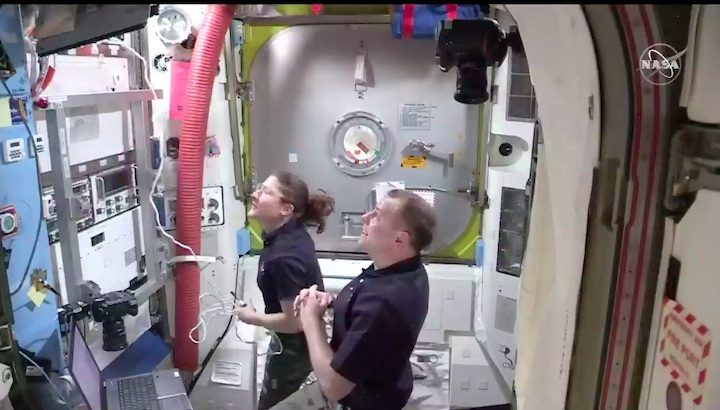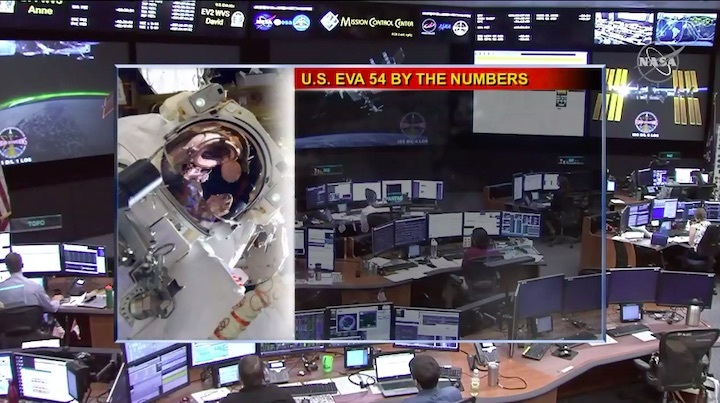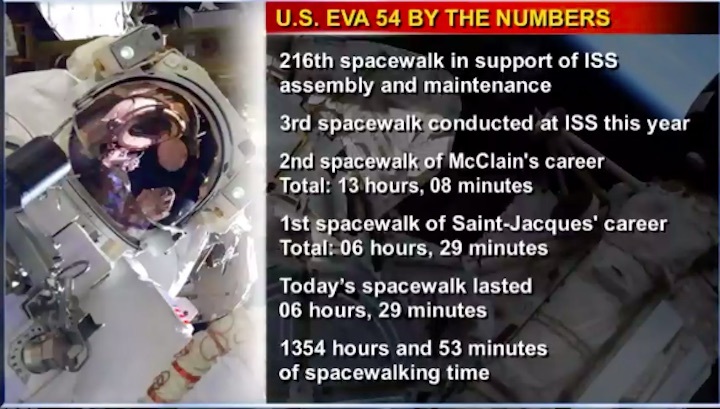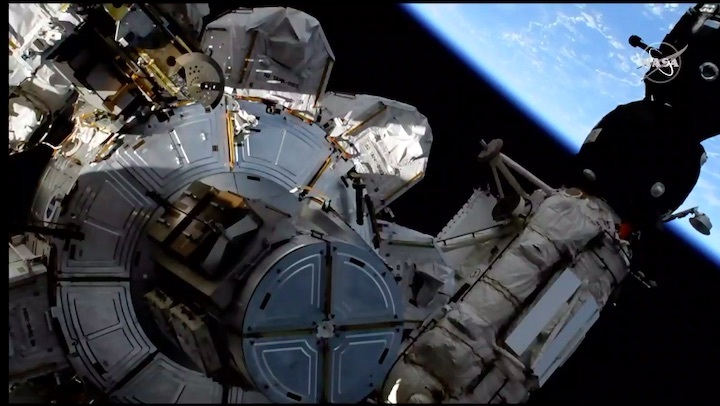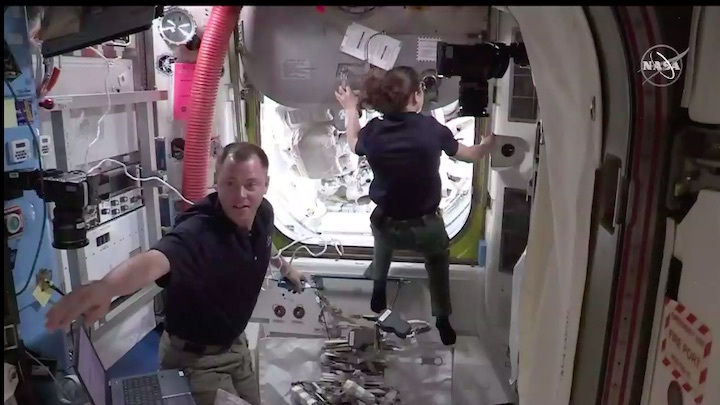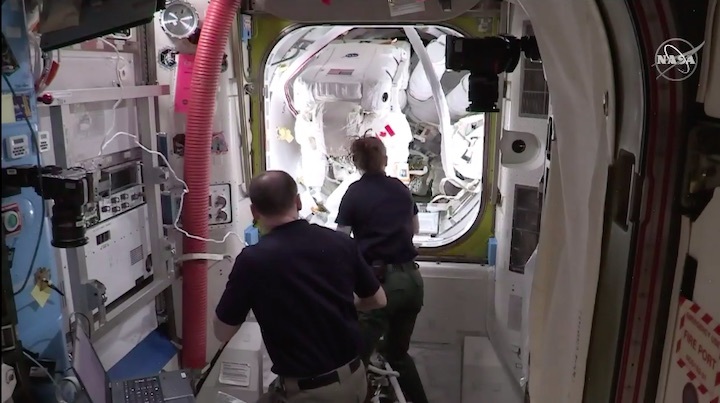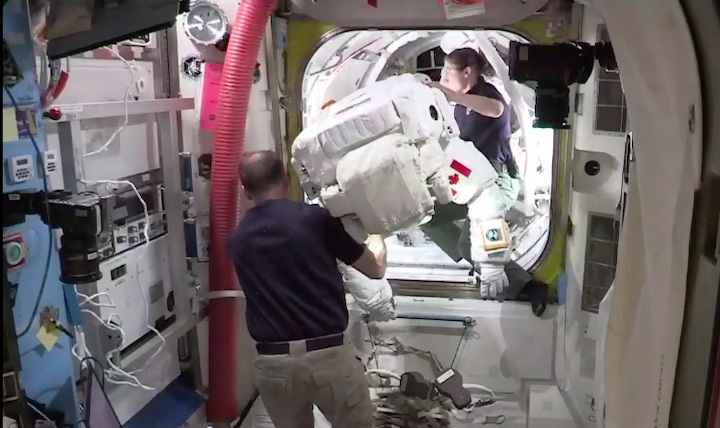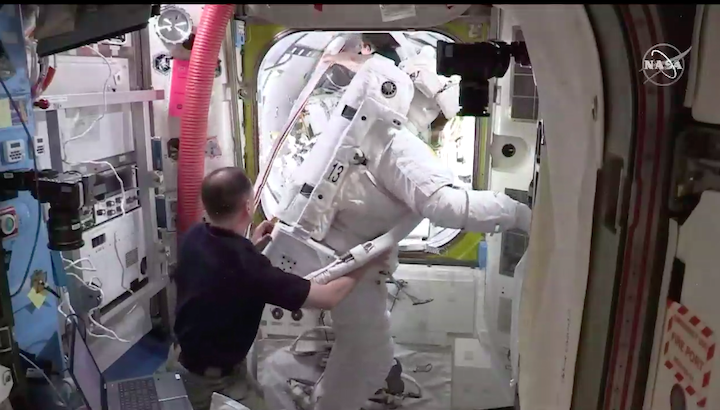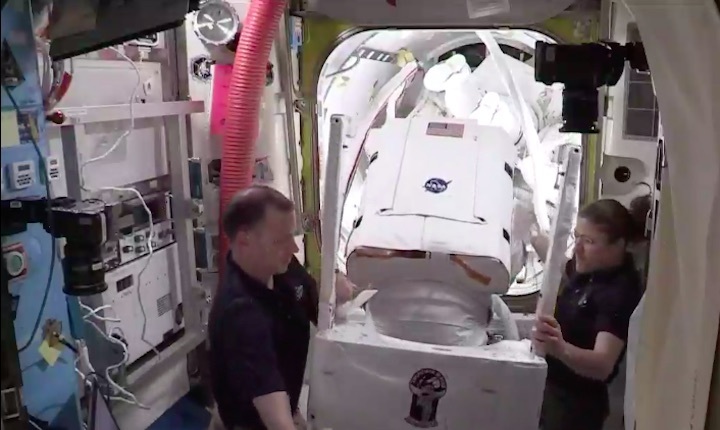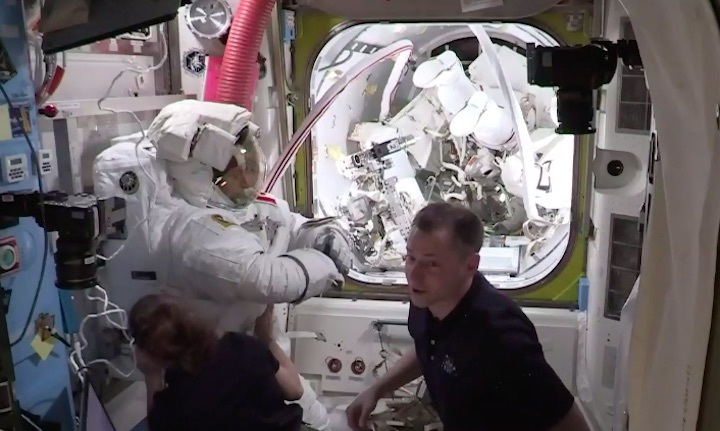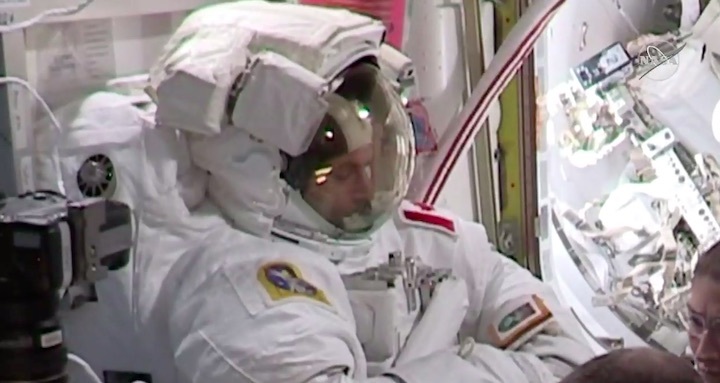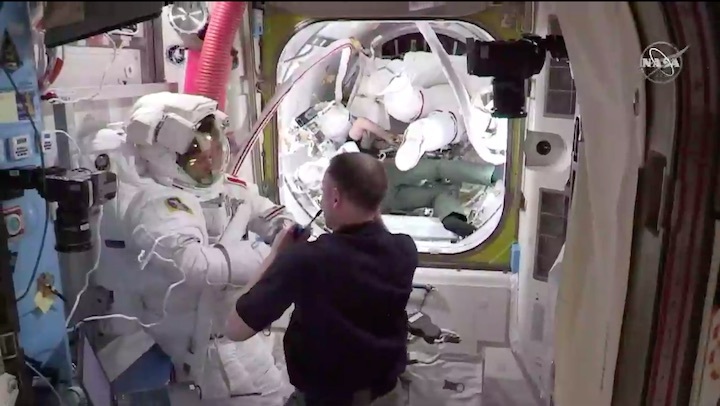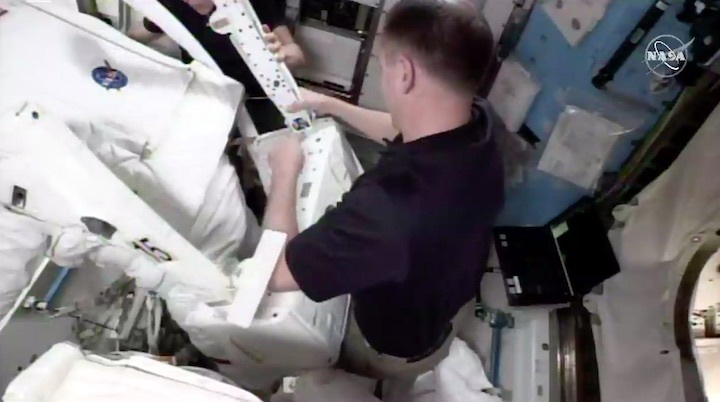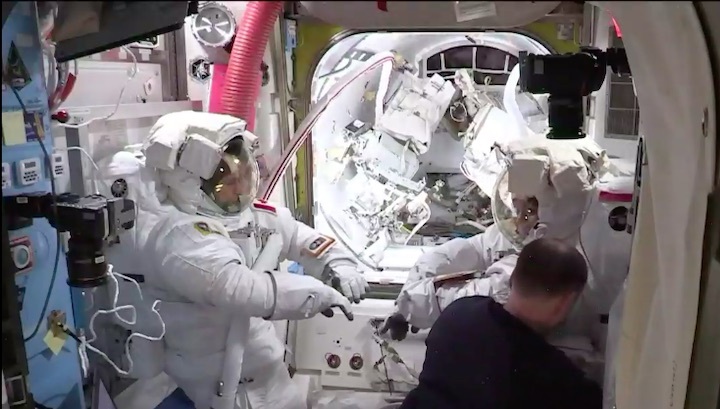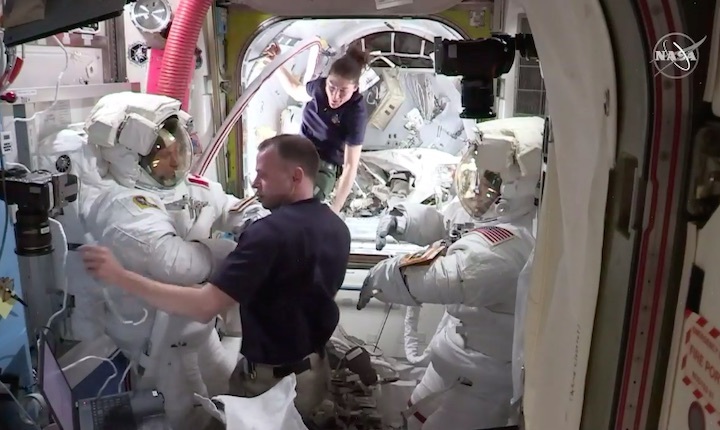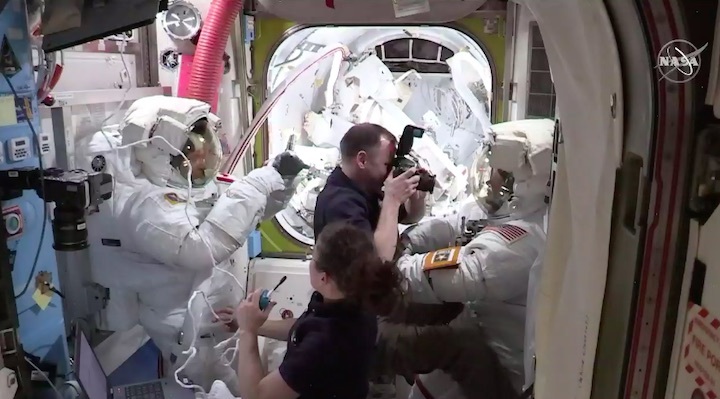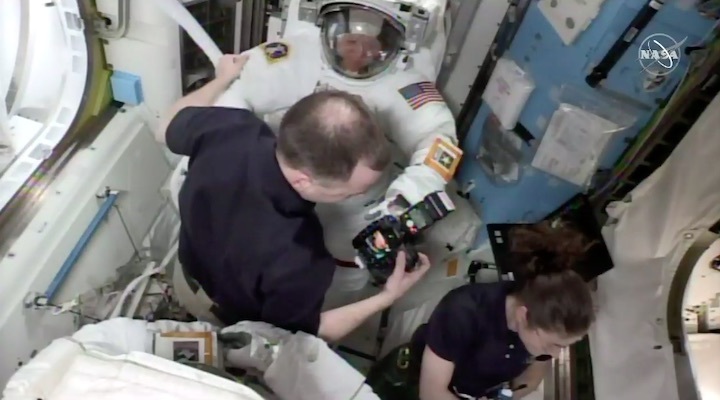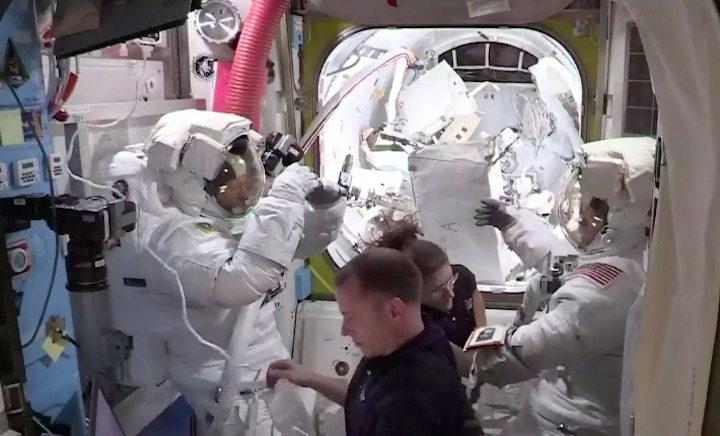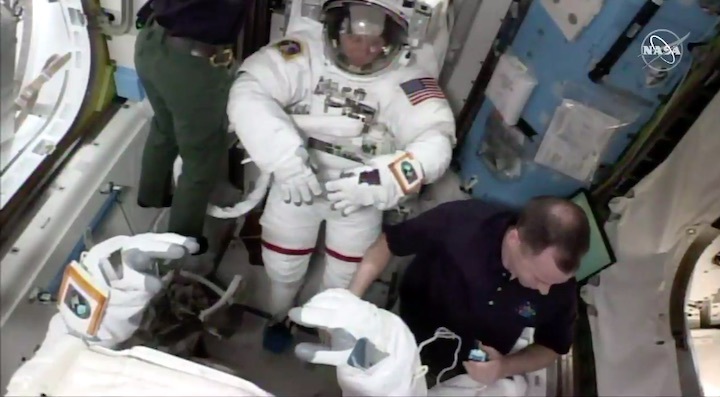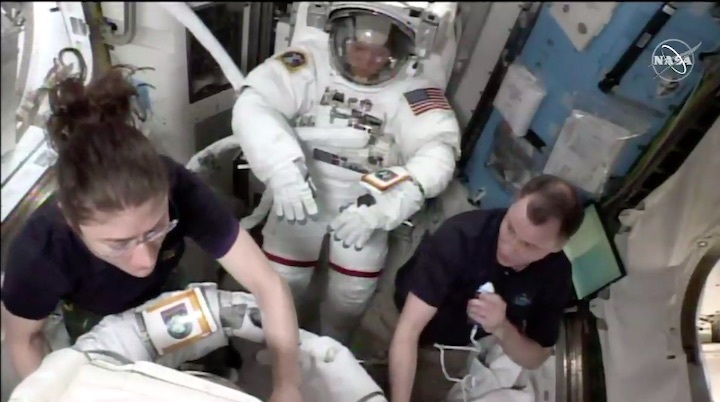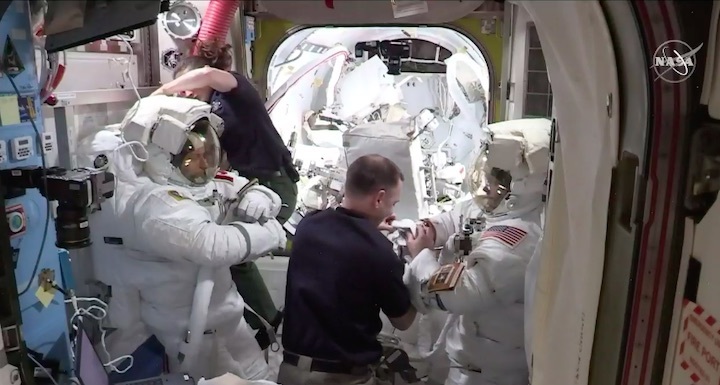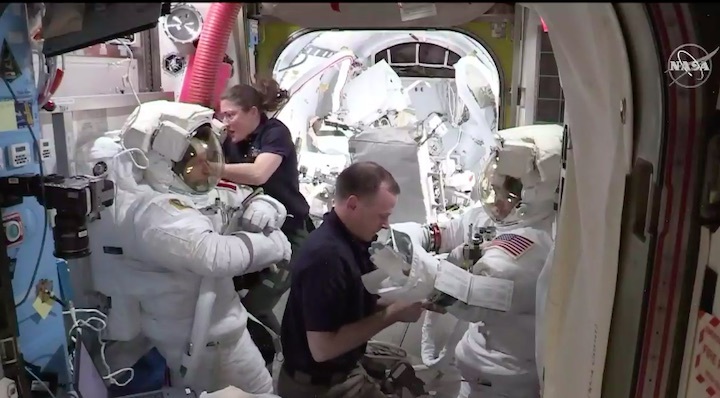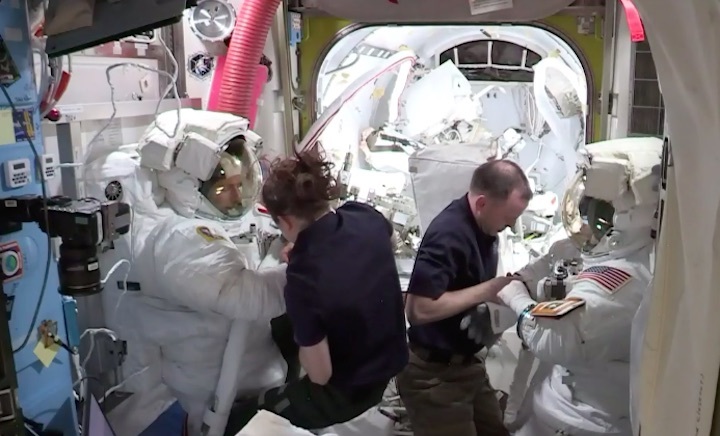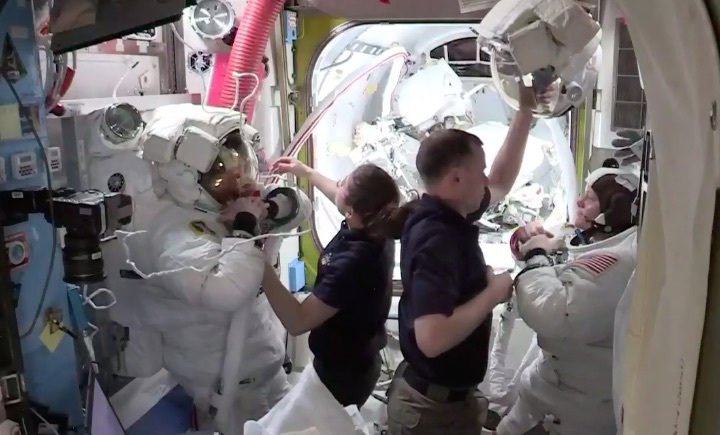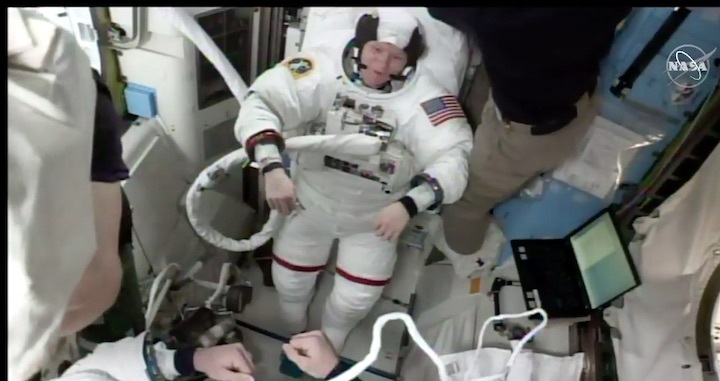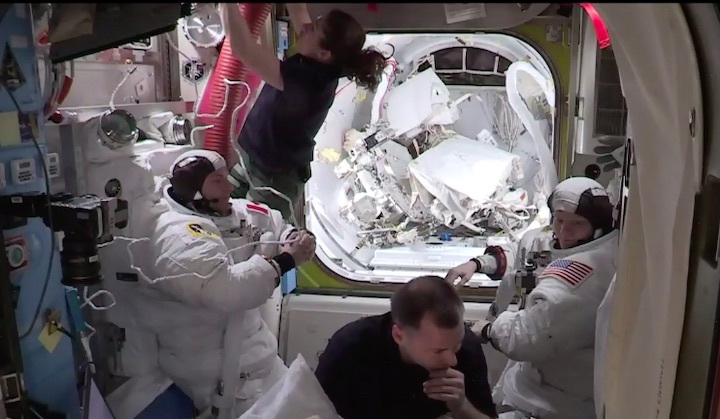 Quelle: NASA
3329 Views