10.02,2019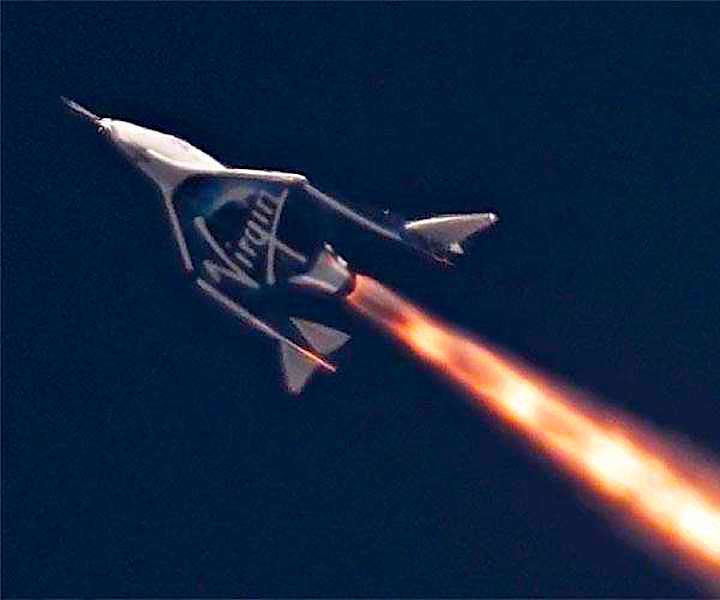 Chao Presents Astronaut Wings to Virgin Galactic's SpaceShipTwo Crew
Washington DC (SPX) Feb 08, 2019 - U.S. Transportation Secretary Elaine L. Chao has pinned FAA Astronaut Wings on Virgin Galactic's SpaceShipTwo crewmembers, Test Pilots Mark "Forger" Stucky and Fredrick "CJ" Sturckow. Last year's historic spaceflight marked the nation's return to space on an American-made rocket, and paves the way for future travel to space with commercial spaceflight participants.
"We are entering a new and exciting frontier in our nation's space activities," said Secretary Chao. "These wings represent a remarkable achievement for these crewmembers and tell all Americans that their access to the wonders of space may be within their reach."
On December 13, 2018, Virgin Galactic's SpaceShipTwo, named the "VSS Unity" was carried aloft by the WhiteNight Two carrier aircraft from the Mojave, California Air and Space Port. With Stucky and Sturckow onboard the VSS Unity, the WhiteNight Two gradually climbed to an altitude of almost 40,000 feet where it released the spacecraft.
Stucky and Sturckow lit the engine and guided the VSS Unity 51.39 miles (271,340 feet) above the Earth and into space. The vehicle returned from space and safely glided back to the spaceport, guided by its pilots. The VSS Unity was manufactured in America by The Spaceship Company, a California-based company owned by Virginia Galactic and headquartered in the Mojave dessert.
Sir Richard Branson, the Founder of Virgin Group said, "The U.S. leads the world both in the exploration of space and in creating the conditions for a new space age, where it will operate alongside and in partnership with the private sector. While today's awards ceremony is, of course, a proud moment for our wonderful pilots and the whole Virgin Galactic team, it is also symbolic of an enabling regulatory framework that allows for innovation while prioritizing safety. It is this which has allowed us to pursue our dreams and which will ultimately underpin our commercial success as we seek to democratize space for the benefit of humankind."
Stucky and Sturckow now become two of only four Americans to receive FAA Astronaut Wings. In 2004, Scaled Composites was awarded the $10 million Ansari XPrize when it sent the reusable SpaceShipOne on two successful FAA-licensed commercial spaceflights. The test pilots of those flights, Mike Melvill and Brian Binnie, received their FAA Astronaut Wings directly after the last flight of the vehicle on Oct. 4, 2004.
+++
British billionaire Richard Branson plans to travel to space within the next four or five months aboard his own Virgin Galactic spaceship, he told AFP Thursday.
"My wish is to go up on the 50th anniversary of the moon landing, that's what we're working on," the head of the Virgin group said on the sidelines of an event to honor Virgin Galactic at the Air and Space Museum in Washington.
The American Apollo 11 mission landed on the moon July 20, 1969.
Virgin Galactic is one of two companies, along with Blue Origin, on its way to sending passengers into space -- though just barely, and just for a few minutes.
The companies want to send hundreds or thousands of people on these short "suborbital" flights, meaning they wouldn't get high enough to orbit the earth.
These missions would be shorter and more affordable than SpaceX's planned project to send a Japanese billionaire to the moon by 2023 at the earliest.
Virgin Galactic flew 50 miles (80 km) above the earth, which the US considers the edge of space, for the first time in December (the international consensus is 100 km).
Virgin Galactic's spaceship, called SpaceShipTwo, is commanded by two pilots.
To take off, it's dropped by a carrier plane like a bomb, then starts its own engine to jet off straight into the sky, eventually climbing high enough to see the curvature of the earth.
The craft hovers and descends naturally, gliding back towards its original departure point, Mojave Air and Space Port in California.
It will be able to carry six passengers along with its two pilots.
Branson has previously announced dates for this first trip into space, though they've always come and gone without the voyage happening.
But this time the businessman claims preparations are in their final stages.
"By July we should have done enough testing," he said.
But he doesn't want to make any promises he can't keep: "I need to wait for our team to say they're 100% happy. I don't want to push them," he said, but thinks they'll be ready for clients by the end of the year.
He told AFP Virgin Galactic costs him $35 million a month; previously, he said he had invested more than a billion dollars in the venture since the 2000s.
According to Branson, the SpaceShipTwo's next test flight is planned for February 20, depending on weather conditions.
Quelle: SD
3467 Views