9.02.2019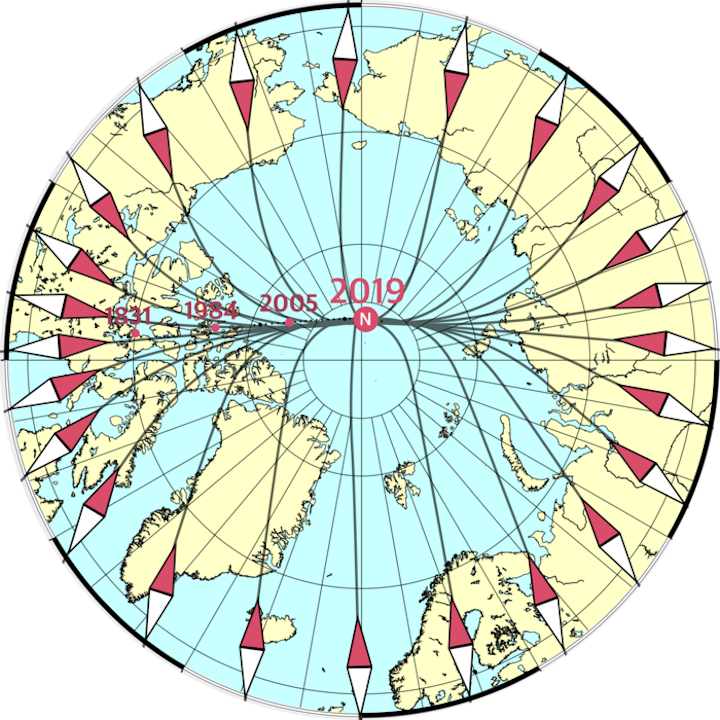 Magnetic north on the move
Since it was first measured in 1831, we have known that the magnetic north is constantly on the move. However, its tendency to slowly roam has stepped up a pace recently – so much so that the World Magnetic Model has had to be updated urgently with the pole's new location, vital for navigation on smartphones, for example. ESA's magnetic field Swarm mission has been key for this update.
The World Magnetic Model, the basis for many navigation systems used by ships, Google maps and smartphones, relies on the accurate knowledge of Earth's magnetic field. Since magnetic north never stands still, the model has to be revised periodically – but a surge in pace has meant that an update was needed ahead of schedule.
Driven largely by the churning of fluid in Earth's core, which generates the magnetic field, the magnetic north pole has always drifted, and geological evidence shows that every few hundred thousand years or so it even flips, so that north becomes south.
Around 50 years ago, the pole was ambling along at around 15 km a year, but now it is sprinting ahead at around 55 km a year. In 2017, it crossed the international date line, leaving the Canadian Arctic and heading towards Siberia.
The World Magnetic Model is used to keep track of changes in the magnetic field and is updated every five years by the US National Oceanic and Atmospheric Administration and the British Geological Survey.
The next update was due at the end of this year.
However, thanks in part to ESA's Swarm mission, researchers found that the pole is drifting in a way that wasn't expected. This meant that model was simply too inaccurate for it to remain until the next planned revision. So, an 'out-of-cycle' update has just been issued.
Since the mission was launched in 2013, ESA's Swarm constellation has been tracking variations in Earth's magnetic field, and also the position of the magnetic north pole.
While measurements from Swarm are used to advance our scientific understanding of Earth's magnetic field, they also have clear practical uses as demonstrated by their contribution to this urgent update of the World Magnetic Model, which is used every day by billions of people in their smartphones, even if they are unaware of it.
Nils Olsen from DTU Space said, "Your smartphone contains a magnetometer that measures Earth's magnetic field.
"In order to make sense of this information, Android and iOS operating systems use the magnetic model to correct the measurements to true geographic north.
"So, in this model update, the latest Swarm data have been used to provide up-to-date information for users of numerous navigation systems."
Science is everywhere at ESA. As well as exploring the Universe and answering the big questions about our place in space we develop the satellites, rockets and technologies to get there. Science also helps us to care for our home planet. All this week we're highlighting different aspects of science at ESA. Join the conversation with #ScienceAtESA.
Quelle: ESA
3422 Views