17.12.2018
Soyuz rolls out for Arianespace's year-ending launch that will enhance French intelligence gathering efforts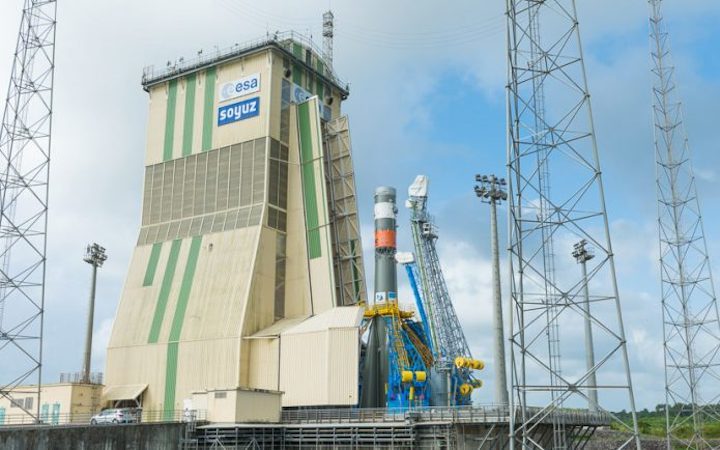 The Soyuz launcher for Arianespace's 11th and final mission in 2018 has rolled out to the launch pad in French Guiana, readying this medium-lift vehicle to receive its payload for a December 18 liftoff from the Spaceport.
Soyuz was moved from the Spaceport's MIK launcher assembly facility to the ELS launch zone, using a transport/erector rail car in a horizontal transfer process. When positioned over the launch pad, the vehicle was erected into a vertical orientation, where it is suspended in place by four large support arms.
The mobile gantry was subsequently moved into position around the basic three-stage launcher, providing protection for the upcoming installation of Soyuz' "upper composite," which consists of the Fregat upper stage and payload fairing, along with the CSO-1 spacecraft passenger.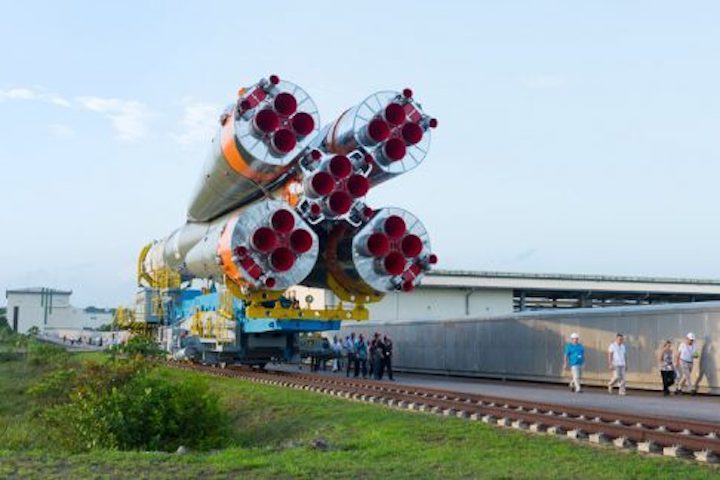 Supporting French defense requirements
Next week's mission, which is designated Flight VS20 in Arianespace's numbering system, will be the 20th launch of a medium-lift Soyuz from Europe's Spaceport. It is scheduled to lift off at precisely 1:37:14 p.m. local time in French Guiana, with CSO-1 to be deployed into a Sun-synchronous orbit during a flight lasting approximately one hour. Total payload lift performance is estimated at 3,713 kg.
The CSO-1 satellite will be launched at the service of France's CNES (Centre National d'Etudes Spatiales) space agency and the DGA (Direction générale de l'armement) defense procurement agency, on behalf of the French Ministry of Defense. It will be used to take 3D pictures and to acquire very-high-resolution images in the visible and infrared bandwidths, day or night and in fair weather, and using a variety of imaging modes to meet as many operational requirements as possible.
Airbus Defence and Space France is prime contractor for the CSO satellites, while Thales Alenia Space France supplies the optical imaging instrument.
CSO-1 is the first satellite of the Optical Space Component (CSO – Composante Spatiale Optique) program, comprising a constellation of three satellites dedicated to Earth observation for defense and security. They will be placed into polar orbit at different altitudes, and will carry out two different missions: reconnaissance for CSO-1 and CSO-3, and identification for CSO-2.
Flight VS20 will close out Arianespace's 2018 launch activity, which previously involved 10 flights from the Spaceport: six performed with Ariane 5, two utilizing the lightweight Vega and two with the medium-lift Soyuz.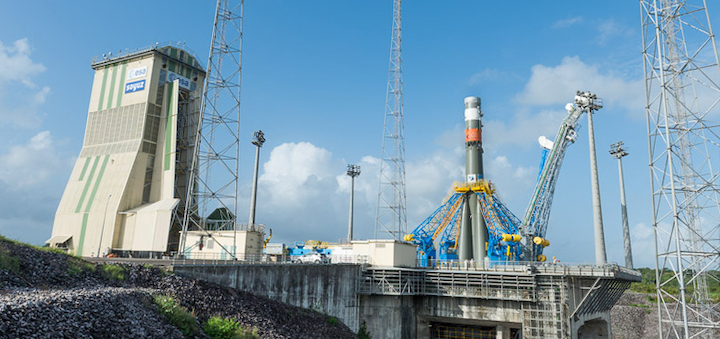 Larger versions of the photos above are available in the Gallery.
Liftoff time for Flight VS20:
French Guiana
UTC
Washington, D.C.
Paris, France
At 01:37:14 p.m.
on Dec. 18
At 16:37:14
on Dec. 18
At 11:37:14 a.m.
on Dec. 18
At 05:37:14 p.m.
on Dec. 18
+++

LAUNCH DATE

December 18, 2018
PAYLOAD(S)

CSO-1
LAUNCH VEHICLE

Soyuz
LAUNCH SITE

Spaceport, French Guiana (Guiana Space Center)
CUSTOMER(S)

CNES, French DGA
PRIME CONTRACTOR(S)

CNES, French DGA
ORBIT

Sun-Synchronous orbit
STATUS

Upcoming
For its 11th and final launch of the year – and the third with the Soyuz medium launcher — Arianespace will send the CSO-1 Earth observation satellite, intended for defense and security applications, into Sun-synchronous orbit for the French CNES (Centre National d'Etudes Spatiales) space agency and the DGA (Direction générale de l'armement) defense procurement agency on behalf of the French Ministry of Defense.
This also will be the 20th mission carried out by Soyuz since it began operating at the Guiana Space Center (CSG) in October 2011.
With this latest launch at the service of France's defense requirements, as well as for the capacity needs of several partner countries, Arianespace once again guarantees French and European autonomous access to space – a strategic priority, and a key element for sovereignty.
16:37:14 (DEC. 18)

UNIVERSAL TIME (UTC)
01:37:14 P.M. (DEC. 18)

KOUROU, FRENCH GUIANA
05:37:14 P.M. (DEC. 18)

PARIS, FRANCE
11:37:14 A.M. (DEC. 18)

WASHINGTON, D.C.
CSO-1

CSO-1 is the first satellite of the Optical Space Component (CSO – Composante Spatiale Optique) program, a constellation of three satellites dedicated to Earth observation for defense and security. They will be placed into polar orbit at different altitudes, and will carry out two different missions: reconnaissance for CSO-1 and CSO-3, and identification for CSO-2.

The French CNES space agency is delegated as the contracting authority for the Optical Space Component (CSO) program and its mission ground segment, as well as being the overall system co-architect. CNES also is responsible for orbital positioning, in-orbit acceptance testing and satellite operation. France's DGA defense procurement agency is contracting authority for the construction and through-life maintenance of the user ground segment, and will serve as the interface between the sensors deployed in space and the operators. The French armed forces headquarters is the operating authority for CSO.

The successor to the Helios 1 and 2 systems, CSO will address France and Europe's operational needs for global intelligence and strategic surveillance, knowledge of the geographic environment and support for operational deployments.

As France's third generation of military satellites, CSO was developed in a national framework and will remain accessible to European partners. Indeed, Germany, Sweden and Belgium already have joined the CSO community, and an agreement with Italy is expected shortly.

The CSO-1 satellite will be placed in a Sun-synchronous orbit at an altitude of 800 km. It will be used to take 3D pictures and acquire very-high-resolution images in the visible and infrared bandwidths, day or night and in fair weather, and using a variety of imaging modes to meet as many operational requirements as possible.

Quelle: arianespace

----

Update: 18.12.2018

.

Soyuz is ready for Arianespace's launch of the CSO-1 defense imaging satellite for France

Arianespace's 2018 year-ending mission has been given its authorization for launch from the Spaceport in French Guiana, clearing the way for tomorrow's medium-lift Soyuz flight that will place France's CSO-1 satellite into Sun-synchronous orbit.

This 11th and final Arianespace mission of 2018 passed its launch readiness review today, validating the "go" status for Soyuz and its spacecraft passenger, along with the Spaceport's infrastructure and the downrange tracking stations.

The launch readiness review followed final integration activities for Soyuz, during which the vehicle was fitted with its "upper composite," consisting of the Fregat upper stage and CSO-1 passenger encapsulated by the launcher's ogive-shaped payload fairing. This occurred inside the protective mobile gantry on the Soyuz ELS launch complex.

The 20th Soyuz mission from French Guiana

Designated as VS20 in Arianespace's numbering system, this will be the 20th launch of a medium-lift Soyuz from the Spaceport, with CSO-1 to be deployed during a flight lasting approximately one hour. The mission is using a Soyuz ST-A version of the Russian-build workhorse vehicle, with total payload lift performance estimated at 3,713 kg. for the mission.

Liftoff is set at 1:37 p.m., local time in French Guiana, on December 18.

The CSO-1 satellite will be orbited for France's CNES (Centre National d'Etudes Spatiales) space agency and the DGA (Direction générale de l'armement) defense procurement agency, on behalf of the French Ministry of Defense. Operating at an altitude of 800 km., it will take 3D pictures and acquire very-high-resolution images in the visible and infrared bandwidths – day or night and in fair weather – and using a variety of imaging modes to meet as many operational requirements as possible.

Airbus Defence and Space is prime contractor for the CSO satellites; Thales Alenia Space supplies the optical imaging instrument.

Arianespace will close out its 2018 launch activity with Flight VS20 – which follows 10 other flights conducted from the Spaceport: six performed with Ariane 5, two utilizing the lightweight Vega, and two with the medium-lift Soyuz.

Soyuz has been cleared for Arianespace's December 18 liftoff with CSO-1, which is contained in the "upper composite" – shown here after integration atop the launch vehicle in French Guiana.

Quelle: arianespace

+++

Due to high-altitude wind conditions above the launch base, Flight #VS20 has been postponed by 24 hours. The #Soyuz launcher and its CSO-1 spacecraft payload are in a stable and safe condition. New launch timing: Dec. 19 at 16:37:14, UTC.

Quelle: arianespace

++++

Update: 19.12.2018

LIVE-Launch-Frams:

+++

Arianespace supports France and European defense with the CSO-1 satellite's successful launch for CNES and DGA. Read the #VS20 press release: http://www.arianespace.com/press-release/flight-vs20-arianespace-supports-france-and-european-defense-with-the-cso-1-satellites-successful-launch-for-cnes-and-dga/ …

Quelle: arianespace
3863 Views