1.09.2018
Skyrora saw its 2.5 metre projectile reach altitudes of four miles after taking off in Ross-shire.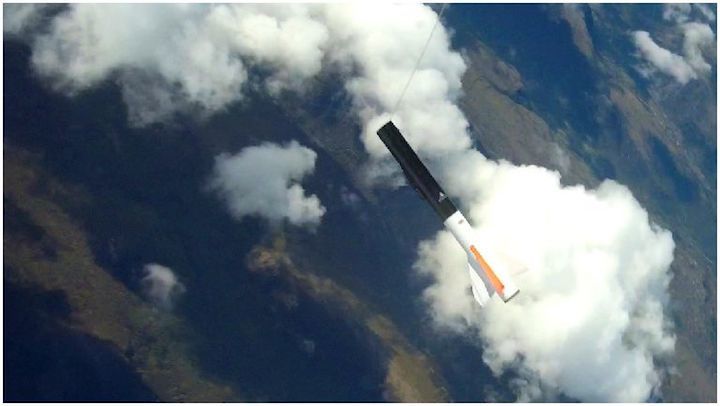 The first commercial rocket launch in Scotland has taken place as part of efforts to gain work at a planned spaceport in the Highlands.
Skyrora saw its 2.5 metre (9ft) projectile reach altitudes of almost four miles after taking off at the Kildermorie Estate in Ross-shire.
Known as Skylark Nano, it accelerated to Mach 1.45 - more than 1110mph.
The Edinburgh-based rocket developer was trialling technology for use on full-scale vehicles, as it bids for a contract for the forthcoming facility.
Daniel Smith, director of business development, said: "This was a small but important step for us in our bid to become the go-to satellite launch provider at a future Scottish spaceport.
"Huge positives can be taken from this - from the success of our portable ground control systems, trajectory analysis and ability to capture the launch with on-board HD cameras.
"We will use the lessons learned in the next stage of our test launch programme, where we'll be going to a far more significant altitude.
"For us it's all about taking careful steps to de-risk and gain experience as we quickly evolve through sub-orbital tests towards our future orbital launch ambitions."
The commercial element of the flight was done in partnership with social media site Ask.fm.
Cargo was ejected at burnout - staying attached to the body via a Kevlar cable - and a parachute was opened at low altitude for a soft landing.
The planned £17.2m spaceport will be developed by Highlands and Islands Enterprise.
Last month it was announced the UK Space Agency would provide £31.5m of funding for the overall project.
If approved, it could see a vertical launch site built for a new generation of small rockets to launch micro communication and earth-observation satellites.
Melness Crofting Estate near Tongue is the proposed location.
Scotland has been described as the best place in the UK to reach in-demand satellite orbits with vertically launched rockets. It is estimated the spaceport could create 400 jobs in the area.
Around 2000 satellites are forecast to launch there between 2021 and 2030.
1697 Views