31.08.2018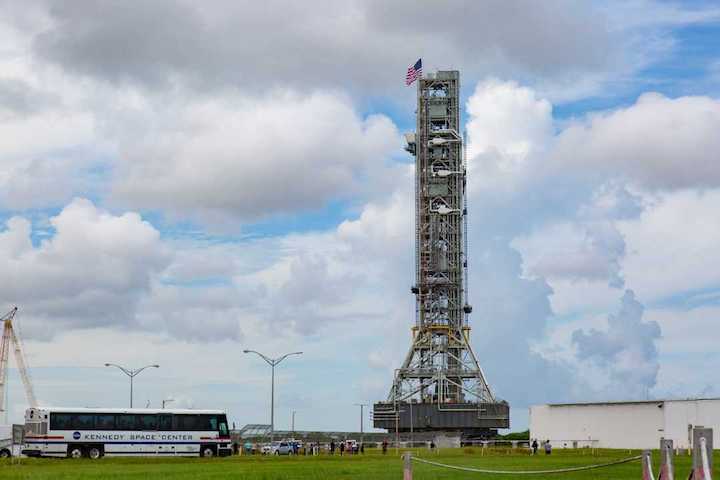 A famous 6.6-million-pound metal behemoth carved through Kennedy Space Center at less than 1 mph on Thursday, kicking off weeks of testing ahead of the eventual debut of NASA's Space Launch System rocket.
Topped with an additional 11 million pounds in the form of the rocket's purpose-built mobile launcher, one of two iconic crawler-transporters picked up the 380-foot-tall tower near the Vehicle Assembly Building and began the 4.4-mile trek to pad 39B, which will host SLS launches no sooner than 2020. Crawler-Transporter 2 is expected to reach the pad by Friday afternoon after its 0.7 mph trek across the Alabama river rock-lined Crawlerway.
The trip to 39B and then back is essentially a test drive for the crawler and mobile launcher. According to KSC, systems ranging from power-providing umbilicals, environmental controls, pneumatics, communications and electrical connections to the rocket and Orion spacecraft will be tested during move operations. Fit checks will also be conducted at the pad.
"The mobile launcher is being moved to begin the next big program phase for verification and validation of all systems when it is connected to the pad and VAB systems," Exploration Ground Systems' Cliff Lanham, lead project manager for the mobile launcher, said in a KSC release.
After several days there, the more than 50-year-old – but newly upgraded – crawler will reverse its tracks back to the VAB, but this time move the mobile launcher indoors to High Bay 3. There, teams will conduct more tests and fit checks, primarily with the 10 platforms installed to service the SLS rocket.
Prior to Thursday's move and eventual housing in the high bay after Sept. 8, the mobile launcher was located just north of the VAB for years as teams upgraded the crawlers and prepared hardware. The crew access arm, which will allow astronauts to cross over to the Orion spacecraft located atop the rocket, was installed in February.
The SLS program was designed to include a "clean pad," meaning the rockets and towers are transported together on one platform. From a distance, the only structures that can be seen at pad 39B are the 600-foot-tall lightning towers and a single water tower. Other pads, such as SpaceX's 39A or Cape Canaveral Air Force Stations Launch Complex 41, include static umbilical and access towers that cannot be moved.
On the launch manifest, meanwhile,SpaceX teams are targeting no earlier than Sept. 8 for the launch of a Falcon 9 rocket from Launch Complex 40 with a commercial communications satellite for Canada-based Telesat. That mission is expected after 11:30 p.m. and will include a drone ship landing.
Contact Emre Kelly at aekelly@floridatoday.com or 321-242-3715. Follow him on Twitter, Facebook and Instagram at @EmreKelly.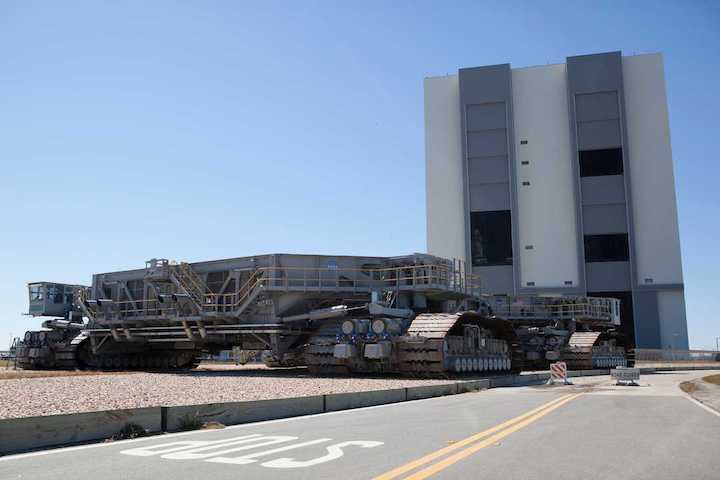 One of NASA's crawler-transporters at Kennedy Space Center.
Quelle: Florida Today
1655 Views