14.08.2018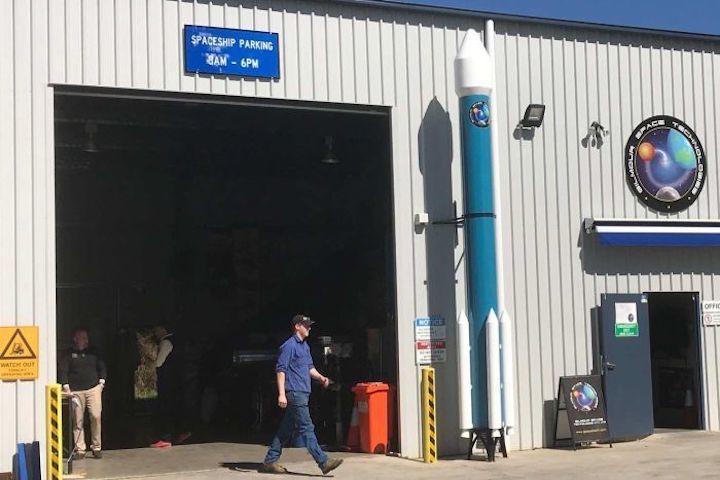 n 1967 Australia was the third nation, behind only the US and Russia, to launch a satellite into space.
Now the head of the newly formed Australian Space Agency (ASA) says it's time for Australia to return to the forefront of the space race.
"We need to get back in the game," Dr Megan Clark told 7.30.
"We were right there at the very beginning in the '60s, we were one of the first nations into space.
Creating 'opportunities for generations'
Despite being involved in space projects for so long, just two Australian astronauts have been into space.
That's something Dr Clark is hoping to change.
"We've been advising NASA on human space flight for over 40 years, and yet we haven't had one of our Australian doctors as head of one of those medical missions," she said.
"So we do need to create those opportunities for the next generation and the generations after."
But parts, not people, are more likely to be Australia's first contributions.
"We can certainly put Australian technology into shared missions," she said.
"We don't have the budget of NASA, we're not NASA. But can we make sure, in those missions, we have the very best Australia has to put forward as part of that? Absolutely, we can do that."
Industry focused
The new agency is meant to be lean. It has just $41 million in funding to establish itself over the next four years.
And it has wasted no time in getting down to business.
"We've approved licences for an overseas launch for assets that will go into space," Dr Clark said.
"And we have a pipeline for the next 12-18 months. This is more than what we've done for decades."
The agency will be industry-focused, unlike some of its international counterparts.
Australian companies are making cheaper — and lighter — nanosatellites.
Australian researchers are working on the next generation of scientific instruments and communications for future planetary exploration.
And on the Gold Coast, traditional rockets are being redesigned for low-earth orbit to reduce the cost of launch.
"This is an industry that is growing extremely fast, more than 8.5 per cent a year," Dr Clark said.
"So that means, for us, broadening our economy. That means, for us, jobs, really good jobs."
Space HQ tussle
Right now, Dr Clark has a very earth-bound decision — which Australian city to base her new agency's headquarters in.
She is meant to advise the Government before the end of the year.
Australian-born astronaut turned NSW Government ambassador Dr Paul Scully-Power was adamant the HQ should be based at the planned "aerotropolis" at Sydney's second airport at Badgery's Creek.
"What we in NSW can do for the space agency? I think it's pretty obvious — over 50 per cent of the space-related revenue in Australia is in NSW," Dr Scully-Power said.
He said the aerotropolis would be, "a big city, high-tech, built from the ground up with the internet of things, the size of Adelaide".
Adelaide-based nanosatellite maker Flavia Tata Nardini, who used to work for the European Space Agency, wants the ASA headquarters in Adelaide.
"It's not about a plan on paper, things are happening here," she told 7.30.
"The biggest start-ups in the world are in Adelaide. We just have to accept it and embrace it.
"South Australia created this space industry centre and a minister for space way before the other states."
Victoria also has its sights on the prize.
Its Industry Minister boasted five space companies were already headquartered there.
Melbourne-based Opaque Space recently landed a NASA contract for its virtual reality software that astronauts could use to prepare for life on the space station.
But Queensland-based rocket maker James Gilmour had a different take.
"The Australian Space Agency headquarters should be in our nation's capital, Canberra, with a number of centres of excellence in various states," he told 7.30.
"I do hope that Queensland is known for propulsion and launch capabilities."
What about a spaceport?
But Mr Gilmour has an even bigger hope — that Australia gets its own operation spaceport, just like New Zealand's Rocket Labs.
"The New Zealand Government took the initiative to support the civil aviation authority in New Zealand, to make it conducive for Rocket Lab, and now Rocket Lab is a billion-dollar company employing hundreds of people," he said.
"For us, launch underpins everything.
"If you can't have access to space, then unfortunately you're going nowhere and what gives us warm and fuzzies is to produce a low-cost launch, coupled with low-cost satellites, will produce an indigenous space capability for Australia."
But for the new space agency head it's a matter of economics.
"The question around launch comes down to, 'Do you have a commercial opportunity?'," Dr Clark said.
"So if you're going to have a launch facility, you need to have, if you like, a backlog of orders to use that to make it commercial."
And Dr Clark is setting the agency's sights way beyond satellites orbiting Earth.
"We want to be part of that because we want to showcase what Australia can do.
"I think Australians are going to be inspired and proud about what Australia really can do."
Quelle: ABC
1985 Views