14.08.2018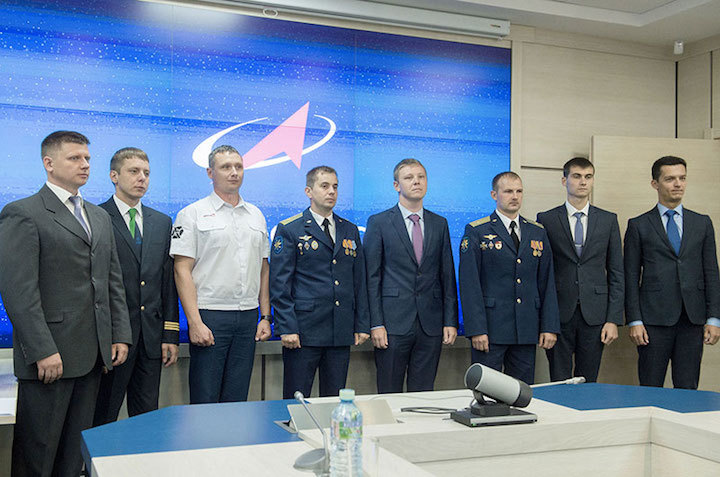 The members of Russia's 17th class of cosmonaut candidates, from left to right: Alexander Grebyonkin, Kirill Peskov, Yevgeny Prokopyev, Oleg Platonov, Alexander Gorbunov, Sergei Mikayev, Alexei Zubritsky and Konstantin Borisov.(Roscosmos/GCTC)
-
Russia has announced a new class of cosmonaut trainees, including the younger brother of a crew member now on board the International Space Station.

An interdepartmental commission selected the eight new candidates, including Yevgeny Prokopyev, the sibling of Expedition 56 flight engineer Sergey Prokopyev, who launched to the space station in June. The Prokopyevs are the first Russian siblings and second pair of brothers in the world to be chosen for a cosmonaut or astronaut corps.

Dmitry Rogozin, director of Russia's federal space agency Roscosmos, revealed the younger Prokopyev and seven other candidates' selection on Friday (Aug. 10) at a meeting in Moscow that also included former cosmonaut Sergei Krikalev, now Roscosmos' executive director of human space programs, and Pavel Vlasov, head of the Gagarin Cosmonaut Training Center at Star City.

In addition to 32-year-old Prokopyev, who at the time of his selection was working as an engineer for the Russian aerospace company RSC Energia, the 17th class of cosmonaut trainees includes:
Konstantin Borisov, 33, an economist and the head of innovations for a Russian construction equipment company;



Alexander Gorbunov, 28, an engineer at RSC Energia;



Russian military pilots Sergei Mikayev, 31, Alexei Zubritsky, 25, and Oleg Platonov, 32;



Alexander Grebyonkin, 36, a military aircraft engineer; and



Kirill Peskov, 28, a commercial airline pilot with Pegas Fly (Ikar Airlines).
The eight men were chosen from a pool of 420 applicants. The recruitment, which began in March 2017, was open to all Russian citizens who were 35 years of age or younger and held a degree in engineering, scientific or flight disciplines. Eligible candidates had to pass medical and psychological exams, were required to know English and have a basic familiarity working with technical systems, including the associated terminology.

"An important factor in the selection is the availability of abilities to study space technology," Roscosmos said in a release announcing the trainees (as translated from Russian).

The chosen eight will report to Star City where they will undergo two years of basic training. If successful, they will become eligible for future spaceflight assignments.

"The goal is to select the best specialists who — having the skills of working with space and/or aircraft — will work within the International Space Station program, will be trained to pilot Russia's new Federatsiya spacecraft, and who will possibly become the first Russians to fly to the moon," stated Roscosmos.

The eight men are the first cosmonaut candidates in six years. Roscosmos' active corps presently includes 29 cosmonauts — 28 men and one woman (Anna Kikina selected in 2012, initially rejected in 2014 and then reinstated as a candidate). To date, only four Russian women have flown in space out of the 61 worldwide.

Prior to the Prokopyev brothers, NASA selected twin brothers Mark and Scott Kelly as part of its 1996 class of astronaut candidates. Roscosmos' cosmonaut corps has also included two father and son pairs: Alexander and Sergei Volkov, chosen in 1978 and 1997, and Yuri and Roman Romanenko, selected in 1970 and 1997, respectively.

Roscosmos also previously recruited Mark Serov in 2003, three years before also selecting his wife, Yelena Serova, as a fellow cosmonaut. Other cosmonauts have been wed after being selected and there have been married couples in the NASA and European Space Agency (ESA) astronaut corps, as well.
Quelle: CS
1749 Views