Der 50-jährige Saarländer wird nächstes Jahr sechs Monate auf der Internationalen Raumstation leben und arbeiten. Er ist damit der erste Deutsche, der mit der neuen Crew Dragon von SpaceX fliegt.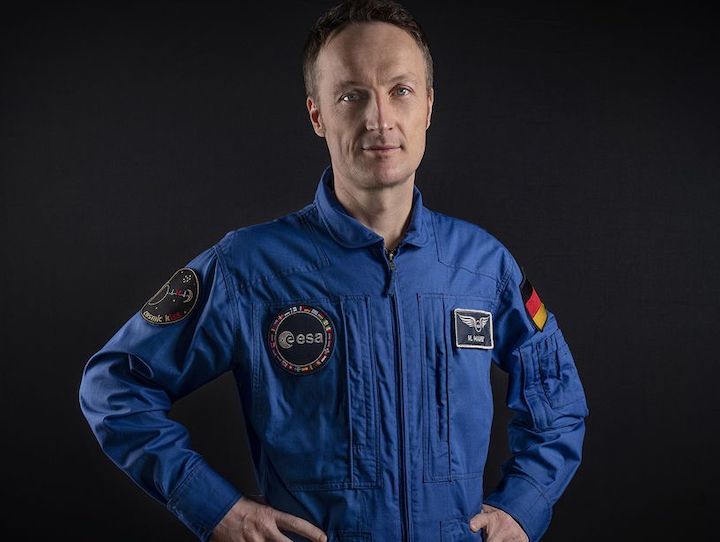 Das Warten hat (bald) ein Ende: Matthias Maurer wurde Anfang Dezember auf einem Treffen von Vertretern der amerikanischen, russischen, kanadischen und europäischen Raumfahrtorganisationen für seinen ersten Flug zur Internationalen Raumstation ISS ausgewählt.
Zusammen mit den NASA-Astronauten Raja Chari und Thomas H. Marshburn wird er im Herbst 2021 an Bord des SpaceX Crew-3-Flugs vom Kennedy Space Center in Florida, USA, aus ins All starten. Nach dem Franzosen Thomas Pesquet ist Maurer der zweite europäische Astronaut, der mit der neuen privaten Crew-Dragon-Kapsel von SpaceX fliegen wird.
Kosmischer Kuss für die Menschheit
Maurers Mission wird unter dem Namen "Cosmic Kiss" laufen. "Der Name steht für die besondere Verbindung, die die ISS zwischen den Bewohnerinnen und Bewohnern der Erde und dem Kosmos herstellt", so Maurer. Er vermittle zudem, wie wichtig Partnerschaften bei der weiteren Erforschung von Mond und Mars seien, ebenso wie der Respekt, der Schutz und der Erhalt der Natur auf unserem Heimatplaneten.
"Ich freue mich schon sehr darauf, auf der Neugier und dem Wissen derer, die vor mir zur ISS gereist sind, aufzubauen, sowie meine eigenen Erfahrungen als europäischer Botschafter im Orbit zu teilen", so Maurer weiter.
Maurer wurde 2015 offiziell in den ESA-Astronautenkorps aufgenommen. Vor seiner Ausbildung zum Astronaut war der promovierte Materialwissenschaftler im ESA-Astronautenzentrum in Köln unter anderem als Projektmanager für die Entwicklung der zukünftigen ESA-Mondsimulationsanlage Luna tätig. Maurer ist der einzige ESA-Astronaut, der noch nicht in den Weltraum geflogen ist.
Quelle: FLUGREVUE
----
Update: 27.02.2021
.
Cosmic Kiss goes symphonic
An epic 'Space Symphony' composed by Germany's BigCityBeats is set to add musical goosebumps to the preparations of ESA astronaut Matthias Maurer for his Cosmic Kiss space mission, thanks to a new cooperation with ESA.
This autumn, ESA astronaut Matthias Maurer will become the fourth German astronaut to visit the International Space Station, and the third to join a long-duration expedition, to live and work on the Station for six months.
Matthias has already declared his love for space, stars and the Universe by naming his mission 'Cosmic Kiss' and designing his mission patch, but he wanted another way to share his wonderment of space.
Matthias is very aware that many of his predecessors who've travelled into space have returned to Earth with an experience that changed them forever. So he's looking forward to gazing down from the heavens, and hoping that his images combined with an emotive piece of music can help us have a sense of what this must be like.
"Music is a universal language," says Matthias. "And I am really happy that through our cooperation with BigCityBeats we can reach people's hearts and get them excited about ESA and space exploration."
The 'Space Symphony' is a multimedia composition by BigCityBeats, bearing the unmistakable signature of Bernd Breiter, the company's CEO, as its composer and producer. Bernd is known for the World Club Dome music and dance events, and for video productions such as 'Die Welt steht still'/'The world stands still'.
The Space Symphony piece is about three and a half minutes long, divided musically into two parts: mystical and space. According to BigCityBeats, the music resonates emotions and melody, combining to activate the positive, happy, 'feel good' hormones within the body. The music will accompany a specially produced video and be used throughout Matthias's mission.
Matthias's Space Symphony is not the first project ESA has worked on with BigCityBeats. Managed through ESA's Branding and Partnerships Office, BigCityBeats chartered Novespace's specially fitted Airbus A310 aircraft in 2018 for a parabolic flight for party lovers from all across the world, demonstrating the experience of weightlessness and introducing guests to the world of space exploration.
"I am honoured and proud that we laid the foundation for such a trusting cooperation three years ago by creating the first Zero-Gravity Club, a unique collaboration between BigCityBeats and ESA," said Bernd Breiter.
The most recent collaboration saw ESA astronaut Luca Parmitano making space (and music) history when he broadcast the first DJ music set from orbit, performing to a worldwide audience as part of the BigCityBeats World Club Dome Cruise Edition in August 2019.
Listen to the full track here:
Quelle: ESA