13.04.2018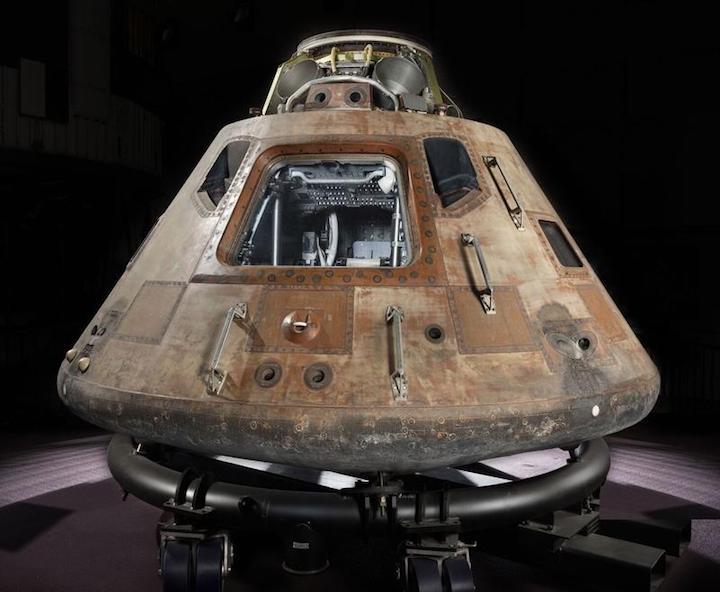 The Apollo 11 command module Columbia will be on display at the St. Louis Science Center.
-
A treasure trove of invaluable artifacts from the space race will be on display at the St. Louis Science Center.
"Destination Moon: The Apollo 11 Mission," a traveling exhibition from the Smithsonian's National Air and Space Museum, opens Saturday in St. Louis.
The crown jewel of the exhibition is the command module Columbia, which carried astronauts Neil Armstrong, Buzz Aldrin and Michael Collins to the moon in 1969.
"I think the people will love it," said Christian Greer, chief officer for science, education and experience at the St. Louis Science Center. "It's an immersive exhibit, an exciting exhibit and one with historical significance in St. Louis."
The immersive experiences include a St. Louis-themed street that contains space artifacts from the 1960s as well as a mock living room that transports visitors back in time to a launch and landing television viewing party.
St. Louis is a fitting place to be one of only four cities nationwide to host the exhibit. St. Louis' McDonnell Aircraft, before it merged with Douglas Aircraft Company, played an astronomical role in the pre-Apollo 11 missions of Projects Mercury and Gemini.
"McDonnell [Aircraft] did a wonderful job on Mercury and Gemini and they really set up the whole space program for NASA," explained Henry Brownlee Jr., who joined Greer as guests on Wednesday's St. Louis on the Air. Brownlee is manager of historical services at Boeing, which merged with McDonnell Douglas in 1997.
Brownlee explained that Boeing is engaged in the future of space travel.
"Boeing is involved in what's called the Space Launch System, that is the [rocket] that will take the Orion and any other capsule either to Mars or to the moon. Boeing is working on that – not in St. Louis – but they are working on that," he said.

The extravehicular (EV) visor and gloves made for and worn by astronaut Buzz Aldrin, lunar module pilot of the Apollo 11 mission in July, 1969.
-
In addition to the Columbia module, other relics from the Apollo 11 mission will include Buzz Aldrin's visor and gloves he wore while on the surface of the moon as well as a star chart that shows the positions of the sun, moon and stars at the time of the mission.
Already on display at the science center and on loan from the Smithsonian are Mercury and Gemini trainer capsules that were built in St. Louis.
"So this is kind of interesting in that we have the Mercury, Gemini and Apollo in one facility," said Greer.
+++
2613 Views