8.04.2018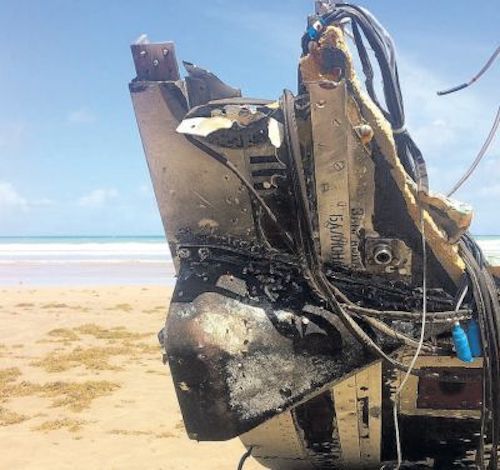 What was believed to be wreckage from an aircraft that washed ashore in Mayaro yesterday has been identified instead as parts of a stage rocket. Retired director general of the T&T Civil Aviation Authority Ramesh Lutchmedial positively identified the debris as parts from a rocket that was launched by the Arianespace Company, a commercial launch service provider, in French Guiana.
Lutchmedial, who now practice as an aviation safety and security consultant,
said "For years rocket parts have washed ashore in T&T as the Arianespace company often launches rockets from the Spaceport in Kourou. They normally wash up on the Southeastern coast such as Mayaro and Manzanilla.
"A rocket is made of different stages; as it goes up into orbit it will jettison its various stages as the fuel is exhausted, when they fall to Earth, ocean currents bring them all the way to T&T."
He said they were not aircraft wreckage as there were no reports of missing aircraft or black boxes.
Nirmala Singh, a local amateur astronomer, said the debris with Russian script was most likely from a Russian Soyuz 2 rocket booster that would have originated from the Guiana Space Centre.
On Arianespace's website listed the launch of the Russian rocket Soyuz Flight VS 18 on March 9, 2018.
When Alina Trimbovetchi, a Russian national was contacted to translate the Russian writing, she said the name "Ballona" was written on it, followed by "restricted or prohibited area."
Quelle: GUARDIAN MEDIA
2431 Views