As China's Tiangong-1 space station hurtled toward Earth on Monday, burning up as it entered the atmosphere, Chinese residents wished the spacecraft a final farewell.
"Goodbye Tiangong-1. You are our hero," one user wrote on the Chinese microblog Weibo, under the hashtag "Goodbye Tiangong". Chinese news outlets posted photos and tributes to the 10.4-metre-long space station as it re-entered the Earth's atmosphere over the south Pacific.
"Let's take this moment to applaud and cheer her. This time it's really goodbye," wrote the Beijing-based Toutiao News.
Tiangong-1, or Heavenly Palace 1, was a symbol of China's rise when it launched in 2011 and key part of the country's ambitious space programme, which aims to place a permanent station in orbit by 2023.
It was originally planned to be decommissioned in 2013 but its mission was repeatedly extended. It became apparent in 2016 that China had lost control of the craft, which had stopped functioning and was no longer responding to ground control.
In December 2017, China alerted the United Nations that Tiangong-1 would come down by late March 2018 but could not predict exactly when or where. On Monday, the country's space agency confirmed it had crashed into the Pacific Ocean.
The China Manned Space Engineering Office said: "Through monitoring and analysis by Beijing Aerospace Control Centre and related agencies, Tiangong-1 re-entered the atmosphere at about 8.15am, 2 April, Beijing time (0115 GMT). The re-entry falling area is located in the central region of the south Pacific.
"Most of the devices were ablated during the re-entry process." Ablated, in spacecraft terms, means burned up through atmospheric friction.
Some in China dismissed the agency's characterisation of the out-of-control satellite. "Re-entry? Everyone knows it's a crash," one Weibo user wrote.
The Chinese tabloid Global Times said on Monday that similar descriptions of the spacecraft in international media reflected overseas "envy" of China's space industry.
"It's normal for spacecraft to re-enter the atmosphere, yet Tiangong-1 received so much attention partly because some western countries are trying to hype and sling mud at China's fast-growing aerospace industry," the paper said.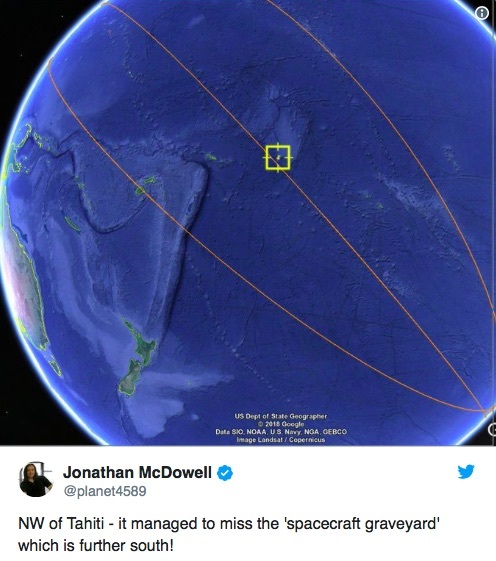 The US military's Joint Force Space Component Command (JFSCC) confirmed the craft's re-entry "through coordination with counterparts in Australia, Canada, France, Germany, Italy, Japan, South Korea and the United Kingdom".
The European Space Agency had indicated earlier that Tiangong-1 was likely to break up over water, which covers most of the planet's surface.
It described the probability of someone being hit by a piece of debris from Tiangong-1 as "10 million times smaller than the yearly chance of being hit by lightning".
Brad Tucker, an astrophysicist at the Australian National University, said Tiangong-1's re-entry was "mostly successful" though it would have been better if the space station had not been spinning toward Earth. "It could have been better obviously, if it wasn't tumbling, but it landed in the southern Pacific Ocean and that's kind of where you hope it would land," Tucker said.
"It's been tumbling and spinning for a while, which means that when it really starts to come down it's less predictable about what happens to it," Tucker said.
"The biggest takeaway from this is that as we put more things into space, all countries, we have to be aware that we do have to plan for these sorts of issues that are happening."
A second Chinese space station, Tiangong-2, remains in orbit. Launched in 2016, after Tiangong-1 went offline, its aim is to test capabilities for long-term human presence in space, in anticipation of China's permanent space station.