18.06.2017
Strategic Partnership Agreement between JAXA and PeptiDream Inc.
And
Latest Results from the High-Quality Protein Crystal Growth Experiment (Fee-Based) on the Japanese Experimental Module of the International Space Station,"Kibo"
PeptiDream Inc.
National Research and Development Agency
Japan Aerospace Exploration Agency (JAXA)
PeptiDream Inc. (PeptiDream), a Tokyo-based public biopharmaceutical company, and the Japan Aerospace Exploration Agency (JAXA), a national research and development agency, has established a strategic partnership for the High-Quality Protein Crystal Growth (PCG) experiment on the Japanese Experimental Module ("Kibo") of the International Space Station (ISS). This strategic partnership agreement (this Agreement) is a renewal of the current fee-based contract and represents a further expansion of the relationship between PeptiDream and JAXA. Under this Agreement, the number of experimental protein samples to be investigated is increased six-fold over the original agreement, and the term is further extended from August 2017 to August 2020.

PeptiDream and JAXA originally entered into a fee-based Agreement in February 2016. Under this original Agreement, JAXA has crystallized the HER2 receptor with a non-standard cyclic peptide (the drug candidate) provided by PeptiDream. The first space experiment was conducted on Kibo from February to March 2017, followed by diffraction data measurement and structure determination. The crystal (of the HER2-peptide complex) grown in space gave a substantially higher resolution than those crystals attained on the ground. The crystal structure clearly showed the macrocyclic drug candidate bound to the HER2 receptor and revealed an unprecedented binding mode. These results provide critical information that PeptiDream can now use to further optimize the HER2 targeting macrocyclic peptide candidate and accelerate its development.

The Strategic Partnership Agreement between PeptiDream and JAXA leverages each other's strengths. Utilizing Kibo as an "Drug-design supporting platform", PeptiDream and JAXA strive to obtain structural information on target proteins and their drug candidates swiftly and efficiently, aiming to produce best-in-class and first-in-class drugs for the world as well as Japan.
HER2 receptor and the drug candidate were co-crystallized in the first 4°C JAXA-PCG experiment under the fee-based Agreement between PeptiDream and JAXA signed on 22 February 2016. The experimental period was from 24 February 2017 to 18 March 2017.

Crystals grown on the ground prior to the PCG experiment were of low quality and were not sufficient to fully identify the binding interaction of the drug candidate and the target protein. In the 4°C PCG experiment on Kibo, the Japanese Experimental Module of the ISS (Fig. 1), high quality crystals of the protein and the drug candidate complex were obtained. The structure was successfully determined at 2.5Å resolution (Fig. 2) including the drug candidate bound to the target HER2 protein. Based on this precise structure of the complex, PeptiDream will further optimize the current macrocyclic peptide candidate. These exciting results, in part, led to the desire to further expand the relationship between PeptiDream and JAXA.

More information about JAXA-PCG, follow the link below;
http://iss.jaxa.jp/kiboexp/theme/first/protein/en/index.html
2. Background of the Original Fee Based Strategic Agreement
In the JAXA PCG experiments in September 2015, PeptiDream undertook a proof-of-concept study with JAXA. After the successful results, PeptiDream and JAXA entered into a fee-based Agreement to working on proteins offered by PeptiDream. Under this contract, JAXA was in charge of the structural study including technical consultation on protein production, high-purity protein preparation, crystallization screening, space experiment, data collection and structure determination. This Agreement was schedule to conclude in August 2017.

For further information on this contract, please visit:
http://global.jaxa.jp/press/2016/02/20160224_protein.html
3. About the Strategic Partnership Agreement between JAXA and PeptiDream Inc.
As a renewal and expansion of the current fee-based agreement, PeptiDream and JAXA have entered into a new Strategic Partnership Agreement. In the new Agreement, the term was extended to 3 years from the current 1.5 years and the number of the protein target samples has been increased six-fold over the original Agreement. PeptiDream serves as a leading company in the field of drug discovery, collaborating with numerous world leading pharmaceutical companies. JAXA is responsible for structural studies on multiple target proteins provided by PeptiDream, ranging from technical consultation on protein production to structure determination, in addition to space experimental efforts. This comprehensive Agreement allows for continuation and further expansion of the exciting work happening between the two companies, and significantly accelerates PeptiDream's ability to develop innovative best-in-class and first-in-class therapeutics to meet the unmet medical needs of the world.
Message from Patrick Reid, Senior Vice President and Keiichi Masuya, Vice President
"We are extremely excited with these fantastic results, the crystal structure of the HER2 receptor in complex with our macrocyclic peptide candidate determined from the crystals attained from the JAXA-PCG experiment will significantly accelerate the optimization of these candidates toward clinical candidates. We highly value JAXA's growing expertise in identifying and optimizing crystallization conditions and their technical ability to carry out the first 4°C experiment on Kibo successfully. At any stage of the drug discovery process, such as hit-to-lead and lead optimization, a high-resolution structure always significantly accelerates this process and having a 3-D structure is truly invaluable."
[ About PeptiDream Inc. ]
PeptiDream Inc. is a public (Tokyo Stock Exchange 1st Section 4587) biopharmaceutical company founded in 2006 employing our proprietary Peptide Discovery Platform System (PDPS), a state-of-the-art highly versatile discovery platform which enables the production of highly diverse (trillions) non-standard peptide libraries with high efficiency, for the identification of highly potent and selective hit candidates, which then can be developed into peptide-based or small molecule-based therapeutics. PeptiDream aspires to be a world leader in drug discovery and development to address unmet medical needs and improve the quality of life of patients worldwide.

The PeptiDream Company Home Page (Japanese Language Site):
http://www.peptidream.com/
[ About non-standard cyclic peptides ]
A cyclic non-standard peptide has a "macrocyclic" ring-like structure produced by fusing its N- and C-terminals of a non-standard peptide, which is composed of both natural and non-natural amino acids. PeptiDream has established a technology facilitating the quick and inexpensive large-scale production of a wide variety of non-standard peptides. Unlike conventional peptide-based drugs, non-standard peptides have unlimited potential as novel medicines due to their structural stability and longer duration in our bodies.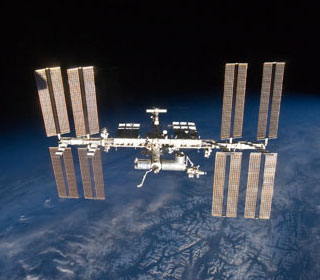 (Fig. 1) International Space Station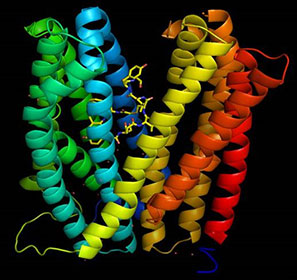 (Fig. 2) A non-standard cyclic peptide
bound to a target protein
[ JAXA-PCG Experiment at 4°C ]
JAXA has been conducting the PCG experiments at 20°C through the Russian-Japan bilateral collaboration. Development of new methods using the US Dragon spacecraft, JAXA launched a new PCG experiment at 4°C. It allows users to choose crystallization temperatures and have more launch opportunities. The first experiment was conducted in February 2017. Using the US Dragon vehicles in addition to the Russian Soyuz and Progress vehicles, JAXA can offer more options to meet users' demands for PCG experiments on Kibo. JAXA continues to improve PCG experiments including developing better temperature controlled containers and increasing the packing density to carry more protein samples to space.
Quelle: JAXA
2393 Views