.
Soviet-era cosmonaut Igor Volk, trained to fly Buran space shuttle, dies at 79
Cosmonaut Igor Volk, who died on Tuesday, Jan. 3, 2017 at the age of 79, launched to the Salyut 7 space station in 1984. (Roscosmos)
Jan. 4, 2017
— Igor Volk, a Soviet-era cosmonaut whose only spaceflight in 1984 was intended to prepare him to fly Russia's space shuttle Buran before it was canceled, died on Tuesday (Jan. 3). He was 79.

Volk's death was reported on the website for the Russian city of Zhukovsky, where the cosmonaut was an honorary citizen.

"[Volk] was a representative of the legendary generation of cosmonauts," the city officials wrote on Zhukovskiy.ru. "He will remain in our memory as an outstanding personality, an extraordinary man and a highly skilled, courageous test cosmonaut, who made a contributions to the exploration of outer space and to the knowledge of the mysteries of the universe."

Roscosmos, Russia's federal space corporation, confirmed Volk's death in a post to its Facebook page.


Cosmonaut Igor Volk training in a Soyuz simulator. (Roscosmos)
Selected in July 1977 among the first group of civilian test pilots for the Buran, the Soviet Union's answer to the U.S. space shuttle, Volk passed basic cosmonaut training and qualified for a spaceflight assignment in 1980. Volk might have then waited for a mission on board the winged orbiter — a flight that would ultimately never come — were it not for an aborted space station docking three years earlier.

In the wake of a two-man, all-rookie Soyuz crew failing to dock to the Salyut 6 station, a new rule was instituted by the Soviet space program that every crew had to include at least one person who had previously flown into space. As such, Volk was initially named to fly with Leonid Kizim and Vladimir Solovyov to the Salyut 7 space station in 1983, to provide him the experience needed to lead the first flight of the Buran.

Another failed docking mission however, resulted in Kizim and Solovyov being reassigned to a later launch and Volk being added to the Soyuz T-12 mission crew with Vladimir Dzhanibekov and Svetlana Savitskaya, the latter being the world's second woman to fly into space making her second spaceflight.

Volk, Dzhanibekov and Savitskaya launched on July 17, 1984 from Russia's Baikonur Cosmodrome (now located in Kazakhstan). During the Soyuz T-12 mission, the seventh crewed flight to visit Salyut 7, Savitskaya became the first woman to go out on a spacewalk, beating NASA astronaut Kathy Sullivan by three months.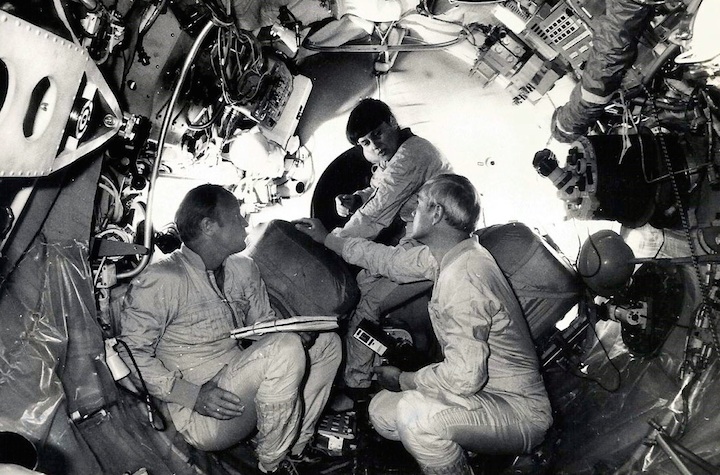 Igor Volk (left) with his Soyuz T-12 crewmates, Svetlana Savitskaya (center) and Vladimir Dzhanibekov. (Roscosmos/Spacefacts.de)
Volk returned to Earth with his two crewmates on July 29, 1984, logging a total of 11 days, 19 hours and 14 minutes in space. Soon after he landed, Volk boarded a Tu-154LL Buran training aircraft and flew an approach following the same flight path the orbiter would on its return from space, touching down at Zhukovsky Air Base near Moscow.

The flight demonstrated that a cosmonaut still readjusting to gravity could safely fly the shuttle to a landing, though Volk, nor any other cosmonaut, would have the opportunity to conduct that real re-entry from space.

Igor Petrovich Volk was born in Kharkiv, now the second-largest city in Ukraine, on April 12, 1937, 24 years to the day before cosmonaut Yuri Gagarin would become the first human to fly into space and 44 years to the day before the first launch of NASA's space shuttle.

A pilot in the Soviet Air Force and graduate of Kirovograd Military Aviation School in 1956, Volk received his degree in engineering from the Moscow Aviation Institute in 1969. He then went to work as a civilian test pilot at the Gromov Flight Research Institute, flying jets, including the MiG-21, MiG-25 and Su-27, as well as a single flight in the "Lapot," an atmospheric test vehicle for the never-realized MiG-105 "Spiral" space plane.

After his Soyuz T-12 mission, Volk continued to prepare for a Buran mission by piloting 13 flights of the analog version of the shuttle, the OK-GLI, between November 1985 and April 1988. His last approach and landing flight marked the 25th and last flight for the vehicle, which is now on display at the Technik Museum Speyer in Germany.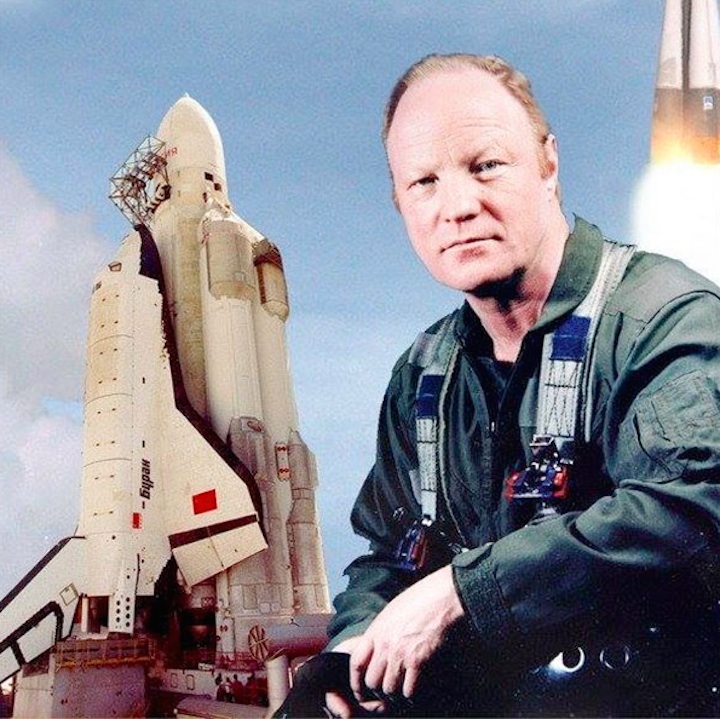 Composite of cosmonaut Igor Volk with the Soviet Union's Buran space shuttle and a Soyuz launch over his shoulder. (Roscosmos)
The Buran only launched to space once, without a crew, in 1988, before the program was canceled in 1993.

"Energiya-Buran is the most powerful space vehicle the world has ever seen, and, had it been given the chance to fully develop, it would have been of great benefit to the people of the Soviet Union and, indeed, the world," Volk wrote in his foreword to the 2007 book "Energiya-Buran" by Bart Hendrickx and Bert Vis. "It didn't get that chance, but the political, and to some extent, economical situation, were not ideal."

In 1995, Volk left the cosmonaut corps to become director of the flight test center at the MM Gromov Flight Research Institute in Zhukovsky, a position he held until he retired in 2002.

For his service to the country's space program, Volk was awarded the title of Hero of the Soviet Union and the Order of Lenin in June 1984.

Volk is survived by his wife, Valentina, and two daughters, Marina and Irina.
Quelle: CS
3807 Views