.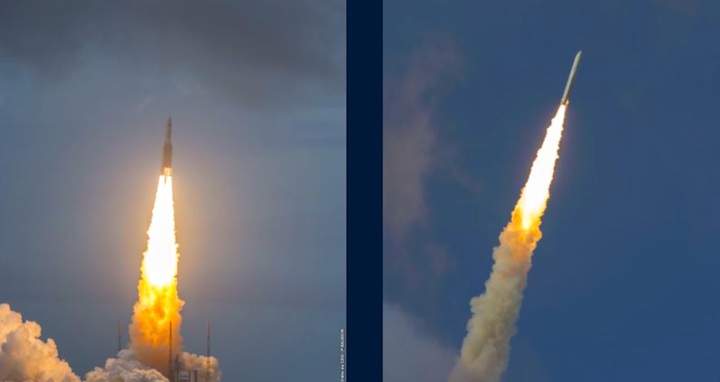 Poised for further success
12 launches planned in 2017
Arianespace expects to maintain a sustained launch pace in 2017:
Up to seven with Ariane 5:

Six Ariane 5 ECA launchers carrying satellites into GTO for global or regional operators.

One Ariane 5 ES, which will orbit four more Galileo satellites for the European Commission and ESA in the second half of the year.
Three with Vega, which will inject four Earth observation satellites into Sun-synchronous orbit:

Two single launches: Sentinel-2B, for the Copernicus program led by the European Commission and ESA; and ADM Aeolus (Atmospheric Dynamics Mission) for ESA.

One dual launch: OPTSAT 3000 (on behalf of CGS and Telespazio for the Italian defense ministry)/VENµS (for the Israeli space agency and CNES).
Two by Soyuz, which will carry out its first missions from CSG into geostationary transfer orbit, for the Hispasat HAG-1/H36G and SES-15 satellites.
Arianespace and Starsem are also actively gearing up for the deployment of the OneWeb constellation, with an initial launch planned as early as the first half of 2018.
Arianespace: a pivotal role in the new governance structure for the European launcher industry
This past year was key to the future of European launchers, based on several decisive developments:
Confirmation of the Vega C and Ariane 6 programs, with their inaugural flights expected in 2019 and 2020, respectively, enables Arianespace to better meet the expectations of its institutional and commercial customers. As a result, Arianespace already is engaged in the preparation of the first offers for these two launchers.

Arianespace's new governance structure is now in place: after the transfer of Arianespace shares held by French space agency CNES, Airbus Safran Launchers is now the majority shareholder in Arianespace, with a 74% stake. The balance of shares, held by companies in the European launcher industry, remains unchanged. The change in Arianespace's shareholding structure will enhance the company's responsiveness and agility to deal with a fast-changing market, for the greater benefit of its customers. Arianespace also seeks greater synergies, with Airbus Safran Launchers for Ariane operations, and with AVIO-ELV for Vega. Within the scope of this new governance structure, Arianespace will continue to be a full-fledged company, taking a neutral stance in relation to all satellite manufacturers, and acting as the single point-of-contact for its customers every step of the way during their contractual and operational relationship. Arianespace thus consolidates the key success factors that have guided its development for more than 35 years
During an international press conference held in Paris, Arianespace Chairman and Chief Executive Officer Stéphane Israël said: "With 11 successful launches in 2016 – marked by new performance, reliability and availability records set by our three launch vehicles: Ariane 5, Soyuz and Vega – we met all commitments to our customers. Our order book now stands at 5.2 billion euros, including slightly more than one billion euros in new orders, and we have annual revenues of approximately 1.4 billion euros, clearly reaffirming our leadership in the commercial launch services market and our commitment to making life better on Earth.
"Benefitting from a new governance and the confirmation of the future Vega C and Ariane 6 launchers, Arianespace is now fully prepared to guarantee independent access to space for Europe, and to continue our leadership in the commercial launch services market for the next decade."
About Arianespace
To use space for a better life on earth, Arianespace guarantees access to space transportation services and solutions for any type of satellite, commercial as well as institutional, into any orbit. Since 1980, Arianespace has placed more than 540 satellites into orbit with its family of three launchers: Ariane, Soyuz and Vega, from launch sites in French Guiana (South America) and Baikonur, Kazakhstan (central Asia). Arianespace is headquartered in Evry, France near Paris; and has a facility at the Guiana Space Center, Europe's Spaceport in French Guiana; plus local offices in Washington, D.C., Tokyo and Singapore.
Quelle: arianespace
2421 Views