1.12.2016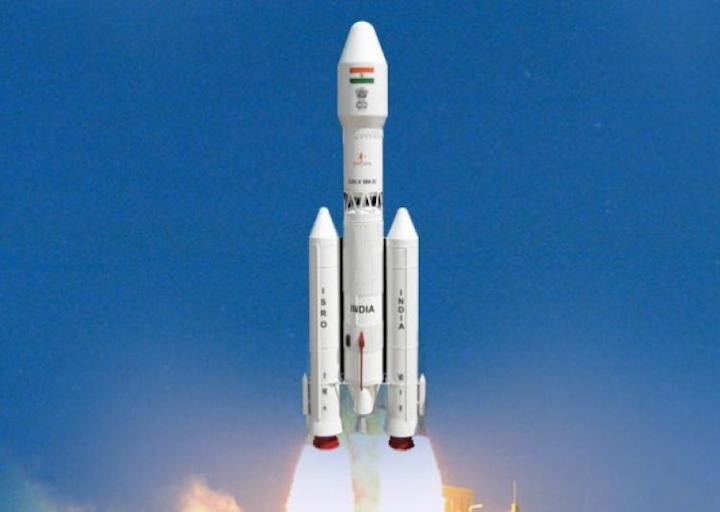 ISRO likely to launch its heaviest rocket GSLV Mk-III in January 2017
The Indian Space Research Organisation (ISRO) is likely to launch the 640-tonne GSLV Mk-III, its heaviest rocket till date, in January 2017.
According to a report in 'Deccan Chronicle', ISRO had initially planned to launch it in December end.
However, the launch was postponed as the largest cryogenic engine CE-20 developed for this rocket is still undergoing tests at ISRO's Propulsion Complex (IPRC) in Mahendragiri, Tamil Nadu.
The report adds that the engine is expected to be delivered sometime in December.
The first indigenous developmental vehicle is capable of placing the 4-tonne class GSAT satellites into the Geostationary Transfer Orbit.
The 43.43-metre tall vehicle has the liquid and cryogenic stage and two S200 solid rocket boosters.
"All the systems are now getting ready. The L110 and S200 stages are already delivered to Satish Dhawan Space Centre in Sriharikota. The cryogenic engine CE-20 is still not delivered as the engine tests are going on," K Sivan, director, Vikram Sarabhai Space Centre (VSSC), Thiruvanan thapuram told Deccan Chronicle.
"The exact date for the launch will be finalised only when we finish our tests. It's not like PSLV or GSLV launches. It's a new stage, new testing and some new observations will be there and we have to solve the teething issues. In all likelihood, the launch may go to January," he added.
Sivan further said that GSLV-Mk-III rocket will launch the 3.2-tonne GSAT-19 satellite into the Geosynchronous Transfer Orbit.
"GSLV-Mk-III will launch the satellite like our regular GSLV rocket," he said.
Quelle: INDIATV
-
Update: 18.02.2017
.
ISRO to launch GSLV mark-III
After putting 104 satellites into orbit with a single launch, Indian Space Research Organisation (ISRO) is now preparing to launch Geosynchronous Satellite Launch Vehicle Mark III (GSLV Mark-III) in few months. This was revealed by former ISRO chairman G Madhavan Nair while delivering the inaugural address at the 3rdORF-Kalpana Chawla Annual Space Policy Dialogue being organised by Observer Research Foundation in New Delhi from February 16 to 18. Nair also released the book 'Space India 2.0: Commerce, Policy, Security and Governance Perspectives', authored by Dr Rajeswari Pillai Rajagopalan, Head of ORF's Space and Nuclear Initiative, and Mr Narayan Prasad, Co-Founder of Dhruva Space. Noting that India is yet to make any significant progress in the aviation sector, Mr. Nair suggested setting up an Integrated Space Development Agency for helping build civil aviation vehicles. Nair, who was also the president of the International Academy of Astronautics, said ISRO has been able to make great progress and deliver according to schedules, making the country proud. "If we can do so well in rockets and satellites, why not in the aviation sector?" he asked, adding that he was sure that India will be able to build aviation vehicles, provided there was political will and determination. "ISRO has once again done a great job. I am proud to stand before you today, a day after it put a record 104 satellites into orbit with a single launch," Nair said adding India would be launching Geosynchronous SatelliteLaunch Vehicle Mark III (GSLV Mark-III) in few months. However, he said India should now aim at much bigger targets, like tapping helium 3 from planets, manned Moon and Mars Mission and developing aircrafts. He was sure that we have the capacity and skill to develop such technologies. He drew the attention to the increasing debris in outer space and the need for international efforts to remove such debris which is becoming a danger. Talking about the benefits of our advances in the space in other spheres, Nair praised Prime Minister Narendra Modi for his efforts in using social aspects extensively and pushing others ministers to do so. Nair said the reason for the failure of flight, in which Indian-origin US astronaut Kalpana Chawla died, was the human error and not an engineering problem. He narrated how such human mistakes had twice resulted in failures of launch during his career as well. "We learnt from each mistakes and that is what makes ISRO stands out," he remarked, saying ISRO developed technologies on its own and did not copy from anywhere. Noting that India has come a long way to become one of the key actors in outer space, ORF Director Sunjoy Joshi impressed on the need for extending the benefits of technology right down to the bottom of the pyramid, developing space security doctrine, defence space agency, expansion of Integrated Space Cell and evolution of a comprehensive space policy. With nano satellites with limited lives are going to make increasingly congested, Joshi said: "We will need new global frameworks and rules and norms so that space is efficiently utilised and not cluttered and potential of space for all nations is preserved and protected. "India's stand has always favoured rules that are democratic and non-discriminatory and outer space is no exception," Joshi said. Japan Aerospace Exploration Agency's Technical Adviser Yasushi Horikawa also today stressed the urgent need for creating some kind of international mechanism to clean outerspace of debris. Prof. Horikawa said a consensus for final best practices should be arrived at towards 2018 for better outerspace utilisation for all space-faring countries. The ORF-Kalpana Chawla Space Policy Dialogue is having sessions on 'Space Finance', 'Transponder Capacity for Broadcasting and Broadband over India', 'Collective Governance of the Global Commons', 'Derivatives Space-scoping the Downstream Applications', 'Emerging Space Actors', 'Making the Case for India's Space Policy', 'A New Frontier: Boosting India's Military Presence in Outer Space' and 'Space Sustainability and Global Governance'. (ANI)

-
Update: 19.02.2017
.
Cryogenic upper stage for GSLV MkIII tested successfully
-
The ISRO today said it has successfully tested its indigenously developed Cryogenic Upper Stage for GSLV MkIII.
It said the cryogenic stage, designated as C25, was tested for a flight duration of 640 seconds at ISRO Propulsion Complex at Mahendragiri in Tirunelveli district of Tamil Nadu, yesterday.
C25 stage had earlier been tested successfully for 50 seconds on January 25, 2017 to validate all the systems.
Stating that prior to stage development hot tests, three CE20 engines were realised and two engines were subjected to qualification tests in sea level conditions, ISRO said, this included 800 seconds duration hot test and the third engine identified for flight was tested in high altitude conditions for a duration of 25 seconds.
This stage test is a significant milestone as it is the last in a series of engine and stage development hot tests before the first development flight of GSLV MkIII, it said.
GSLV MkIII, the next generation launch vehicle of ISRO, is capable of launching four ton class satellites into Geosynchronous Transfer Orbit (GTO).
The GSLV MkIII vehicle integration activities are in progress at Satish Dhawan Space Centre or Sriharikota for its first development flight (GSLV MkIII—D1) targeted for April 2017.
The space agency described the C25 stage as the "most powerful" upper stage developed by ISRO which uses Liquid Oxygen (LOX) and Liquid Hydrogen (LH2) propellant combination.
It said the stage carries 27.8 tonnes of propellants loaded in two independent tanks.
According to ISRO, development of a cryogenic stage has unique design challenges, with liquid Hydrogen stored at —253 deg C and liquid Oxygen stored at —195 deg C in its tanks.
The Cryogenic Stage development tests were carried out in two phases; first stage was subjected to fluid mock—up, wherein the stage preparation and servicing at launch complex in SDSC, SHAR, Shriharikota was completed to prove all the ground facilities established for servicing the cryogenic stage.
This was followed by testing of the Stage at ISRO Propulsion Complex, Mahendragiri. From the Stage realisation to completion of testing, the process was accomplished in four months.
The performance of the Stage during the hot test was as predicted, ISRO said, adding, successful hot test for flight duration qualifies the design of the stage and "robustness of the facilities conceived and established towards its development."
The flight cryogenic stage is in advanced stage of realisation and forms upper stage of GSLV MkIII, it added.
Quelle: The Hindu
---
Update: 13.05.2017
.
Isro to launch 'game-changer' GSLV Mark-III next month
Isro plans to launch its most powerful rocket GSLV Mark III that is capable of transporting a heavier 4-tonne communications satellite next month
Isro currently has the capability to launch payloads of up to 2.2 tonnes into the intended orbit and anything above that it had to tap foreign launch facilities. Photo: Hemant Mishra/Mint
Hyderabad: India plans to launch next month its most powerful rocket that is capable of transporting a heavier 4-tonne communications satellite and described as a "game-changer" in the first of its kind space mission.
Aiming for a greater share of the multi-billion dollar global space market and to reduce dependency on international launching vehicles, the Indian Space Research Organisation (Isro) said on Friday it is hoping to launch the Geosynchronous Satellite Launch Vehicle (GSLV) Mark-III in the first week of June.
A successful launch of this rocket will be yet another major step towards being self-reliant in the country's space programme.
The Isro currently has the capability to launch payloads of up to 2.2 tonnes into the intended orbit and anything above that it had to tap foreign launch facilities.
"GSLV Mark-III is our next launch. We are getting ready. All the systems are in Sriharikota. The integration is currently going on," Isro chairman A.S. Kiran Kumar told reporters in Hyderabad.
"The whole process of assembling the various stages and then integrating the satellite into the heat shield, these activities are going on. First week of June is when we are targeting this launch," he said.
The Isro views operationalisation of this rocket as a "game-changer" mission.
GSLV Mark-III will be India's most powerful launch vehicle built to lift the heaviest Indian communications satellites to space. It can put satellites weighing 4 tonnes in space, double the weight that the current GSLV-Mark-II can lift. It will also enable Isro to launch from India heavier communications spacecraft to geostationary orbits of 36,000 km. Because of the absence of a powerful launcher, Isro currently launches satellites above 2 tonnes on European rockets for a big fee.
Noting that communications satellites built beyond the capacity of 2.2 tonnes have to be launched from foreign soil, Kiran Kumar said efforts are on to launch satellites upto four tonnes and even beyond in India itself.
The GSLV Mark-III is intended to launch satellites into geostationary orbit and as a launcher for an Indian crew vehicle. It features an Indian cryogenic third stage and a higher payload capacity than the current GSLV. The satellite would carry Ka and Ku-band payload along with a Geostationary Radiation Spectrometer (GRASP) payload to monitor and study the nature of the charged particles and influence of space radiation on spacecraft and electronic components. It would also employ advanced spacecraft technologies including bus subsystem experiments in electrical propulsion system, indigenous Li-ion battery and indigenous bus bars for power distribution, among others.
The technology on lithium ion batteries developed by Isro is good for space programme in terms of cost-effectiveness, but it requires the efforts of industry to develop it to reduce costs, Kiran Kumar said.
Quelle: mint
4263 Views