.
8.06.2016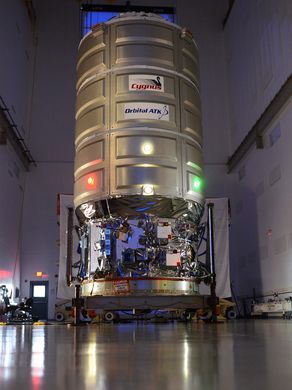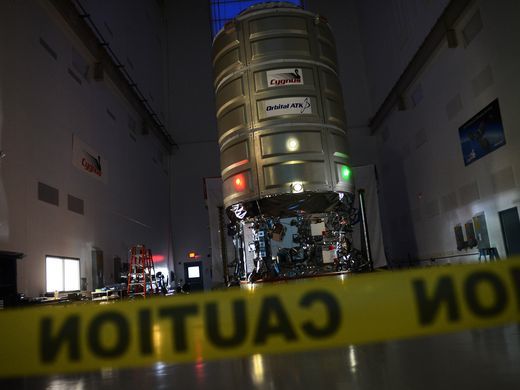 Inside a giant warehouse at NASA's Wallops Flight Facility, engineers and VIPs posed for pictures Tuesday in front of what looked like a 20-foot-tall can of soup.
Another day, another milestone in Orbital ATK's march toward its return to flight at the facility: the mechanical marriage of the two hulking modules that comprise the Cygnus spacecraft.
NASA and its private contractor are targeting a launch date some time in July, they announced Tuesday at a press gathering at the facility.
Engineers are preparing the rocket to send supplies and experiments to the International Space Station. A successful launch also will send a message that Wallops remains a viable spaceport, said Dan Tani, a senior director with Orbital and former astronaut.
"We're back here to what we consider our home port after a hiatus," he said. "We're on a path to a successful launch."
That launch will be the first for Orbital at Wallops since its unmanned rocket blew up spectacularly within seconds of takeoff in October 2014. The pad had to undergo $15 million in repairs, which were completed last fall.
Orbital, which is one of two aerospace companies under contract to ferry cargo to the space station, has flown two missions out of Cape Canaveral in Florida in the meantime. it has overhauled its Antares rocket, replacing Soviet-era motors with newly built, more powerful Russian versions.
CONTEXT: Getting Antares back on track after its fiery mishap at Wallops.
Orbital tested the new rockets on the pad May 31, and initial results suggest all went according to plan, Tani said.
The main subject of Tuesday's showcase was the container that rests atop all that firepower: the Cygnus spacecraft. As of last week, the pressurized cargo module is bolted to the lower service module, the cylinder of circuitry that connects the cargo portion to the Stage 2 of the rocket.
Conditions inside the payload processing facility are similar to an operating room. All who enter must don disposable lab coats, hairnets and shoe covers. And don't even think about wearing cologne or perfume.
"We want to send into space the most pristine, the most clean things we can," Tani said.
As the launch approaches, workers will load the space vehicle into a tall container, which will be ferried by truck over the Wallops Island. There, it will join Antares, which is already waiting for its partner in a warehouse, Tani said.
Orbital officials also announced that the craft will be named the S.S. Alan G. Poindexter in honor of the former astronaut. Poindexter, who called Rockville, Maryland, his home, died in 2012, two years after he retired from NASA.
.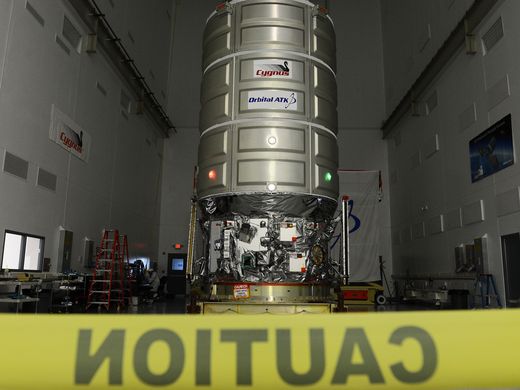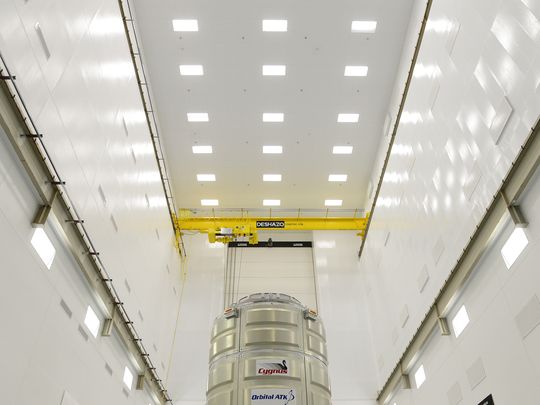 The completed Orbital ATK Cygnus spacecraft stands in the Cygnus Processing Facility on Tuesday, June 7, 2016 at Wallops Flight Facility. Orbital officials say the Cygnus will be used in a resupply mission to the International Space Station in July.
Quelle: delmarvanow
S.S. Alan Poindexter: Orbital ATK freighter named for late shuttle astronaut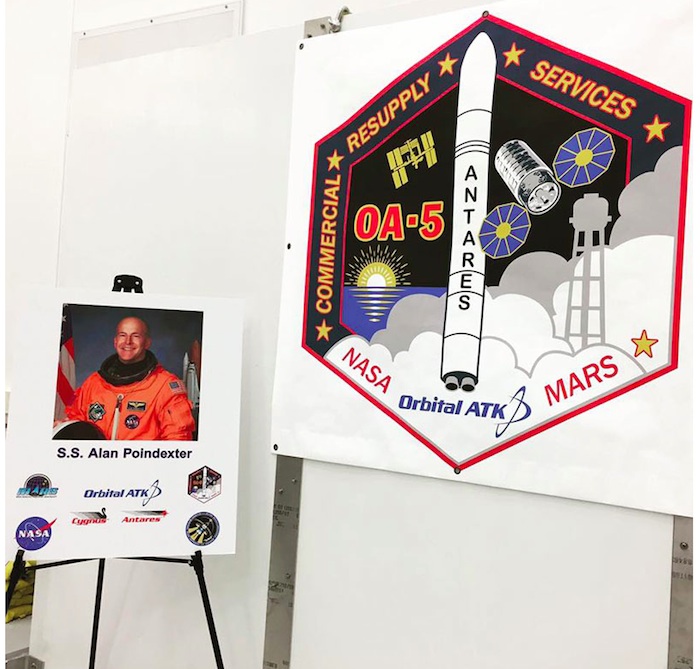 June 7, 2016 — A NASA space shuttle commander who died in a 2012 water sports accident is being remembered with the naming of a space station-bound resupply vehicle, the company behind the spacecraft has announced.
"[The] OA-5 Cygnus [cargo spacecraft] will be named after former NASA astronaut and naval officer Alan Poindexter," Orbital ATK wrote on Twitter on Tuesday (June 7).
The S.S. Alan Poindexter will launch on Orbital ATK's sixth NASA-contracted mission to deliver scientific experiments, supplies and equipment to the International Space Station. The uncrewed, solar-powered capsule will be the first to fly on the company's redesigned Antares 230 rocket since an earlier Cygnus freighter was destroyed in a launch failure in October 2014.
The Antares 230 rocket will fly using Russian-sourced RD-181 engines, enhancing performance and flexibility, Orbital ATK officials said.
Orbital ATK flew two interim Cygnus missions atop United Launch Alliance Atlas V boosters from the Cape Canaveral Air Force Station in Florida. The OA-5 launch will mark the company's return to the Mid-Atlantic Regional Spaceport's Pad 0A at NASA's Wallops Flight Facility in Virginia.
The launch of the S.S. Alan Poindexter is targeted for July.
"Poindexter's intersecting career with several members of [the] Orbital ATK management, his connection to Maryland and the Eastern Shore and his distinguished military and spaceflight career make him an ideal honoree for the OA-5 mission," the company stated.
Born in 1961, Alan Goodwin "Dex" Poindexter grew up in Rockville, Maryland. A U.S. Navy veteran, he flew combat missions during Desert Storm with Kent Rominger, another future astronaut who today serves as the vice president for strategy and business development at Orbital ATK.
Poindexter was named to NASA's astronaut corps in 1998 and flew twice into space. In 2008, he piloted space shuttle Atlantis on the STS-122 mission, delivering the European Space Agency's Columbus laboratory to the space station. The flight also returned to Earth Daniel Tani, an Expedition 16 flight engineer who is now Orbital ATK's senior director for mission and cargo operations.
Two year later in 2010, Poindexter commanded the space shuttle Discovery on its penultimate spaceflight. The STS-131 mission transported 13,000 pounds (5,900 kilograms) of crew supplies and spare equipment to the space station. By comparison, the Cygnus bearing Poindexter's name will launch 5,300 pounds (2,400 kg) of logistics to the orbiting outpost.
"Orbital ATK, wonderful way to honor Dex, his dedication and accomplishments for NASA," wrote STS-131 mission specialist Dottie Metcalf-Lindenburger on Twitter.
"Thanks for recognizing my [1998 NASA] classmate and our STS-131 commander," wrote Clay Anderson, who also flew on Discovery as a mission specialist.
In total, Poindexter logged 27 days and 21 hours in space over the course of his two missions.
On July 1, 2012, Poindexter, 50, died of injuries sustained in a recreational jet ski accident. He is survived by his wife, Lisa, and their two sons, Zach and Samuel.
The naming of the S.S. Alan Poindexter continues Orbital ATK's tradition of christening its cargo spacecraft for late astronauts who made contributions to the company's goals or to the construction of the space station.
Quelle: CS
-
Update: 16.06.2016
.
United Launch Alliance Provides Update to OA-6 Cygnus Launch
Centennial, Colo., (June 15, 2016)– ULA successfully delivered the OA-6 Cygnus spacecraft to the International Space Station (ISS) on March 22. During the first stage burn, the Atlas V system experienced an anomalous propellant mixture ratio resulting in an early booster shutdown and degradation of first stage performance. The Atlas V's robust system design, flight software, vehicle margins and propellant reserves enabled the successful outcome for this mission.
The Centaur upper stage identified the first stage performance shortfall and compensated with an extended burn to deliver Cygnus to the precise orbit, well within the required accuracy.
Per standard processes when a flight data item such as this has been identified, the ULA engineering team, along with our engine supplier and several government customers, forms a robust review team. The review team assessed all flight and operational data to determine direct and root causes and implemented the appropriate corrective actions for future flights.
"Thanks to the robust vehicle system design of Atlas V, the OA-6 mission was delivered successfully to its intended orbit and Cygnus completed its' mission to the ISS," said Gary Wentz, ULA's vice president of Human and Commercial Systems. "ULA applied a rigorous anomaly review process to identify and implement all necessary corrective actions to ensure we continue to reliably deliver critical capabilities for our customers with 100 percent mission success."
An extensive review of all post-flight data observations determined that at approximately T+222 seconds, an unexpected shift in fuel pressure differential across the RD-180 Mixture Ratio Control Valve (MRCV) and a reduction in fuel flow to the combustion chamber caused an oxidizer-rich mixture of propellants and a reduction in first stage performance. The imbalanced propellant consumption rate resulted in depletion of the first stage oxidizer with significant fuel remaining at booster engine shutdown. The engine supplier has implemented a minor change to the MRCV assembly to ensure the anomaly does not occur on future flights.
Engine hot-fire testing, extensive component and assembly level testing and analyses have been performed to confirm the findings. Detailed inspections and minor hardware replacement on all engines will support the current launch manifest.
"We would like to thank our customers and supplier partners for their outstanding collaboration in the detailed review of this anomaly. We are honored to be entrusted with delivering America's most critical space assets to orbit and appreciate the outstanding team effort in delivering 100 percent mission success - one launch at a time," said Laura Maginnis, ULA's vice president of Custom Services. "'We remain on plan to launch all of our manifested 2016 missions within the year."
The final and corrective action reviews, as well as flight clearance for the Atlas V MUOS-5 mission occurred on June 2. The Atlas V MUOS-5 launch is scheduled for June 24 from Space Launch Complex-41 at Cape Canaveral Air Force Station, Florida.
With more than a century of combined heritage, United Launch Alliance is the nation's most experienced and reliable launch service provider. ULA has successfully delivered more than 100 satellites to orbit that provide critical capabilities for troops in the field, aid meteorologists in tracking severe weather, enable personal device-based GPS navigation and unlock the mysteries of our solar system.
Quelle: ULA
-
Update: 14.07.2016
.
Fine forecast for Falcon 9 launch overnight Sunday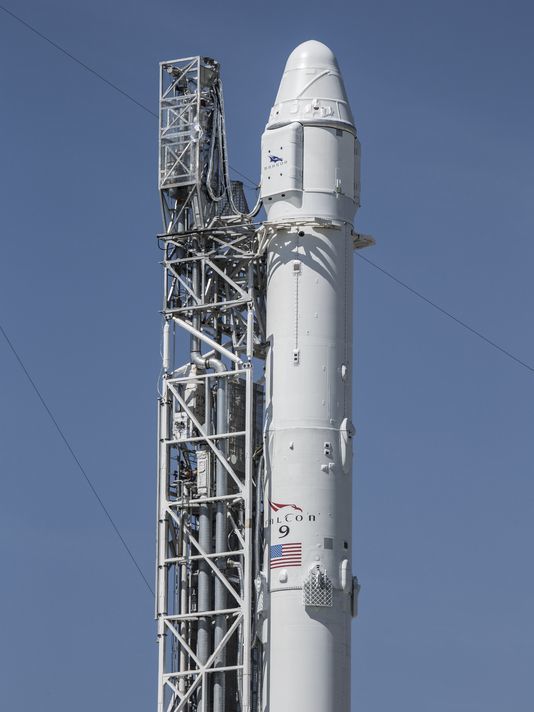 If you can stay up late enough Sunday, it should be a nice night to watch a SpaceX Falcon 9 rocket blast off and then try to land back at Cape Canaveral Air Force Station.
The rocket and a Dragon capsule carrying International Space Station supplies are targeting liftoff at 12:44 a.m. Monday.
Forecasters predict a 90 percent chance of favorable weather for the instantaneous window at Launch Complex 40, with a small chance that clouds or a shower could get in the way.
If the first attempt scrubs, a second try would be possible late Tuesday, when the forecast shows a 70 percent chance of acceptable conditions.
SpaceX is launching its ninth of 20 missions planned under a NASA resupply contract worth up to $3.1 billion.
The Dragon is packed with nearly 5,000 pounds of cargo, including a docking ring needed for astronauts flying in SpaceX or Boeing capsules to link up to the station in the next year or two.
About 10 minutes of liftoff, the first stage of the Falcon 9 will fly back to a landing pad near the tip of Cape Canaveral for the first time since December, when SpaceX achieved its first booster landing.
SpaceX has landed four boosters so far, including three at sea, in its effort to develop reusable rockets that could dramatically lower launch costs.
Quelle: Florida Today
-
Next SpaceX launch will bring critical docking adapter to International Space Station
The first adapter that launched last year didn't make it to orbit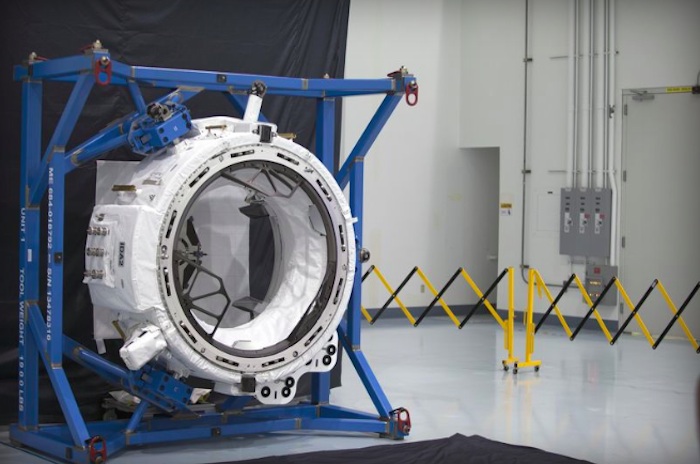 The International Space Station is getting an important piece of cargo next week: a new International Docking Adapter, or IDA, that will allow future crewed spacecraft to automatically dock with the station. The large metallic ring, which measures 63 inches in diameter, will eventually be installed on the Harmony module. This is the second IDA to be sent to space, though the first one never actually made it to orbit; it was destroyed when the SpaceX Falcon 9 rocket carrying it to the ISS disintegrated during launch in June 2015.
THIS IS THE SECOND IDA TO BE SENT TO SPACE, THOUGH THE FIRST ONE NEVER ACTUALLY MADE IT
This new IDA is slated to launch early Monday morning from Cape Canaveral, Florida on a SpaceX Falcon 9 rocket. The vehicle will carry around 3,800 pounds of fresh cargo and science experiments, including a space-based DNA sequencer called minION that will be used by NASA astronaut Kate Rubins to sequence DNA in space for the first time. But the IDA is perhaps the key item onboard.
The ring is crucial for the future of NASA's Commercial Crew Program — an initiative that tasks private companies with building and operating spacecraft that can transport astronauts to and from the ISS. Both SpaceX and Boeing, the companies contracted through the program, are currently developing these space taxis for NASA. SpaceX is updating its current Dragon cargo capsule into a crewed vehicle aptly named Crew Dragon, and Boeing is creating its own capsule, the CST-100 Starliner. Those are supposed to launch for the first time with people on board in late 2017 and early 2018, respectively.
.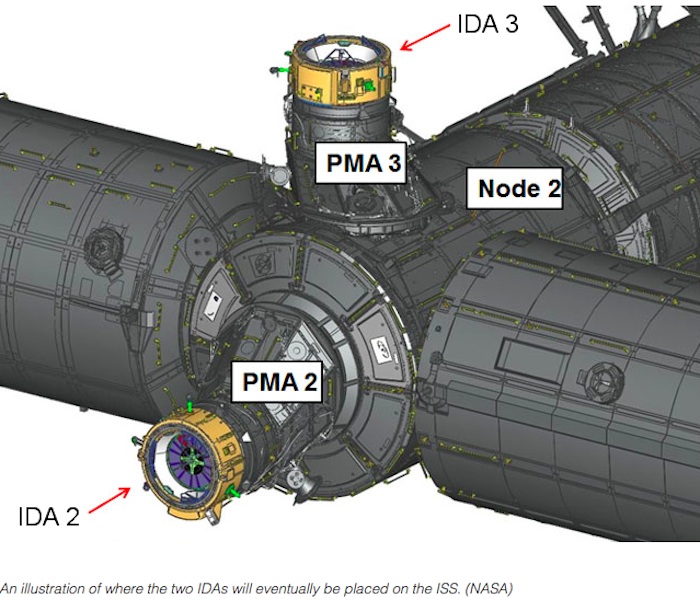 When the SpaceX and Boeing spacecraft reach the ISS, they'll attach to the IDA. The IDA is outfitted with a host of sensors that spacecraft navigation systems can track and use to guide incoming vehicles through proper docking procedures. This means that astronauts on board the ISS won't need to be involved with docking the spacecraft.
THE ADAPTER WON'T BE LIMITED TO JUST DOCKING SPACEX AND BOEING VEHICLES
But the adapter won't be limited to just docking SpaceX and Boeing vehicles. The ring was built according to the International Docking System Standard, an international standard created in 2010 to guide the designs of space docking adapters. That means that future space vehicles, at least those with docking systems that adhere to standard, can also attach to the IDA.
The plan is to install the IDA to the station later this summer. The ISS robotic arm will remove the adapter from the trunk of SpaceX's Dragon cargo capsule after it docks to the station later next week. The arm will put the IDA near its intended port on the Harmony node, where it will be connected. Then, the astronauts will eventually perform a spacewalk out to the IDA to finalize its installation.
This installation, however, was supposed to have happened already. The loss of the first IDA last year threw NASA's Commercial Crew plans off balance. Next week's launch was meant to bring the total number of adapters aboard the station to two. Now there will only be one until a replacement IDA is launched on a future SpaceX cargo mission, which may not happen until 2018.
.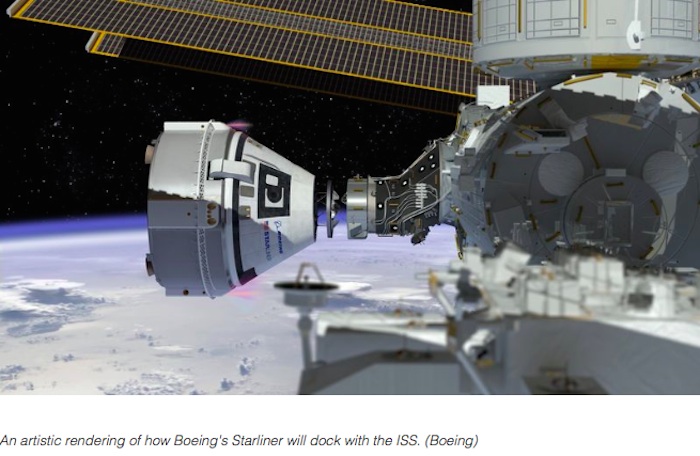 And that could be a problem for Commercial Crew. A recent report from NASA's Office of Inspector General speculated that because of the failure, only one IDA will be installed on the ISS by the time the first commercial vehicles launch in 2017. That means if there is a technical issue with the single IDA, there won't be any other docking options and incoming vehicles will be unable to connect to the ISS.
NASA IS TRYING TO ENSURE THAT TWO ADAPTERS WILL BE INSTALLED AND READY BEFORE COMMERCIAL CREW FLIGHTS BEGIN
However, station managers are trying to ensure that two adapters will be installed and ready before Commercial Crew flights begin. Kirk Shireman, NASA's ISS Program manager, said that the space agency plans to fly the replacement for the destroyed IDA on SpaceX CRS-16, or the company's 16th ISS cargo mission, which doesn't have a tentative launch date yet. However, he noted that the IDA may launch sooner depending on when the first Commercial Crew launches are slated to occur, to make sure that two IDAs or on board prior to those flights.
"It's not required to have both IDAs on orbit prior to the launch of the first Commercial Crew test flight," Shireman told The Verge during a press conference. "But we are actively monitoring the schedules of the Commercial Crew vehicles. We're planning to launch on SpaceX 16, or a little earlier if we have to."
Quelle: THE VERGE
3808 Views