.
16.12.2014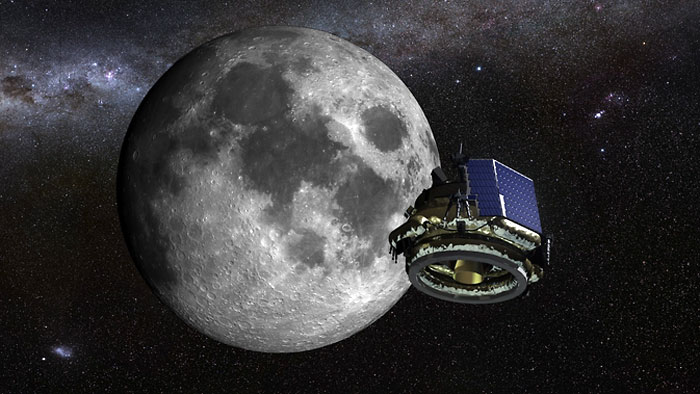 An artist illustration of the Moon Express MX-1 lunar lander on its mission to the moon.
.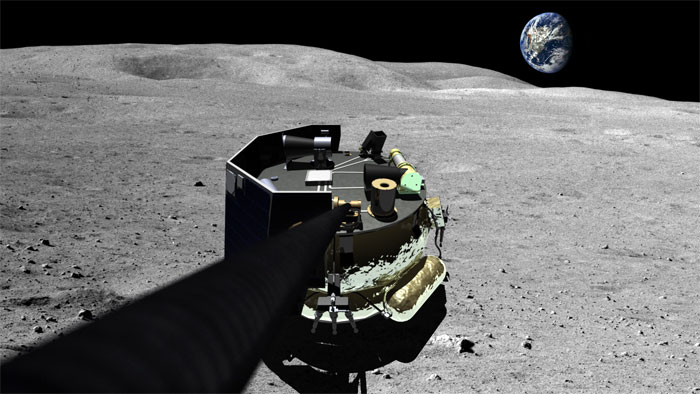 An artist illustration of the Moon Express MX-1 lunar lander on the surface of the moon.
.
NASA is working with U.S. industry to develop the capabilities and cutting-edge technologies that will help send astronauts beyond low-Earth orbit. To achieve this goal, space travelers will need the resources to survive during long-duration missions to an asteroid, Mars and other outer planets.
Moon Express Inc., of Moffett Field, California, is one of three companies selected for the agency's new Lunar Cargo Transportation and Landing by Soft Touchdown (CATALYST) initiative to advance lander capabilities that will enable delivery of payloads to the surface of the moon.
Moon Express will base its operations at Kennedy Space Center in Florida, and is using facilities and the automated landing and hazard avoidance technology, or ALHAT field at the Shuttle Landing Facility, to perform its initial lander test development.
"Having Moon Express at Kennedy is yet another cornerstone moment in the transformation of the center to becoming a multi-user spaceport," said Tom Engler, deputy director of Center Planning and Development. "A facility used by NASA's Morpheus prototype lander will now be used by a commercial company."
The Moon Express team has been busy since October preparing the test vehicle, called MTV-1X, for a series of tests. The compact vehicle is the size of a large coffee table. The version of this vehicle that will fly in space is a single-stage spacecraft that uses hydrogen peroxide as a primary fuel in a bi-propellant propulsion system bolstered by kerosene for its Earth departure and moon arrival burns. It's also powered by solar energy, which makes it a very green vehicle.
Activity at the ALHAT field began in December. The team transported the spacecraft out to the ALHAT pad and was able to pressurize the tanks up to 110 percent of maximum expected operating pressure (MEOP). This critical milestone checked out the control systems and cleared the way for future testing at MEOP.
"NASA has been a wonderful partner," said Bob Richards, Moon Express founder and CEO. "We're working beside the Morpheus team to build and test our own vehicle at Kennedy."
Richards said they will use entrepreneurial and innovative ways to become the first private company to reach the moon within two years. The plan is to launch the lunar lander spacecraft, called MX-1, as a secondary payload on a maiden technology demonstration flight in 2016 on a mission to the moon.
"We want to unlock not just the mysteries, but the resources of the moon to benefit all humanity," Richards said. "We're preparing to live off the land on the moon, because there's water there."
The Moon Express lunar lander could be used to deliver commercial and government payloads to the moon.
This year, the vehicle's guidance, navigation, control and operation will be checked during initial testing. According to Moon Express president Andy Aldrin, the team will use a crane to hover the vehicle and move it around at the ALHAT field to capture the vehicle milestone process. A series of tethered landing tests will be performed until enough confidence is established in vehicle control to do a free flight.
Early next year, another set of tests will occur. The same test vehicle will be used, with added hydrogen peroxide thrusters, a star tracker and some of the navigation controls that will be used on the actual flight vehicle.
Later in the year, more flight-like versions of the test vehicle will be built, called MTV-2 and MTV-3, which will utilize a unique fuel tank called a toroidal tank, which is shaped like a doughnut and will be installed on the vehicle and tested to determine how the fuel behaves as it swirls around in the tank. Aldrin said the advantage of a tank shaped like this is the vehicle can be packaged into a very compact spacecraft that holds a lot of propellant.
If testing goes well, the actual composite fuel tank will be added to the vehicle for further testing at the ALHAT field. At the hangar, the GNC software and some of the flight avionics are being prepared for flight vehicle testing.
"We want to support the exciting commercial innovations that come from partnerships like this one with Moon Express," Engler said.
"One day we'll learn how to use water on the moon to make the rocket fuel we need, to make the economics of all the resources on the moon viable," Richards said.
The Advanced Exploration Systems Division of NASA's Human Exploration and Operations Mission Directorate manages the Lunar CATALYST initiative as part of its Lander Technologies Project. The project is led by Marshall Space Flight Center in Huntsville, Alabama, but includes all of the NASA centers to support the partnership.
Quelle: NASA
.
Moon Express Unveils Breakthrough "MX-1" Commercial Lunar Lander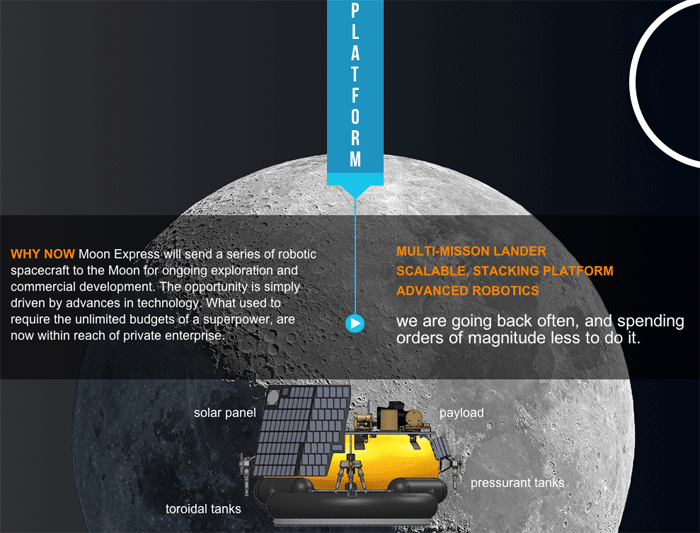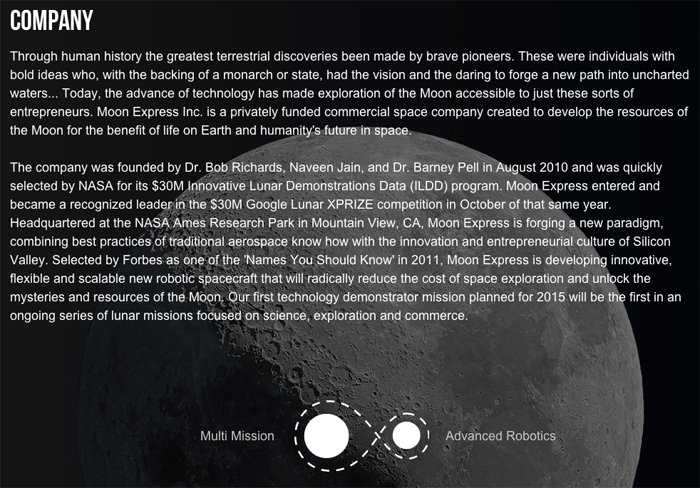 Las Vegas, NV (December 5, 2013) – Moon Express, Inc., a privately funded lunar resources company, unveiled its "MX-1" lunar lander spacecraft today as a breakthrough robotic space vehicle capable of a multitude of applications including delivering scientific and commercial payloads to the Moon at a fraction of the cost of conventional approaches. The spacecraft design is being unveiled today at the closing session of Autodesk University in Las Vegas in front of an audience of over 10,000 attendees.
The MX-1 synthesizes proprietary robotic technologies, advanced micro-avionics, and a unique toroidal structure to produce a "green" robotic spacecraft that is powered by sunlight and uses hydrogen peroxide as rocket fuel. Hydrogen peroxide (H2O2) is an oxygen enriched water compound commonly found in nature and biological systems. With the recent discovery of water on the Moon, the MX-1 has a potential source of rocket fuel on the lunar surface, a scenario that would be a game changer in the economics of lunar resources and solar system exploration.
"The spacecraft rockets use a high test version of the consumer level hydrogen peroxide widely available in drug stores", said Tim Pickens, Chief Propulsion Engineer at Moon Express and former propulsion lead for SpaceShipOne. "We're developing three new rocket engines at our Propulsion Development and Test Facilities in Huntsville and benefiting greatly from new advances in digital 3D design and fabrication tools."
The main MX-1 rocket engine is a dual mode bi-propellant system that also uses kerosene as an after burner to give the spacecraft the punch to break out of Earth orbit, accelerate to faster than a bullet, travel a million miles to beyond the Moon, and come back to break to zero velocity using its outboard thrusters as it touches the lunar surface. The spacecraft is designed to ride to Earth orbit on low cost secondary payload opportunities aboard commercial launchers like the SpaceX Falcon 9 that are radically reducing the cost of access to space.
About the size of a large coffee table, the MX-1 is a completely self-contained single stage spacecraft that can reach the surface of the Moon from a geosynchronous transfer orbit (GTO) commonly used to place communications satellites above the Earth. It is also designed to be a flexible spacecraft platform that can support a number of applications including serving as a flexible, agile upper stage for existing launch systems enabling Earth orbit cubesat deployment, satellite servicing, and "space tug" applications such as cleaning up space debris.
"The MX-1 is not just a lunar lander, it is a spacecraft workhorse with many markets" said Moon Express Co-founder & CEO Bob Richards. "The MX-1 is the 'iPhone of space'; a platform capable of supporting many apps including our core plan of exploring the Moon for resources of benefit to humanity."
Moon Express is introducing the MX-1 as the first of a series of robotic space vehicles based on a scalable patent pending design to operate in Earth orbit and deep space destinations. Moon Express will utilize the MX-1 in its maiden technology demonstrator flight in 2015, delivering a number of commercial and government payloads to the Moon and pursuing the $30M Google Lunar XPRIZE.
Moon Express engineers have combined the latest exponential technologies in micro-avionics with advanced propulsion and materials to create an innovative approach to spacecraft design and fabrication, empowered by leading edge Autodesk digital design tools to help make the impossible possible and reach for the Moon.
.

Quelle: Moon Express
.
Update: 26.12.2014
.
Moon robots to be built at Kennedy Space Center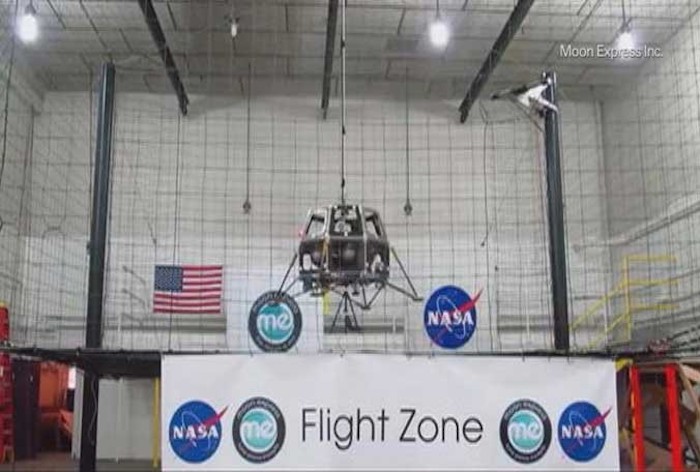 Moon Express is basing its operations at Kennedy Space Center to help them develop technologies to send robots to the moon. (PHOTO/Moon Express, Inc.)
.
A company that is planning to send robots to the moon is getting to work here in Central Florida.
Moon Express is basing its operations at Kennedy Space Center to help them develop technologies to send robots to the moon.
This month, the private company began their test of their first robotic vehicle, called MTV-1X, at KSC's Shuttle Landing Facility.
The company's plan is to send a series of robotic spacecraft to the moon for exploration and commercial development, so that one day humans can live on the moon.
Moon Express executives hope to be the first private company to reach the moon.
They're hoping their first test flight to the moon launches in 2016.
In the meantime, they'll continue to work with NASA and test their vehicles at KSC.
Update: 2.10.2015
.
Private Moon Landing Set for 2017
The first private moon landing could be just two years away.
California-based company Moon Express, which aims to fly commercial missions to the moon and help unlock its resources, has signed a five-launch deal with Rocket Lab, with the first two robotic liftoffs scheduled to take place in 2017.
These uncrewed launches — three of which are firmly on the books, with the other two optional at the moment — will blast Moon Express' MX-1 lander into space aboard Rocket Lab's 52.5-foot-tall (16 meters) Electron rocket. The goal is to test out the MX-1 and its systems, making sure the spacecraft can land softly on the moon, move about the lunar surface, grab samples and return them to Earth.
"The holy grail of our company is to provide, to prove, a full-services capability — not just landing, but coming back from the moon," said Moon Express co-founder and CEO Bob Richards, who announced the new launch deal today (Oct. 1) at the Space Technology & Investment Summit in San Francisco.
If the MX-1 nails its landing on the first mission, "we're going to be inspired to try a sample-return," Richards told Space.com. "I don't know if we'll do that on the second mission, but I sure hope we're trying it by the third mission, if all is going that well."
The two optional launches provide some insurance for Moon Express in case the first three flights don't go entirely according to plan, Richards said.
The contract puts Moon Express in position to possibly win the Google Lunar X Prize, a $30 million competition to land a privately funded robotic spacecraft on the moon by the end of 2017. The first team to do this — and have the craft move 1,640 feet (500 m) and beam high-definition video and images back to Earth as well — will win the $20 million grand prize. (The second team to accomplish these goals gets $5 million; another $5 million is available for meeting certain other milestones.)
Sixteen teams remain in the running for the Google Lunar X Prize, so the outcome remains very much up in the air. For example, one team, Astrobotic, signed a contract in 2011 to launch its lunar lander aboard a SpaceX Falcon 9 rocket. Astrobotic representatives have said they plan to launch in 2016.
The 3.9-foot-wide (1.2 m) Electron rocket is designed to deliver a 330-lb. (150 kilograms) payload to a sun-synchronous orbit 310 miles (500 kilometers) above Earth, according to Rocket Lab's website. The two-stage rocket is not operational yet; commercial launches are scheduled to begin in 2016, say representatives of the company, which is headquartered in California but has a New Zealand subsidiary. (Moon Express will have the option of launching from Rocket Lab's range in New Zealand or from a site in the United States.)
"Rocket Lab is pleased to begin working with Moon Express to launch its spacecraft and to provide support to such an ambitious mission," Rocket Lab CEO Peter Beck said in a statement. "Moon Express has used advanced orbital mechanics to enable this mission from low-Earth orbit."
Electron is quite an affordable option as far as orbital launches are concerned, with each liftoff costing just $4.9 million. Falcon 9 launches, for example, cost about $60 million each.
"We think the collapse of the price to get to the moon is going to enable a whole new market — kind of like the 4-minute-mile of space," Richards said.
The MX-1 landers that blast off atop an Electron will be relatively small, constrained by the rocket's size.. But the MX-1 is scalable, Richards said, and can be modified as needed to help the company achieve its ambitious goal of opening up the moon and its resources to commercial use.
"As the market responds, we will be able to provide the platforms to support the market," Richards said. "We're starting small; we're starting with the baby steps."
Quelle: SpaceCom
.
Update: 13.07.2016
.
Moon Express takes over Cape Canaveral Delta 2 launch site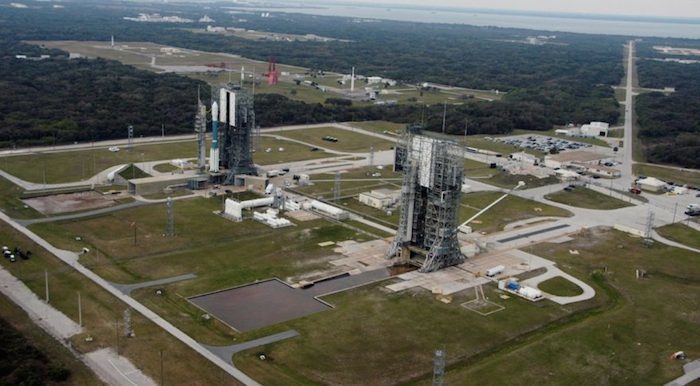 File photo of Launch Complex 17 at Cape Canaveral Air Force Station in Florida. The site, which previously hosted Delta 2 launches, will now become a development and testing facility for Moon Express. Credit: U.S. Air Force
-
WASHINGTON — Moon Express, a Florida company developing commercial lunar landers, announced July 12 an agreement with the U.S. Air Force to take over a former Delta 2 launch site at Cape Canaveral.
The company said it reached an agreement with the Air Force's 45th Space Wing, which operates Cape Canaveral Air Force Station, to use Launch Complex 17 as a research and development facility, including tests of the company's lunar landers. The agreement also covers adjacent Launch Complex 18, used for Vanguard launches in the late 1950s but inactive for the last several decades.
Moon Express also announced an agreement with Space Florida, the state's space development agency, to renovate building at Launch Complex 17 for use by the company. Space Florida will contribute up to $1.85 million for that work, an amount Moon Express will match.
"We are honored to be residents at Cape Canaveral and look forward to our expanded presence," said Bob Richards, chief executive and co-founder of Moon Express, in a statement. Richards planned to formally unveil the deal in a July 12 speech at a National Space Club Florida Committee luncheon.
Moon Express had previously been doing tests at Launch Complex 36A, a former Atlas launch site several kilometers north of Launch Complex 17, under an agreement with Space Florida announced in January 2015. However, Blue Origin plans to develop a launch complex for its orbital launch vehicle there, forcing Moon Express to seek an alternative site.
In an interview, Richards said Moon Express will take over and renovate several buildings at Launch Complex 17. That includes a former spacecraft integration building and an engineering building. Moon Express will also construct test stands to support work for engines used by its spacecraft.
Launch Complex 18, he said, will be used as a test flight area for tethered and free-flight tests of its landers. "We'll eventually be building our own little moonscape there for doing sensor development for lunar landings," he said.
The new site, Richards said, will allow Moon Express to consolidate its presence at Cape Canaveral. The company had been doing lander engineering work, including hover tests, at a site near one end of the Shuttle Landing Facility runway at the Kennedy Space Center, while it had offices at the south end of Cape Canaveral. All those will be consolidated at Launch Complex 17 in September.
Moon Express is developing a series of lunar landers, and is one of the 16 teams competing for the Google Lunar X Prize. Richards said the company plans to unveil its updated lander design later this year, once it moves into Launch Complex 17.
The competition requires the winning team to reach the moon and achieve the other prize requirements by the end of 2017. Richards said the company was on track to launch before the prize deadline, while acknowledging a number of technical obstacles it has to overcome to achieve that date. "There's a lot that has to go right in the next 18 months," he said. "We're still shooting for the end of 2017."
The agreement to use Launch Complex 17 does not include the twin launch pads themselves, which have been idle since the September 2011 Delta 2 launch of NASA's GRAIL lunar mission. Moon Express does not plan to use the complex as a launch site, contracting instead with Rocket Lab, the U.S.-New Zealand company developing the small Electron launch vehicle, for launching its initial spacecraft from that company's launch site in New Zealand.
The Air Force is starting the process to demolish those launch pads. Patrick Air Force Base issued a solicitation June 21 seeking bids to demolish the launch towers and associated structures, with bids due July 22. The request did not include a specific schedule for completing the demolition, only that the work be completed within 600 days of receiving a formal notice to proceed.
Quelle: SN
4859 Views