.
28.06.2015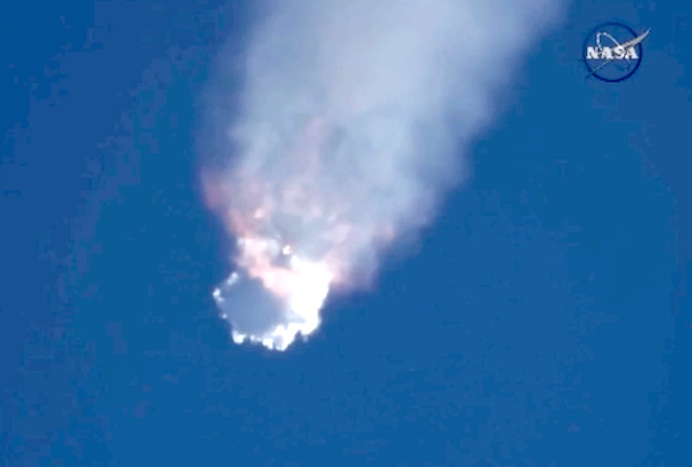 t also included a spacesuit, important water filters and many experiments. Some of the hardware and student experiments were repeats of payloads lost when an Orbital Sciences rocket exploded after liftoff last October.
SpaceX believes a problem with pressure in the Falcon 9 rocket's upper stage liquid oxygen tank caused the rocket to break apart more than two minutes after its 10:21 a.m. launch from Cape Canaveral.
The company has several boats searching for rocket debris that were already staged in the Atlantic Ocean for what the company hoped would be an attempt to land the Falcon 9 booster on a ship.
NASA set up a hotline for the public to report any sitings of debris: (321) 867-2121.
SpaceX will lead a mishap investigation with oversight by the Federal Aviation Administration, which licensed the launch.
"We'll be continuing to monitor all the data that we collect to identify the issue that we experienced, fix it, and get back to flight," said SpaceX President Gwynne Shotwell.
Shotwell would not speculate on how long the investigation might take, but said it would be a matter of months, not a year.
SpaceX had at least four more launches planned this year that will likely be delayed.
Meanwhile, NASA said the ISS has enough food and other supplies to last until at least October, and needs more crew members on board to perform science research.
A Russian resupply ship is expected to launch next Friday, followed by a Japanese vehicle in August, then another launch by a U.S. commercial partner, ATK Orbital, possibly as soon as October.
Earlier:
An unmanned SpaceX Falcon 9 rocket carrying supplies for the International Space Station broke apart less than three minutes after a 10:21 a.m. blastoff from Cape Canaveral Air Force Station.
SpaceX confirmed the 208-foot rocket experienced a problem before its nine first-stage engines shut down, as it climbed through clear skies. Engineers have begun analyzing flight data to pinpoint what went wrong.
"Falcon 9 experienced a problem shortly before first stage shutdown," SpaceX CEO Elon Musk said on Twitter. "Will provide more info as soon as we review the data."
A press conference is planned at 12:50 p.m.
Florida Today
---
SpaceX Falcon 9 rocket destroyed in launch mishap
A SpaceX Falcon 9 rocket carrying a Dragon cargo ship loaded with more than 4,000 pounds of supplies and equipment bound for the International Space Station -- including a critical docking adapter needed by future U.S. crew ships -- broke apart in a shower of debris shortly after launch Sunday in a major setback for NASA and the California rocket company.
In a spectacular conflagration, the rocket, the 19th Falcon 9 launched by SpaceX since 2010, disintegrated in a sudden cloud of burning propellant followed moments later by arcing contrails of debris falling toward the Atlantic Ocean.
The last data from the spacecraft was received just under two-and-a-half minutes into flight. It was not immediately clear what triggered the failure, but unusual vapor plumes could be seen emanating from the upper section of the rocket before it went awry and SpaceX founder Elon Musk, who turned 44 Sunday, confirmed a second stage pressurization issue.
"There was an overpressure event in the upper stage liquid oxygen tank," he tweeted. "Data suggests counterintuitive cause. ... That's all we can say with confidence right now. Will have more to say following a thorough fault tree analysis."
But the incident occurred just before the first stage's nine Merlin 1D engines were to shut down two minutes and 39 seconds after liftoff.
SpaceX founder Elon Musk, celebrating his 44th birthday Sunday, initially tweeted: "Falcon 9 experienced a problem shortly before first stage shutdown. Will provide more info as soon as we review the data."
Later in the morning, he added: "There was an overpressure event in the upper stage liquid oxygen tank. Data suggests counterintuitive cause. ... That's all we can say with confidence right now. Will have more to say following a thorough fault tree analysis."
The dramatic failure came eight months after an Oct. 28 explosion that destroyed a space station cargo craft build by Orbital Sciences Corp. and two months after a Russian cargo ship spun out of control moments after reaching orbit April 28.
The Russians say they have found and fixed a problem with the Soyuz upper stage and another Progress is scheduled for launch July 3, followed by launch of a Japanese cargo ship in August.
But the back-to-back Progress and Dragon cargo failures are a major setback for NASA and its space station partners, reducing the reserves of food, clothing and other consumables needed by the lab's crew.
More important, the first of two International Docking Adapters, or IDAs, was on board as part of a major station reconfiguration to ready the lab for arrival of U.S.-built crew ships starting in 2017. A second IDA is scheduled for launch aboard a Dragon capsule in December, but the SpaceX launch schedule will almost certainly face a major revision in the wake of Sunday's failure.
In the near term, both of NASA's U.S. space station resupply contractors -- SpaceX and Orbital Sciences -- are out of action, leaving only the Russian Progress and Japanese HTV freighter to carry up supplies and equipment.
Space station program manager Mike Suffredini said Friday the station had enough on-board supplies to make it through October even if no other cargo ships show up. But the failure Sunday will require extensive contingency planning and it's not yet clear how that might play out.
Likewise, the failure will delay science operations. The SpaceX Dragon is the only spacecraft currently in operation that can bring cargo and research samples back to Earth, the failure Sunday will impact research aboard the station as sample returns will be suspended until the Falcon 9 returns to flight.
For SpaceX, a brash California company run by Musk, the failure was an equally dramatic setback. SpaceX that has been aggressively marketing its Falcon 9 boosters for commercial and military payloads, challenging the dominance of United Launch Alliance, a partnership between Boeing and Lockheed Martin.
The company had chalked up 18 successful Falcon 9 launches in a row since the rocket's debut in 2010 and the failure Sunday likely will force major changes in the company's flight manifest and, depending on what went wrong, it could trigger a crisis of confidence leading to higher insurance rates for commercial satellites.
SpaceX advertises Falcon 9 rockets for around $60 million each, some $50 million less than the least expensive Atlas 5 rocket currently offered by United Launch Alliance. But ULA's record with its current generation of Atlas 5 and Delta 4 boosters is 83 successful launches and no outright failures.
The Falcon 9 failure also will delay SpaceX's ambitious plans to perfect the technology needed to recover spent first stages for refurbishment and eventual reuse. Two attempts to land a Falcon 9 first stage on an off shore barge ended in failure in January and April and a third attempt was on tap Sunday.
Recovering, refurbishing and relaunching rocket stages that otherwise would be thrown away is a major element in Musk's drive to reduce the cost of spaceflight by operating a rocket company much like a commercial airline, re-flying boosters rather than building them from scratch for each flight.
But it was not to be. The rocket almost certainly will be grounded pending a detailed failure investigation.
The mission got underway on time at 10:21 a.m. EDT (GMT-5) when the Falcon 9's nine Merlin 1D engines ignited with a roar, generating 1.2 million pounds of thrust that quickly pushed the 20-story tall rocket away from launch complex 40 at the Cape Canaveral Air Force Station.
The initial moments of the climb out of the dense lower atmosphere appeared to go smoothly as the rocket arced away to the northeast on a trajectory paralleling the East Coast of the United States.
SpaceX engineers reported "propulsion nominal" and there were no indications of anything amiss as the rocket accelerated through a near cloudless blue sky.
But in an instant, the normal-looking exhaust plume suddenly ballooned, quickly expanding in chaotic fashion as something went terribly wrong. Moments later, debris trails could be seen arcing though the sky as the initial cloud began to dissipate.
Air Force range safety officers sent self-destruct commands, but it wasn't immediately known whether the commands were received aboard the rocket before it came apart on its own.
It was the seventh flight of a Falcon 9/Dragon resupply ship under a $1.6 billion contract with NASA calling for 12 missions to the space station to deliver 44,000 pounds of supplies and equipment through 2016. Orbital Sciences Corp. holds a similar $1.9 billion contract to launch Cygnus cargo craft.
Both companies are needed to replace the lost cargo capability of the now-retired space shuttle. Orbital's Antares will be grounded throughout 2015 while the company replaces the booster's first-stage engines, relics of the Soviet Union's ill-fated moon program. Now, the Falcon 9 will be grounded pending the results of an exhaustive failure investigation.
While the station crew will face no immediate problems from the loss of the Dragon cargo craft Monday -- officials say the lab complex is fairly well stocked at present -- it is not yet clear how long the station can support a crew of six given the available cargo ships.
"If something happened to SpaceX, we'd have to figure out where we were and how quickly they could return to flight and we would react accordingly," Suffredini said in an interview earlier this year. "The crew has enough supplies, including research, to continue to work for somewhere between four and six months. So the decision we'd have to make is, how quickly can SpaceX get back up? And then what can we do with our Russian colleagues with regard to any support they might supply?
"Then we'd have to look together about what are the right steps to take, do we go ahead and let everybody go home until we're ready to resupply again, or do we step down to three crew? And I suspect that's what we'd do if we had to, we'd step down to three crew first."
But given the supplies that are constantly stockpiled on board, mission planners would have "quite a bit of time" to work through a launch problem.
"In all cases, we have plenty of time to decide what to do next, figure out what we're really dealing with and then figure out how we want to react to it," he said.
The Falcon 9 launched Sunday was an upgraded version, featuring extended propellant tanks, more efficient and lighter engines, an new triply redundant flight computer and a custom nose cone intended for large commercial satellites.
Musk has repeatedly told reporters that SpaceX would continue its quest despite any initial failures, saying before a 2013 launch that "I'm confident we will certainly make it on some subsequent launch."
.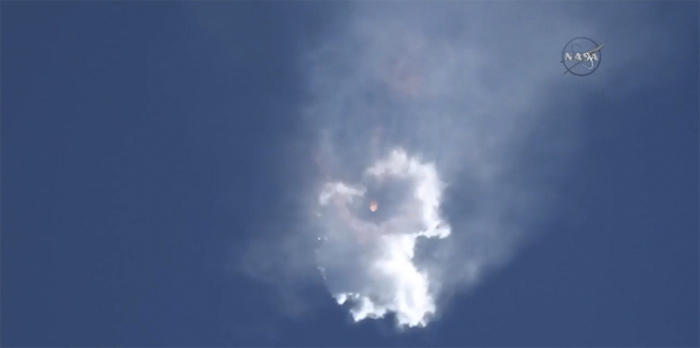 A few moments later, a cloud of debris and propellant engulfed the rocket as it broke up above the Atlantic Ocean. It is not yet known what might have triggered the failure. NASA TV
.
Quelle: CBS
---
Update: 29.06.2015
.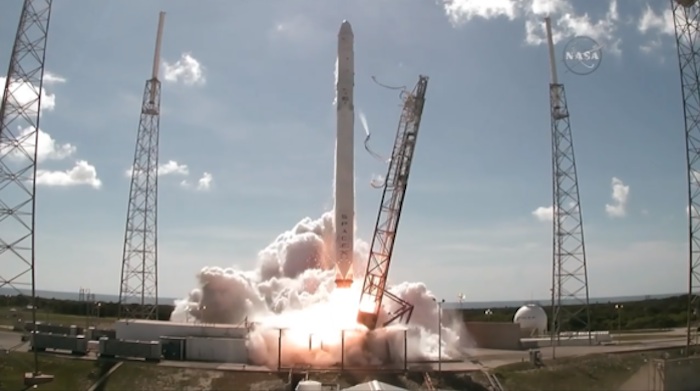 .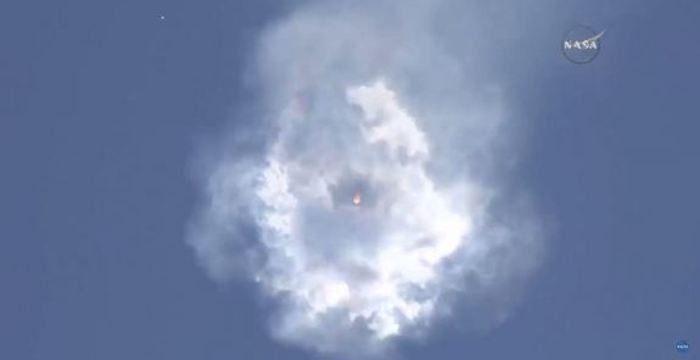 .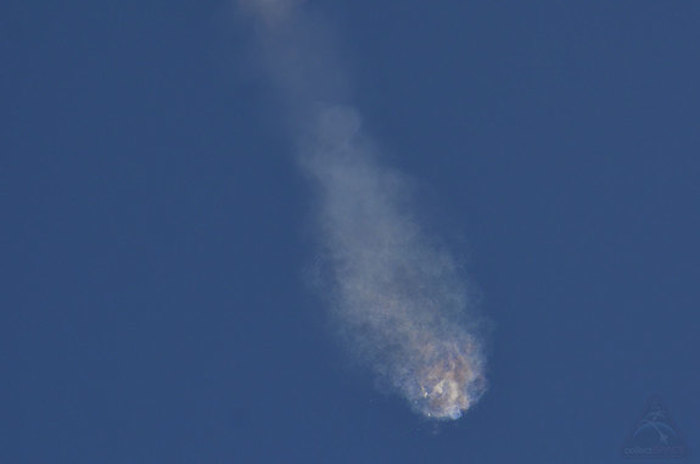 .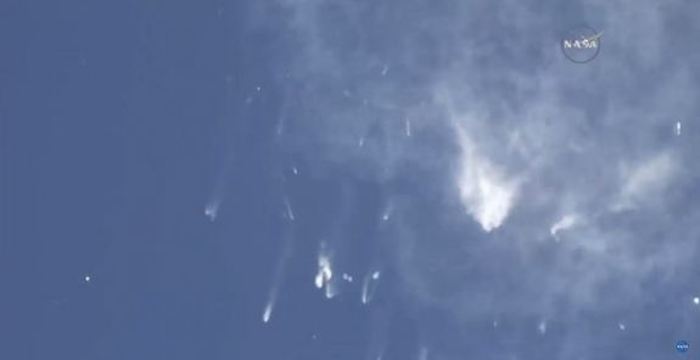 Quelle: SC
-
NASA Administrator Statement on the Loss of SpaceX CRS-7
The following is a statement from NASA Administrator Charles Bolden on the loss Sunday of the SpaceX Commercial Resupply Services 7 (CRS-7) mission.
"We are disappointed in the loss of the latest SpaceX cargo resupply mission to the International Space Station. However, the astronauts are safe aboard the station and have sufficient supplies for the next several months. We will work closely with SpaceX to understand what happened, fix the problem and return to flight. The commercial cargo program was designed to accommodate loss of cargo vehicles. We will continue operation of the station in a safe and effective way as we continue to use it as our test bed for preparing for longer duration missions farther into the solar system.
"A Progress vehicle is ready to launch July 3, followed in August by a Japanese HTV flight. Orbital ATK, our other commercial cargo partner, is moving ahead with plans for its next launch later this year.
"SpaceX has demonstrated extraordinary capabilities in its first six cargo resupply missions to the station, and we know they can replicate that success. We will work with and support SpaceX to assess what happened, understand the specifics of the failure and correct it to move forward. This is a reminder that spaceflight is an incredible challenge, but we learn from each success and each setback. Today's launch attempt will not deter us from our ambitious human spaceflight program."
Update: 30.06.2015
.
SpaceX debris is floating off Florida-Georgia coast, Coast Guard warns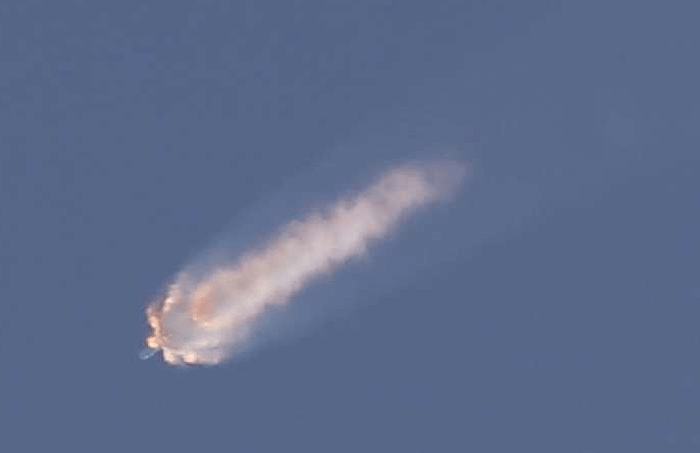 The Coast Guard is working with SpaceX and agencies to monitor debris from the Falcon 9 rocket that exploded Sunday, now floating more than 150 miles off the Florida-Georgia coast.
An unmanned SpaceX rocket was carrying supplies to the International Space Station when it exploded and broke apart Sunday shortly after liftoff. It was the third NASA cargo mission to fail in eight months and occurred just over two minutes into the flight from Cape Canaveral. Pieces of the rocket could be seen falling into the Atlantic, the remains of more than 5,200 pounds of space station cargo that were on board the rocket.
The Coast Guard is warning vessels that might be going through that area, and asking the public to report any debris that could wash ashore. No impacts from debris are expected on Florida beaches, but authorities will monitor that for any changes.
"As with any incident involving spacecraft wreckage, debris should not be handled by members of the public," said Capt. Jeffrey Dixon, the Coast Guard Sector Jacksonville commander in a news release. "These critical pieces of evidence are important in the investigation process and should be reported immediately to SpaceX or the U.S. Coast Guard. "
The SpaceX debris recovery hotline is (866) 392-0035.
Quelle: TimesUnion Jacksonville
Update: 1.07.2015
.
SpaceX rocket debris found off Florida coast
Dragon capsule did not survive impact when it hit water, officials say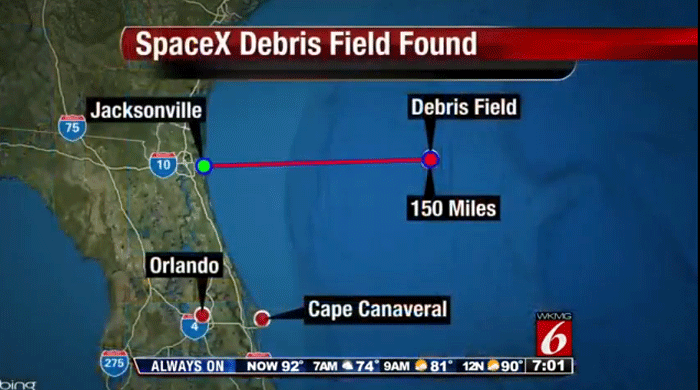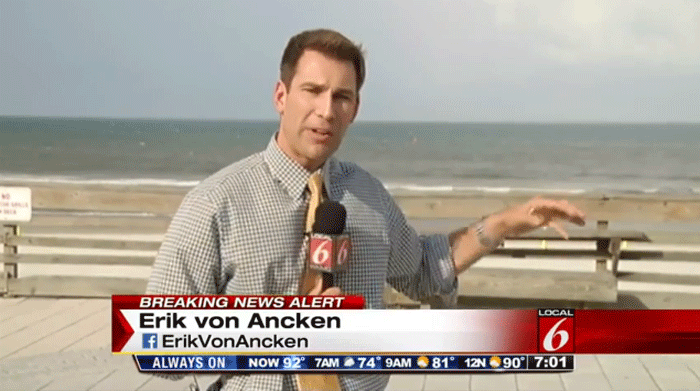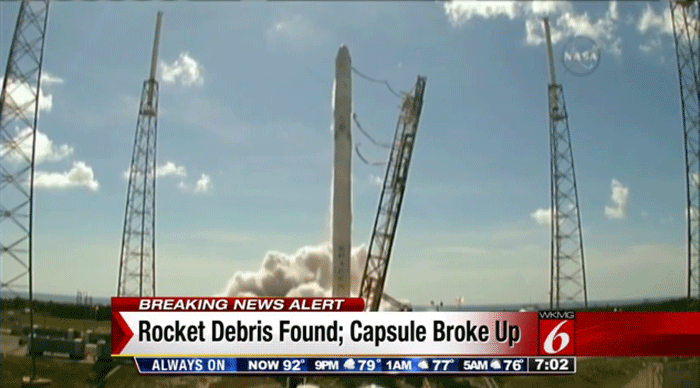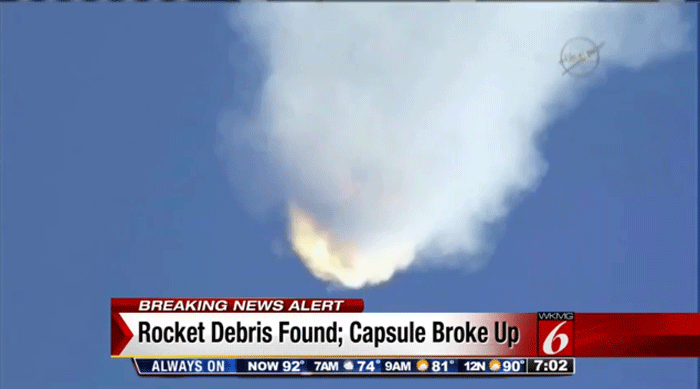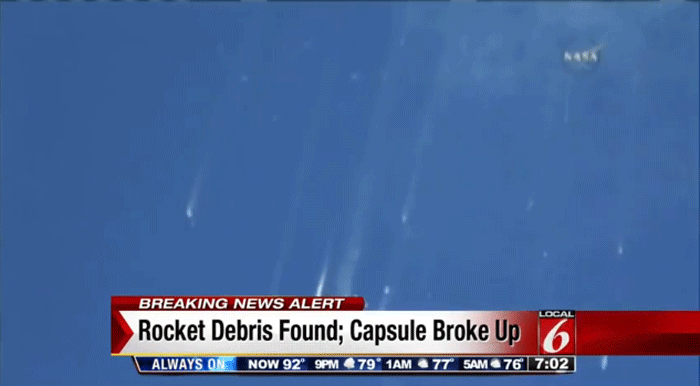 Debris from the SpaceX Falcon 9 rocket that exploded Sunday shortly after launch from Cape Canaveral has been located off the Florida coast, the U.S. Coast Guard said."The Coast Guard is working in close coordination with SpaceX and partner agencies to monitor the Falcon 9 debris field currently located more than 150 miles off (Jacksonville)," authorities said.
SpaceX officials said in an update later Tuesday that the Dragon capsule did not survive impact after the Falcon 9 rocket broke up. SpaceX said that it is recovering "significant portions of debris."
To track the debris, the Coast Guard dropped flares and a buoy into the debris field, which is 20 miles by one-half mile in size. Authorities cautioned boats in the area and asked the public to report any sightings of debris that might wash ashore.
"Currently, no impacts from debris are expected for Florida beaches, and authorities will continue to monitor for any changes to this estimate," the Coast Guard said.
"As with any incident involving spacecraft wreckage, debris should not be handled by members of the public," said Capt. Jeffrey Dixon, commander of Coast Guard Sector Jacksonville. "These critical pieces of evidence are important in the investigation process and should be reported immediately to SpaceX or the U.S. Coast Guard."
The SpaceX debris recovery hotline is 866-392-0035.
Flagler County authorities on Tuesday also asked residents to avoid any debris and call 911 if any washes ashore.
"While it is highly unlikely any of the debris resulting from the explosion of the SpaceX's Falcon 9 rocket and Dragon capsule will reach Flagler County's coast, emergency officials are asking residents to steer clear of it and notify authorities," Flagler County said.
Variables that could cause a shift in the direction that the debris is drifting include wind, current, tides and the size of the debris.
"It is possible that debris could come ashore anywhere from the southeastern U.S. to the mid-Atlantic coastline," according to the Coast Guard.
The rocket exploded shortly after liftoff Sunday from the Cape Canaveral Air Force Station. The cause of the failure remains under investigation.
.
Update: 21.07.2015
.
SpaceX rocket exploded due to faulty steel strut, Elon Musk says
Preliminary investigation blames two-foot-long, one-inch-thick piece of metal
Next version of SpaceX rocket will not be tested until spring 2016, CEO says
.
A two-foot-long steel strut only an inch wide at its thickest point was to blame for last month's midair explosion of an unmanned SpaceX Falcon 9 rocket, according to a preliminary investigation. SpaceX CEO Elon Musk said Monday that the part, provided by an external supplier he declined to name, was "not something that should ever have failed at this force level".
The disaster, a major setback for Musk's ambitious space plans, also destroyed the Dragon spacecraft that the Falcon 9 was carrying. The Dragon, a partially reusable spacecraft developed by SpaceX, was due for a rendezvous at the International Space Station.
In his first public comments on the disaster, Musk said the strut "would appear to be incorrectly made but with no visible way of determining that from the outside". The part held in place a tank of helium pressurized at about 55,000 pounds per square inch, cooled cryogenically by liquid oxygen and fed into the engine and back out again to keep the pressure equal in the rocket's second stage.
"The strut that we believe failed was designed to handle 10,000lbs of force and it failed at two thousand pounds of force," Musk said.
He also said that the Dragon could have been saved. "If the software had initiated the parachute deployment, the Dragon spacecraft would have survived," Musk said. "We're adding additional software so that the the spacecraft will always attempt to save itself. It's an unfortunate thing."
Musk said the test of SpaceX's next version of its rocket, the Falcon Heavy, had been pushed back to the spring of 2016.
Musk cautioned that further investigation by SpaceX might reveal more over time but said that the inquiry, conducted in cooperation with the Federal Aviation Administration, Nasa and the US air force, suggested the strut had allowed the helium tank to shoot up through the stage as its buoyancy increased in proportion to the gravitational pressure of the rocket's acceleration, ultimately releasing helium into the liquid oxygen and causing "a pressure event".
Advertisement
That event took place over .893 seconds – part of the reason the findings were only preliminary. "When milliseconds matter, it's remarkably difficult to line things up exactly right," he said.
"It's very difficult to test a rocket stage," Musk said. "The only way to fully test a rocket stage would be to have an enormous centrifuge that doesn't exist on Earth."
The tech CEO said he believed the company had begun to rest on its laurels after a several successful launches. "The company as a whole, I think, became a little bit complacent over seven years, after twenty successes in a row," he said, "and this is an important lesson and something we're going to take with us in the future."
Musk said SpaceX wouldn't be using those specific struts in the future and, when the replacements were selected, would be testing each one individually irrespective of the supplier's certification.
Like a wedding officiant, Musk asks his employees to speak or forever hold their peace, he told reporters. "Before any flight I always send out an email saying: 'If anyone can think of any possible reason why we should keep this flight from launching, they should call me on my cell phone or email me whether their manager agrees with it or not,'" he said. "I think sometimes it just seems like Elon being paranoid again."
The failure, he said, wouldn't affect the company's submission for Nasa's upcoming commercial cargo contract.
"Rockets are a fundamentally difficult thing," he said.
Quelle: the guardian
3378 Views