.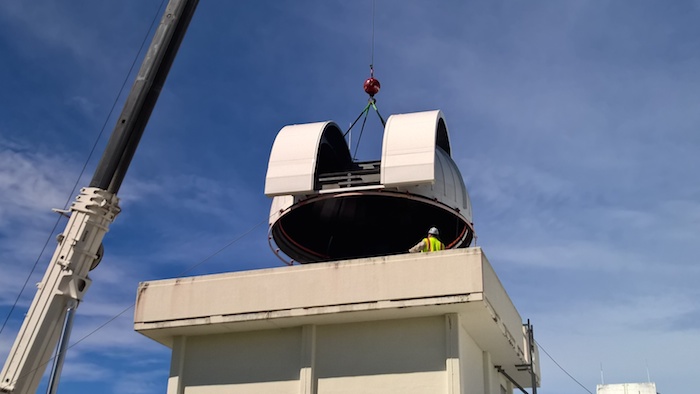 BRITISH INDIAN OCEAN TERRITORIES -- Workers replace a dome on a telescope at Detachment 2, 21st Operations Group, a geographically separated unit of the 21st Space Wing located on Diego Garcia Naval Support Facility in the British Indian Ocean Territories. The low level of light pollution in the remote ocean location allows the telescopes a clearer view of space. (U.S. Air Force photo)
.
PETERSON AIR FORCE BASE, Colo. -- About 1,000 miles from the nearest continental contact, in the middle of the Indian Ocean are three telescopes peering up into space, watching and tracking objects while the rest of the world sleeps.
Naval Support Facility Diego Garcia is on a coral atoll in the British Indian Ocean Territories. The remote location is home to Detachment 2, 21st Operations Group, a geographically separated unit of the 21st Space Wing. The detachment is one of three Ground-Based Electro-Optical Deep Space Surveillance sites in the world and the only one in the Southern Hemisphere.
"We're part of an Air Force space wing, aboard a Naval station, on a British island," said Capt. Donald Perrotta, Det. 2 commander. "The Navy and British are integral to our continued mission success. Diego Garcia definitely operates with a 'One island, One Team, One Mission' mentality."
Perrotta and Tech. Sgt. Layne Fuell are the only active duty Airmen in the detachment, along with about a dozen government contractors. Fuell was the first one in the NCOIC position for the detachment.
The one-meter telescopes operated by the detachment are passive sensors, Perrotta said, monitoring deep space only at night. They just watch and track space objects reflecting the light of the sun.
Watching at nighttime is something Perrotta compared to taking a telescope out in the backyard to look at the stars, only on a much larger scale. Each of the main telescopes has a 40-inch aperture and covers a two degree field of view. What that means is that they track deep space objects orbiting from 3,000-22,000 miles away, moving at speeds of up to 17,500 mph.
The low level of light pollution in the remote ocean location allows the telescopes a clearer view of space. The time difference between Diego Garcia and the other GEODSS sites in Hawaii and New Mexico, coupled with the field of view, allows maximum coverage of space.
Along with the members of Det. 2, there are other Airmen stationed for duty on the atoll. For example the 50th Network Operations Group, part of the 50th Space Wing from Schriever AFB is located on Diego Garcia, a Pacific Air Force detachment from the 36th Mission Support Group, and a detachment from the 730 Air Mobility Squadron from Yokota AFB are located there as well.
The NSF also houses logistic, service and installation support personnel and operations for U.S. and Allied forces deployed in the Indian Ocean and Arabian Gulf areas. Sixteen separate commands, consisting of 360 military personnel, 1,800 base operation services contractor staff, 300 mariners, 220 civilians and 80 overseas government employees, call Diego Garcia home according to the military news web site Naval-Technology.com. British military and civilian personnel live on the atoll too. Det. 2 is a one year remote assignment.
One might think the station's location makes it a candidate for regular bouts of dangerous weather, but Fuell said that is not the case. Because of the location and the arrangement of the coral reefs they do not receive many typhoons. The reefs serve as a breakwater of sorts.
"We do get torrential rains," Fuell said, "But the last time there was a base lock down was about seven years ago, so it's really nice that way."
The atoll might be a relatively lonely outpost, but it is not without activities and social opportunities. Though space is limited - the atoll is about 30 nautical miles long - a selection of activities is provided by the Morale, Welfare and Recreation team to keep people busy.
USO tours come through providing entertainment from popular celebrities and musical acts. Groups like alternative rock band Vertical Horizon, Miss America, American Idol contestants and NFL cheerleaders have all made the journey to entertain at the base.
Fuell said he has his fingers in just about everything going on at Diego Garcia. Activities like sailing, biking, fishing and trail running are all popular. He said there is a beautiful outdoor, covered theater which shows first run movies - Jurassic World was screened on the same day it opened elsewhere.
There is a Captain's Cup series for those who are athletically inclined. The challenges vary but are typically something related to the group who picks the activities, with an athletic twist. On the last Friday of each month groups compete in the challenge set up by the previous month's winner, which cannot compete that month.
"They keep us pretty busy with things to do," Perrotta said. "There are definitely opportunities to beat boredom, get out of your room, and take advantage of what the island has to offer."
Having an award winning MWR team doesn't hurt, either. The Diego Garcia MWR boasts four-star accreditation from the Commander Navy Installations Command, which is in charge of all Navy installations. When it received its second accreditation in 2014 the MWR group was one of only nine installations so recognized. More than 480 events were hosted throughout the year, helping to promote physical readiness, a healthy lifestyle and generate camaraderie among all who are stationed there.
A good portion of the atoll is a nature preserve and requires permission from the British to enter. But in a pristine state, spending time there is worth it according to Fuell. Many people go there to take photos or to visit the ruins of an old plantation, he said. There also is a site where camping is permitted.
Sunscreen is a crucial item on Diego Garcia. Located seven degrees below the equator, the sun basically sits above the atoll all day and he says, will cook you. Average lows are about 78 degrees and highs around 85. The prevalent trade winds keep the temperatures steady, though it can fluctuate. But even with the hot sun he advocates going outside and getting involved in activities.
"Go out and get involved. If you stay in your room you'll be miserable," Fuell said. If a person gets involved with what's going on around the atoll it could be one of the best assignments of a career.
Flights into the NSF are not really an option so email, Internet chat, Facebook and Skype are often used to communicate with loved ones and friends elsewhere. Phone cards are available as well, so connecting that way is possible too.
Quelle: USAF
3518 Views