.
Kazakh cosmonaut Aidyn Aimbetov is ready to replace British singer Sarah Brightman, who postponed her plans to travel to the International Space Station as a space tourist, a top official at the Kazakh National Aerospace Committee Kazcosmos said on Tuesday.
The deputy chairman of Kazcosmos, Meirbek Moldabekov, said plans to train cosmonauts for flights to the International Space Station were mulled in 2009, but were postponed because of a global financial crisis.
"But a scientific program was developed then, and it can now be carried out," Moldabekov said, adding that cosmonauts had been trained as well.
He said an agreement was reached in May between Russia's Roscosmos space agency and Kazcosmos to consider sending a Kazakh cosmonaut to the space station.
"Representatives of Kazcosmos are now in Moscow discussing this project, given that the seat fixed for Brightman is now vacant," Moldabekov said.
"Sarah Brightman announced today that she is postponing her plans to launch aboard the upcoming Soyuz TMA-18M spaceflight mission," a statement on Brightman's website said on May 13.
"Ms. Brightman said that for personal family reasons her intentions have had to change and she is postponing her cosmonaut training and flight plans at this time," it said.
"She would like to express her extreme gratitude to [Russian Federal Space Agency] Roscosmos, Energia, GCTC [Gagarin Cosmonaut Training Center], Star City, NASA and all the cosmonauts and astronauts, for their support during this exciting time in her life," the statement said.
Sarah Brightman's backup astronaut, Japanese national Satoshi Takamatsu, paid only for pre-flight training at the Cosmonaut Training Center.
Quelle: TASS
.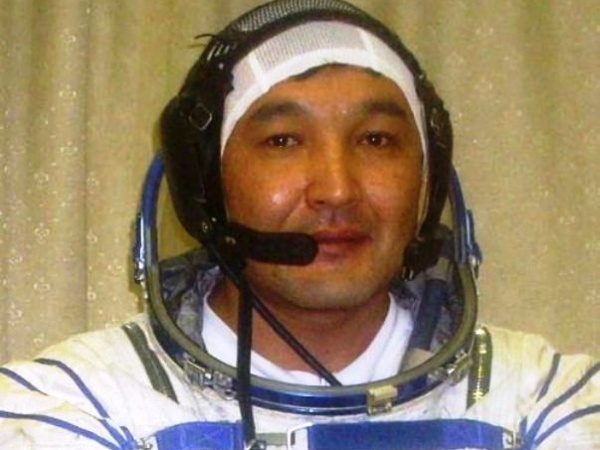 Aidyn Aimbetov: Flying into the Space is not Buying a Theater Ticket
On April 12, 1961, the soviet cosmonaut, Yu.A. Gagarin, was launched from Baikonur cosmodrome on "Vostok-1" spaceship and made the world's first flyby of the Earth planet orbit. Since that time, the Day of Cosmonautics is celebrated on April 12, which was set to commemorate the first manned flight into space. On the same day, the World Day of Aviation and Cosmonautics is celebrated.
The Kazakhstani test cosmonaut, Colonel Aidyn Aimbetov, moved to Astana after six years of training in the Cosmonaut Training Center in 2009 in famous Star City near Moscow. On the eve of the first manned flight into space, he answered the questions of "Vechernyaya Astana" reporter.
- Today, are you still the only one trained test-cosmonaut from Kazakhstan and a real third challenger from our country for the flight into the space?
- Yes. There was two of us. But Mukhtar Aimakhanov, with whom we were studying at the CTC, received Russian citizenship.
- Where was the training held?
- The training took place at Yu.A. Gagarin Russian State Research Cosmonaut Training Center, in the Star City, which is located 30 kilometers from Moscow. This is a beautiful place in a pine forest. Cosmonauts are trained at this center from the very beginning, with the first group of astronauts to the present day. Russian cosmonauts and our cosmonauts, citizens of the socialist countries under "Inter" program were trained there; now Americans, Europeans, Japanese are training there as well. Classes in our group were started on June 16, 2003. The group involved 9 Russians and two Kazakhstanis - me and Mukhtar Aimakhanov. Almost everyone from out group had already flown. The two traveled to space twice - Aleksandr Samokutyayev landed recently, Anton Shkaplerov is now in orbit as a flight engineer.
- How did you get into the cosmonauts team?
- I am a military pilot. I graduated from Kutakhov Armavir Higher Military Aviation School in Krasnodar region. The same school was attended by the god pilot, cosmonaut, Hero of the Soviet Union, Tokhtar Aubakirov, the same school was graduated by the former Defense Minister, Senator, Mukhtar Altynbayev. I was enrolled in the flight school right after the secondary school. After graduation I served in the aviation regiment at Lugovaya station and in Taldykorgan at "Barsy Zhetysu" air base; this is where the most recent aircraft is based. I flew MIG-27 and SU-27. In 90s, in the early years of independence, when the commission was created to recruit candidates for the training of Kazakhstani cosmonauts, there were two main conditions: the presence of higher education, technical, preferably, and good health condition. There were about 2 000 candidates, two stayed Alma-Ata resident, Mukhtar, and me, from Taldykorgan. In 2003-2005, we passed general space training and received a test cosmonaut qualification. From 2005 to 2009, we continued our studies in the group on improvement within the specialization in the Russian segment of the ISS.
- Tell us about the regime that existed in the Cosmonaut Training Center?
- The regime was tight - theoretical and practical classes from 9 am to 18 pm. And then - independent study on processing the information received until midnight. For interest we have counted the volume of knowledge which is given within two years in the CPC. It turned out that this is the scope of six years study in civilian universities.
- What kind of attention is given to foreign language proficiency?
- English is mandatory as a language of international communication. I have spoken English. By the way, science fiction writers have suggested that in the future a universal cosmic language will be created. Thus, there is a kind of cosmic lexicon in the ISS - a set of different languages from the countries that had flown into the space: Russian, English, Italian, French, Japanese, which is understandable to everyone.
- Have you met the legendary cosmonauts in the Star City?
- I shook hands with the first cosmonaut woman, Valentina Tereshkova. I made friends with Aleksei Leonov, the first cosmonaut, who stepped into outer space. I met with our countryman, Vladimir Shatalov. Cosmonaut, Yuri Lanchukov, who twice flew in space, who was born in Balkhash, now heads the Russian Cosmonaut Training Center.
- Is your family related to space, flights?
- My wife is engaged in social activities, but in our cosmic sphere. There are three children - a son and two daughters. 17-year-old son is still a schoolboy, is preparing to become a pilot, and is already in the national aviation center for seniors, which prepares pilots of small aircraft. Many young men of this center do not have driving licenses, but they can already rise into the air on their own.
- There is a difficult question: still, why have 2009 flight trainings been stopped? - Kazakhstani cosmonaut flight was scheduled for September 30, 2009, a relevant agreement with the Russian side has already been signed and made. But in occurred global economic crisis the flight was rescheduled for financially more favorable period.
- Have this flight issue been raised again?
- The question is being just raised now. But... flying into the space is not buying a theater ticket... Space flight of a cosmonaut from a country outside the coalition of 17 countries is possible, provided that someone will give us way, as previously Russians did for us. Currently, this is impossible.
Quelle: Akimat of Astana
3546 Views