.
29.04.2014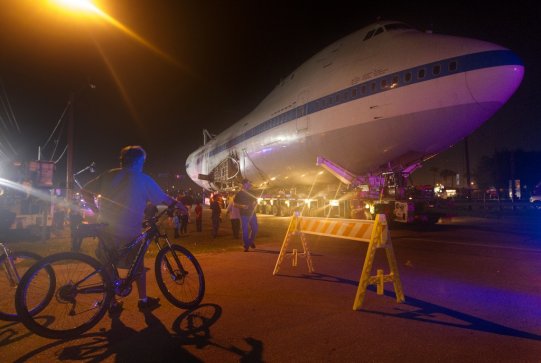 HOUSTON — Another piece of history tied to the now retired space shuttle fleet is making its last journey.
A convoy of giant flatbed trailers slowly began an eight-mile trip Monday carrying the biggest disassembled pieces of the old 747 jumbo jet that flew shuttles on cross-country trips for decades.
Known as the Shuttle Carrier Aircraft, or SCA, it will be put back together, topped with a shuttle replica about 60 feet off the ground and become a museum piece scheduled to be shown next year just outside NASA's Johnson Space Center, where center director Ellen Ochoa will see it from her office window.
"I think it will be a great landmark," said Ochoa, who believed the display at the adjacent Space Center Houston would provide for visitors a final piece of the story about shuttle missions.
"Just being able to put the shuttle on top and show how it was ferried back and forth, it was pretty amazing when people first came up with that concept. I think the initial thought was: That's a crazy idea. But our folks made it work, and that was part of what made the shuttle program successful," said Ochoa, who flew on four space shuttle missions.
Houston, where Mission Control served as the center for the nation's manned space flights and where astronauts have trained, was left out as a retirement home for the real shuttles. Those went to Los Angeles, Kennedy Space Center in Florida, the Smithsonian Institution in Washington and New York City.
"This will tell the story of how it was ferried back and forth and how it landed," Ochoa said. "For me it's part of completing this story."
Unlike the four other shuttles, the replica and the carrier will be open to the public, making it a "fantastic" educational experience, she said.
The modified 747 would carry the shuttle piggyback to Florida after missions where the spacecraft landed in California or New Mexico, instead of the normal, and less costly, landings at Kennedy Space Center.
This week's procession, moving at about walking speed, was headed from Houston's Ellington Field to Space Center Houston, a science education and space museum.
The caravan began moving Monday afternoon, crawling along roads through the former Air Force base and stopping while utility crews moved overhead lines. Once outside the airfield, it will move over two days only at night so it doesn't too badly disrupt traffic and normal activities along its route in far south Houston. It is scheduled to cover six miles by Tuesday morning, then finish the trek the following night.
"I just wanted to see it," Phil Williams, 83, a retired NASA employee said as he and his wife, Ardis, 87, walked up close to the carrier. "I wanted to see a real shuttle here, of course, but that's not to be. That's all right. I'm not going to get upset with the small stuff."
It took 38 days to take the carrier apart, and will need 44 days to reassemble for its role as centerpiece of a $12 million expansion at Space Center Houston.
The largest section of the Boeing 747 is the fuselage, measuring 25 feet wide, 35 feet high and more than 190 feet long. The length is as long as two basketball courts.
Other trailers are carrying the aircraft's two wings, vertical and horizontal stabilizers, tail and other pieces. The total package weighs 159 tons.
NASA had two of the 747s, known by their tail numbers 905 and 911. The now Houston-based plane was NASA 905 and the first to get the distinctive struts protruding from its fuselage that served as mounts for the shuttle.
The former American Airlines passenger jet was obtained by NASA in 1974, was renovated and was used first on test flights with shuttle prototype Enterprise.
Its twin, NASA 911, a former Japan Air Lines plane, was obtained in 1989 and retired in 2012. It's been serving as a parts source for other NASA 747s and for experimental flights.
Space Center Houston opened in 1992, replacing a smaller visitors center that for years had operated within Johnson Space Center.
Quelle: The Courier
.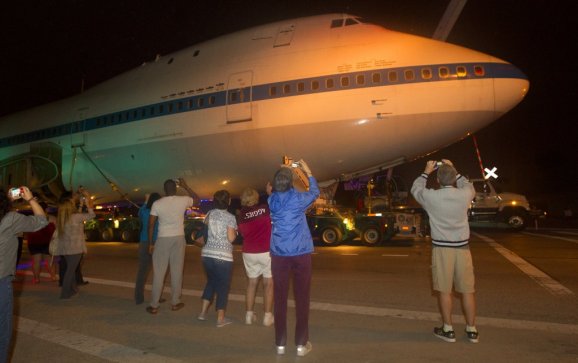 .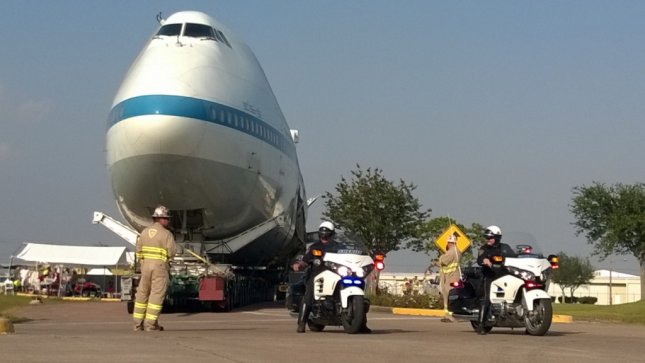 .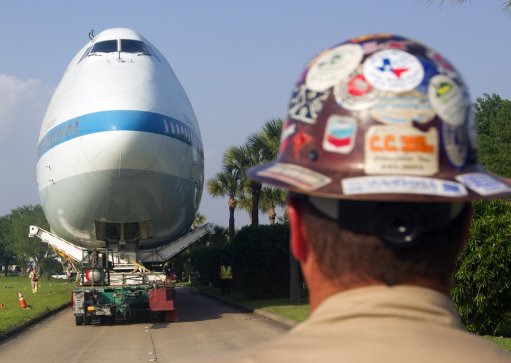 .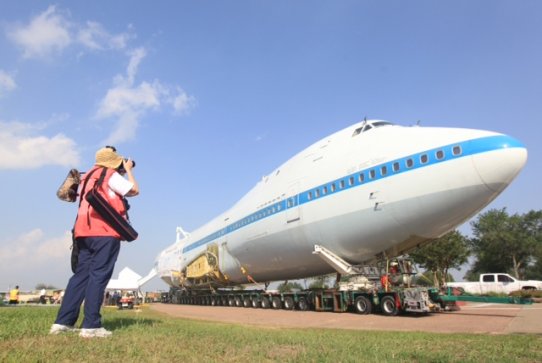 .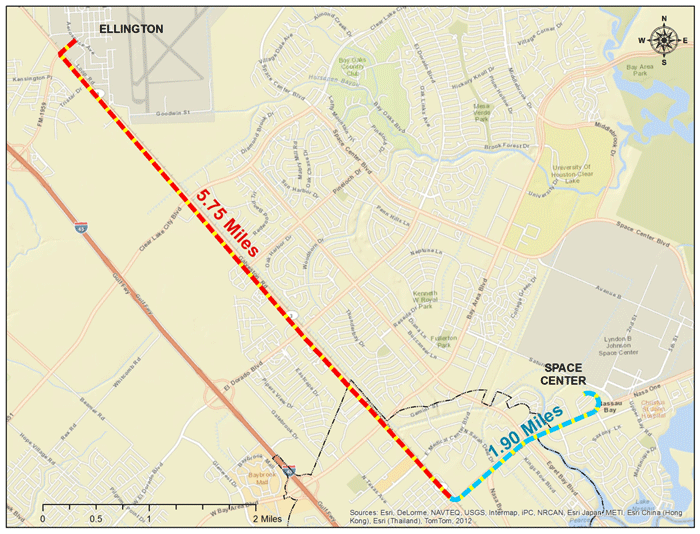 Shuttle Program's Workhorse Carrier Heads for Public Display in Houston
Houston -- NASA 905, an aging Boeing 747 that took flight with space shuttle orbiters mounted atop 222 times, made its final airport departure late Monday. With its wings and tail separated from the fuselage and mounted on rugged tractor trailers -- the first NASA Shuttle Carrier Aircraft headed for Space Center Houston, the Johnson Space Center's official visitors center, and a new shuttle history display.
The future exhibit, featuring the well-traveled and reassembled NASA 905 with the high fidelity orbiter mockup Independence mounted atop, should be open to the public at the entrance to the visitors center that lies next door to the Johnson Space Center by early spring 2015, according to Paul Spana, the SSC exhibits manager.
First though, the seven tractor trailer, 1,000 foot long convoy of 747 components must make its way from Houston's Ellington Airport to SSC over two nights -- a must to avoid heavy commuter and business traffic on Old Galveston Road and NASA Parkway. Four of the trucks in the convoy carrying the wings, fuselage and vertical stabilizer are equipped with hydraulics to lift and dip as necessary along the near eight mile course that includes two railway crossings.
Houston was unsuccessful in efforts to obtain one of NASA's retired orbiters, Discovery, Atlantis, Endeavour or the flight test orbiter Enterprise, after the shuttle program ended in 2011.
Preparations for the move that SSC hopes to complete early Wednesday began at a remote region of Ellington Airport two months ago.
Boeing donated the services of its Aircraft on Ground Team for the Ellington disassembly and SSC re-assembly of 905. Working 12 hours a day, seven days a week, the squad of airplane mechanics disassembled the tail and two 18-foot-long rear fuselage segments as well as the wings for the move. The largest piece of the jumbo jet prepared for the trek is the 190-foot-long forward fuselage.
A half-dozen state and local law enforcement agencies are involved in the move.
NASA acquired 905 from American Airlines in 1974, first tasking the large transport with a series of wake vortex evaluations. In 1977, 905 was paired with Enterprise for approach and landing tests at Edwards Air Force Base, Calif., that paved the way for three decades of shuttle operations beginning in 1981. It served as the only Shuttle Carrier Aircraft until late 1990, when it was joined by NASA 911. The 222 orbiter ferry missions were carried out between 1977 and 2012 and concluded with the deliveries of Discovery, Enterprise and Endeavour to museums in the Washington area, New York City and Los Angeles.
The re-assembled Shuttle Carrier Aircraft, with the mockup Independence atop, will form the centerpiece for a $12 million expansion of the visitors center. A 60-foot tower alongside 905 and Independence will house two elevators and a stairway to provide visitors access to the historic 747 as well as the flight deck and payload bay of Independence.
Quelle: Aviation Week
.
Update: 1.05.2014
.
NASA 905, the great space shuttle ferry, makes its final journey
.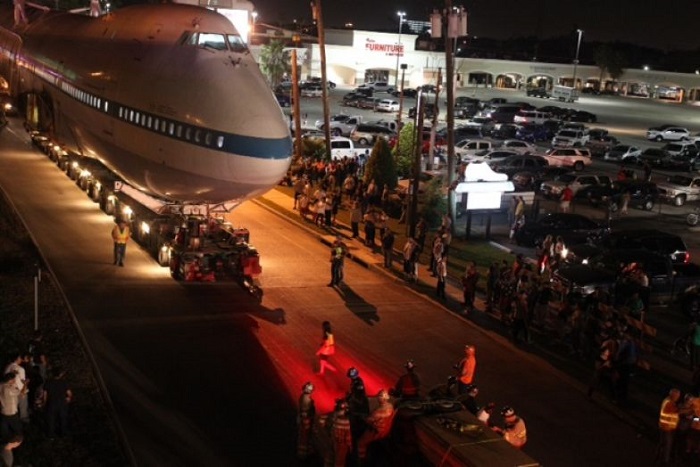 The great aircraft had served the space program for years. Now, stripped of wings and tail fins, the jumbo jet's fuselage sat on a long green flatbed, waiting for its final departure. Once it had flown far and fast, but for this last 8-mile journey, it would grind along the streets of Houston at the pace of a leisurely stroll.
Quelle: Houston Chronicle
5212 Views