17.11.2022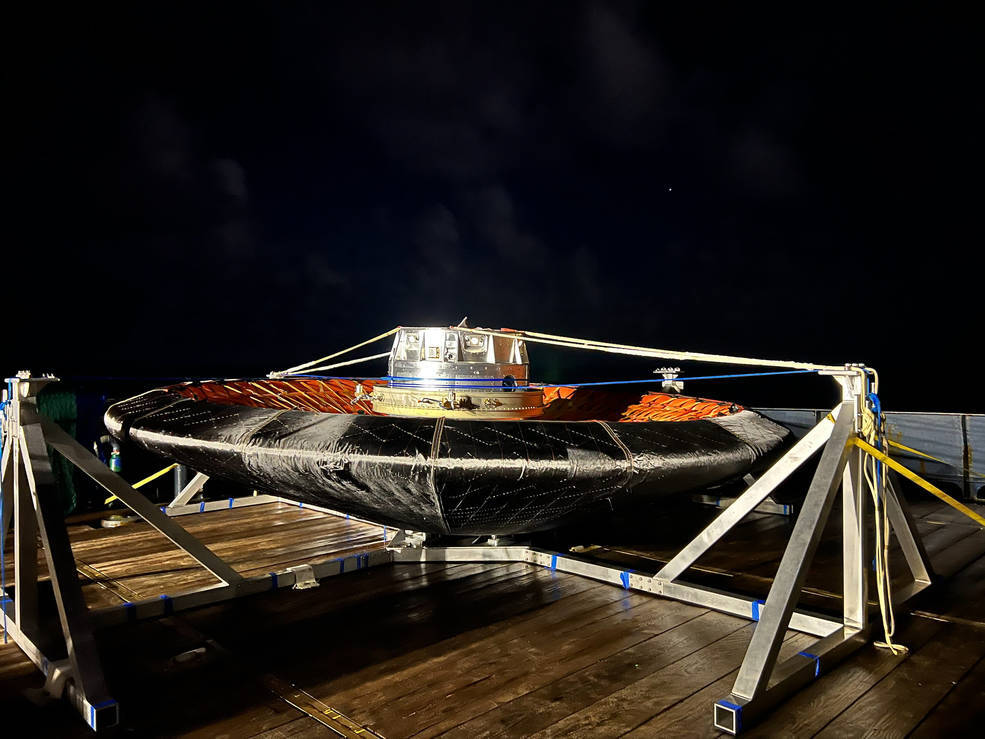 Credits: United Launch Alliance
NASA will host a media briefing on Thursday, Nov. 17, at 2 p.m. EST to share early results from the Low-Earth Orbit Flight Test of an Inflatable Decelerator (LOFTID) technology demonstration.
Audio of the call will stream live on the agency's website.
The LOFTID demonstration took place Nov. 10. About one hour after launch aboard a United Launch Alliance (ULA) Atlas V rocket, the LOFTID inflatable heat shield deployed and began its demonstration. As LOFTID inflated, the Centaur upper stage rocket spun up and released the heat shield, which then began its intense re-entry journey through Earth's atmosphere. LOFTID splashed down in the Pacific Ocean at about 7 a.m.
The inflatable heat shield technology tested by LOFTID could improve landing capability on worlds with atmospheres, allowing the landing of heavier payloads and safe touchdown at higher altitudes than are currently accessible. The technology has potential applications for missions to Mars, Venus, Saturn's moon Titan, and return of large payloads from low-Earth orbit.
Full study of LOFTID's performance is expected to take about a year.
The team will share initial results of the demonstration during the call. The briefing participants are:
Trudy Kortes, director of Technology Demonstrations, Space Technology Mission Directorate, NASA Headquarters
Joe Del Corso, LOFTID project manager, NASA's Langley Research Center
John DiNonno, LOFTID chief engineer, NASA Langley
Greg Swanson, LOFTID instrumentation lead, NASA's Ames Research Center
Media will have the opportunity to ask questions of panelists. To participate, media must RSVP at least two hours prior to the virtual event to Roxana Bardan at: roxana.bardan@nasa.gov.
The LOFTID project is managed and funded through NASA's Technology Demonstration Missions program, part of the agency's Space Technology Mission Directorate. The project is led by NASA's Langley Research Center in Hampton, Virginia, in partnership with ULA and with contributions from NASA's Ames Research Center in Silicon Valley, Marshall Space Flight Center in Huntsville, Alabama, and Armstrong Flight Research Center in Edwards, California. NASA's Launch Services Program, based at the agency's Kennedy Space Center in Florida, managed the launch service.
Quelle: NASA
----
Update: 18.11.2022
.
NASA calls test of inflatable heat shield a success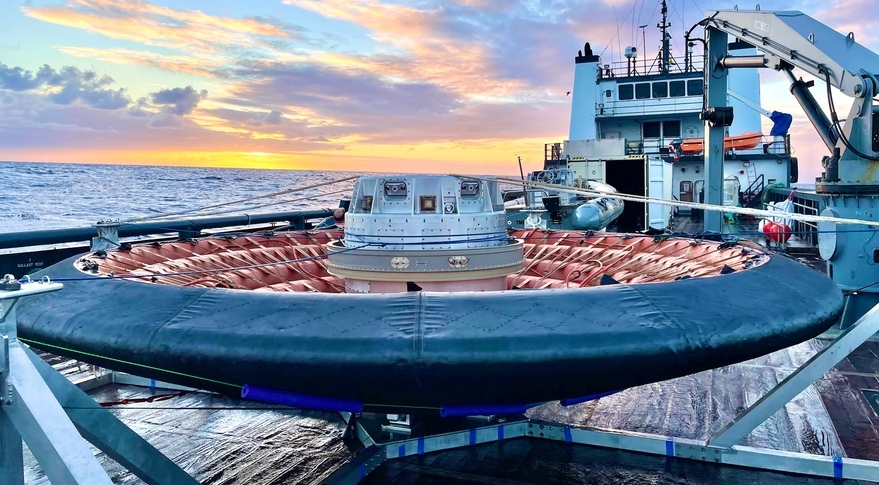 WASHINGTON — A NASA demonstration of an inflatable heat shield showed the technology worked and can be scaled up for missions on Earth and Mars, project leaders said Nov. 17.
NASA flew the Low-Earth Orbit Flight Test of an Inflatable Decelerator (LOFTID) as a secondary payload on the Atlas 5 launch of a weather satellite Nov. 10. The payload inflated a heat shield six meters in diameter that separated from the rocket's Centaur upper stage and reentered over the Pacific, splashing down east of Hawaii.
While engineers are just beginning the process of analyzing data collected by LOFTID during its reentry, project officials concluded in a media teleconference that initial reviews proved that LOFTID worked as expected, shielding the payload from the heat of reentry without suffering damage.
"The demonstration was a huge success," Joe Del Corso, LOFTID project manager at NASA's Langley Research Center, said, basing that assessment on those initial reviews.
The data they do have includes cameras from inside the vehicle that monitored heating as it reentered as well as the later deployment of its parachute. Crews later recovered LOFTID as well as a data recorder ejected during its descent as a backup in case the vehicle could not be recovered.
"I couldn't be happier with the way this mission went and with what we're seeing so far," said John DiNonno, LOFTID chief engineer at NASA Langley. He said engineers are still working to get all of the data collected by LOFTID downloaded and converted into usable formats, something he said would take a "considerable amount of time."
The initial analysis, he said, showed uniform heating of the aeroshell during reentry. The aeroshell looked "pristine" with any damage primarily coming from the splashdown and recovery, rather than the reentry itself. "It looks as through the inflatable structure could fly again."
There are no plans to fly LOFTID again, but project officials said they are working to scale up the technology, called Hypersonic Inflatable Aerodynamic Decelerator (HIAD). Larger versions of the inflatable heat shield could be used for landing large spacecraft on Mars. United Launch Alliance, which partnered with NASA on the LOFTID flight, is also interested in using the technology to recover the engine section of its Vulcan rocket for reuse.
"Scaling up would be a next step for us," said Trudy Kortes, director of technology demonstrations in NASA's Space Technology Mission Directorate. That work, she said, would be guided by existing technology roadmaps the agency uses to prioritize work in various areas, including entry, descent and landing systems. "We're taking a look at that now and in the short-term future."
Mars missions would need aeroshells 20 meters or more in diameter, far larger than LOFTID, six meters across. That will create issues with facilities at NASA for producing them and performing ground tests, she noted.
Flight testing such a large aeroshell will also be a challenge. Del Corso said that NASA has looked at ways of demonstrating it by returning a Cygnus cargo spacecraft or even an International Space Station module. "Even then, it doesn't quite get to the mass that really need to demonstrate 18- to 20-meter scale" aeroshells, Del Corso said, as those items would only require an aeroshell 10 to 12 meters across. "We really need a heavy mass to bring back in order to get to relevant conditions for 18 to 20 meters."
He said that NASA is finalizing a Space Act Agreement with ULA on applying LOFTID technology for the company's Sensible Modular Autonomous Return Technology (SMART) reusability concept, where an inflatable heat shield would be used to help recover the Vulcan booster's engine section. "They have clearly been very excited" about the technology, he said.
Del Corso also compared the success of LOFTID with the inaugural launch of the heavy-lift Space Launch System Nov. 16 on the Artemis 1 mission. "We have now the ability to both put heavy payloads into space and to bring them back down," he said. "These two successes are huge steps in enabling human access and exploration."
Quelle: SN
118 Views