15.10.2022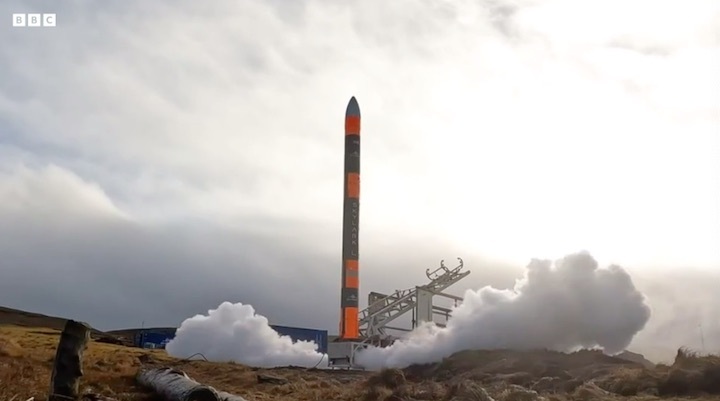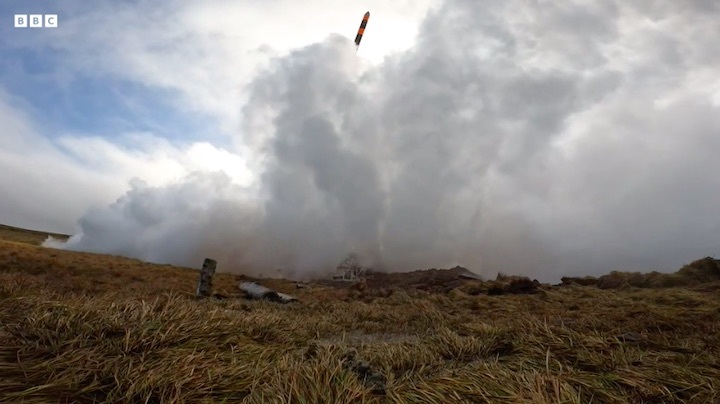 The British rocket company Skyrora's first attempt to get to space has ended shortly after lift-off with the booster ditching in the sea.
The Edinburgh-headquartered company was aiming to get its Skylark L vehicle above 100km in a flight from the Langanes peninsula in Iceland.
But a technical problem saw the 11m-long rocket fall back into waters no more than 500m from the launch pad.
Skyrora is aiming to start orbital launches from Scotland next year.
These will occur at the Saxavord Spaceport being developed on Shetland. They'll use a much bigger vehicle, the Skyrora XL.
Last weekend's Skylark L flight was intended as an early chance to test systems and procedures.
"While this launch attempt did not go entirely as we expected, it has nevertheless been a valuable learning opportunity - and a huge victory for this new relationship between Iceland and the UK, as well as the European space sector more broadly," said Volodymyr Levykin, the founder and CEO of Skyrora.
"Based on what we have achieved here, we remain confident of achieving our objective of a full vertical orbital launch from UK soil in 2023."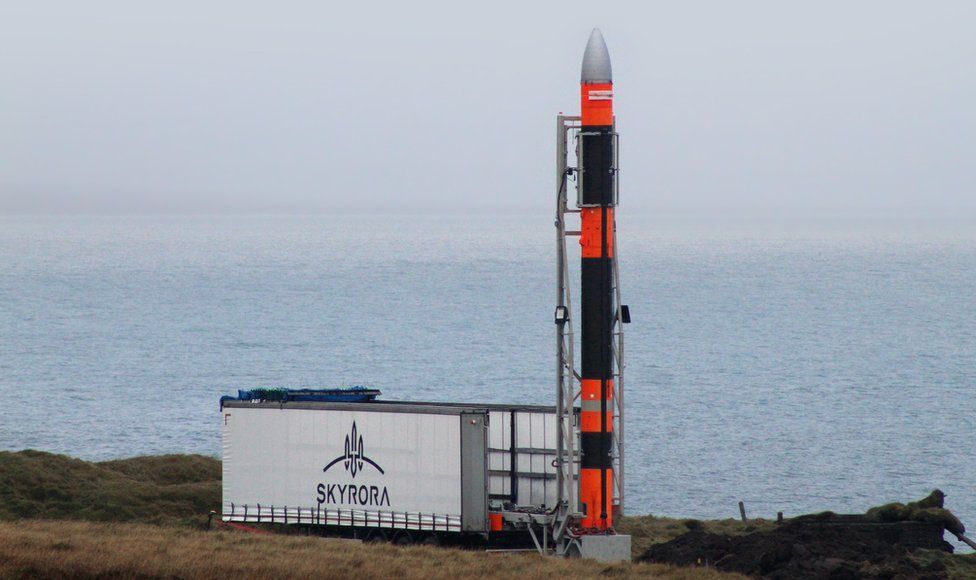 Skyrora is taking a stepwise approach to getting into space. To date, it had flown only small supersonic vehicles inside the atmosphere, to under 30km in altitude.
The Skylark L mission was an initial attempt to get above the Karman Line, the internationally recognised boundary where aeronautics gives way to astronautics.
Skylark L is a kerosene and hydrogen peroxide-fuelled "sounding rocket". It is designed to give scientific payloads a few minutes of weightlessness in which to conduct experiments. The rocket is not built to go high enough and fast enough to stay up, and is therefore described as sub-orbital.
The payloads on the forthcoming Skyrora XL, however, would be aimed at orbital altitudes. The 3D-printed engines for this 23m vehicle have been undergoing static fire tests, and the company is determined to conduct a debut mission in 2023.
Scotland has been chosen as the location for "vertical" rocket flights in the UK.
"Horizontal" rocketry is about to begin in Cornwall. Entrepreneur Sir Richard Branson's Virgin Orbit company is expected to fly a maiden mission out of Newquay next month.
Virgin sends its rockets to space from under the wing of a converted 747 passenger plane.
Quelle: BBC
+++
SKYRORA ATTEMPTS FIRST ROCKET LAUNCH TO SPACE WITH ICELANDIC MOBILE SPACEPORT
Suborbital Skylark L launch attempt tests critical processes and components ahead of planned full orbital launch from UK in 2023
Langanes, 08 October 2022 - Skyrora has attempted to launch its suborbital Skylark L rocket from a site in Langanes, Iceland into space, marking another milestone on its way to commercial viability and the first vertical orbital launch from UK soil in 2023.

The vehicle left the launch pad and experienced an anomaly, landing in the Norwegian Sea approximately 500 metres away from the launch site. No people or wildlife were harmed in any way, and recovery of the vehicle is currently ongoing. Multiple tracking systems as well as boats and aeroplanes have been employed to optimise the recovery process.

Overcoming severe storms and freezing temperatures, the launch attempt was made possible with the support and approval of stakeholders across the Icelandic government, which signifies the increased cooperation between the two countries, having previously executed the pathfinder launch of Skyrora's Skylark Micro rocket from Iceland in Autumn 2019. Since then, the company has been in talks with the Icelandic Government to cement the safety and viability of launching Skylark L to ensure it could be completed without risk to people, wildlife, buildings, or the wider environment.
Using Skyrora's innovative and agile mobile spaceport solution, the launch attempt was completed within seven days of arriving on site. The entire launch operation was developed and executed in record time, with the packing of the launch complex - containerised to enable easy transportation and rapid deployment - and shipping of the vehicle and facilities taking less than a month. Due to the spaceport's mobility, Skyrora was able to minimise the footprint of their launch operations on the surrounding landscape and wildlife habitats, leaving little to no trace of activity behind.


Skylark L is Skyrora's 11m suborbital rocket, capable of reaching 4x the speed of sound and an altitude of over 125 km. 70% of the technology tested in the Skylark L launch attempt will be applied to the systems of the Skyrora XL vehicle, providing a key incremental learning opportunity to increase technological readiness ahead of vertical orbital launch next year.
Lee Rosen, Chief Operations Officer at Skyrora, said:
"With over three decades in the business, I can assure you that despite the best design, build, and test preparations, anomalies still unfortunately do happen. Skyrora's launch attempt of Skylark L has provided the team with valuable experience in operations procedures, logistics coordination, and execution of the rapid setup and pack-down of our mobile launch complex, experience which will propel us forward monumentally in our mission to reach orbit. We are delighted to have had the support of the Icelandic Government and the local Þórshöfn community for this launch attempt. It is a true sign of the strengthened relationship at the heart of European space efforts."
Volodymyr Levykin, Founder and CEO of Skyrora, said:
"Skyrora is continuously propelling itself towards UK launch. Our launch attempt in Iceland is a testament to building connections between nations, as well as the hard work of the Skyrora team, who worked against all odds to make the attempt happen, including harsh weather conditions and extremely low temperatures around which our equipment has never been tested. Those on site are currently completing pack-down through those challenging conditions, and we will be investigating the nature and cause of the anomaly further once that process is finished."

"While this launch attempt did not go entirely as we expected, it has nevertheless been a valuable learning opportunity - and a huge victory for this new relationship between Iceland and the UK, as well as the European space sector more broadly. Based on what we have achieved here, we remain confident of achieving our objective of a full vertical orbital launch from UK soil in 2023."
Björn Sigurður Lárusson, Mayor of Langanesbyggd, said,
"It was a privilege for Langanesbyggd community to be chosen as the place for the Skylark L launch and to host the Skyrora crew. We have been informed about the project every step of the way, and this cooperation between Skyrora and the community will act as a role model for future projects in our small community."

"We sincerely hope that this project will lead to further development of the space sector in Iceland. The strong bond between the UK and Iceland goes centuries back. We Icelanders even call the 15th century "The English century." This bond has now been brought to a new level through the Skylark L launch attempt from Iceland".
The launch attempt of Skylark L is Skyrora's latest milestone bringing the company closer to reaching orbit next year, following on from their successful 2nd stage static fire test of their orbital rocket, Skyrora XL, in August at Machrihanish Airbase, the first test of its kind in the UK in over 50 years.
Matt Archer, Director of Commercial Spaceflight at the UK Space Agency, said:
"This suborbital launch attempt of a rocket developed in Scotland is another exciting step on Skyrora's journey towards launching from the UK. Our strong international relationships with partners such as Iceland are vital for our own launch ambitions. By harnessing the opportunities provided by commercial spaceflight, we are creating highly skilled jobs and local opportunities across the country."
Quelle: Skyrora
----
Update: 18.11.2022
.
Skyrora working towards 2023 orbital launch after suborbital failure
BREMEN, Germany — Scotland-based launch startup Skyrora are focused on making a first orbital launch attempt late next year, building on experience from a suborbital attempt in Iceland.
Skyrora's team took their 11-meter-long Skylark L single-stage suborbital launch vehicle to Iceland's Langanes peninsula in October to attempt to reach above the Karman line.
The rocket however reached an altitude of only around 300 meters, due an anomaly now discovered to be a software issue, and crashed into the Norwegian Sea. Skyrora plans to have divers locate and retrieve the rocket for further research, including how the engines scale up for reusability.
The launch however did provide the team with around 60% of what they hoped to accomplish for the launch, Derek Harris, business operations manager at Skyrora, told SpaceNews at the Space Tech Expo Europe in Bremen, Germany, particularly in terms of proving mobility and agility.
Skyrora is planning on another Skylark L launch from Iceland around April next year while preparing for a first orbital launch attempt with the Skyrora XL from the SaxaVord Spaceport being developed on Shetland off the coast of Scotland.
Skyrora XL is a three-stage rocket using 3D-printed engines designed to place payloads weighing up to 315 kilograms into sun-synchronous orbit.
"We have the majority of the engines now completed for the first stage, which carries nine engines," Harris said.
"Five are printed and qualified so the rest are just being worked on at the moment. They should be ready by around early spring, which should then allow it to be integrated with the tanks and then have the static passed in the first stage." Following this will be whole vehicle integration and a static fire test.
The Skyrora team is around 150, mostly in the UK but with sites and research and development in Germany, Slovakia and Ukraine, the latter of which has been impacted by the Russian invasion.
The focus is firmly on the engineering work for launch, with Harris stating that support from the European Space Agency with grant funding, and, for example, Space Scotland, a government body, is making various aspects of preparing for launch a much easier process. Requisite licensing processes for launch are underway, with the support of the UK Space Agency.
The Civil Aviation Authority, the UK equivalent of the U.S. FAA, has just issued the first license for a British spaceport under the Space Industry Act 2018.
This brings Spaceport Cornwall in southwestern England a step closer to hosting a launch by Virgin Orbit's LauncherOne air-launch system and the first ever orbital launch from the UK.
Skyrora is in competition with Orbex, another UK launch startup, to make the first vertical orbital launch from British soil. The firm is developing a launch vehicle named Prime, capable of placing up to 180 kilograms into orbit, which it plans to launch from the Sutherland spaceport in Scotland.
Beyond this, German startups Isar Aerospace and Rocket Factory Augsburg are providing competition on the continent with their respective Spectrum and RFA One launchers, aiming to make their first attempts to reach orbit in late 2023.
The competition for a limited pool of contracts may be fierce among these and other emerging European launch startups, but the indication is that, as demonstrated to an extent by initiatives such as ESA's Boost! Program, and the force of wider European political trends, that there is a place for commercial launch providers to boost European autonomy and independence in space.
Quelle: SN
195 Views