12.05.2022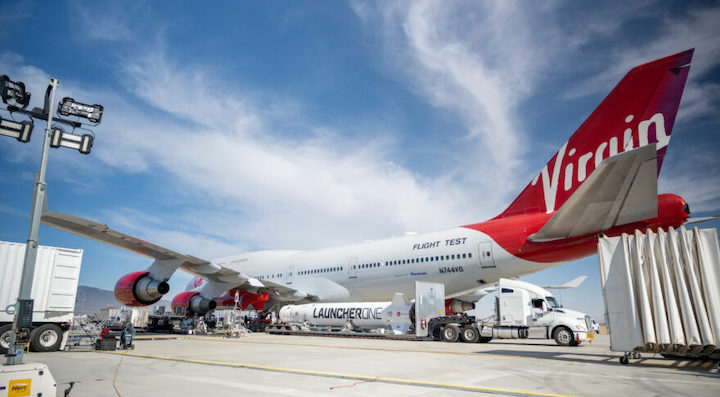 Virgin Orbit's LauncherOne and Cosmic Girl platform prepare for a launch at Mojave Air and Space Port in California. Credit: Virgin Orbit
The launch from Spaceport Cornwall will be the first commercial rocket to lift off from the U.K.
WASHINGTON – The U.S. National Reconnaissance Office and the United Kingdom's Ministry of Defense will launch a joint mission this summer on Virgin Orbit's LauncherOne rocket, U.K. defense procurement minister Jeremy Quin announced May 10.
The launch from Spaceport Cornwall — located at Newquay Airport in Cornwall, England — will be the first commercial rocket to lift off from the U.K. and from Western Europe. Virgin Orbit will fly nine payloads to orbit using the LauncherOne small launch platform deployed from a modified Boeing 747 aircraft.
"It's an honor to join the United Kingdom's Ministry of Defense in announcing this historic enterprise," NRO Director Chris Scolese said in a statement.
This mission will fly government and commercial payloads, including two U.K. MOD Prometheus 2 cubesats carrying pathfinder experiments in support of the U.K. Minerva constellation for future space-based intelligence and surveillance. Prometheus 2 is a collaboration between the U.K. Ministry of Defense and international partners, including the NRO.
U.K. MOD Director of Space Air Vice-Marshal Harv Smyth said the Prometheus 2 cubesats "will deliver immense value to the U.K. MOD's future space program and, thanks to our partners in the National Reconnaissance Office, these highly-capable satellites will launch from U.K. soil this summer."
The NRO said "launching from the U.K. "marks a continued expansion of NRO's overseas launch locations in addition to New Zealand providing NRO with the ability to launch from three continents."
This is also the NRO's first contract for a horizontal launch. The launch was acquired from Virgin Orbit National Systems, the company's U.S. subsidiary formerly known as VOX Space.
Virgin Orbit National Systems is one of the participants in the NRO's Streamlined Launch Indefinite Delivery, Indefinite Quantity Contract (SLIC) base contract to compete for future NRO launch requirements. "This launch was procured as the first task order on SLIC to leverage commercial best practices. SLIC is the latest innovative and agile acquisition approach for more risk-tolerant missions," an NRO spokesman told SpaceNews.
Virgin Orbit on Monday announced its next space launch will be the U.S. military STP-28A Space Test Program mission, projected to fly no earlier than June 29 from the Mojave Air and Space Port, in California. STP-28A will carry seven experimental satellites from multiple government agencies and Aerospace Corp.'s Slingshot 1 intended to demonstrate a novel modular satellite bus.
Virgin Orbit's LauncherOne rocket has flown three successful missions since a failed May 2020 test flight. In December, the company went public by merging with a special purpose acquisition company and now trades on the Nasdaq.
The company on May 10 announced it has signed an agreement with L3Harris Technologies to acquire two Boeing 747-400 airframes to support U.S. national security and allies' satellite launch demand.
Quelle: SN
395 Views